Mini-bundt cakes are the perfect size for one person celebrations or, when feeding a crowd, for everyone to have their own cake. When the cakes are  Vanilla Bean Mini-Bundt Cakes with Chocolate-Toffee Crunch, no one will want to share. Under the double drizzle of chocolate and vanilla icing is a fluffy vanilla bean cake and a crunchy chocolate-toffee filling.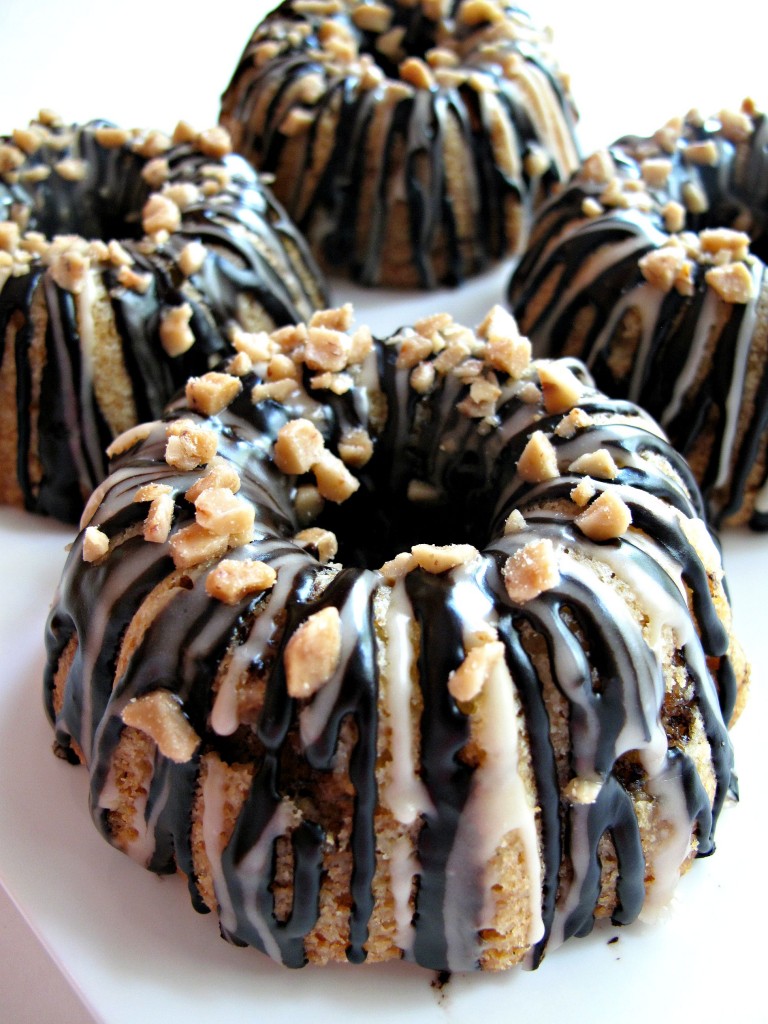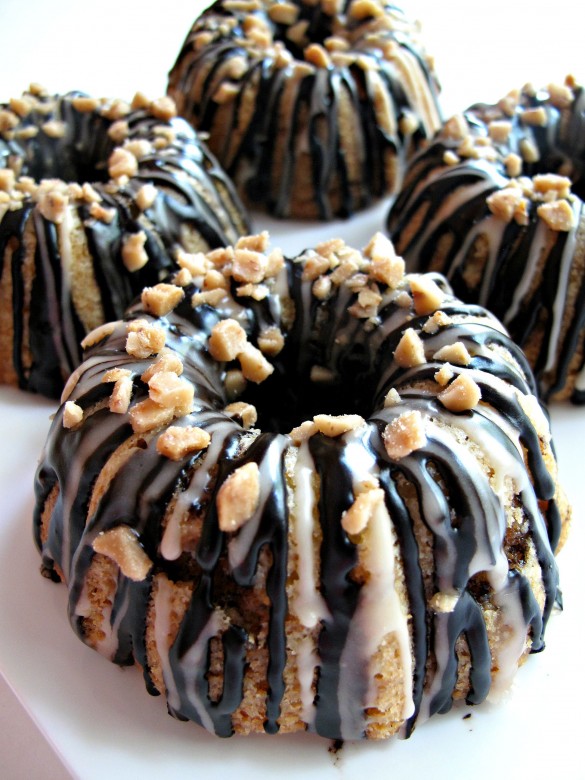 Cookbooks are one of the few genres in publishing that is still growing. In a digital age where newspapers are becoming obsolete and books are downloaded, there still appear to be enough people who love collecting (and occasionally cooking from) real print-on-paper cookbooks, that more and more are being published. That makes me happy. I don't own a Kindle. I do not want a Kindle. I do own several dozen (plus or minus) cookbooks. Even my digital age son, with the iPhone fused to his hand and Siri at his beck and call, seemed happy with the cookbooks I gave him as an apartment warming present. (Mark Bittman's "How to Cook Everything Vegetarian" and Thug Kitchen's "The Official Cookbook")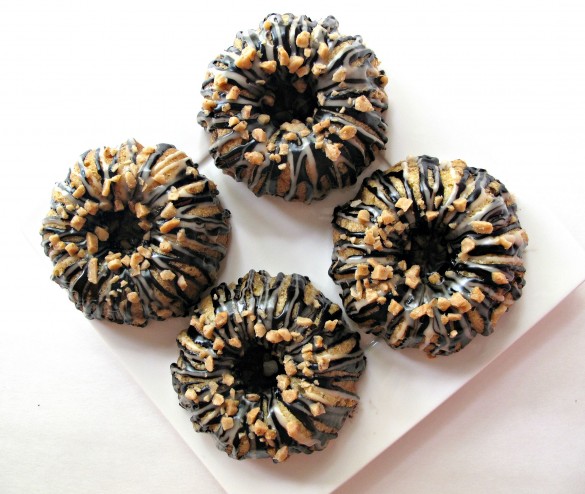 I often read cookbooks just for fun, the way most people read a novel. I find inspiration in the flavors, techniques, and back stories. The recipe I adapted to make Vanilla Bean Mini-Bundt Cakes with Chocolate-Toffee Crunch is in "Sweet Times" by Dorie Greenspan, published in 1991. The same sour cream bundt cake with a few changes also appears in her 2006 cookbook, "Baking: From My Home to Yours". In the 1991 recipe, a layer of filling is sprinkled onto the bottom of the cake. If that sounds odd, it is. The directions even warn that when the cake is turned out of the pan, some of the filling will "go flying". In the 2006 recipe, the filling stays inside the cake, but instead of vanilla, the cake is flavored with orange. I know many people love the combination of orange and chocolate. Not at my house. So, I used a combination of the two recipes with a few of my own edits and re-sized for use with a 6-mold mini-bundt pan.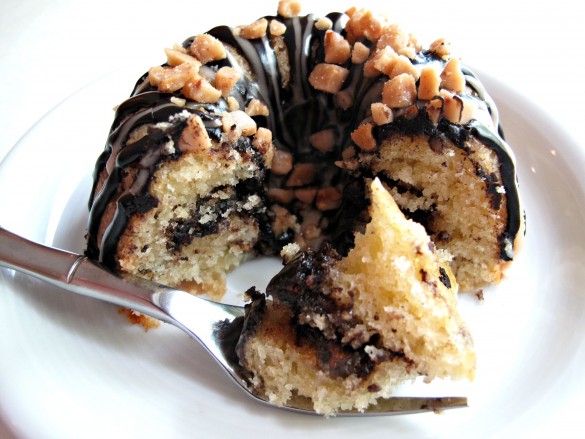 I stuck with the original vanilla cake and upped the flavor using vanilla paste to speckle the cake with vanilla bean bits. Both of the Dorie Greenspan versions of this cake use pecans for crunch in the filling. I don't ever use pecans, due to allergies and a preference for breathing. Instead, I substituted an equal amount of toffee bits. The vanilla bean-chocolate-toffee flavors are wonderful together and, though some of the toffee melts into the cake (a good thing), some of the toffee stays crunchy. For those with nut allergies who cannot eat packaged toffee bits (which contain almonds), an easy recipe for homemade toffee can be found here.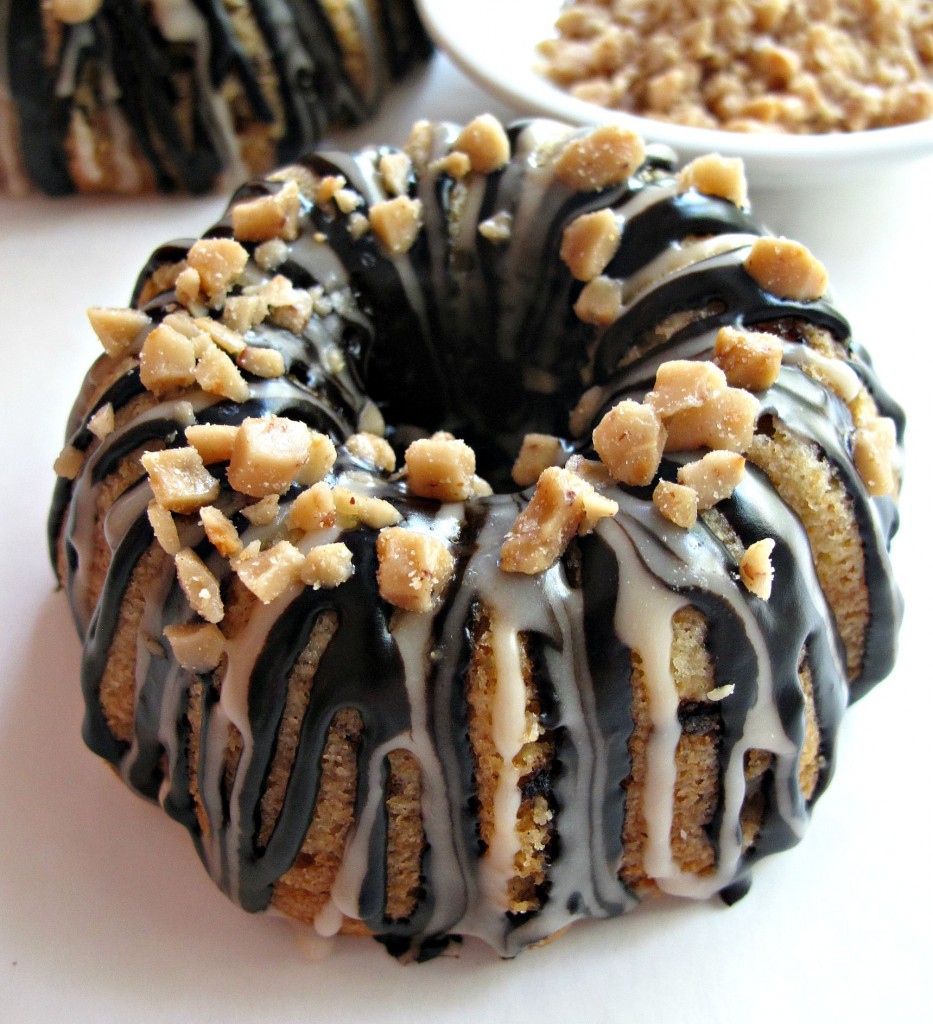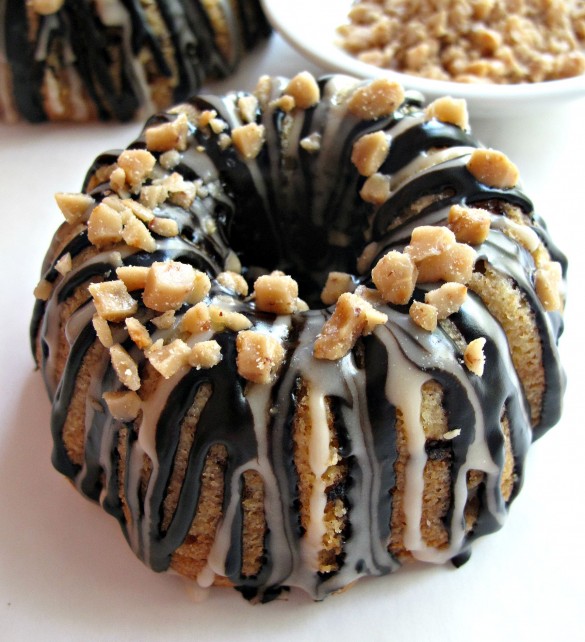 As I was sprinkling toffee bits on top of each cake, it occurred to me that individually plated Vanilla Bean Mini-Bundt Cakes with Chocolate-Toffee Crunch would be an impressive holiday dessert! Change the toffee for holiday sprinkles to dress up these cakes for any occasion.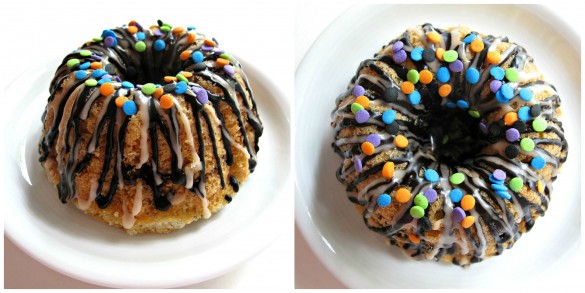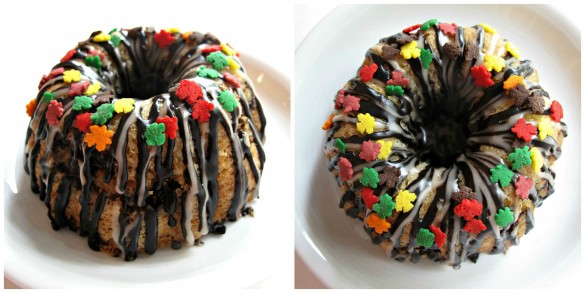 When stored at room temperature in an airtight container, the texture of these little cakes is moist and fluffy for up to 5 days. The flavors are best on days 2-3. Vanilla Bean Mini-Bundt Cakes with Chocolate-Toffee Crunchare sure to make a grand entrance, whether in a care package or straight to the table from the kitchen!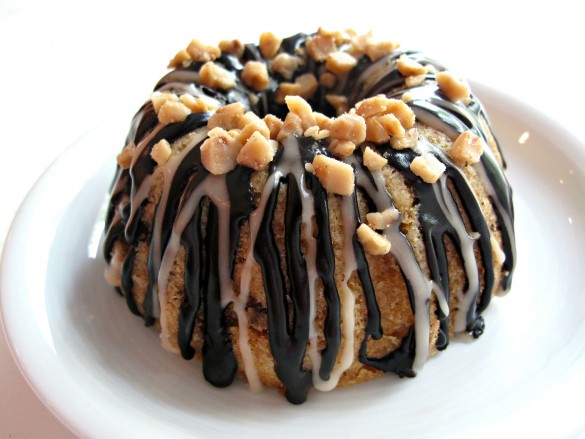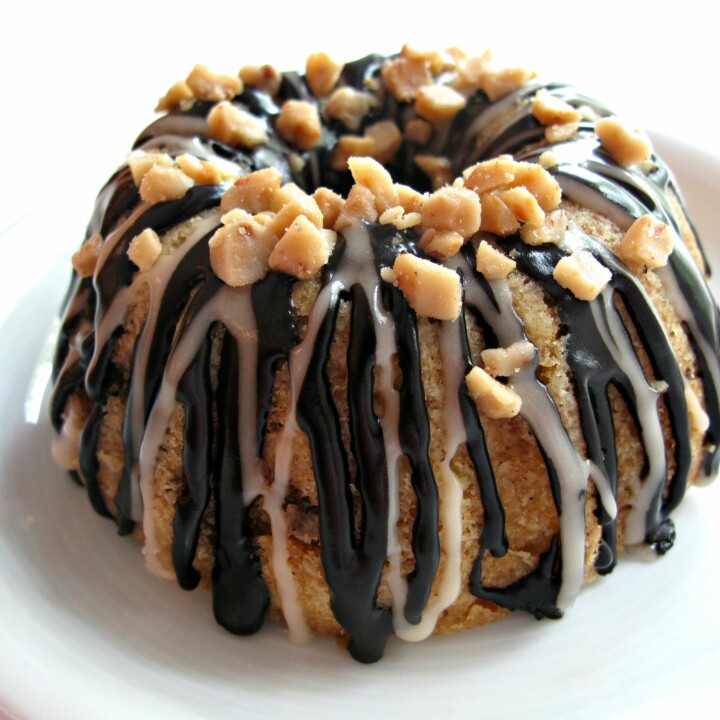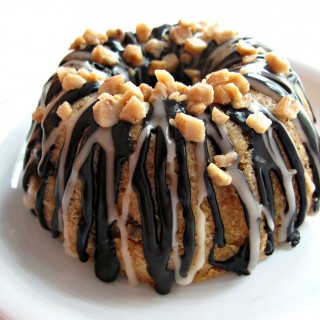 Vanilla Bean Mini-Bundt Cakes with Chocolate-Toffee Crunch
Fluffy vanilla bean cake with a crunchy chocolate-toffee filling and topped with  a double drizzle of chocolate and vanilla icing.
Print
Rate
Adapted From:
"Sweet Times" by Dorie Greenspan
Ingredients
Instructions
Preheat oven to 325° F. Butter each mini-bundt mold and coat with flour.

In a small bowl, combine the filling ingredients: toffee bits, brown sugar, cinnamon, cocoa, and chopped chocolate.

In a medium bowl, whisk together the flour, baking powder, and baking soda.

In the bowl of an electric mixer, cream the butter and sugar for 4 minutes, until light and fluffy

Add the egg and beat for 2 minutes.

Add the sour cream and vanilla and beat for 2 minutes.

Mix in the flour mixture at the lowest speed, just until combined.

Spoon about 4 tablespoons of batter into each mini-bundt mold. Use a butter knife to even out and smooth the batter. Sprinkle the chocolate-toffee filling (about 1 tablespoon) on top of the batter. Gently spoon the remaining batter on top of the filling (about 4 tablespoons into each mold) and use a butter knife to smooth the surface.

Bake for 20-25 minutes or until golden brown and a toothpick inserted in the middle comes out clean.

Cool in the pan for 10 minutes, then turn over onto a wire rack to unmold the mini-bundts and cool completely.

TO DECORATE: Mix the ingredients for each icing in a separate small bowl, using just enough water to create a drizzle consistency. Place each icing in a zip lock bag. Cut a tiny piece off a bottom corner of each bag. Start with the chocolate icing and use a back and forth motion to zigzag the icing around each cake. Repeat with the vanilla icing. (optional) Top each cake with a sprinkling of toffee bits or seasonal sprinkles.

Allow the icing to set completely (about 2 hours depending on humidity) before storing or wrapping. Store at room temperature in an airtight container for up to 5 days. The flavor and texture is best on days 2 and 3!
Notes
Packing tips
When the icing is completely set, wrap each mini-bundt cake first in wax paper, then in plastic wrap. Place wrapped cakes in freezer weight zip lock bags or plastic storage containers.
Nutrition
Calories:
646
kcal
|
Carbohydrates:
96
g
|
Protein:
4
g
|
Fat:
28
g
|
Saturated Fat:
17
g
|
Trans Fat:
1
g
|
Cholesterol:
99
mg
|
Sodium:
157
mg
|
Potassium:
132
mg
|
Fiber:
2
g
|
Sugar:
78
g
|
Vitamin A:
861
IU
|
Vitamin C:
1
mg
|
Calcium:
81
mg
|
Iron:
2
mg