This is a Valentine's Day themed care package for someone I don't know. Red hearts, love notes, and roses were not appropriate. I struggled for a while, trying to figure out what to include in this military care package that would convey my Valentine's Day message of caring and support. Not surprisingly, I decided to express my support in cookie form. Valentine Envelope Sugar Cookies are sealed with a red heart for caring and a yellow "Support our Troops" ribbon.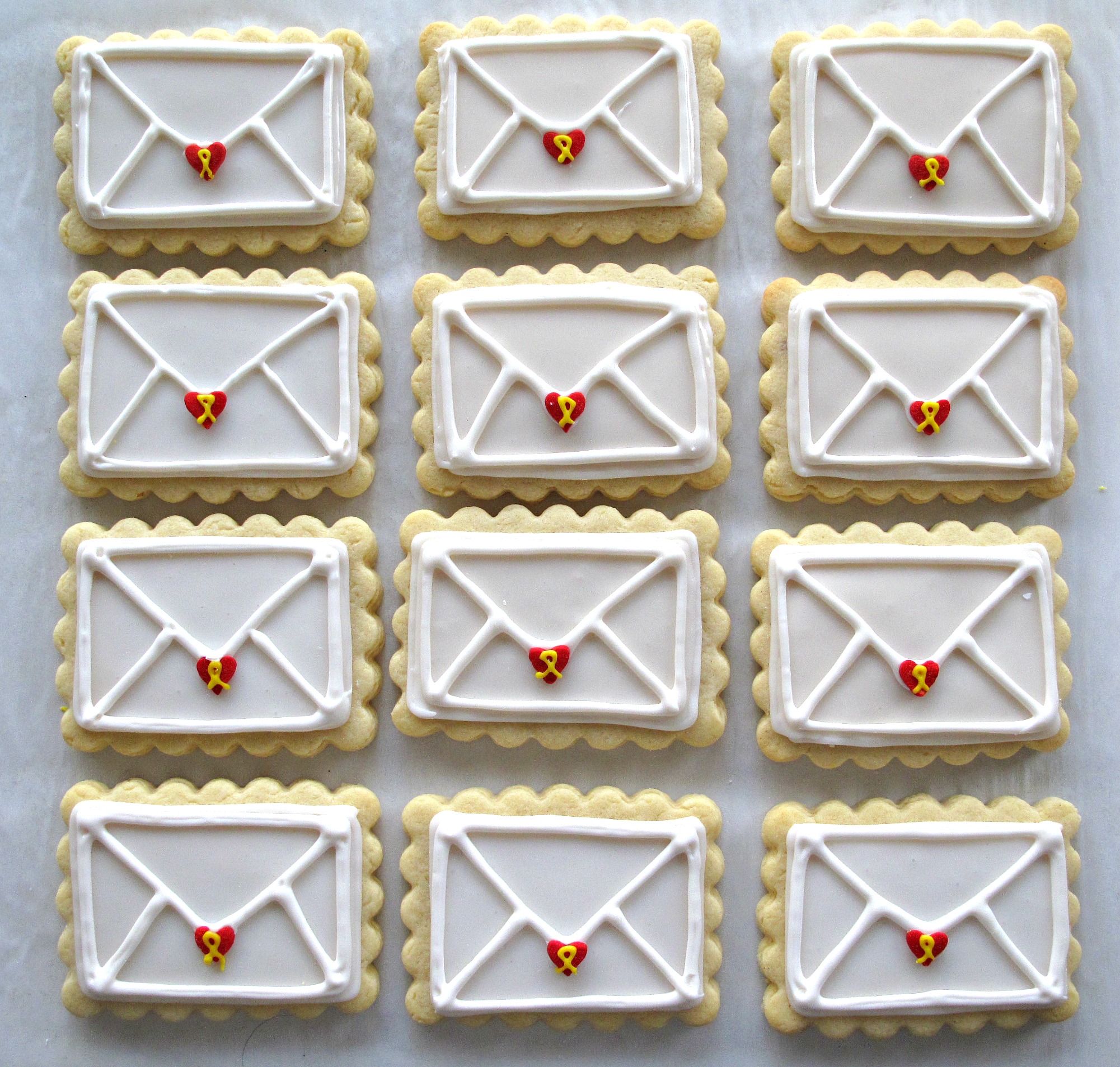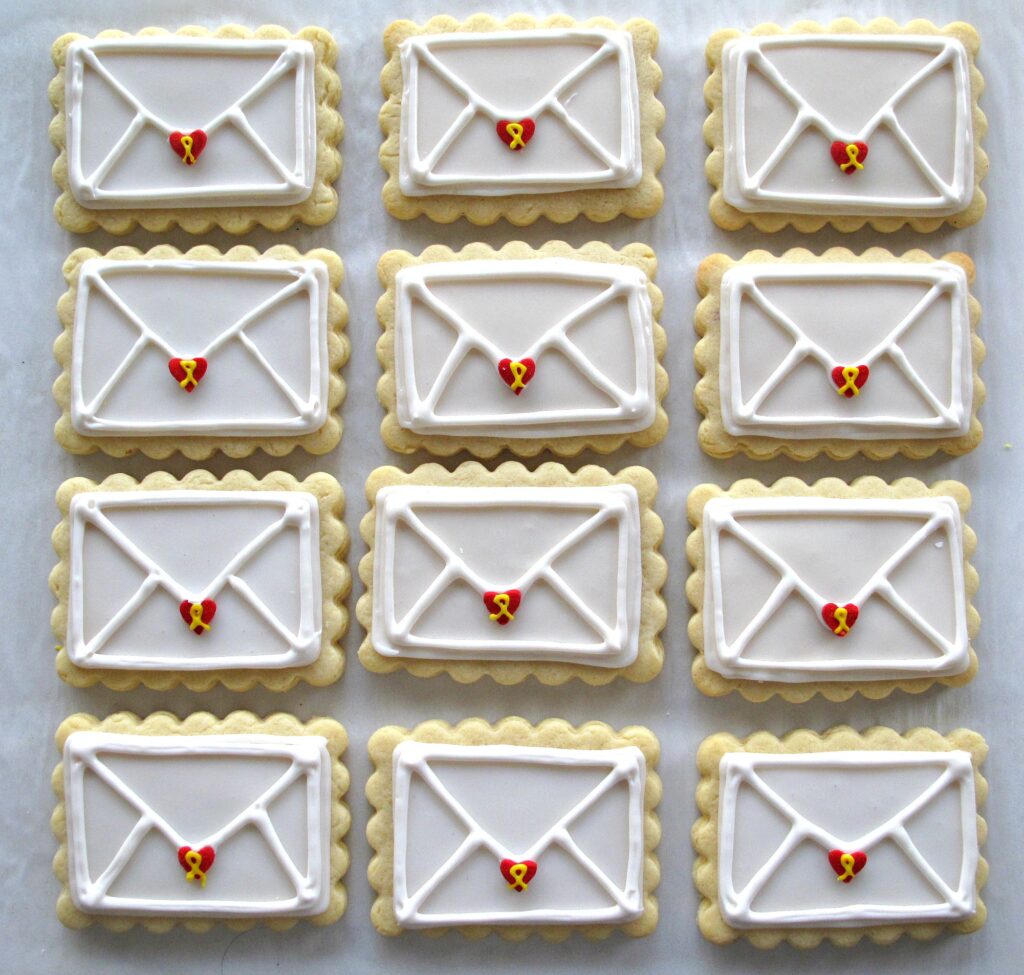 Attempting to emphasize the caring hearts and yellow support ribbon idea, I lined the packing box with hearts cut from rainbow striped paper, and taped a yellow ribbon to each.
Care package contents
The box was loaded with as much chocolate candy as possible, and needed very little tissue paper filler. I took a "one of each" approach when it came to deciding what kinds of candy bars to buy.
The sweet Valentine gorilla was an impulse buy from the Dollar Store. I remembered that Operation Gratitude includes little stuffed mascots in all of their military care packages and they are big time experts, having shipped more than a million boxes. I followed their lead. This little gorilla was destined to warm military hearts in Afghanistan.

Circle sugar cookies
I know. The cookies this month aren't circles. Circles, having no corners, are less breakable when shipping, but this month I am sharing iced rectangles. Valentine Envelope Sugar Cookies are so simple, they are fool proof.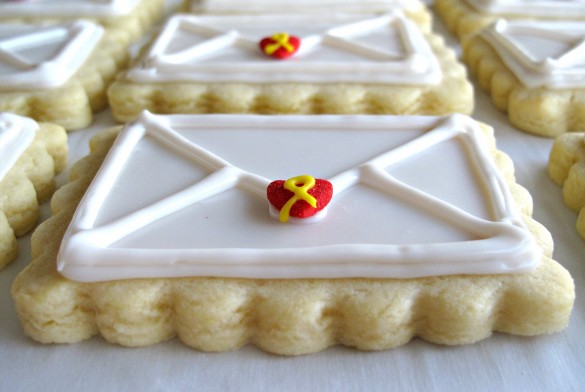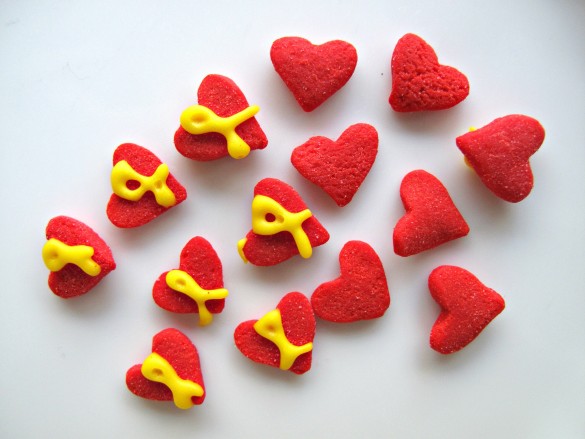 I used one batch of vanilla dough. The 12 cookies for this care package used 1 batch of faux royal icing. Almost all of the icing was white.
Remove about ¾ cup of icing when it is thick enough for outlining.
One tablespoon of the thick icing is colored yellow and placed it in a piping bag with a tiny round tip.
The rest of the thick icing is left white and placed in a piping bag with a small round tip.
The remaining icing was thinned to a flooding consistency and placed in a piping bag with a slightly larger round tip.
Outline all of the cookies in the thicker white icing around the outer edge and allow to set slightly for about 30 minutes before flooding the outlined rectangle.
While the flooded icing is setting for an additional hour, pipe yellow ribbons onto 12 heart sprinkles.
Once the flooded icing has set for an hour, use the thicker white icing to create the lines to look like the back of an envelope.
Press the heart sprinkles with yellow ribbons onto the tip of the envelope flap.
Always allow iced sugar cookies to air dry overnight to allow the icing to harden before packing.
I used plastic wrap to wrap Valentine Envelope Sugar Cookies in pairs, with bottoms together.
The wrapped bundles are then placed snuggly in a column in a freezer weight gallon zip lock bag.
New recipe
Kiss Cookies were the new recipe included in this box. The two dozen Kiss Cookies were festively sprinkled and definitely appropriately chocolaty.
Soldier B. mentioned that he especially likes chocolate-mint. So, I stuffed the cookies with mint truffle Kisses. After baking, each cookie was dipped in a generous coating of chocolate then topped with sprinkles. Plenty of chocolaty celebration.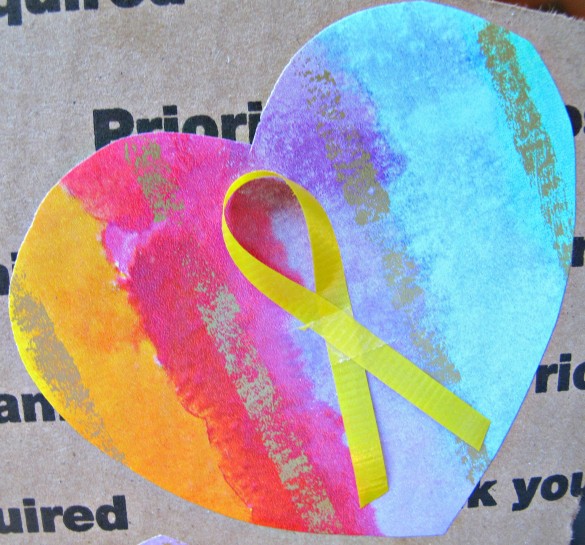 This military care package required adapting. Valentines aren't usually given to strangers.
Valentine Envelope Sugar Cookies are usually made for loved ones with plain sprinkle hearts sealing the flap. These cookies don't need yellow ribbons of support, but our soldiers do.