Butter Cookie Dragons are piped cookies with a crunchy, melt in your mouth texture. The festive shape and sprinkles are ready for a celebration.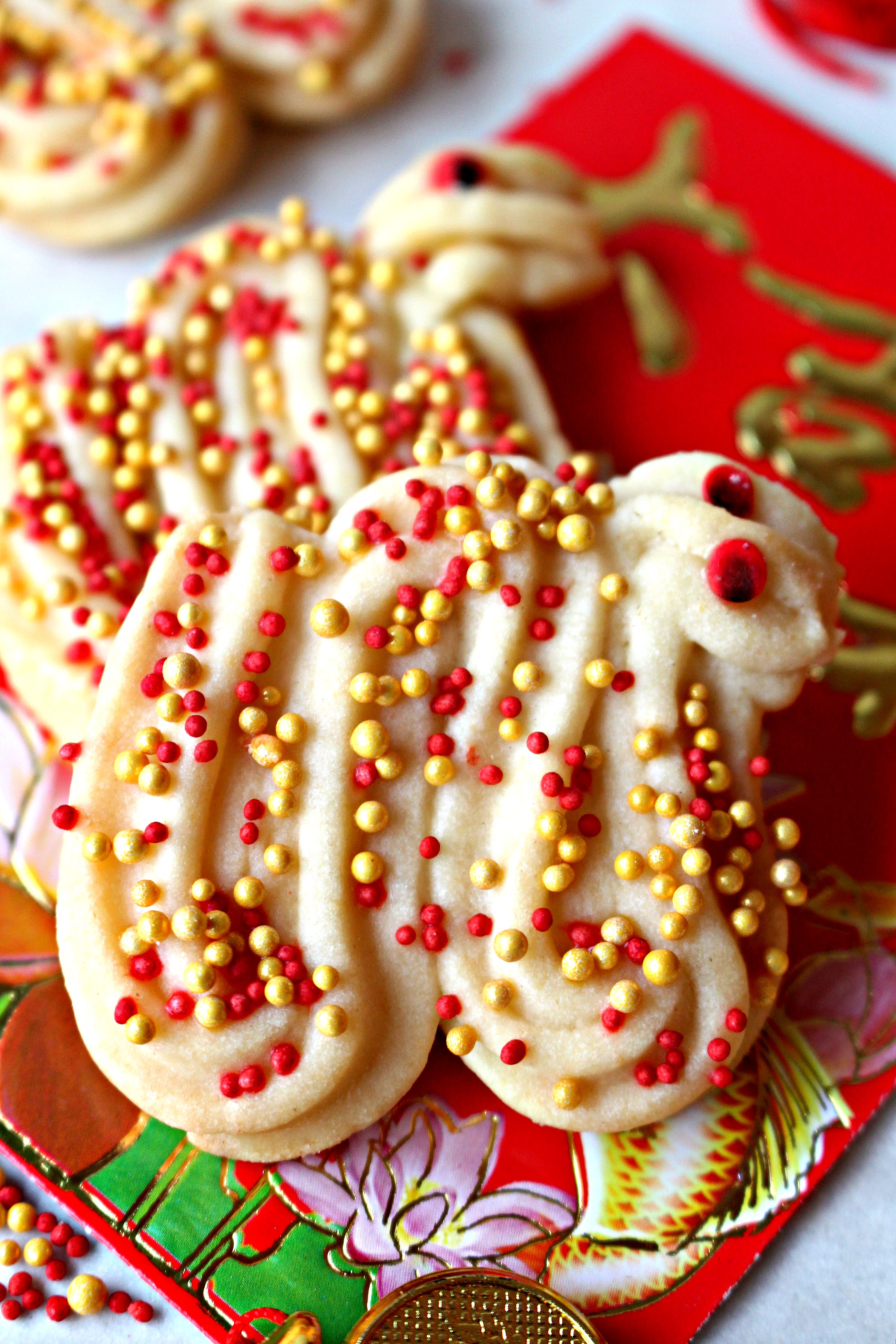 About this recipe
It's fascinating to me that there are many cultures with similar cookies. How did that happen?
Ancient travelers? Brilliant minds think alike? Creative use of available ingredients? Sablés, Viennese Swirls, Danish Butter Cookies, Petibör, and Chinese Butter Cookie Dragons are all made with strikingly similar recipes.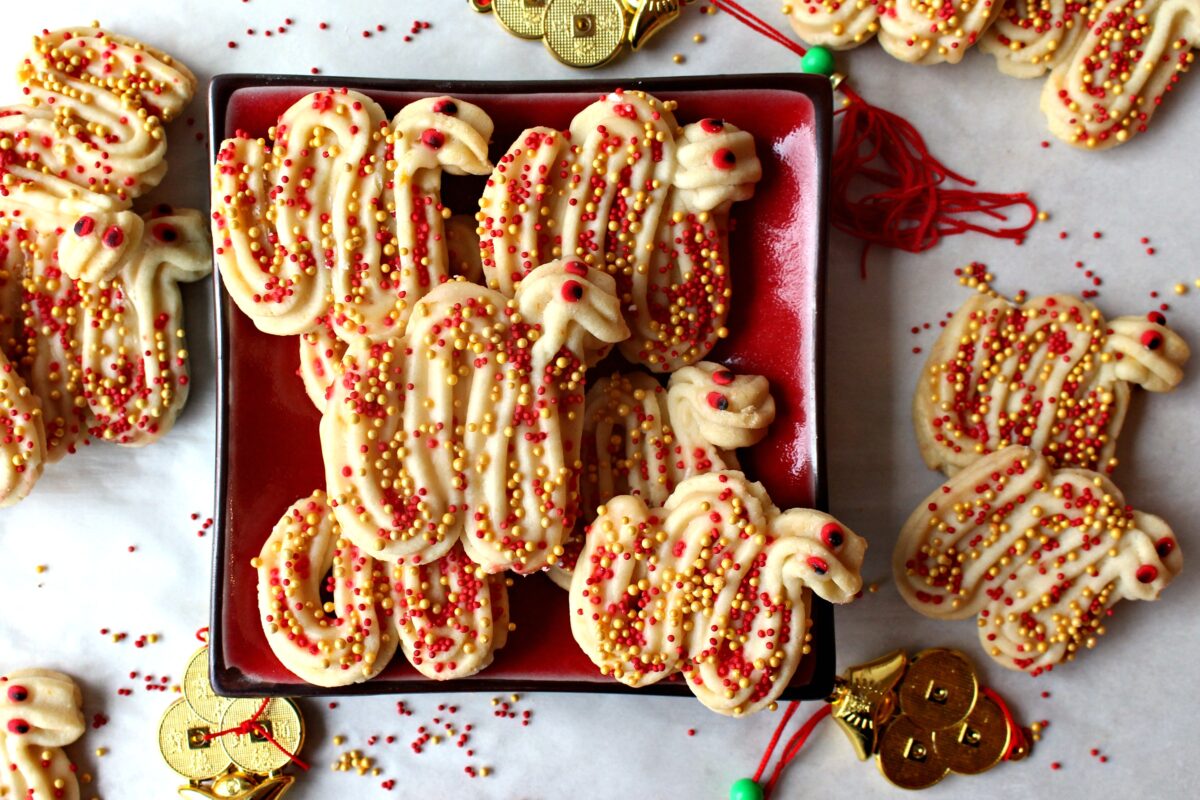 The basic dough for the Butter Cookie Dragons and the swirly dragon shape are true to the traditional Dragon Cookie popular in many countries where the Lunar New Year is celebrated. I found recipes originating in China, Singapore, and Malaysia.
The recipes were all very similar, with almost identical ingredients. The only difference was the slight variations in the ratios of flour, sugar, butter, and corn starch. I experimented until I found a combination I liked best.
If you bake these cookies and ignore my directions for icing and sprinkles, you will have a traditional New Year Dragon Cookie. I added icing and sprinkles which isn't culturally accurate, but it certainly is festive!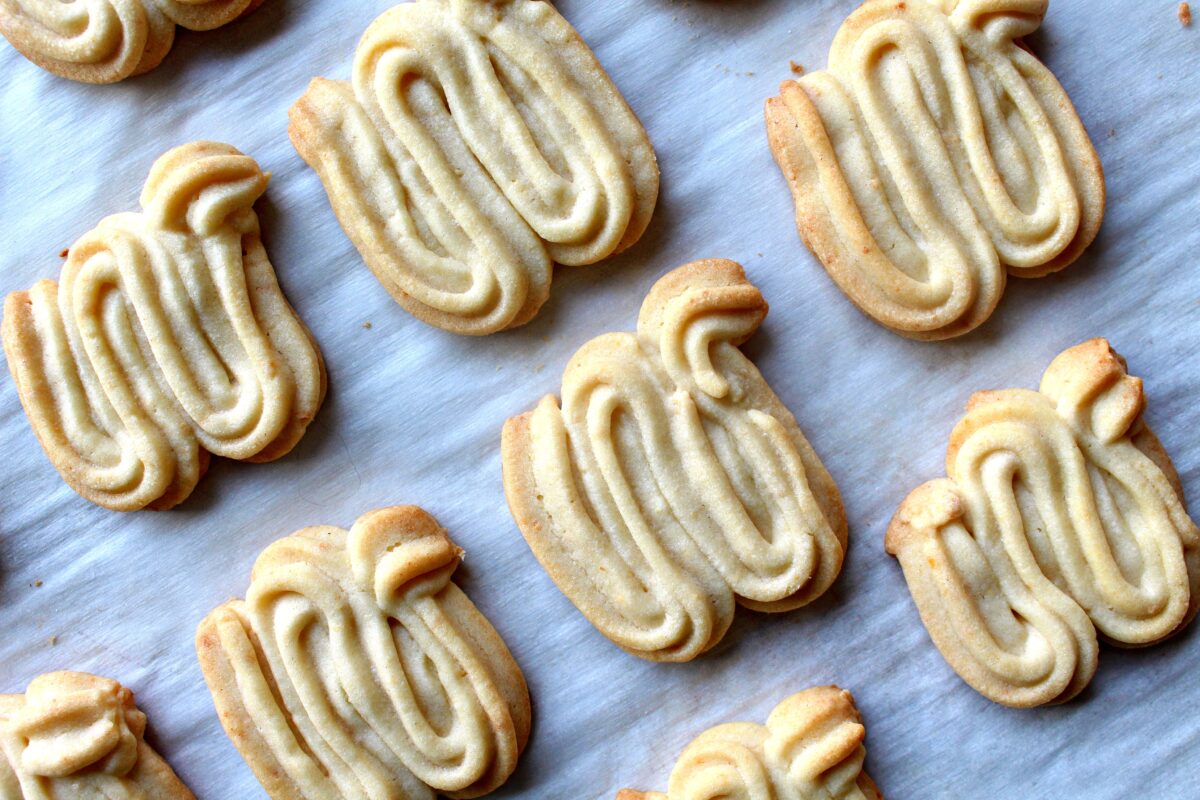 The flour used in a recipe has a huge impact on the texture of the finished product. The gluten content in all-purpose flour varies from brand to brand depending on the wheat used. Certainly, the gluten content varies from nation to nation.
Butter Cookie Dragons are meant to be a crisp cookie that melts in your mouth. A balance of flour and corn starch (plus using confectioners' sugar rather than granulated sugar) provides the wonderful texture without a sandy feel. I played with ingredient quantities until my American ingredients produced the texture I was looking for.
Generally, Asian cookies are less sweet than American cookies. The original recipes all produced cookies that varied from barely sweetened to not sweet at all.
Though my version of Butter Cookie Dragons is not overly sweet, I both double the usual amount of confectioners' sugar and use a light confectioners' sugar glaze for a sweetness that is appealing and familiar to most North American tastes.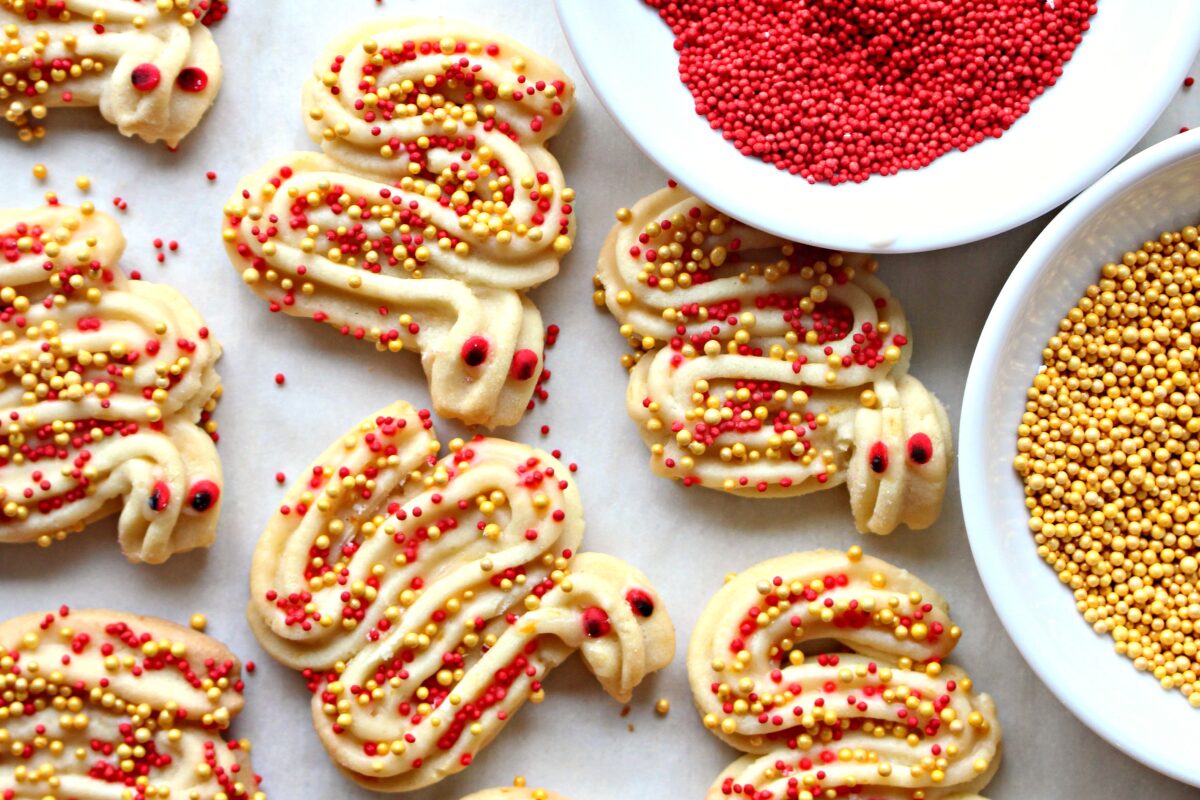 The dough for Butter Cookie Dragons is stiff. The stiffness is necessary for the piped ridges to remain intact while baking.
However, after piping a few cookies my hands and arms were sore! Perhaps this is an indication I need to work out more. In Jamie Oliver's recipe for Dragon Cookies he writes, "You'll need a good strong piping bag, a supersized star-shaped nozzle, and biceps of steel!"
Not having biceps of steel, shouldn't keep you from making these tasty treats. I found that adding just 2 teaspoons of milk to the dough made piping much easier without effecting the dragons' textured look.
Instant milk powder is not a flavoring ingredient often used in American cookie recipes. Powdered milk is used in this recipe, not as a flavor that stands out on its own, but to add fullness to the other flavors in the cookie. The powdered milk can be left out, but the Butter Cookie Dragons won't have the same rich flavor.
Vanilla extract is traditionally the only flavoring added to Butter Cookie Dragons. The addition of orange zest is an idea I got from my favorite recipe for Viennese swirls.
I include orange zest as an optional ingredient. Not only is the zest delicious, but it's fun to note that oranges and tangerines are considered auspicious symbols for wealth and luck in the New Year.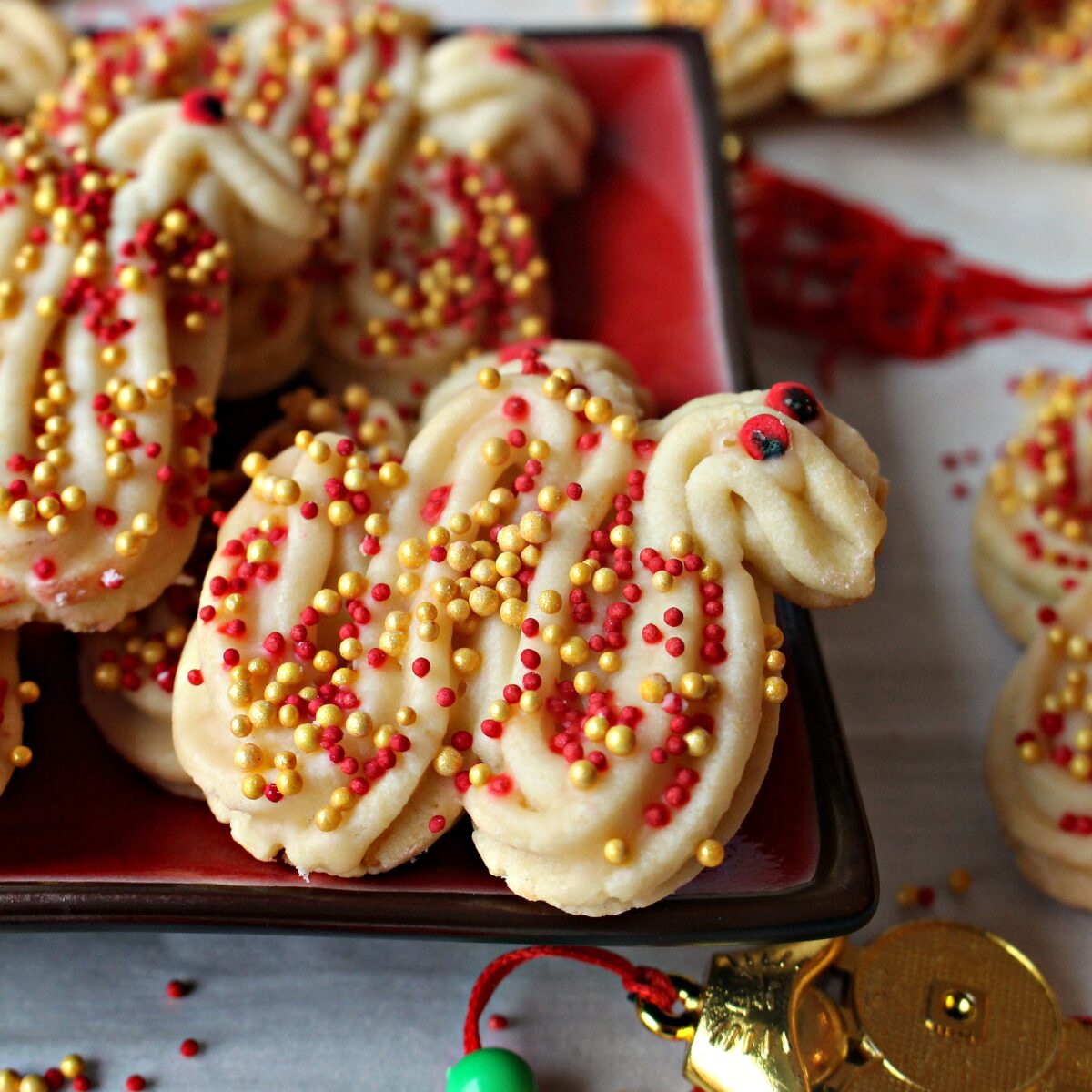 Decorating
Traditional Butter Cookie Dragons are undecorated. Eyes are often added using a toothpick dipped in food coloring, but the cookies are left otherwise plain. Because I love sprinkles and the festiveness they bring to baked goods, I added nonpareil sprinkles using a confectioners' sugar glaze as glue.
The red and gold colors are further symbols of prosperity and good luck. The confetti sprinkle eyes may just be symbolic of my insanity, but they took so little time to make (less than 10 minutes) that I couldn't resist. A simple dot using an edible marker, makes all the difference.
Should you not share my particular brand of sprinkle insanity, eyes can be added with plain black or red confetti sprinkles, purchased candy eyes, or in the traditional manner by dotting on a bit of food coloring.
More Chinese New Year snacks
Milk Candy is the favorite candy in China! This three ingredient treat symbolizes a sweet start to the new year.
Peanut Cookies are a favorite treat often found in Chinese bakeries. These gold cookies are made with ground peanuts for lots of delicious flavor.
Pineapple Cookies are balls of melt-in-your-mouth shortbread filled with easy to make pineapple jam!
These traditional Chinese New Year Almond Cookies are a crunchy butter cookies with wonderful almond flavor.
You will find lots of delicious recipe suggestions in this roundup of 10 Chinese New Year Treats.
For all who celebrate the Lunar New Year (and for those who enjoy tasty butter cookies), I wish you Good Luck in this new year!
Ready to bake? Join the free membership group to get new recipes and a newsletter delivered to your inbox! You can also stay in touch on Facebook, Pinterest, and Instagram. I'd love to stay in touch!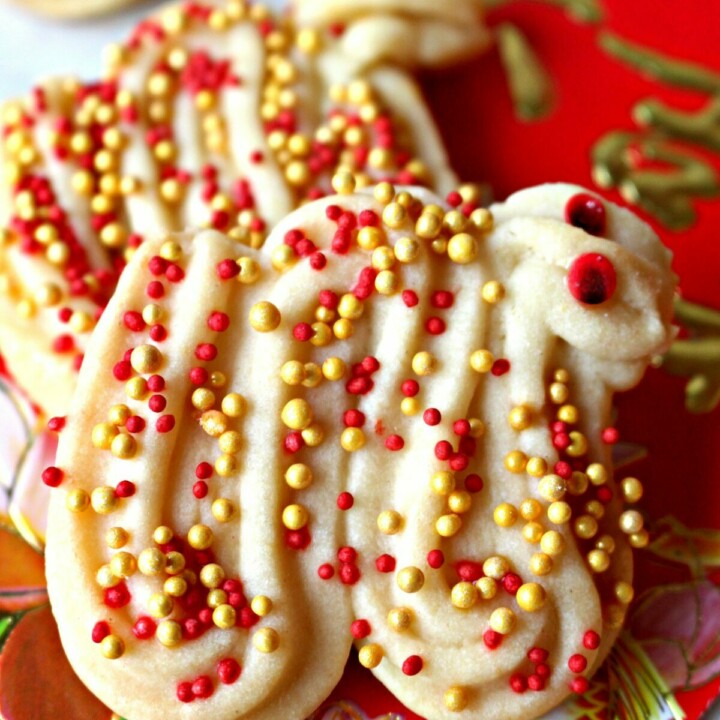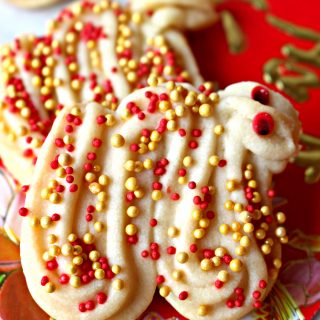 Dragon Cookies ( 龙饼 ) for Chinese New Year
These Lunar New Year cookies are crisp, melt-in-you-mouth butter cookies piped into festive dragon shapes.
Print
Rate
Adapted From:
JamieOliver.com
Ingredients
Cookies
2

cups

all-purpose flour

7

tablespoons

corn starch

2

tablespoons

powdered milk

1

cup

unsalted butter

room temperature

1

cup

confectioners' sugar

1

large egg yolk

2

teaspoons

vanilla extract

zest of 1 medium orange

microplaned

2

teaspoons

milk
Decorating
Red confetti sprinkles

Black edible marker

Red and gold

or bright yellow nonpareil sprinkles
Instructions
Preheat oven to 350° F. Line a baking sheet with parchment paper.

In a medium mixing bowl, whisk together flour, corn starch, and milk powder. Set aside.

In the bowl of an electric mixer, cream the butter and sugar until light and fluffy.

Add the egg yolk, vanilla, and orange zest, then beat to combine.

Mix in flour mixture just until dough forms. Add up to 2 teaspoons of milk to create a dough soft enough for piping, but firm enough to hold it's shape in the oven. If you are unsure of how much milk to add, try piping some of the dough and adding until the desired consistency.

The dough is easiest to pipe using a quarter of the dough at a time. Place about ¼ of the dough in a piping bag fitted with a star tip. Pipe the dough onto the prepared baking sheet in a rounded "W" shape with a small extended of dough at the end for the dragon's head.

Bake for 10-12 minutes until the bottom edges just begin to brown.

Remove from the oven and cool on the baking sheet for about 5 minutes before transferring to a wire rack to cool completely.

To make dragon eyes, draw a dot on each red confetti sprinkle with an edible marker. For less detailed eyes, skip this step and use plain red or black confetti sprinkles instead.

In a small bowl combine the icing ingredients and stir until smooth.

Working with one cookie at a time, use a small food brush to paint the icing onto the cookie everywhere but the dragon's head. Sprinkle with red and gold nonpareil sprinkles. Paint an icing dot where you want to glue on the dragon's little eyes, and add the prepared red confetti sprinkle eyes.

Allow the icing to dry completely (about 1 hour) before storing in an airtight container at room temperature for up to 2 weeks.
Notes
For more Chinese New Year biscuits, next time you may also like Pineapple Cookies or Peanut Cookies.
Packing tips
Though long lasting, Butter Cookie Dragons require careful packaging due to their shape. Keeping the cookies from moving in a protective container is key.
Wrap pairs of cookies, bottoms together, in plastic wrap. Place the bundles snugly in an airtight container padded on the top, bottom, and sides with wrinkled wax paper.
Gently shake the container before packing to be sure there is no movement. Pack the container toward the middle of the shipping box.
Nutrition
Calories:
98
kcal
|
Carbohydrates:
11
g
|
Protein:
1
g
|
Fat:
5
g
|
Saturated Fat:
3
g
|
Trans Fat:
1
g
|
Cholesterol:
19
mg
|
Sodium:
3
mg
|
Potassium:
17
mg
|
Fiber:
1
g
|
Sugar:
4
g
|
Vitamin A:
170
IU
|
Vitamin C:
1
mg
|
Calcium:
8
mg
|
Iron:
1
mg
Save
Save
Save
Save
Save