Celebrate the Chinese Lunar New Year, also called the Spring Festival, with these traditional sweet treats. Sharing sweet things, like cookies, candy, and fruits symbolizes wishes for blessings and good fortune in the coming year.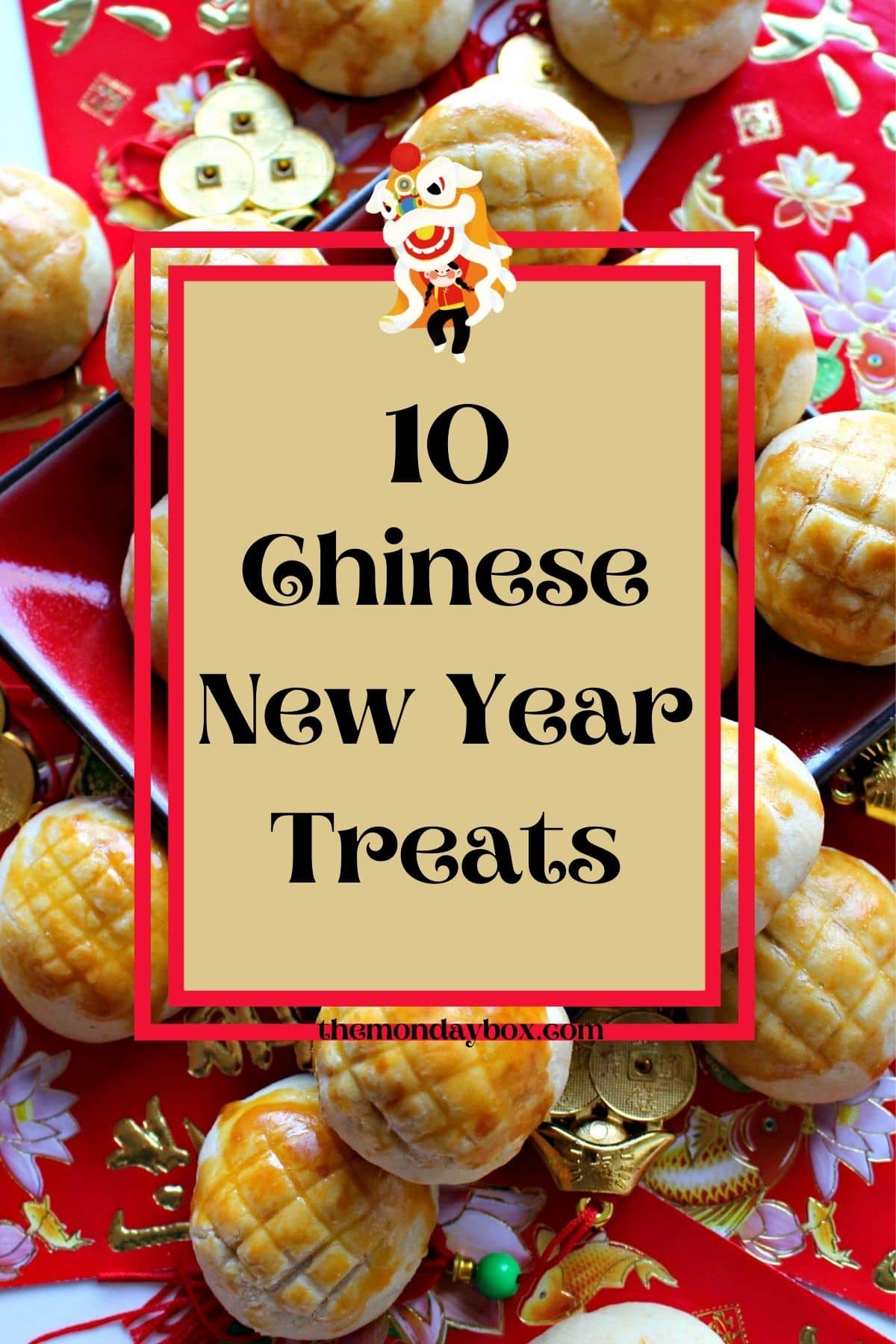 Interesting facts about Chinese New Year
For many people, the most important part of the New Year festival is a special family reunion dinner on New Year's Eve. It is considered to be the most important meal of the year. Millions of people travel long distances to be with their family members for this celebration.
The traditional foods and sweets served at the New Year's eve dinner, and throughout the Spring Festival, symbolize blessings of abundance, prosperity, happiness, and longevity.
Sweet treats represent a sweet life. Each traditional Chinese dessert or candy offered has it's own symbolic meaning.
New Year candies are presented in a special round, red candy box called the "Tray of Togetherness" which is filled with sweets that represent luck, happiness, and good fortune.
Round fruit is another sweet food that is part of offering New Year blessings. The round shape symbolizes unity, prosperity, and abundance. There are some fruits that are considered especially auspicious this time of year.
Tips for creating a Lunar New Year care package
Decorate the box in red. Red is considered to be a lucky color in China. The color red represents happiness, beauty, vitality, good luck, success, and good fortune.
Add symbols from the Chinese zodiac. There are 12 animal zodiac signs. Each year is attributed to one of those signs.
Many packaged cookies and candies for the Chinese New Year celebration can be found at your local Asian market. Look for walnut cookies, Chinese almond cookies, and fortune cookies.
Include the dried fruits (red dates, Chinese dates, lotus root, winter melon, kumquats, thick strips of candied coconut) and seeds/nuts that play an important role in this celebration.
Red envelopes containing "lucky money", are traditionally exchanged and represent good wishes for the year ahead. Add some envelopes to your package for luck!
Chinese New Year cookies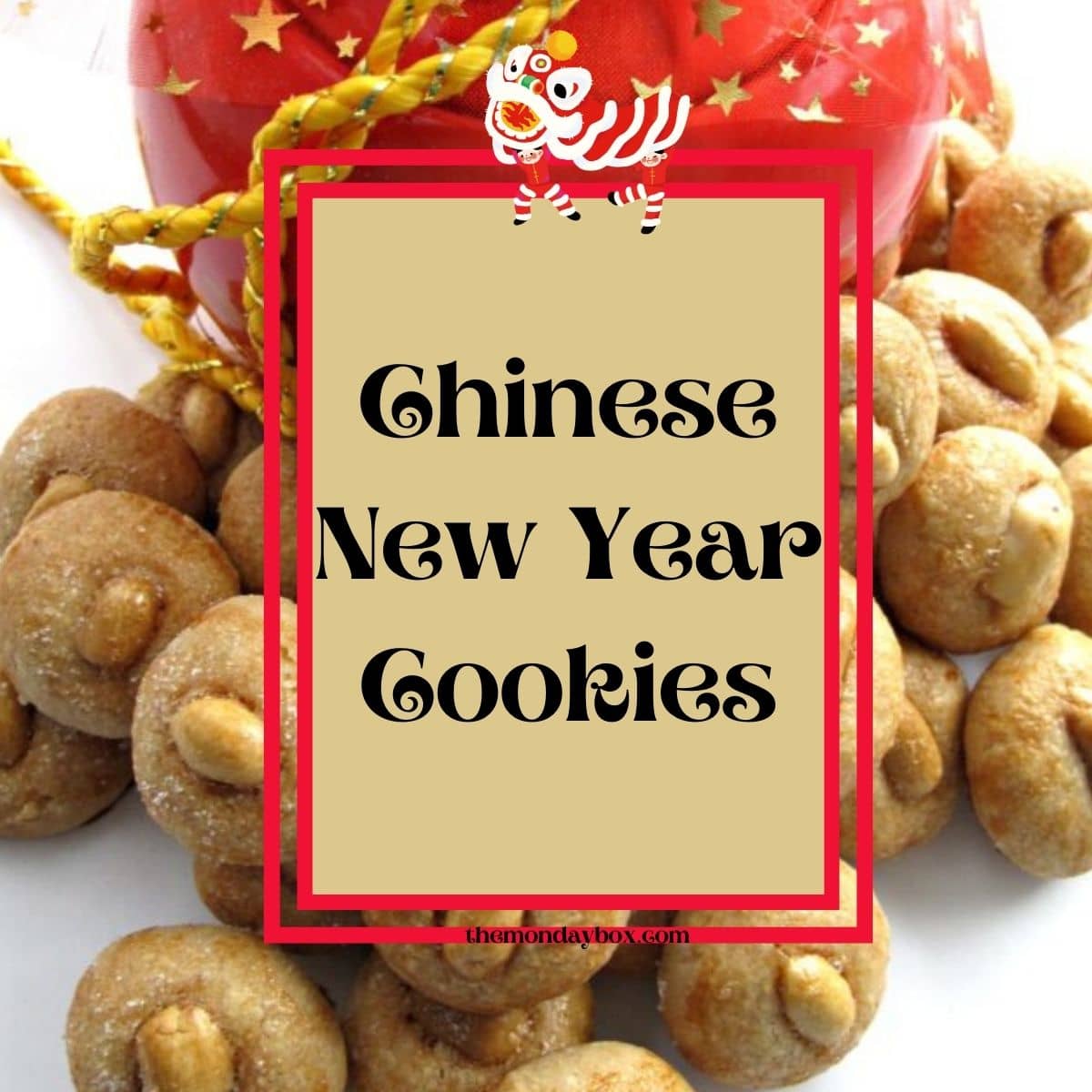 These traditional Chinese New Year cookies are delicious treats all year, however, during the Spring Festival celebration their sweet taste and ingredients take on special meanings and blessings. You share those good wishes when you share the cookies.
Chinese Peanut Cookies are crunchy, golden brown cookies that melt in your mouth and are full of peanutty flavor from ground roasted peanuts. Peanuts are a symbol of good health and long life.
Pineapple Cookies , also known as pineapple tarts, are bite sized balls of buttery shortbread with pineapple jam inside. Pineapples represent prosperity.
Dragon Cookies are piped butter cookies in the shape of a dragon, the symbol for good luck, strength, and health.
Cornflake Cookies are buttery cookies rolled in small pieces of cornflakes for exceptional crunch. No surprise that they are some of the most popular New Year cookies in Malaysia.
Chinese Almond Cookies are light, crunchy, and buttery. A traditional Lunar New Year cookie that symbolizes wealth and prosperity.
Chinese New Year Candy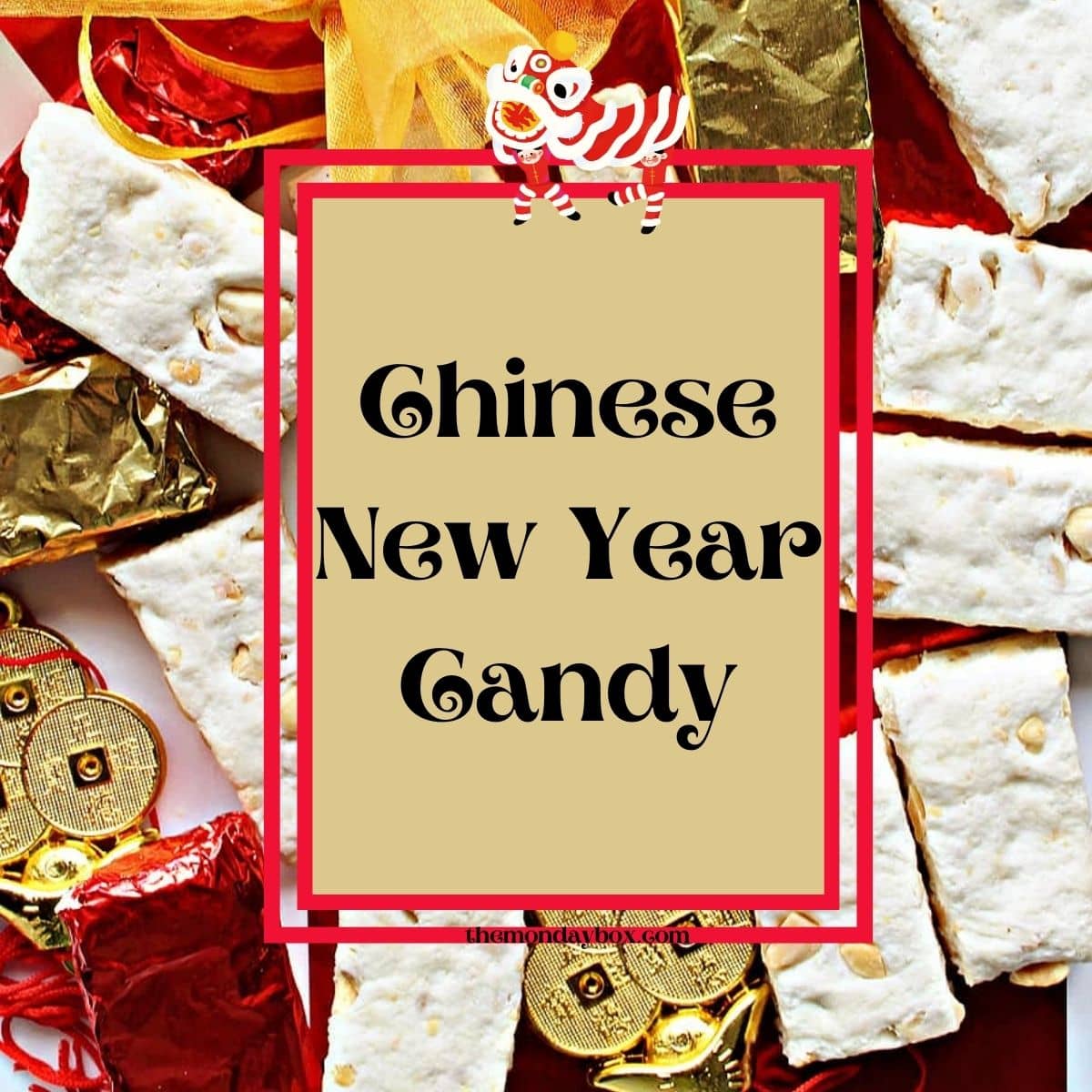 Candy is the obvious gift choice when wishing someone a sweet life! Some of the sugary treats, candied fruit, and nuts shared during Lunar New Year celebrations add even more good wishes.
Milk Candy is a homemade version of the chewy nougat made by the White Rabbit brand. It's the most popular candy in China!
Date and Walnut Candy is a sweet, soft, and chewy treat packed full of crunchy walnuts. The dates symbolize wealth and prosperity and the walnuts are a symbol for happiness.
Homemade Chinese Sesame Peanut Brittle is a deliciously crunchy candy that's surprisingly easy to make. The peanuts represent health and longevity and the sesame seeds are for luck.
Candied Coconut Ribbons are lightly sweets strips of beautifully colored coconut. An easy recipe that starts with canned coconut ribbons. Coconut is a symbol of friendship and strong family ties.
Candied Ginger is a sweet and spicy candy made with just 3 ingredients! Ginger represents good health and longevity.
Lucky fruits for Chinese New Year
The tradition of eating and gifting round fruits is meant to attract and share prosperity in the new lunar year.
When creating a Chinese New Year care package, sending fresh fruit may not be practical. These fruit flavored recipes are not for Asian sweets, but their flavors offer an alternative way to share good wishes.