Pomegranate Caramels take ordinary caramels up a notch or two. Think chewy, creamy caramel with a fruity touch. These easy to make sweets are a festive treat and make wonderful gifts.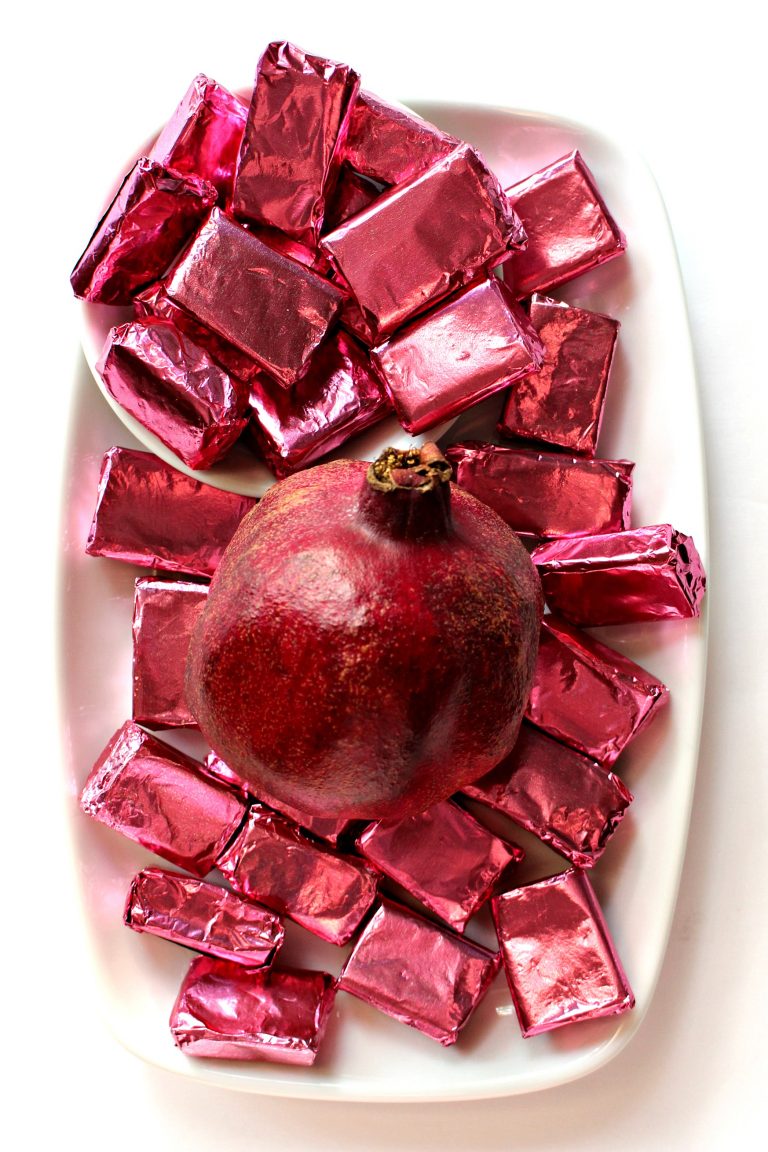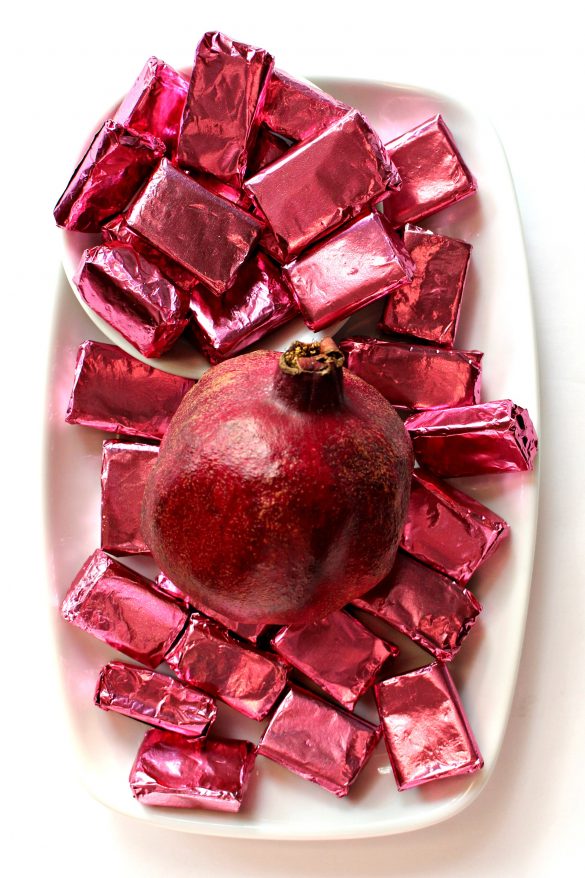 This week was Rosh Hashanah, the Jewish New Year. It is a time of celebration, reflection, and renewal. Traditionally, family and friends gather to celebrate and often there are foods served that are symbolic of our New Year's wishes.
Apples are dipped in honey in the hope of a sweet New Year. My Honey Applesauce Cake, Apples and Honey Cookies, Honey Lollipops, and Honey Jumbles all incorporate those traditional flavors.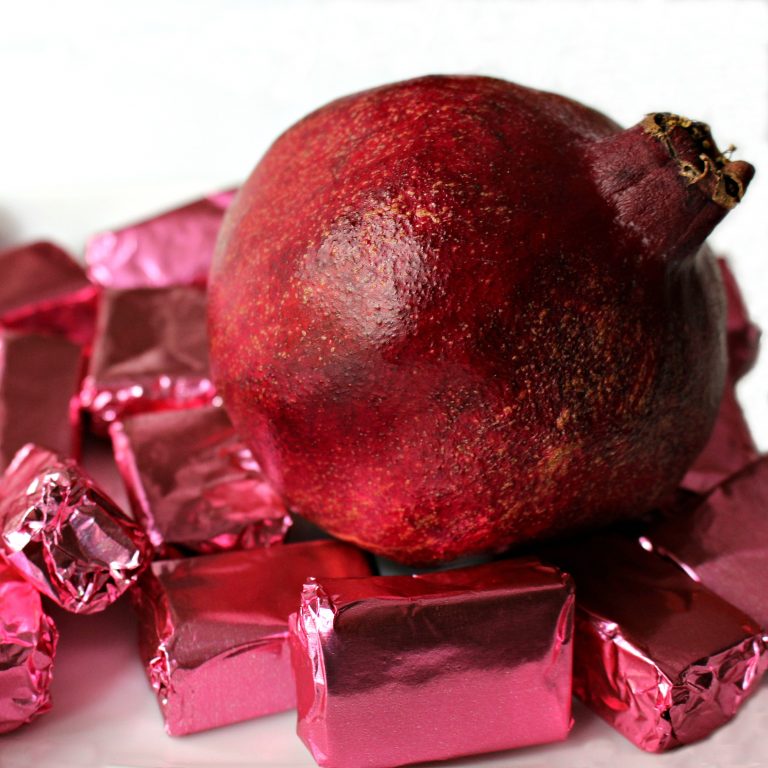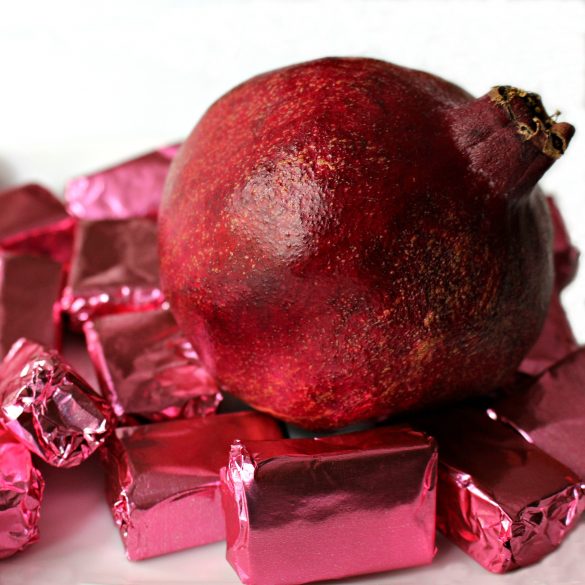 The pomegranate is also a traditional Rosh Hashanah fruit. The many seeds represent our merits and the hope is to increase our merits in the year to come.
The number of seeds in each pomegranate is said to correlate with the 613 commandments, or good deeds, of the Torah. The pomegranate also represents knowledge, learning, and wisdom. Pomegranate Caramels embody all of those hopes and wishes along with deliciousness.
A few years ago, I invested about $20 in a good quality, digital candy thermometer. I'd never made candy in my life, but I had become obsessed with creating homemade marshmallows and a thermometer was required for success.
When my marshmallow phase passed, I thought I would never use the "gadget" again, but I was wrong. A candy thermometer is a great tool to have in the kitchen.
I've used it to temper chocolate, make lollipops, create nut-free toffee bits, and stir together popcorn topping. Now I've learned that with a candy thermometer at the ready, homemade caramels are quick, simple, and addictive.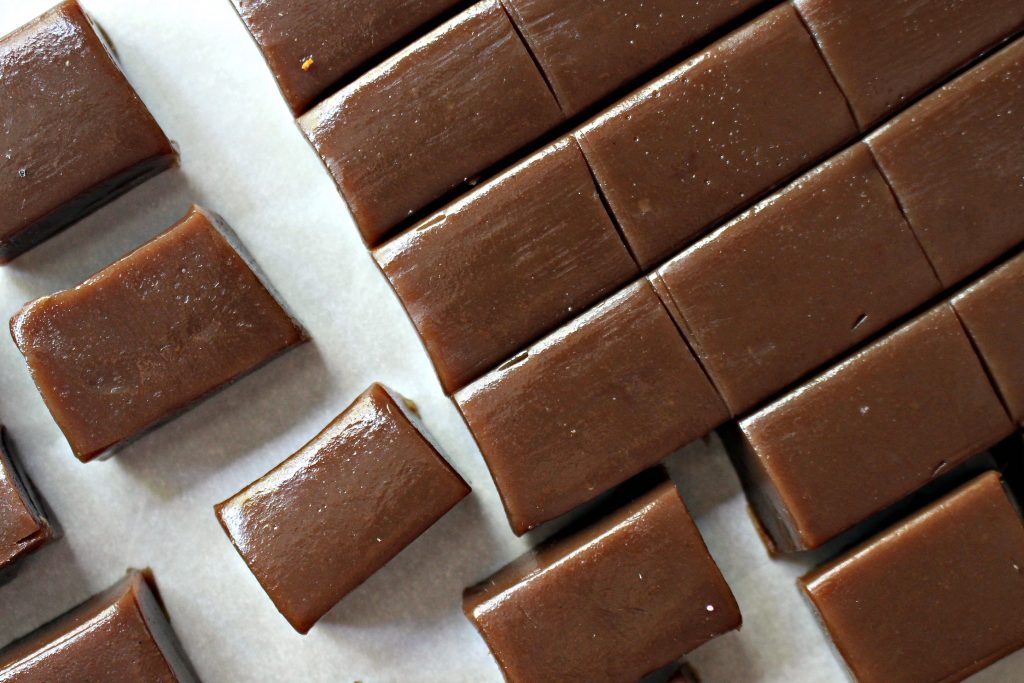 I adapted this recipe for Pomegranate Caramels from one that uses frozen juice concentrate for flavor. Pomegranate juice doesn't come in frozen concentrate, that I am aware of, but making your own concentrate adds less than 15 minutes to the recipe.
Ultimately, the recipe requires ¾ cup of juice concentrate. Starting with 3 times that amount (2 ¼ cups), the juice is simmered to evaporate the liquid and concentrate the flavor until ¾ cup of juice remains.
I had excellent results with both the Pom brand (refrigerated) and the Trader Joe's brand ( shelf stable) of pomegranate juice.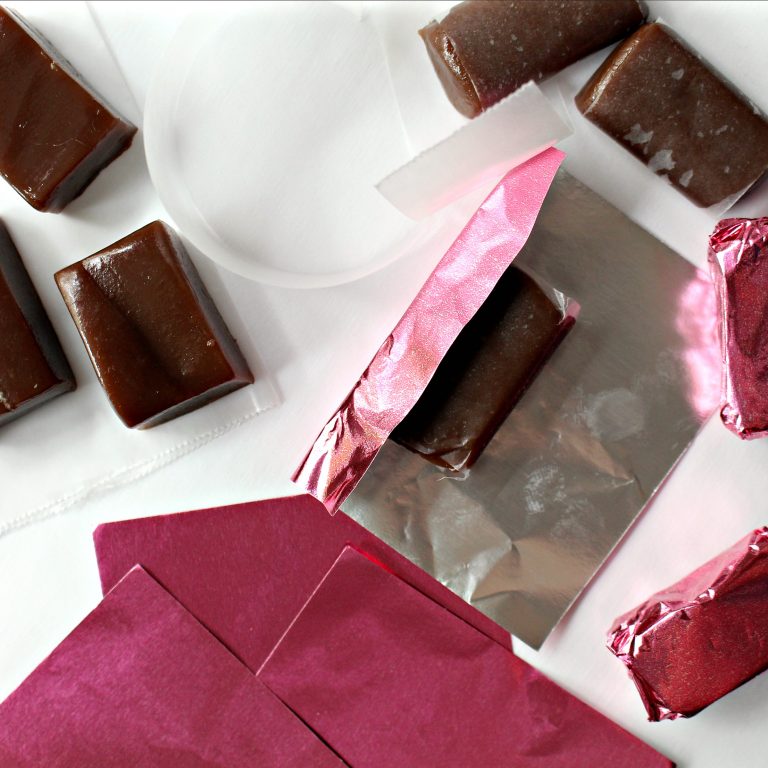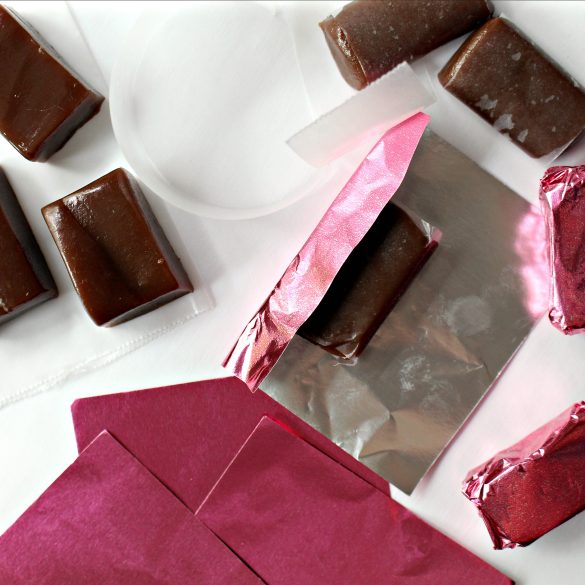 For a lovely, soft, chewy consistency, Pomegranate Caramels should be stored at room temperature. However, for easy cutting and wrapping, I recommend chilling the caramel (for about 15 minutes) to temporarily harden.
Waxed paper can be cut in squares (4"x 4") for wrapping with twisted ends or can be purchased pre-cut. For celebrations and gift giving, cellophane or foil wrappers provide sparkle.
I first wrapped my Pomegranate Caramels in thin strips of waxed paper (hand cut) as extra protection from sticking, though my foil wrappers are labeled "anti-stick candy wrappers". Then I covered each caramel in foil, folding the foil just as I would wrap a package.
Wrapping on a flat surface (rather than holding the caramel in your hand) helps keep the candy from warming and the foil from wrinkling.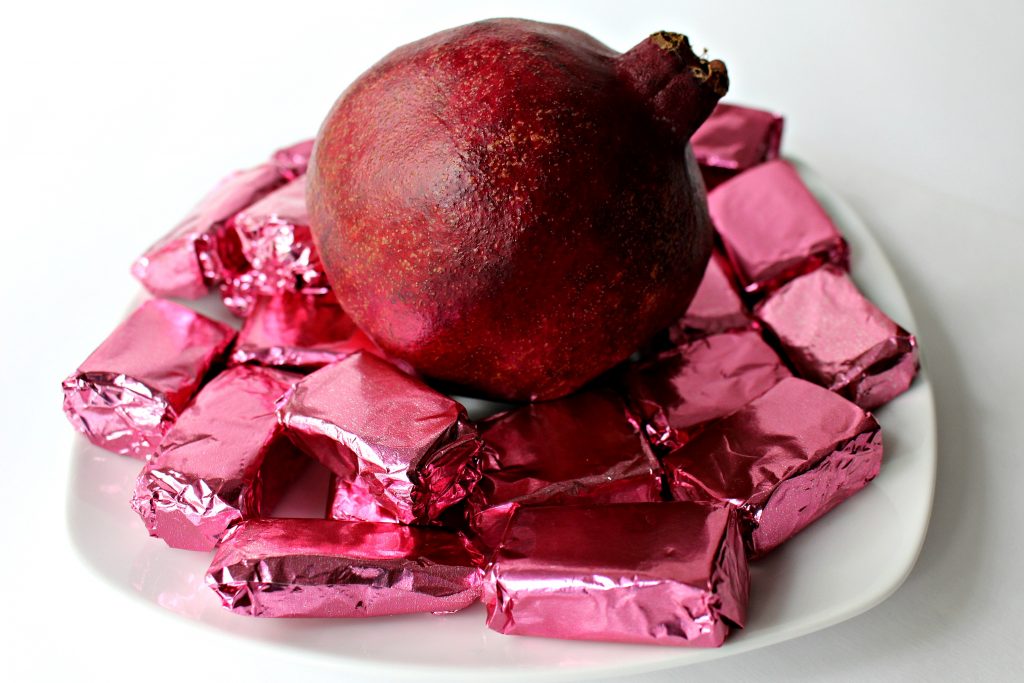 So far, no one has been able to eat only one Pomegranate Caramel. The first is always devoured so quickly that a second is required to savor the flavor.
Some tasters have required more savoring! Be sure to pin this recipe. Pomegranate Caramels are ideal for holiday gifting to family, friends, teachers, and coworkers!
MORE ROSH HASHANAH GIFT IDEAS
Chocolate Chip Pomegranate Cookies
Wishing everyone a healthy, happy, and peace-filled New Year. L'Shana Tova!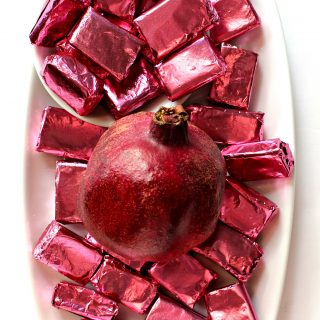 Print
Pomegranate Caramels
As an Amazon Associate I earn from qualifying purchases.
Ingredients
2 ¼

cups

pomegranate juice

½

cup

unsalted butter

1 ¾

cup

granulated sugar

¼

cup

light corn syrup

¼

teaspoon

salt

14

ounce

can sweetened condensed milk
Directions
In a 2 quart saucepan over medium heat, bring the pomegranate juice to a boil. Lower temperature and simmer uncovered until the juice is reduced to ¾ cup (about 15 minutes). Set aside.

Line an 8" x 8" baking pan with parchment paper.

In a 2 quart saucepan over medium heat, melt butter.

Add sugar, corn syrup, salt, condensed milk, and reduced pomegranate juice. Stir continually until the mixture reaches 248° F on a candy thermometer.

Pour the mixture into the prepared pan. Allow to cool at room temperature.

For easier cutting, refrigerate for 15-30 minutes until quite firm. Lift the caramel out of the pan using the overhanging parchment paper as handles. Place on a cutting board. Use a sharp knife to cut the caramel into individual pieces (approximately 1" x ¾").

Wrap caramels in wax paper then decorative foil.

Store in an airtight container at room temperature for up to 2 weeks.
Notes
Pack individually wrapped caramels in an airtight plastic storage container or freezer weight ziplock bag. Only ship caramels during cold weather.
The Monday Box participates in the Amazon Affiliate Program. If you chose to purchase a product after following a link on this page, I will receive a small commission, at no cost to you, which helps make The Monday Box possible.