The lure of forbidden fruit is hard to resist. Isn't it funny how much more we want things when, for whatever reason, we can't have them?   As a child, I was allergic to chocolate, which as a result made chocolate the most desirable flavor on earth.  These Flourless Chocolate Cookies would have been irresistible for me!
Whenever I ate chocolate, I would break out in itchy hives. It was very uncomfortable, but that didn't stop me from sneaking a chocolate cookie, candy bar, or drink at every opportunity.
At some point, I simultaneously out grew the allergy and my driving need for chocolate. I like chocolate now, but I don't love it.
My dear friend and long ago college roommate has always been an avid chocolate consumer. However, the year that she gave up chocolate for lent, her craving for chocolate became so great, we had to peel her off the store front windows of Godiva and Fanny May. She longed for the withheld confection.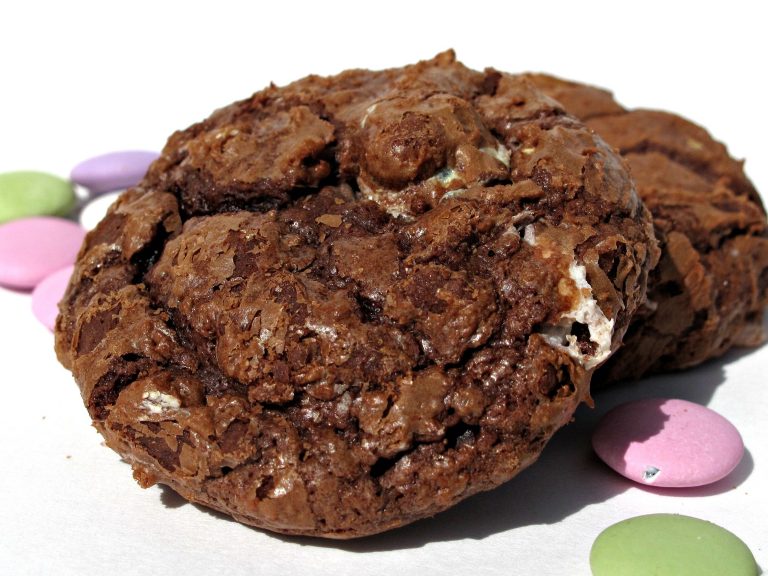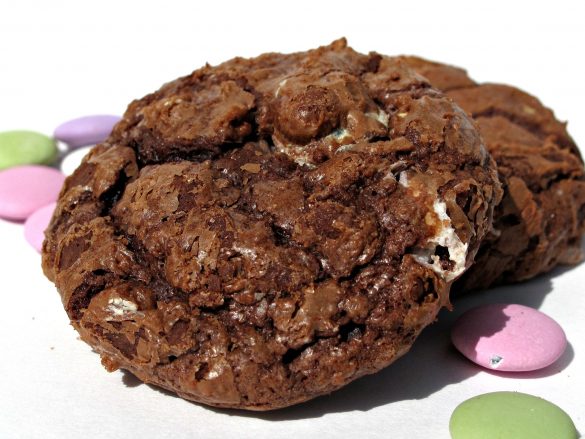 This Sunday night is the first night of Passover, the 8 day holiday commemorating the Jewish exodus from slavery in Egypt. Jews who observe the dietary traditions of Passover, abstain from eating grains (and anything made from those grains or any byproducts of those grains) and leavening.
As a consequence, many people go into a frenzy of flour-free baking. Even people who rarely eat dessert, cookies, or cakes, suddenly feel compelled to make and/or eat all kinds of goodies.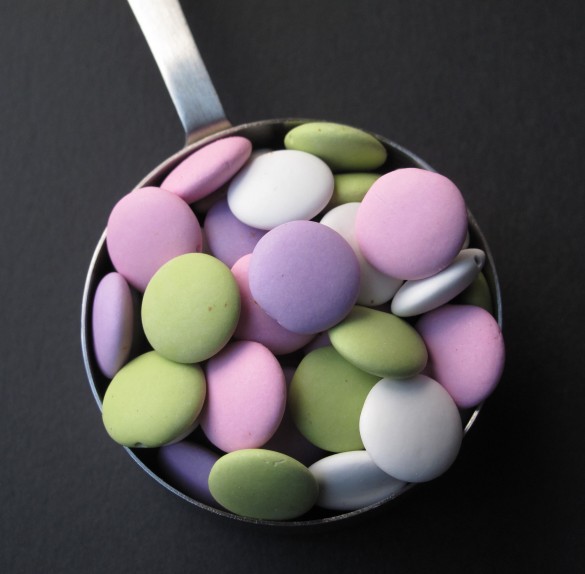 I have always been one of those frenzied Passover bakers. Not a surprise, as we have already established my tendency to crave anything I am told I can't have.
Some Passover desserts are made with special Passover ingredients, so are often only prepared during the holiday. Other recipes have regular ingredients and can a be eaten year round.
Though these Flourless Chocolate Cookies do qualify as kosher for Passover, they are delicious and should be baked by everyone all year long. They are so rich and chocolaty, you will never notice the lack of flour.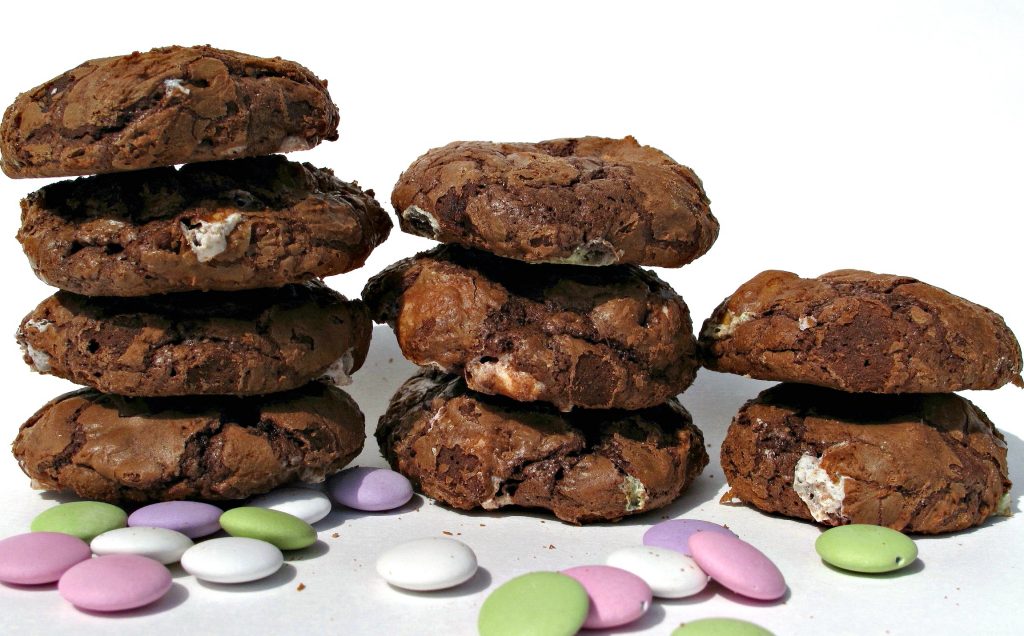 These fudgy cookies get their crunch from a generous helping of mint chocolate candies. I used mint chocolate lentils, but mint M&M's would work great. If you aren't a mint fan, you could even substitute plain m and m's.
More flourless cookie recipes
Flourless Peanut Butter S'mores Cookies
Flourless Chocolate Crinkle Cookies
Chocolate Coconut Whoopie Pies
Leaving out the flour makes these cookies super chocolaty and chewy. Add mint candies for a special flavor combination. As an added bonus, Flourless Chocolate Cookies are Passover and gluten free friendly!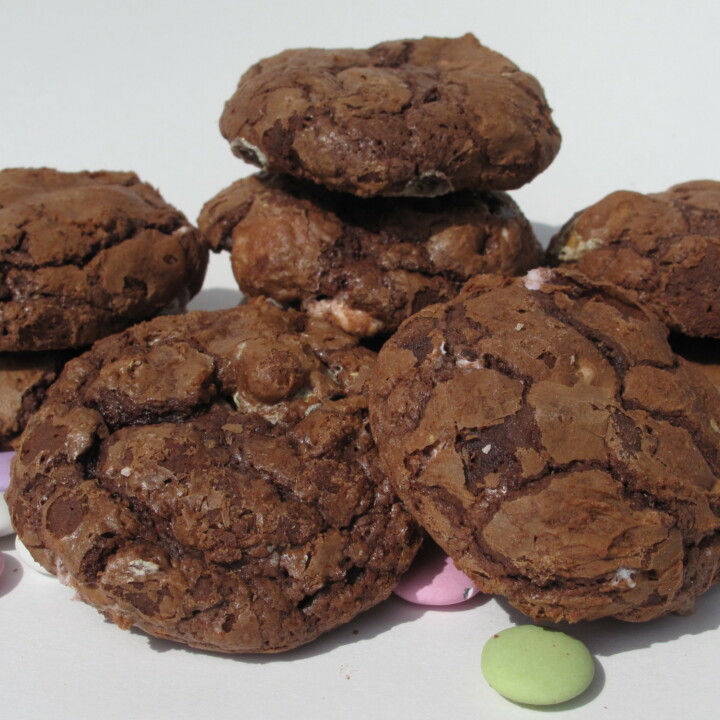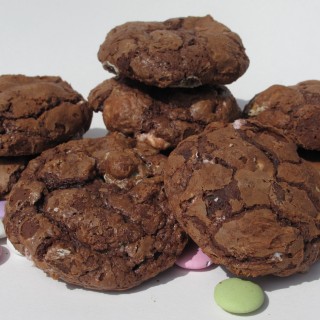 Flourless Chocolate Cookies
These flourless cookies are super chocolaty and chewy. Add mint candy for a delicious flavor combination.
Print
Rate
Adapted From:
"Bittersweet" by Alice Medrich
Ingredients
¼

cup

potato starch

corn starch for non- Passover baking

¼

teaspoon

baking powder

optional

⅛

teaspoon

salt

8

ounces

semi-sweet chocolate chips

or semi-sweet chocolate bars broken into chunks

2

tablespoons

vegetable oil

½

cup

granulated sugar

2

large eggs

1

teaspoon

vanilla extract

1

cup

mint chocolate candies
Instructions
In a small bowl, whisk together potato starch, baking powder (if using), and salt.

Combine chocolate and oil in a microwave safe bowl. Microwave for 1 minute to melt. Remove from microwave and stir until all of the chocolate is melted and smooth. Set aside to cool.

In a medium mixing bowl, whisk together the eggs, sugar and vanilla.

Add the melted chocolate very slowly to the egg mixture, stirring continually to combine.

Add the dry ingredients and mix until incorporated.

Fold in the mint chocolate candies.

Chill the dough until it is firm enough to scoop into balls, 2 hours to overnight.

When ready to bake: Preheat oven to 350 degrees F. Line a baking sheet with parchment paper.

Scoop tablespoon sized balls of dough and place 2" apart on prepared baking sheet.

Bake for 12 minutes. Do not over bake or your cookies will lose their fudgy chew.

Remove from oven and allow to cool on baking sheet for 10 minutes before transferring to wire cooling racks.

When cookies are completely cool, store in airtight containers or zip lock bags at room temperature for at least one week.
Notes
Packing tips
Use plastic wrap to double wrap pairs of cookies, with bottoms together. Place cookies in an airtight container or ziplock bag. Make sure there is no room for movement inside the container.
Nutrition
Calories:
109
kcal
|
Carbohydrates:
13
g
|
Protein:
1
g
|
Fat:
6
g
|
Saturated Fat:
4
g
|
Trans Fat:
1
g
|
Cholesterol:
12
mg
|
Sodium:
24
mg
|
Potassium:
61
mg
|
Fiber:
1
g
|
Sugar:
11
g
|
Vitamin A:
35
IU
|
Vitamin C:
1
mg
|
Calcium:
17
mg
|
Iron:
1
mg
Save
Save