Cinnamon Spritz Owl Cookies are equal parts adorable and delicious! These buttery spritz cookies are warmed with cinnamon and baked until crisp. A cookie press makes it easy to create a whole flock of owl cookies in minutes.
For more cookie press spritz cookies, next time try Chocolate Espresso Spritz.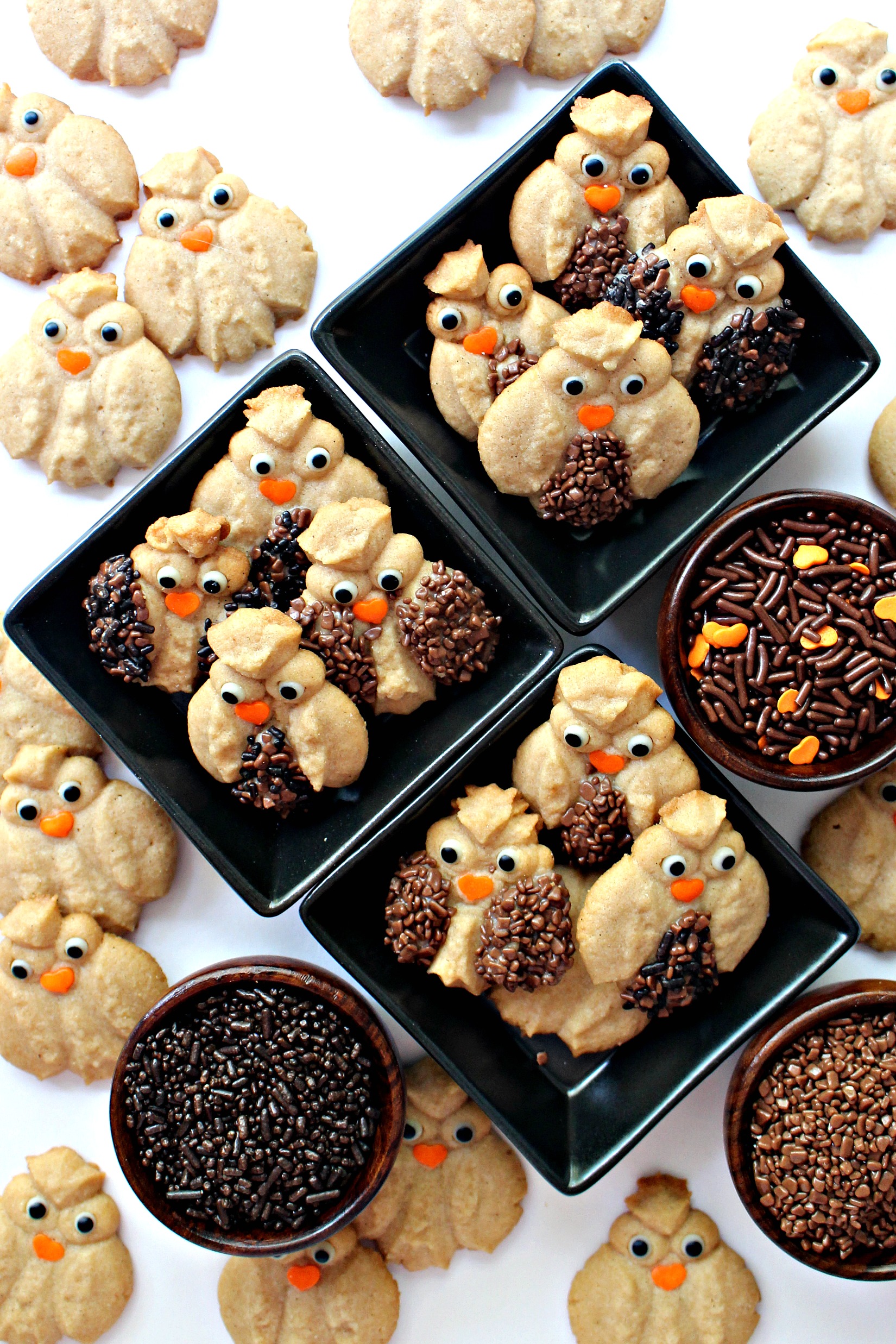 Why you'll love this recipe
I always hope that my cookies will create smiles. With Cinnamon Spritz Owl Cookies I have the opportunity for my cookies to do even more, as part of OXO's fund raising campaign, Bake a Difference with Cookies for Kids' Cancer.
OXO has pledged $100,000 to help raise awareness and funds for pediatric cancer research. During September, Childhood Cancer Awareness month, bloggers post recipes using OXO products and OXO donates $100 per blogger to Cookies for Kid's Cancer.
I received some wonderful OXO products to bake with, you get a delicious recipe, and kids' cancer research gets funding. That certainly makes me smile.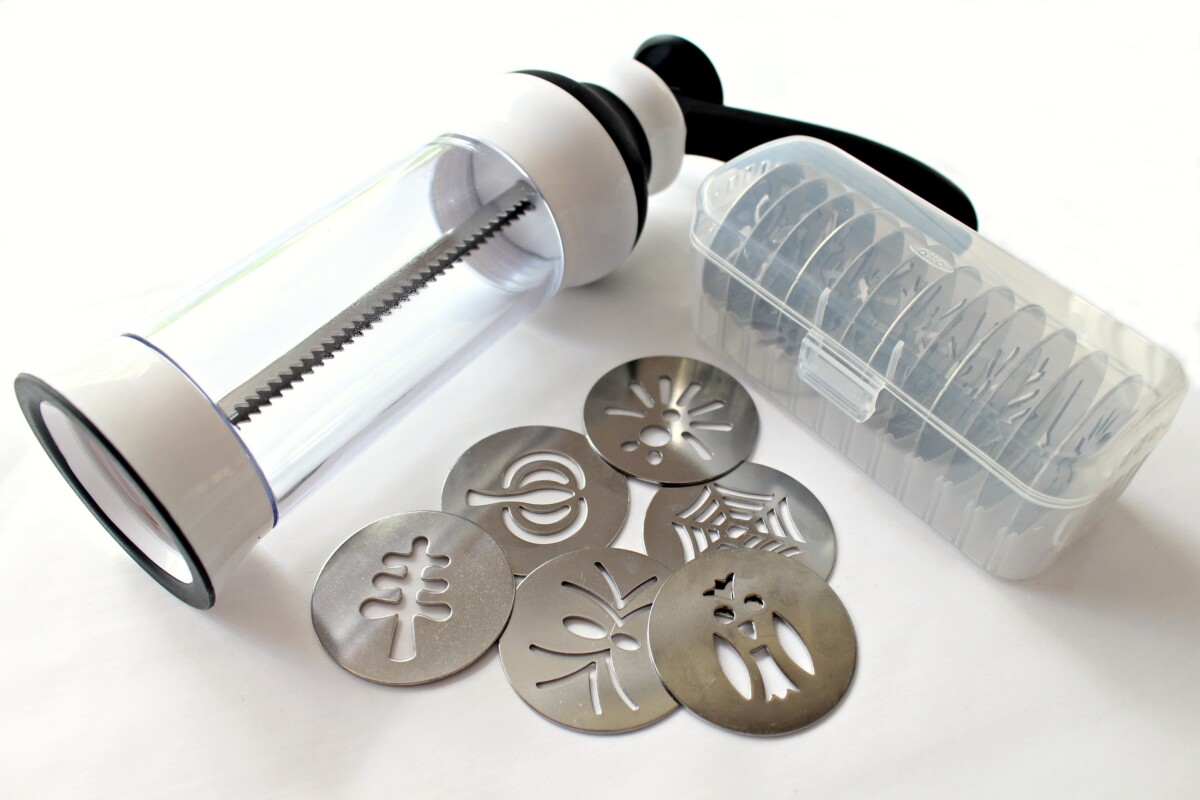 Using a cookie press is SO MUCH FUN! In minutes, you can press out dozens of cookies in shapes and flavors for all seasons.
The OXO Cookie Press is comfortable to use, even with my small hands. The press makes consistently shaped cookies with one squeeze of the lever.
Choose a shape from the 12 discs that come with the cookie press or chose a disc from the seasonal add-on sets. The owl disc is from the Autumn Disk Set.
Looking at all of the discs, I was bombarded with cookie ideas, but I couldn't resist the owl's potential for cuteness. Cinnamon Spritz Owl Cookies are definitely cute.
UPDATE: As of 2021, OXO is no longer selling the Autumn Disk Set. If you would like to make owls with your cookie press, Impress Bakeware makes an adorable set of discs for woodland creatures including an owl.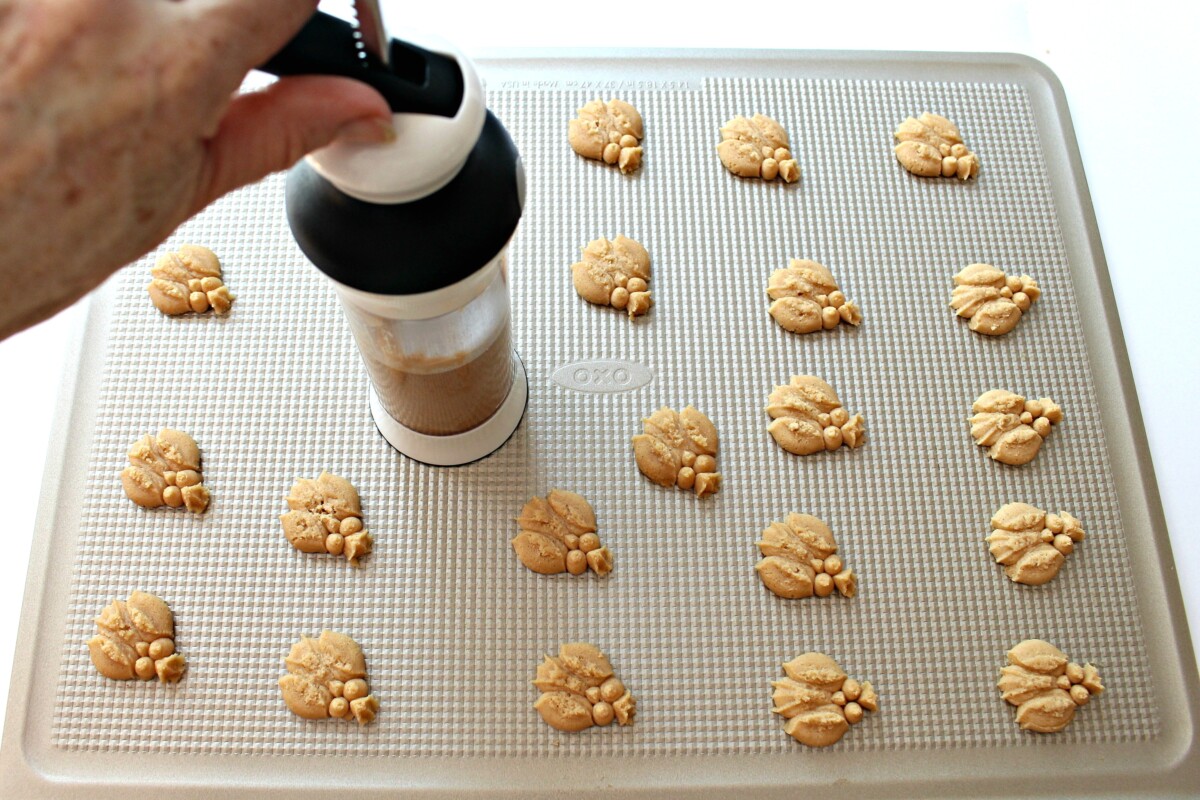 Spritz cookies were originally a German butter cookie. The word spritz is shortened from the German word "spritzen", meaning "to squirt", which is how the cookies are made.
They are pressed or "squirted" from a pastry bag (major muscle workout) or cookie press. The dough needs to be soft enough to squeeze out of a shaped disc, yet firm enough to hold the shape while baking.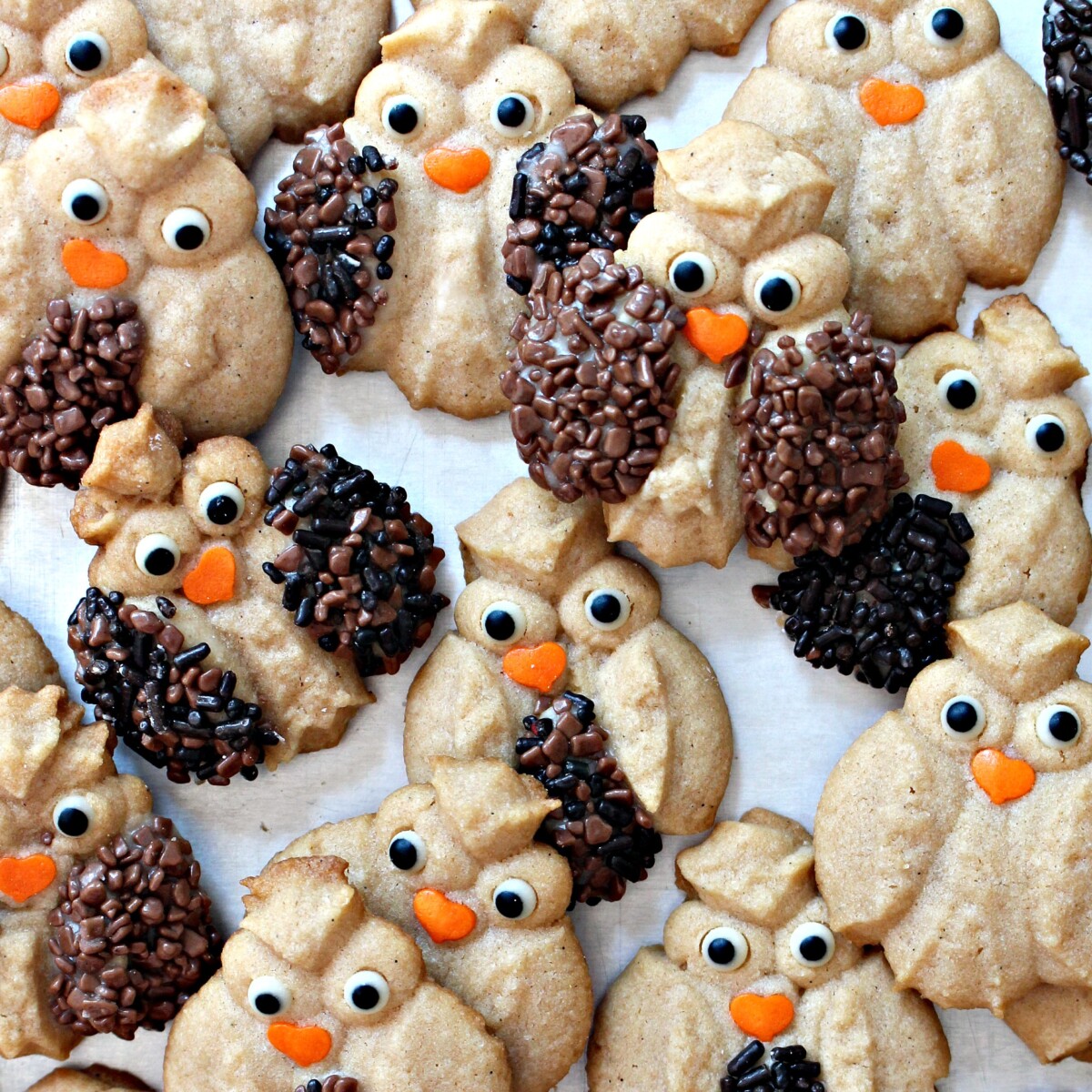 Spritz cookie baking tips
In order to create cookies that are light and crisp, the butter and sugar are creamed together for seven minutes and then again for another seven minutes after the egg is added. That's a lot of creaming, but the results are worth the time.
The flour should be mixed in by hand until just incorporated. Too much mixing can overdevelop the gluten, creating a dense cookie.
Press the cookies directly onto the baking sheet. Nonstick spray, parchment paper, or silicone mats can cause the cookie not to stick when coming out of the cookie press and can cause spreading while baking. As textured baking sheet which helps grip the cookies and ensures even baking.
Refrigerate the empty baking sheet as you are preparing the dough. A cold baking sheet helps the cookies retain their shape.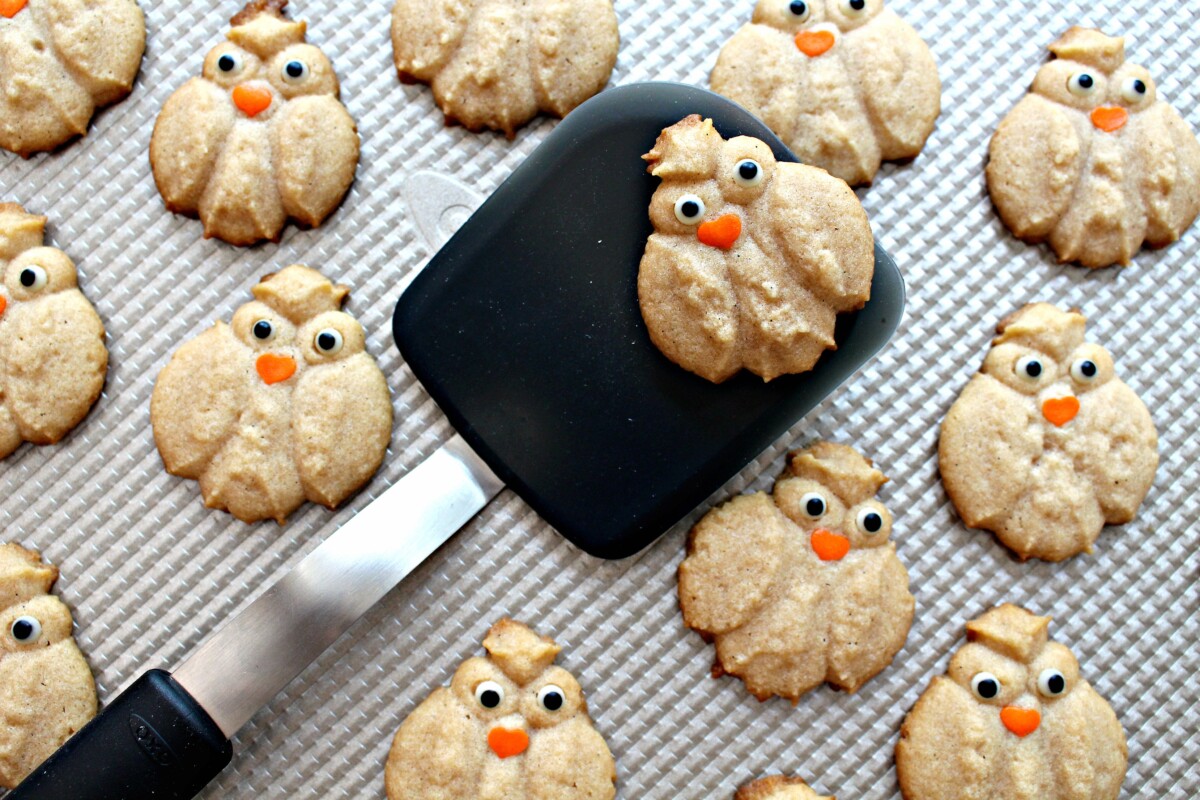 When it comes to decorating, I enjoy going overboard. However, I realize that not everyone has the time or interest for elaborate decorating. Cinnamon Spritz Owl Cookies are cute straight out of the oven, no embellishment required.
Each decoration added, simply ups the cuteness factor. It's also not necessary to completely decorate every cookie.
I left some owls bare. Others received royal icing eyes and orange heart beaks. For the ultimate decorated owls, I painted the wings or chest with confectioners' sugar and water "glue", then sprinkled on some chocolate sprinkles.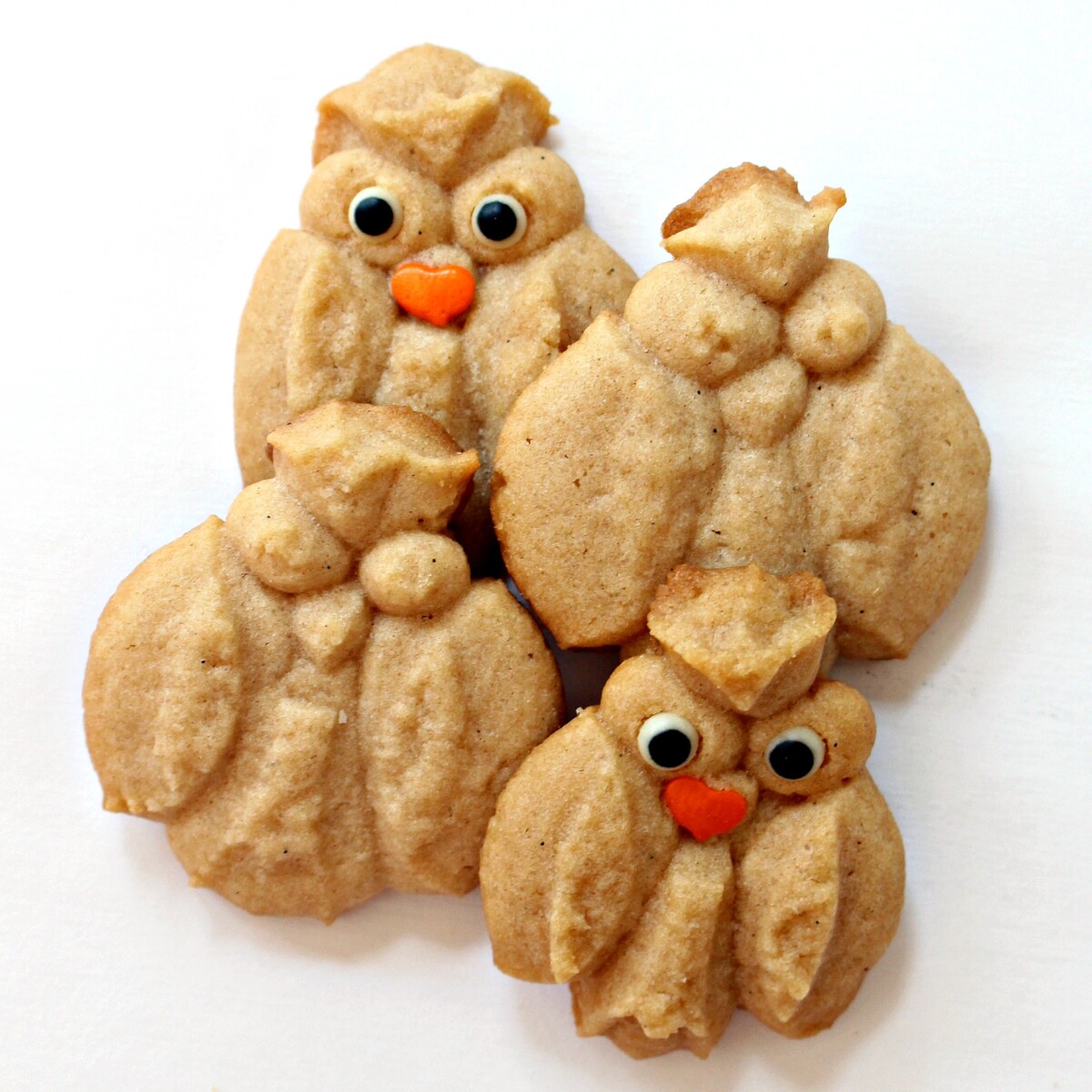 Decorating tips
Do NOT use Wilton or World Market candy eyes for these cookies. The eyes will melt in the oven. Generally, I have found that ALL puffy Wilton sprinkles are not meant to withstand oven temperatures. They are meant to be added as decoration on top of frosting.
If Wilton eyes are the only candy eyes you can find, "glue" the eyes on after baking with confectioners' sugar mixed with a bit of water.
I used these royal icing candy eyes, which neither melted nor turned color in the oven.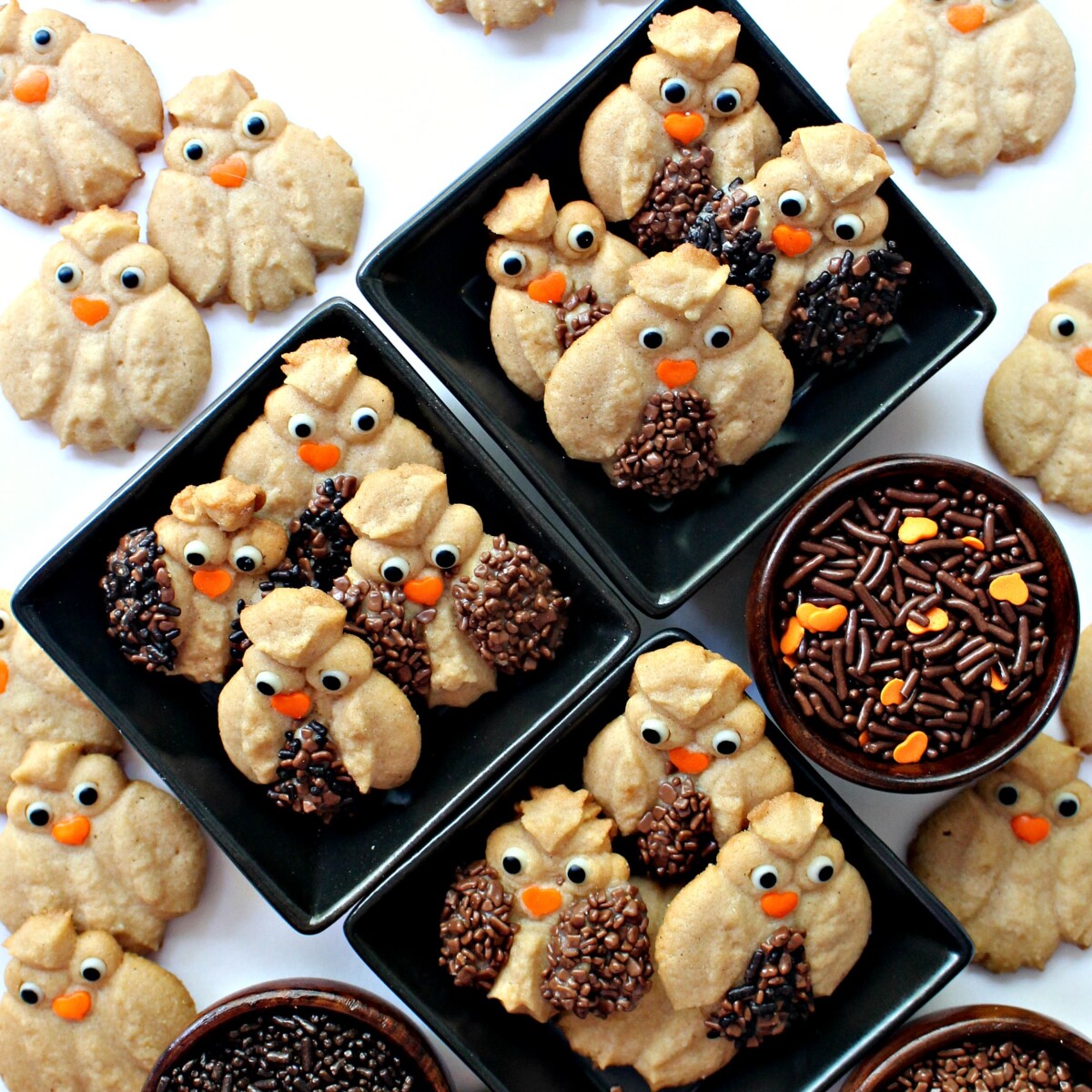 Of course, Cinnamon Spritz Cookies don't have to be owls. With so many discs to choose from, this recipe could be made for any occasion.
However, I can think of so many occasions when Cinnamon Spritz Owl Cookies would be the optimal shape: fall, Halloween Owls, graduation, teacher gifts, owl themed care packages (owls are a trendy motif), and Harry Potter celebrations.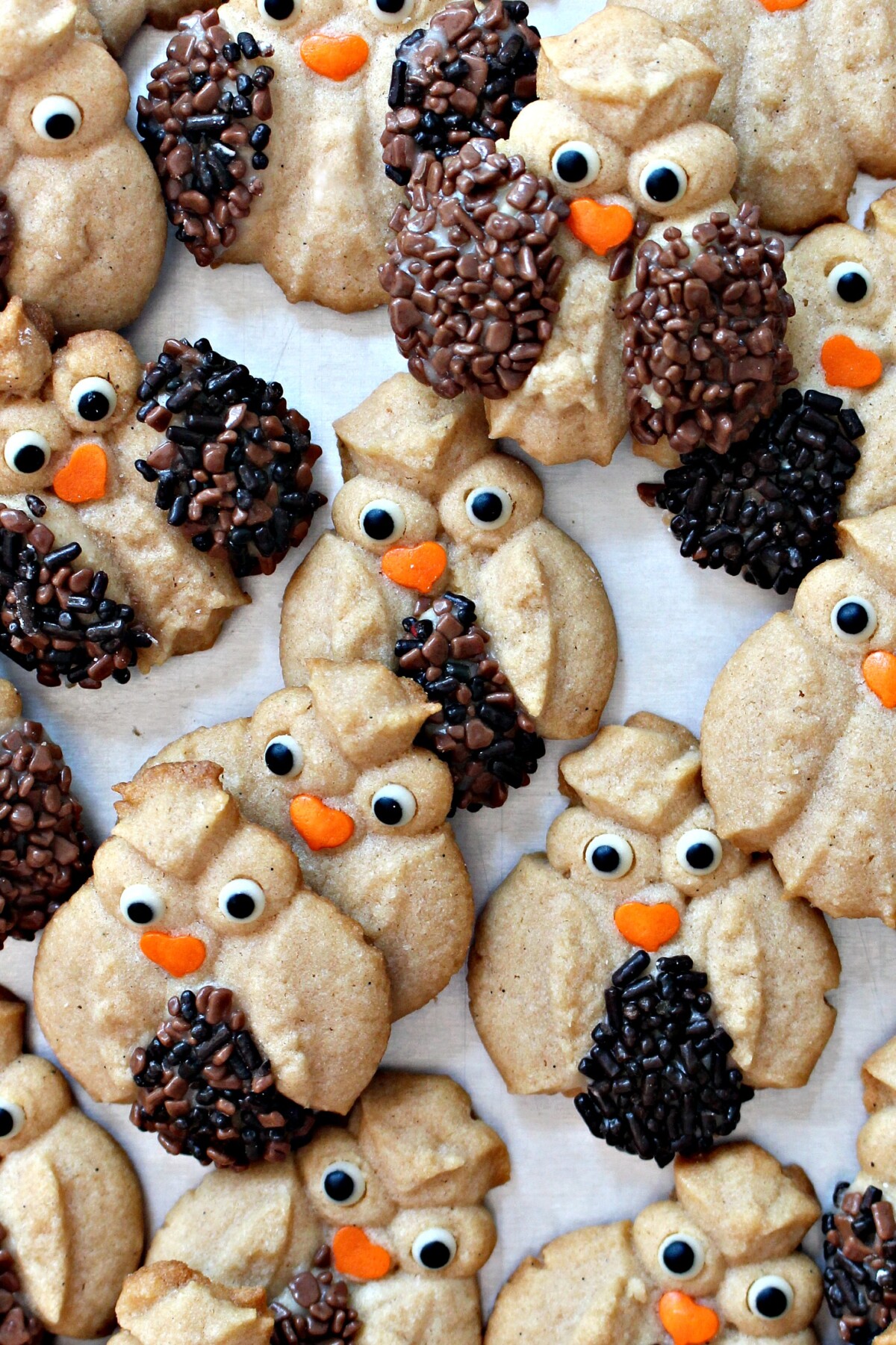 More cute Halloween treats
Halloween Pretzels are super adorable, quick, easy, and delicious! Pick one or make all 5 designs.
Owl Marshmallow Pops are the perfect quick and easy Halloween snack for parties and centerpieces. They are great for Harry Potter themes too!
Peanut Butter Ball Pumpkins and Cats raise the bar on buckeyes with personality! Peanut Butter, chocolate, and sooooo cute!
These Halloween Graham Crackers are sure to make you smile! Five, easy to create, chocolate dipped characters!
Ready to bake? Join the free membership group to get new recipes and a newsletter delivered to your inbox! You can also stay in touch on Facebook, Pinterest, and Instagram. I'd love to stay in touch!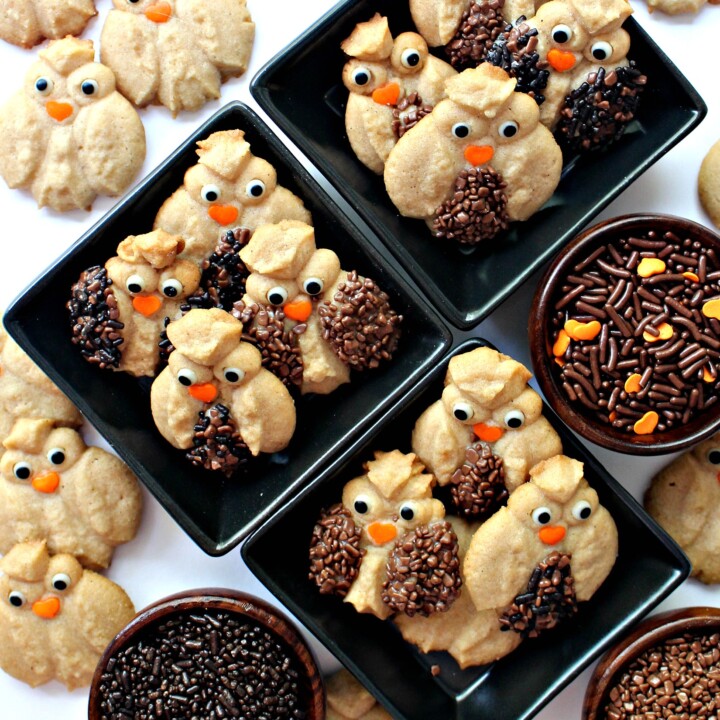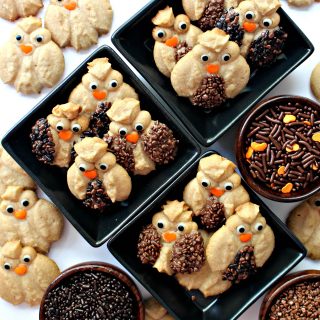 Cinnamon Spritz Owl Cookies
Easily and quickly make dozens of buttery Spritz cookies spiced with cinnamon using a cookie press.
Print
Rate
Adapted From:
seriouseats.com
Ingredients
Cookies
½

cup

unsalted butter

softened

½

cup

granulated sugar

1

teaspoon

vanilla bean paste or extract

¼

teaspoon

salt

1 ½

teaspoons

cinnamon

½

large egg

beat 1 egg in small bowl, then use ½ for recipe

1

cup

plus 2 tablespoons all-purpose flour
Decorating
Orange heart sprinkles

beaks

Chocolate sprinkles

Confectioners' sugar and water "glue"

about ¼ cup sugar with ½ teaspoon water
Instructions
Cookies
Preheat oven to 375° F.

Place a cookie sheet in the refrigerator to chill.

In the bowl of an electric mixer, cream together the butter, sugar, vanilla, salt, and cinnamon on high speed for 7 minutes, scraping the sides of the bowl several times. The mixture should be light and fluffy.

Add the egg and beat for another 7 minutes, scraping the bowl every few minutes.

By hand, stir in the flour just until combined.

Fill the cookie press cylinder, fitted with an owl disc, with about half of the dough. Press the cookies onto the chilled cookie sheet about 1" apart. If a cookie shape doesn't come out properly, remove it from the cookie sheet and return the dough to the mixing bowl to reuse.

Add the candy eyes and heart sprinkles (beaks) to the cookies. A tweezer can be helpful for placing and pressing the decorations into the dough.

Bake for 5-7 minutes or until the bottom edges begin to brown.

Remove from the oven and cool on the baking sheet for 5 minutes before placing on a wire rack to cool completely.
Decorating
To add chocolate sprinkle feathers, prepare confectioners' sugar glue by mixing together about ¼ cup of confectioners' sugar with just enough water until a little thicker than white glue.

Use a decorating brush to paint the sugar glue onto the wings or chest of the owl cookie, then drizzle sprinkles over the glue. Allow to dry for 1 hour before packaging or storing.

Stored in an airtight container at room temperature, Cinnamon Spritz Owl Cookies stay crisp for up to 2 weeks.
Notes
Packing tips
Fill a plastic storage container with cookies.
Place crinkled wax paper on top of the cookies to keep the cookies from moving within the container.
The cookies can also be stored in freezer weight ziplock bags.
Use packaging material to ensure that the storage container or ziplock bags can't move around in the shipping box.
Nutrition
Calories:
38
kcal
|
Carbohydrates:
4
g
|
Protein:
1
g
|
Fat:
2
g
|
Saturated Fat:
1
g
|
Polyunsaturated Fat:
1
g
|
Monounsaturated Fat:
1
g
|
Trans Fat:
1
g
|
Cholesterol:
7
mg
|
Sodium:
14
mg
|
Potassium:
5
mg
|
Fiber:
1
g
|
Sugar:
2
g
|
Vitamin A:
66
IU
|
Vitamin C:
1
mg
|
Calcium:
2
mg
|
Iron:
1
mg
I was not compensated for this post, however I did receive free products from OXO for use in this recipe. All opinions are 100% my own. I only use and recommend products I believe in.