Ahoy Mateys! Celebrate International Talk like a Pirate Day this Tuesday (September 19, 2017) with this swashbuckling cookie crew! Gingerbread Pirate Cookies are a delicious reason to dig out your gingerbread men cookie cutters early.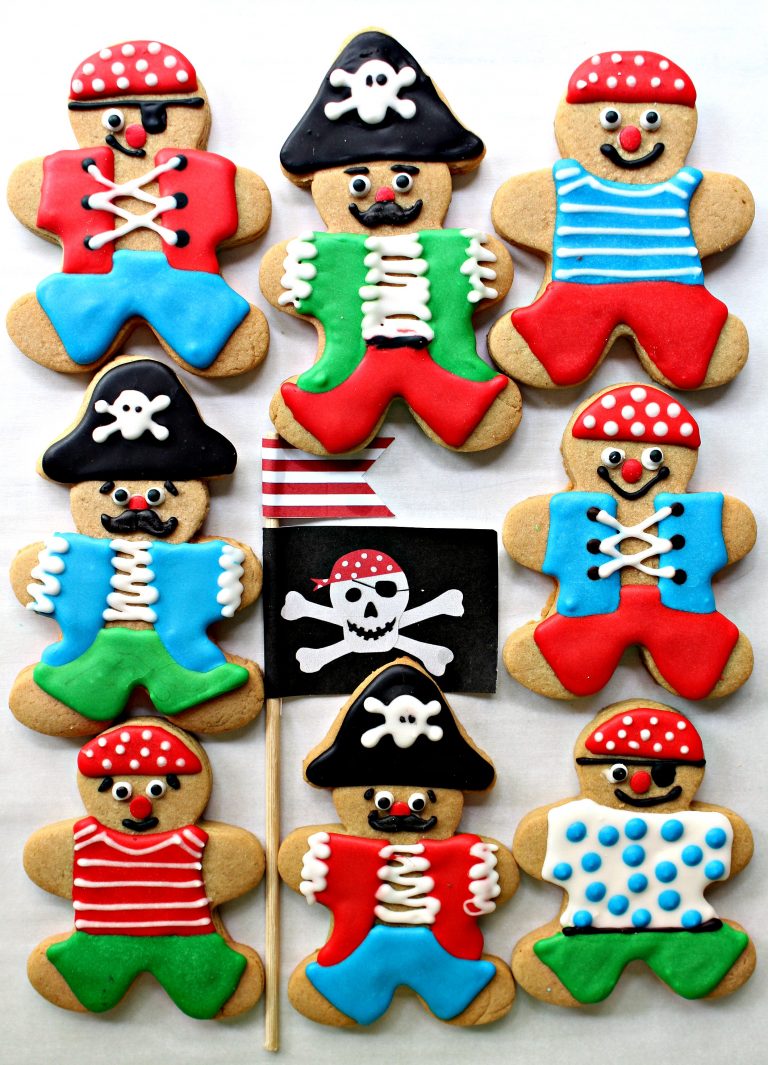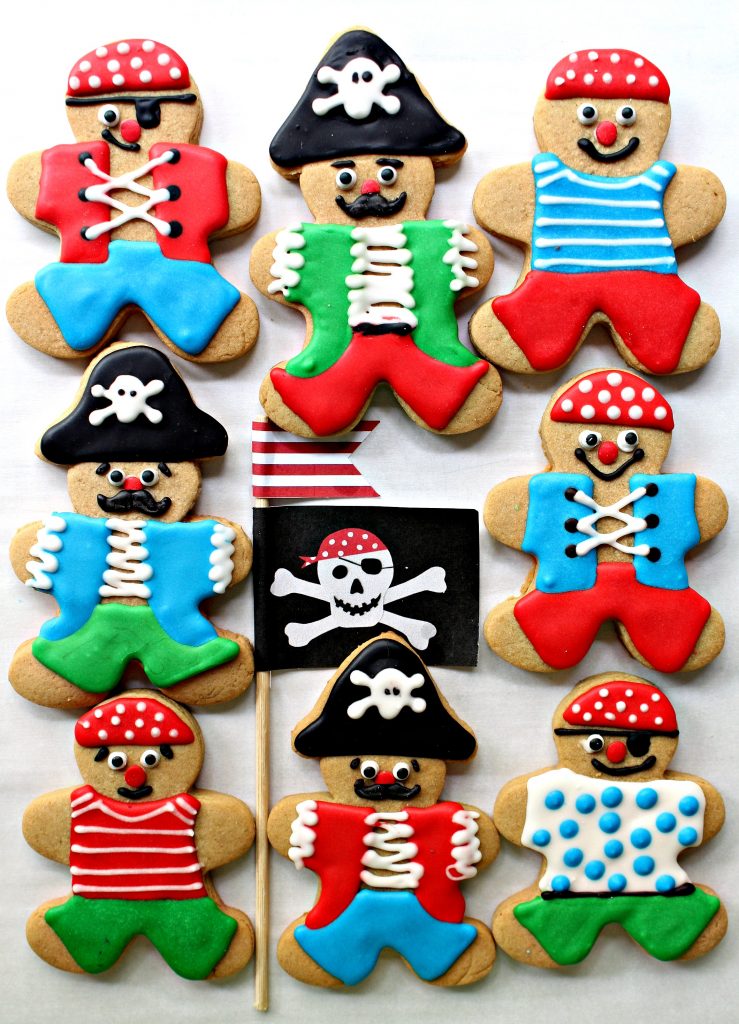 One of my favorite things on Pinterest, are the pins from brilliant cookie artists who demonstrate multiple uses for one single cookie cutter. It is so easy to fill up the kitchen gadget drawer and even easier to get carried away with cookie cutters, so I love to learn how to multi-task with the cookie cutters I already own. Some creative people just have an eye for that sort of thing. It never ceases to amaze me. Though dressing a gingerbread man like a pirate doesn't require shape-shifting magic, did you know that a gingerbread man can be turned into Rudolf, a moose, a penguin, or a shark? Take a look!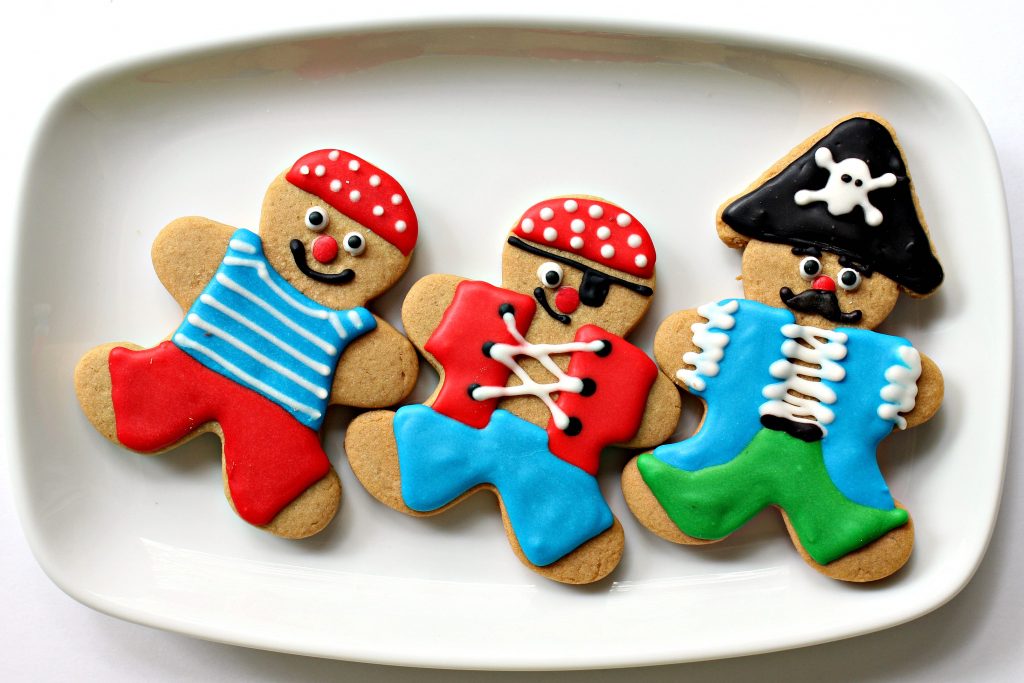 When I started writing The Monday Box, more than 5 years ago, my focus was solely on college care packages. I added military care packages to the mix upon request, which led to my heartwarming involvement with Soldiers Angels. Now, I have an idea for a new series of recipe posts geared toward packages for children. My own children grew up many states away from their grandparents, at a time when video calls were still science fiction. Weekly phone calls kept the loving relationships going between visits. Grandma reading a book on cassette tape was another favorite reminder of that special bond. My new series will share a children's book and a care package worthy baked good to go with it. I am hoping that the posts will inspire intergenerational baking extravaganzas at home and help families share love, books, and cookies across the miles that separate them.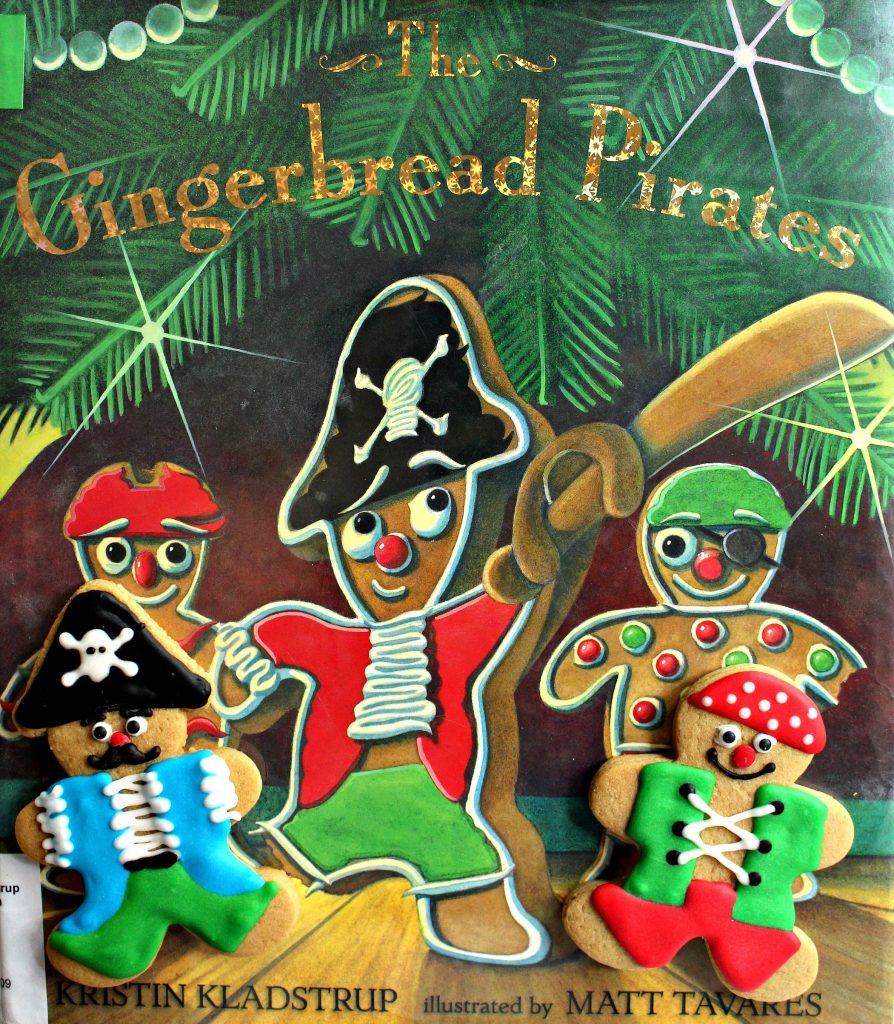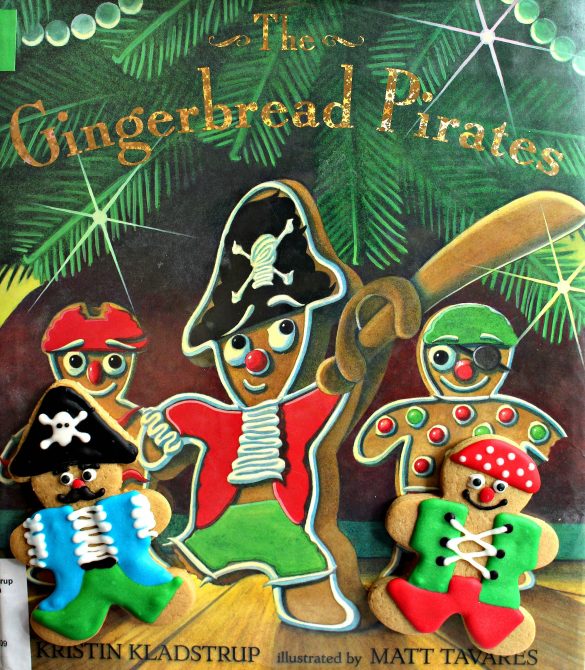 These Gingerbread Pirate Cookies were inspired by the book, "Gingerbread Pirates" written by Kristin Kladstrup and illustrated by Matt Tavares. Surprisingly, the publisher didn't pounce on the opportunity to include a gingerbread recipe and market the book with a cookie cutter and sprinkles. The Monday Box is filling that gap! Though a Christmas story, this book (and the Gingerbread Pirate Cookies) are sure to delight pirate enthusiasts, young and old, year round.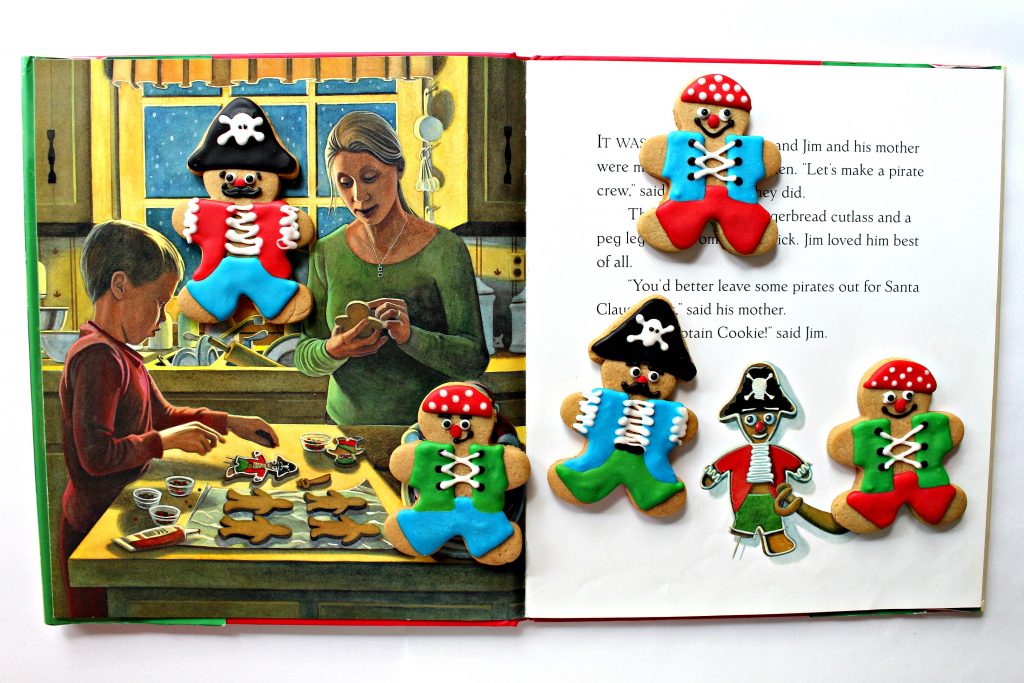 There is no special equipment needed for creating Gingerbread Pirate Cookies. A gingerbread cookie cutter (like this one) is all that is needed for the buccaneer crew. The captain cookie's shape has an added hat. I cut-out a triangular hat stencil, laid it on top of the cookie cutter shape, and cut around the stencil with a knife tip. The hat and the head fuse together while baking. I used disposable decorating bags with #2 or #3 Wilton tips to pipe the icing, but the decorating is not detailed and the icing could be piped from a tiny hole cut in a plastic bag.
I always use corn syrup icing to decorate sugar cookies. Unlike royal icing, which the experts use, there is no learning curve to corn syrup icing, it's easy to make, easy to use, and actually tastes good! Preparing the icing for Gingerbread Pirate Cookies is super simple. One batch of icing, with a consistency slightly thicker than white glue, is divided into 5 colors. The white (¼ cup) can be added directly to the piping bag. The black is ¼ cup icing mixed with 1 teaspoon baking cocoa (to darken), and 2 drops Super Black food coloring gel. The remainder of the icing is divided in thirds for the red, blue, and green icing and is mixed with 2-3 drops of Super Red, Sky Blue, or Leaf Green food coloring gel. The decorated cookies should be left our overnight to dry completely before wrapping.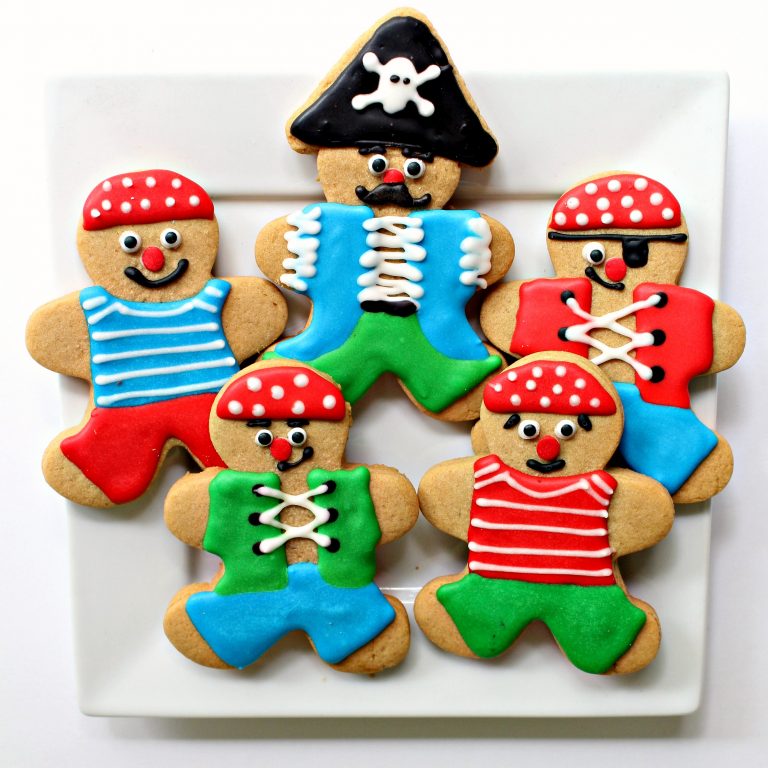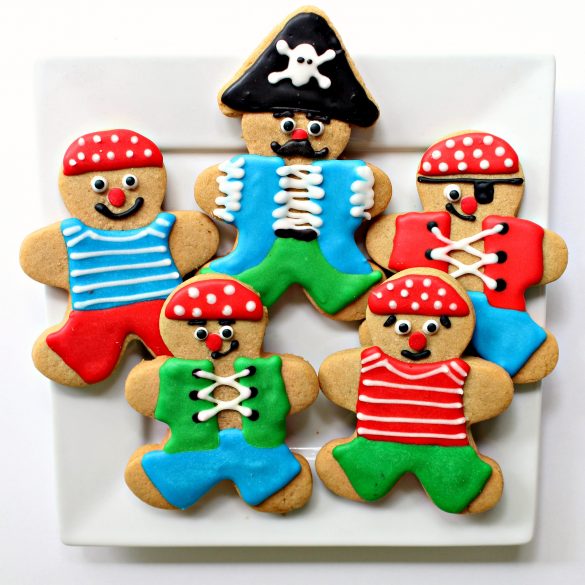 You don't have to be a kid to get into the spirit of International Talk like a Pirate Day! Chewy and sweet, fall flavored Gingerbread Pirate Cookies are spiced with ginger and cinnamon. After one bite, don't be surprised if you shout, "Yo, ho, ho! Blow me down! These be mighty good!"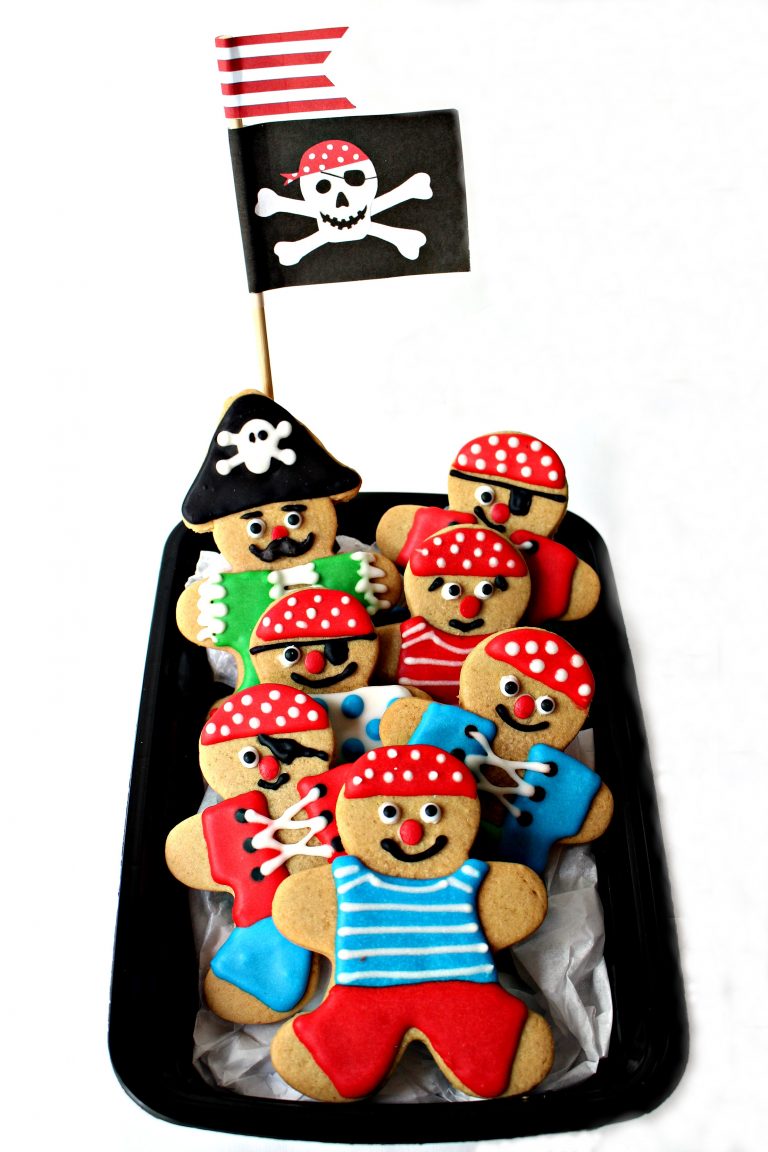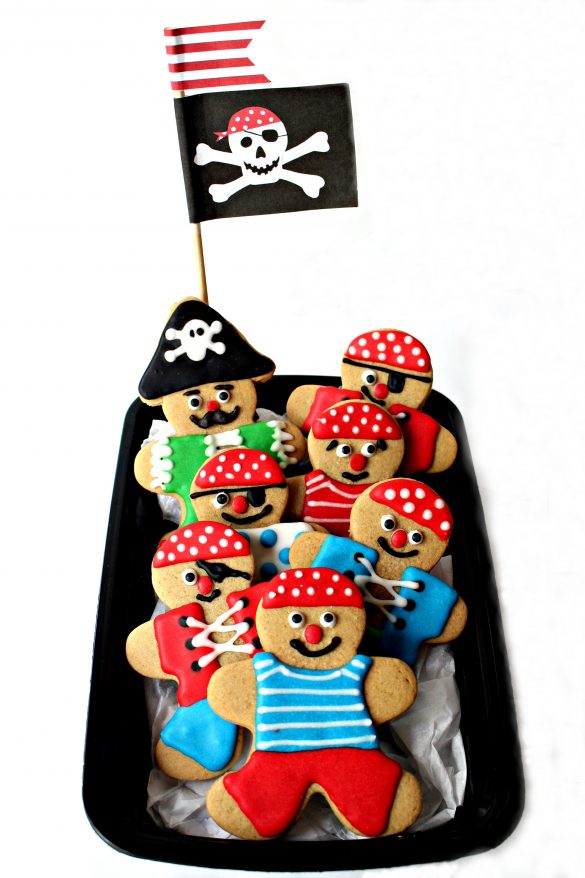 MORE MOLASSES COOKIES
Chocolate Chip Molasses Cookies are chewy cookies speckled with chopped chocolate bits.
Gingerbread Fall Leaves are cookies decorated with sponge painted icing to look just like real colorful fall leaves.
Pumpkin White Chocolate Chip Cookies are deliciously soft and chewy cookies with the flavors of pumpkin pie spice and creamy white chocolate chips.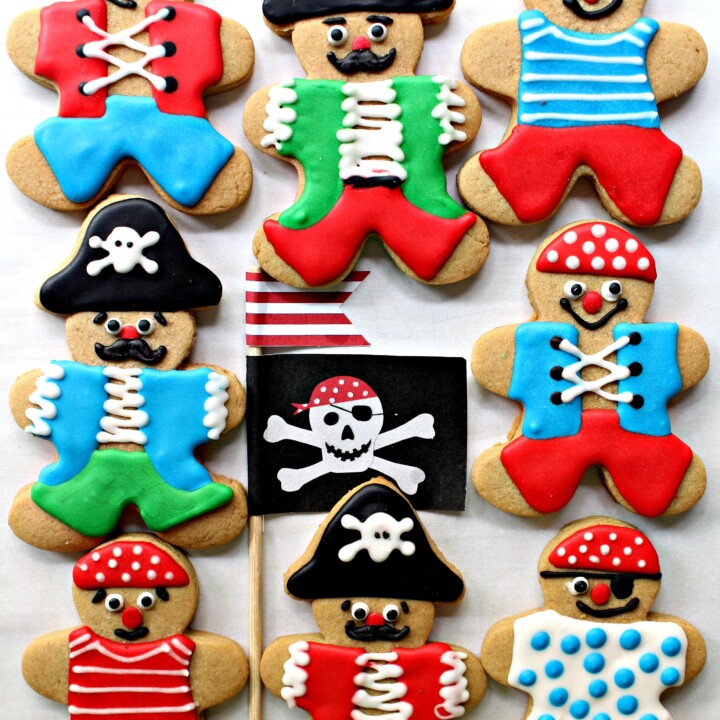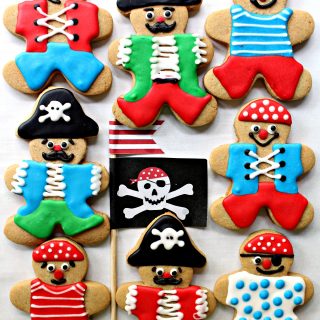 Gingerbread Pirate Cookies
These adorable gingerbread men are dressed up like pirates!
Print
Rate
Adapted From:
Lilaloa.com (gingerbread)
Ingredients
Cookies
Decorating
4

cups

confectioners' sugar

3

tablespoon

milk

add more to thin icing to desired consistency

3

tablespoons

light corn syrup

1

teaspoon

vanilla extract

Food coloring gel

Super Red, Super Black, Sky Blue, Leaf Green

Sprinkles

candy eyes, oval red nose, optional clothing sprinkles
Instructions
Cookies
Preheat oven to 350˚F. Line a baking sheet with parchment paper.

In the bowl of an electric mixer, cream butter and sugar. Add eggs and molasses and mix until incorporated. Stir in spices and salt.

Gradually add flour, 1 cup at a time, until the dough is roll-out consistency. When baking immediately, I needed 4 ½ – 5 cups. For dough that will be refrigerated overnight before baking use only 4 cups.

Roll ⅓ of the dough out to ¼" thickness on a lightly floured surface. Hint: Because these cookies spread minimally, cutting them out directly on the parchment paper they will be baked on, eliminates the need to transfer the cut out dough. Roll the dough out on a sheet of parchment paper the size of your cookie sheet. Cut out the cookies about 1" apart. Remove the excess dough from around the cut-out cookies (add it to the unused dough). Slide the parchment onto your cookie sheet. Repeat with the remaining dough.

Bake for 7-10 minutes. (Cookies will firm slightly as they cool.) Cool on baking sheet for 10 minutes before transferring to a wire rack to cool completely.
Decorating
By hand or with an electric mixer, combine sugar and milk until smooth.

Add corn syrup and vanilla. Continue beating together until smooth and glossy. Add additional milk in teaspoon increments until desired consistency. (Icing consistency should be slightly thicker than white glue.)

Divide the icing for 5 colors. The white (¼ cup) can be added directly to the piping bag. Place ¼ cup of icing into a small mixing bowl for the black icing and combine with 1 teaspoon baking cocoa (to darken), and 2 drops Super Black food coloring gel. The remainder of the icing is divided into small mixing bowls in thirds for the red, blue, and green icing and each is mixed with 2-3 drops of Super Red, Sky Blue, or Leaf Green food coloring gel.

Place the colored icing into disposable piping bags fitted with #2 or #3 piping tips(or ziplock bags with a tiny piece of a bottom corner cut off).

Decorate pirate cookies with icing and sprinkles.

Allow to air dry overnight before wrapping. Once dry, store cookies in an airtight container at room temperature for up to 2 weeks.
Notes
Packing tips
Double wrap pairs of cookies (with bottoms together) in plastic wrap or a cookie bag, then place in an airtight container or freezer weight zip lock bag.
Nutrition
Calories:
234
kcal
|
Carbohydrates:
43
g
|
Protein:
2
g
|
Fat:
6
g
|
Saturated Fat:
4
g
|
Polyunsaturated Fat:
1
g
|
Monounsaturated Fat:
2
g
|
Trans Fat:
1
g
|
Cholesterol:
26
mg
|
Sodium:
30
mg
|
Potassium:
93
mg
|
Fiber:
1
g
|
Sugar:
29
g
|
Vitamin A:
195
IU
|
Vitamin C:
1
mg
|
Calcium:
26
mg
|
Iron:
1
mg
The Monday Box participates in the Amazon Affiliate Program. If you chose to purchase a product after following a link on this page, I will receive a small commission, at no cost to you, which helps make The Monday Box possible.