Wonderfully soft and chewy, Irish Oatmeal Cookies are made with some of Ireland's tastiest ingredients! Irish oatmeal keeps its chewiness while baking and adds a nutty flavor. Irish butter provides rich, creamy taste and golden syrup adds the warmth of toffee. A special cookie indeed!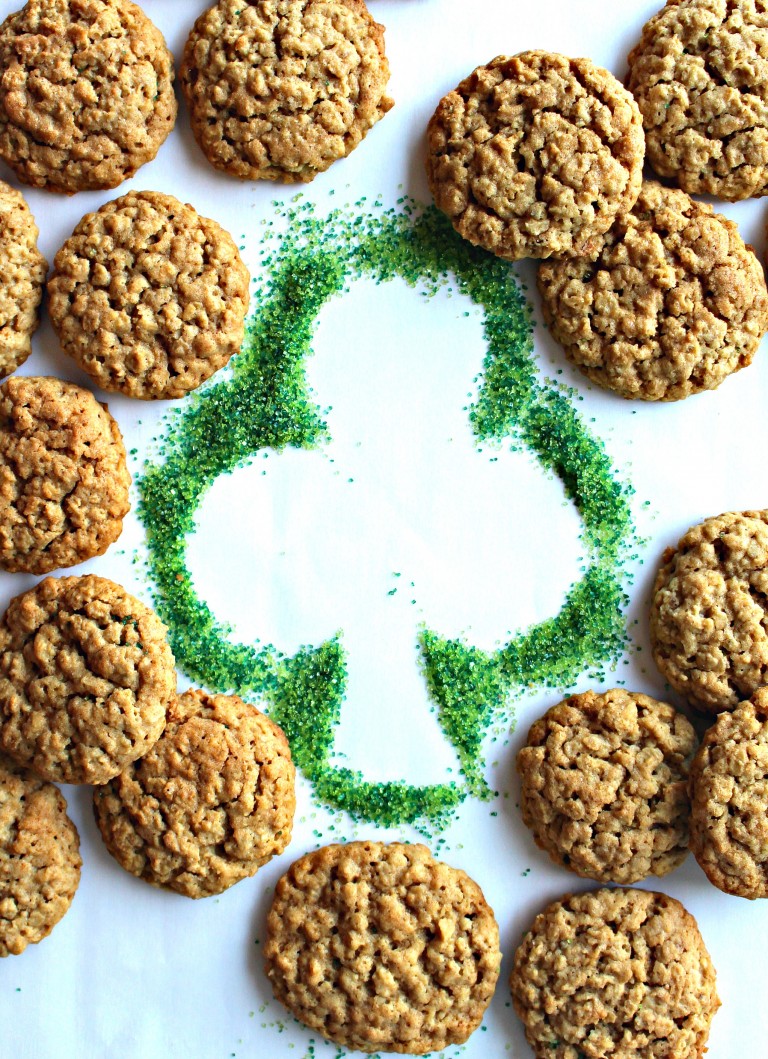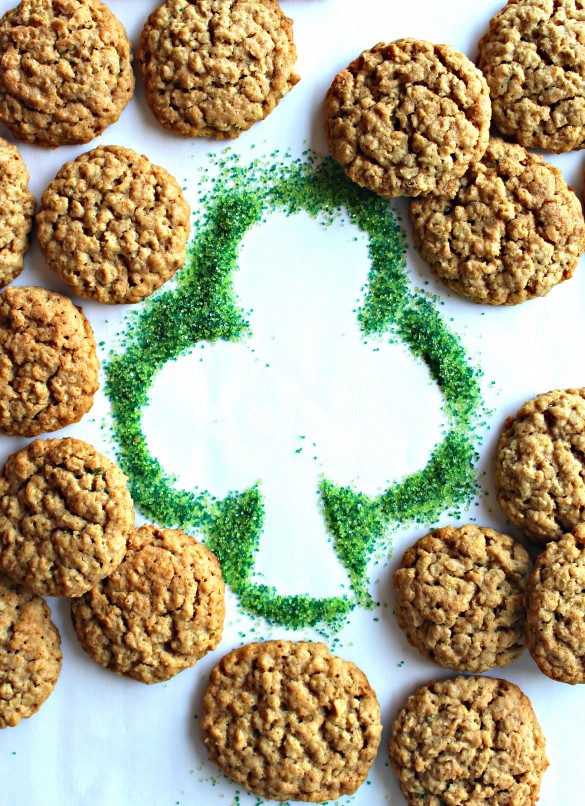 With St. Patrick's Day around the corner, visions of all things Irish (or an American interpretation of all things Irish) dance through our heads. It turns out that most of the green sprinkled goodies (and most definitely the green tinted beer) are more a result of America's tendency to create drinking celebrations, than Irish tradition.
Though I fully embrace all things sugared and sprinked in green, Irish Oatmeal Cookies are conspicuously unsprinkled. Instead, each bite of Irish Oatmeal cookies transports you to the green Irish countryside where the butter and oats for these cookies were produced.
Numerous years ago, my daughter and I went on a trip to London that coincidently started on St. Patrick's Day. We were excited to spend the holiday in the UK. We imagined some kind of "traditional" celebration.
London isn't Ireland, but it's a lot closer to Ireland than St. Louis! Shortly after our plane landed, we donned our green t-shirts and beads and hurried to central London for the "parade" which would end up in Trafalgar Square.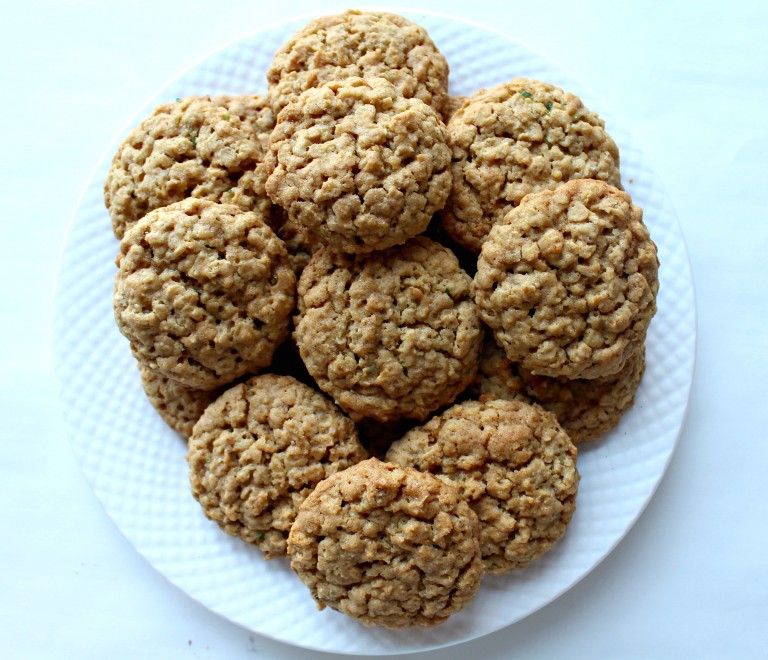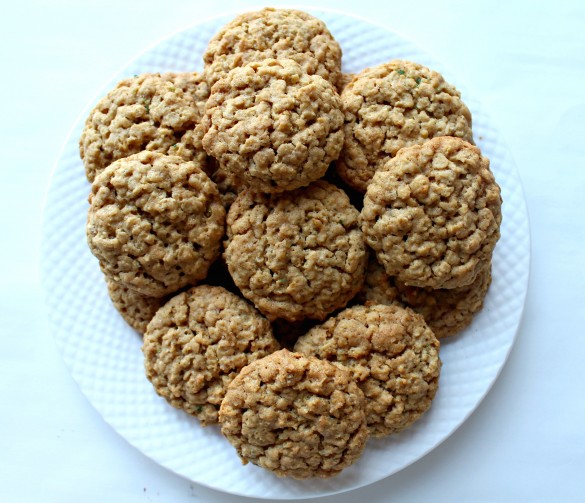 Information on the internet seemed to indicate that a variety of Irish cultural events were scheduled. Something was apparently lost in the translation between expectation and reality.
The very short "parade" was mostly a line of buses and flat-bed trucks sponsored by trade unions and filled with members of those unions getting a head start on their afternoon pint or two or three of beer/stout.
Though we followed the map provided by the tourism office, no cultural events could be found. We do have photos of a very full Trafalgar Square where the main event of beer drinking was in full swing. American's aren't the only ones who like a drinking celebration.
This year I am celebrating St. Patrick's Day with Irish Oatmeal Cookies. They aren't flashy, but they are so delicious, that I am tempted to say they are my favorite cookies yet. The Irish oatmeal is chewy and nutty, the Irish butter is creamy and rich, and the Lyle's Golden Syrup imparts a toffee warmth.
Whenever I bake a cookie in which the flavor of butter is the star, I always use Kerrygold Irish butter. (This is NOT a sponsored post.) Irish butter has a higher fat content than American butter. You can taste the difference in cookies like shortbread and these Irish Oatmeal Cookies.
If you aren't familiar with Lyle's Golden Syrup, I urge you to find it and try it. I buy mine at World Market or in the pancake syrup aisle at the supermarket. Golden syrup is a sugar syrup made from sugar cane or sugar beet and is popular in the UK. It has the consistency of corn syrup or honey (both of which can be used as substitutes) but has a toffee flavor all its own.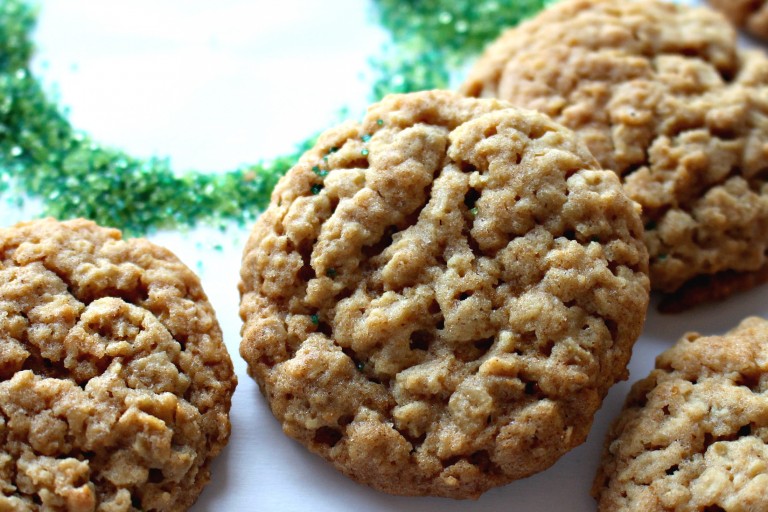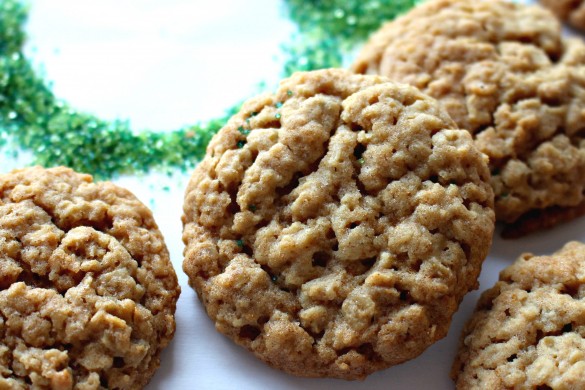 Irish Oatmeal Cookies with a cup of tea make every day a bit of a celebration! This taste of Ireland is a delicious care package or cookie jar treat!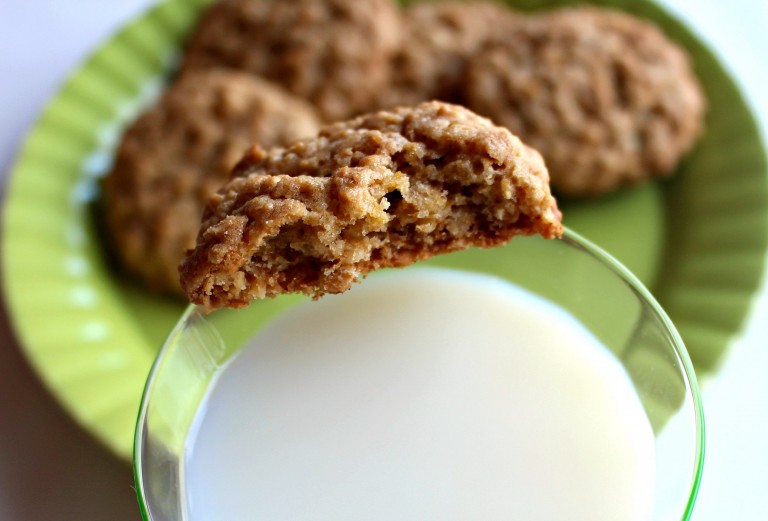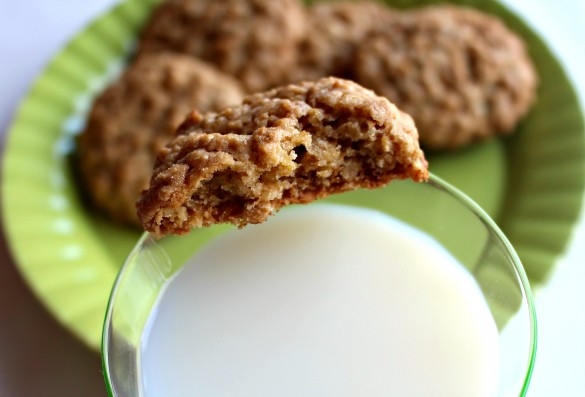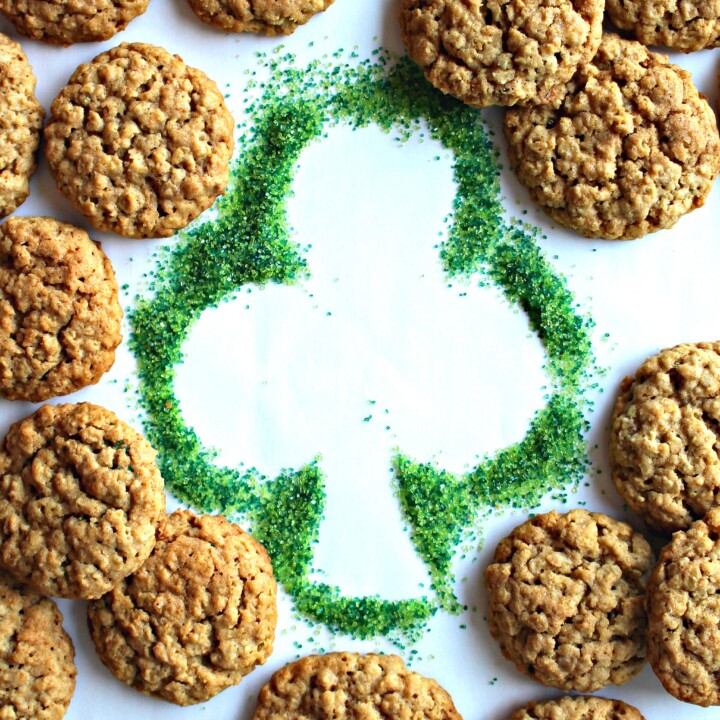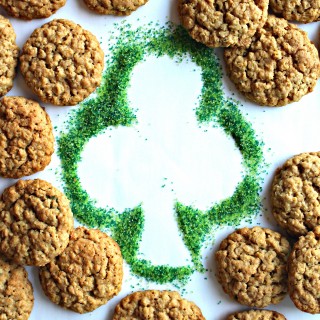 Irish Oatmeal Cookies
These wonderfully soft and chewy cookies are made with Irish oatmeal for a nutty flavor, Irish butter for rich, creamy taste and golden syrup for the warmth of toffee.
Print
Rate
Adapted From:
"The International Cookbook" by Nancy Baggett
Ingredients
1

cup

all-purpose flour

¾

teaspoon

baking powder

¼

teaspoon

baking soda

7

tablespoons

unsalted Irish butter

I use Kerrygold, softened at room temperature for 10 minutes

⅓

cup

granulated sugar

⅓

cup

dark brown sugar

packed

1

large egg

3

tablespoons

Lyle's golden syrup

corn syrup or honey can be substituted but the flavor will be different

1 ¾

cups

Irish steel cut oats

½

cup

toffee bits
Instructions
Preheat the oven to 350°. Line a baking sheet with parchment paper.

In a medium bowl, whisk together flour, baking powder, and baking soda.

In the bowl of an electric mixer, cream the butter and sugars until fluffy (about 3 minutes).

Beat in egg and golden syrup.

Gradually add flour mixture until incorporated.

Stir in oats and toffee bits.

Allow the dough to rest for 10 minutes so that the oats will absorb some moisture.

Use a cookie scoop to place dough balls at least 2" apart on the prepared baking sheet.

Bake for 12-15 minutes or until the cookies are golden brown all over.

Cool on the baking sheet for 5-10 minutes before transferring to a wire rack to cool completely.

Store in an airtight container at room temperature for up to one week.
Notes
Packing tips
Double wrap pairs of cookies (bottoms together) in plastic wrap. Fit snuggly into freezer weight zip lock bags or plastic storage containers.
Nutrition
Calories:
116
kcal
|
Carbohydrates:
17
g
|
Protein:
2
g
|
Fat:
4
g
|
Saturated Fat:
2
g
|
Trans Fat:
1
g
|
Cholesterol:
16
mg
|
Sodium:
48
mg
|
Potassium:
12
mg
|
Fiber:
1
g
|
Sugar:
8
g
|
Vitamin A:
127
IU
|
Vitamin C:
1
mg
|
Calcium:
15
mg
|
Iron:
1
mg
You are sure to enjoy these additional recipes for your St. Patrick's Day celebrations and care packages!
St. Patrick's Day Chocolate Covered Oreos
Rainbow's End Rocky Road Candy
Leap-rechauns and Pots of Gold
Looking for more delicious oatmeal recipes? Try these! Click on the photo for recipes.