Everyone's favorite peanut butter combinations together in one deliciously chewy, no-bake cookie! No-Bake Chocolate Peanut Butter Banana Cookies travel well in lunch boxes or care packages. The flavors and texture continue to entice, even after long international journeys!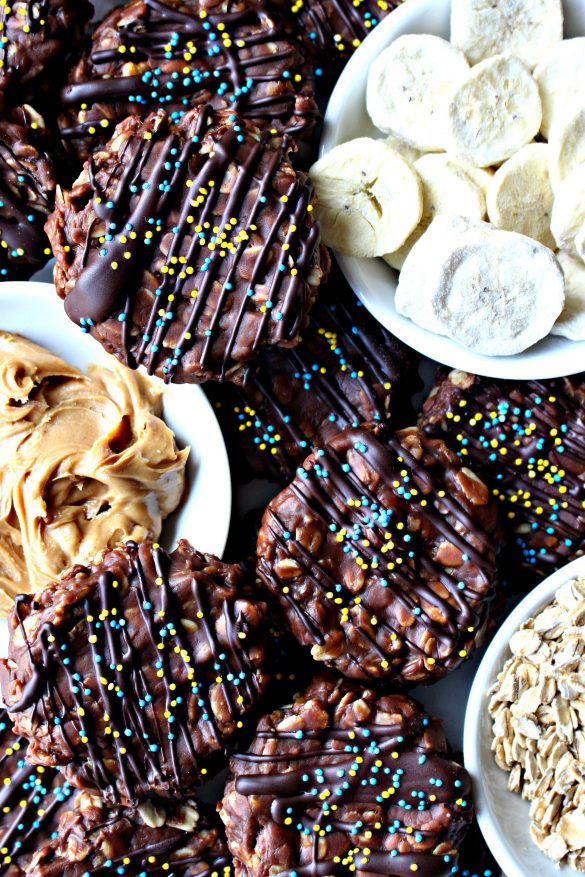 In the almost 5 (!) years that I have been recipe testing for The Monday Box, I've struggled with no-bake cookies and bars. The idea of something quick is always appealing and the no-bake quality is especially desirable in warm weather.
Though I frequently read about cereal plus marshmallow treats being sent successfully in care packages, I can't seem to duplicate that success. In my numerous recipe development attempts, the cereal loses its crunch in just a day or two, and the marshmallows get a bit sandy in texture.
Neither of those issues are a problem with No-Bake Chocolate Peanut Butter Banana Cookies, because they don't contain crunchy cereal or marshmallows!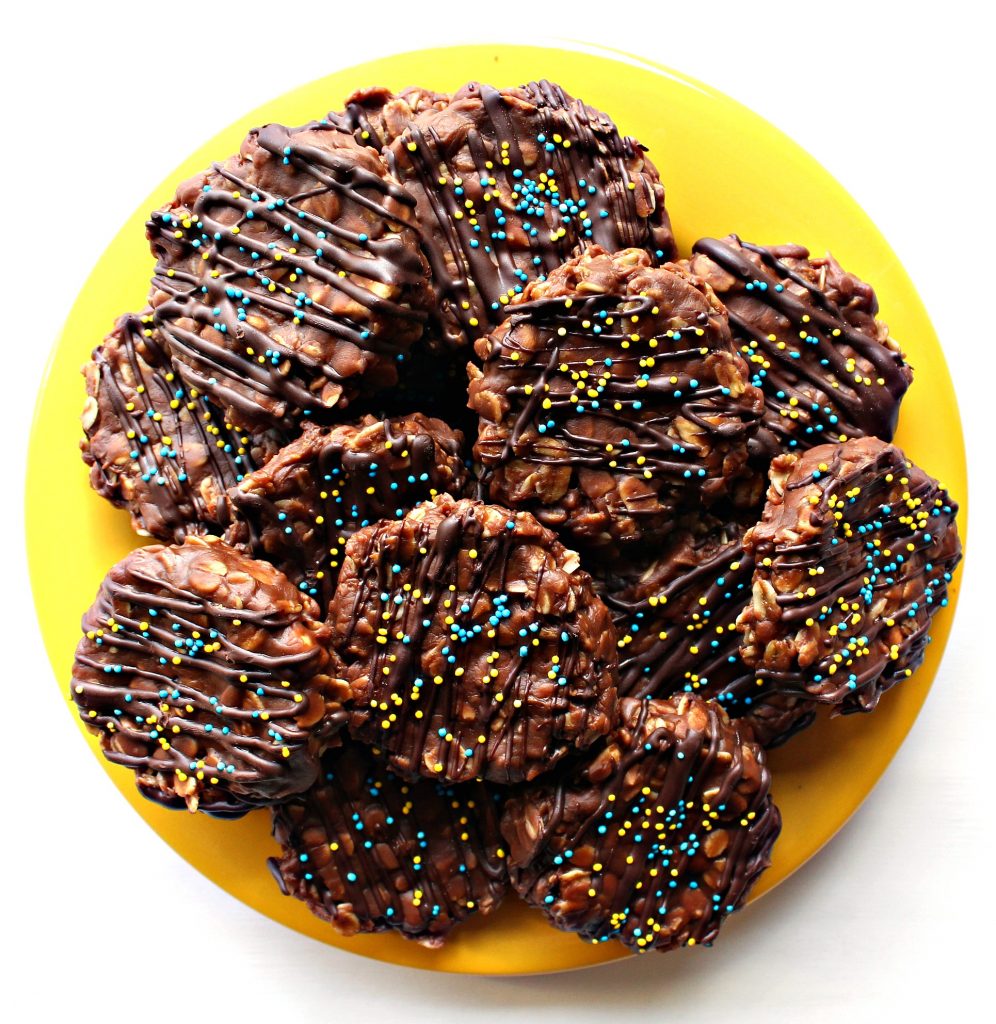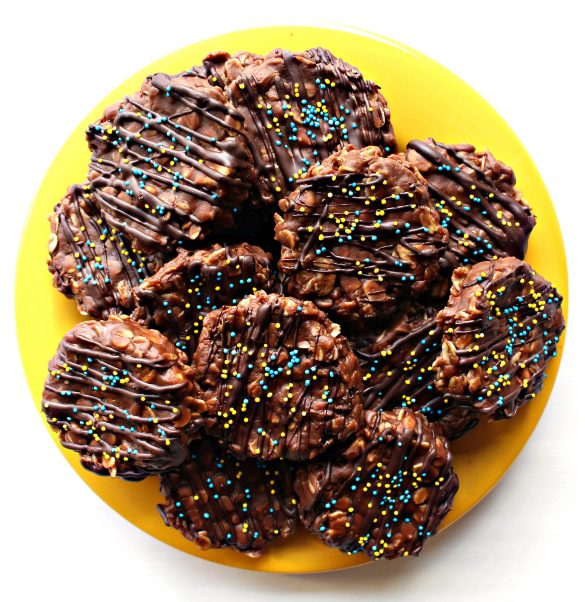 If I had only been a bit more reflective or analytical, I might have figured this out a while ago. The Monday Box recipes for Granola Bars and Easter Krispie Bars, are both no-bake recipes that proved care package worthy.
They are sturdy and they stay fresh and chewy for a long time. I should have thought about why. The common ingredient is corn syrup.
Corn syrup holds the cookies or bars together and keeps them chewy without degrading or drying out. After more than 2 weeks, my trial batch of cookies was just as chewy and even more flavorful than the day they were made.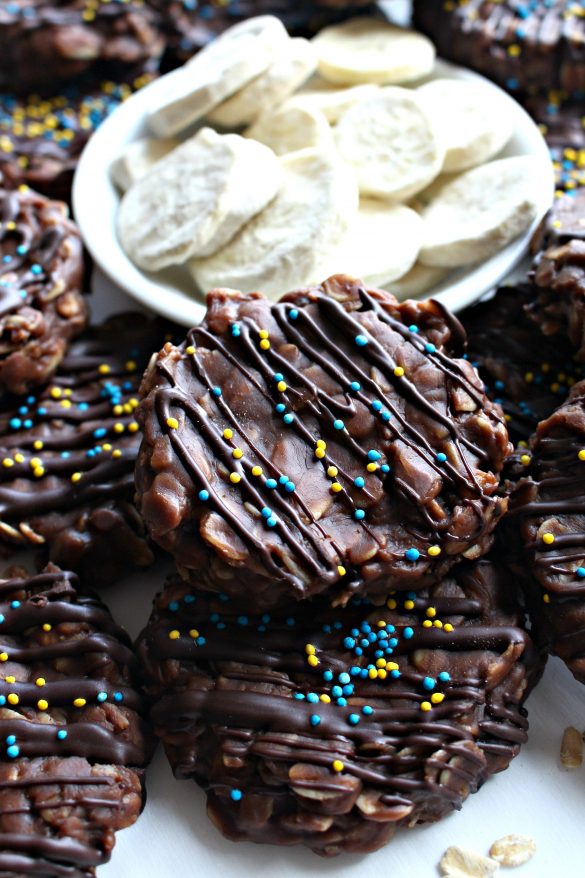 I learned something exciting (to me, anyway) about oats while making these cookies. I never stopped to think about what the difference might be between regular, quick cooking, and instant oats, other than knowing that regular oats are way chewier in cookies.
It turns out that quick cooking oats are just regular oats that have been chopped up a bit, so that the little oat pieces more quickly absorb moisture. In the past, I stocked my pantry with both regular and quick cooking oats.
If a recipe called for quick cooking and I was out of it, I ran to the store. Now, I know that with a few pulses of the food processor, I can turn regular oats into quick cooking oats! Does that amaze anyone else?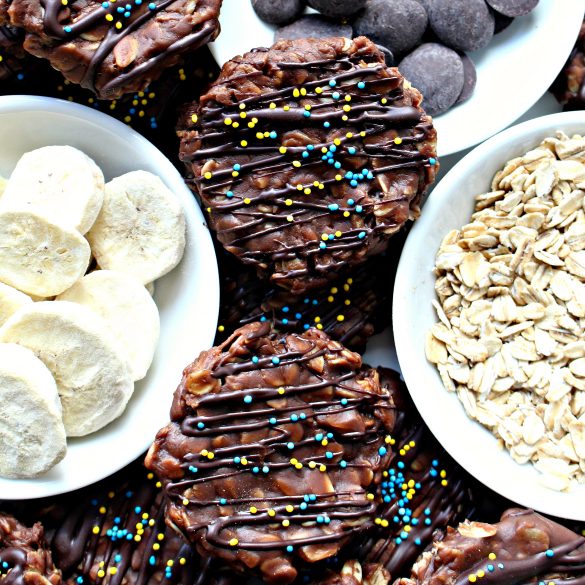 Despite my delight in that oat discovery, I paid no attention as I poured three cups of regular oats into a recipe that originally called for quick cooking! In defense of my absentmindedness, I did go to the cabinet reaching for the carton of quick cooking oats.
Then I saw a big bag of gluten free oats that I use when baking for my daughter. I redirected my hand to the gluten free oats thinking that if I used them, I could share some of the cookies with my gluten free daughter.
I was well into mixing the ingredients together before I realized what I had done. As it turned out, these cookies are really good with regular oats! Quick cooking oats would probably provide a bit less chew, but my taste testers don't want me to make any changes!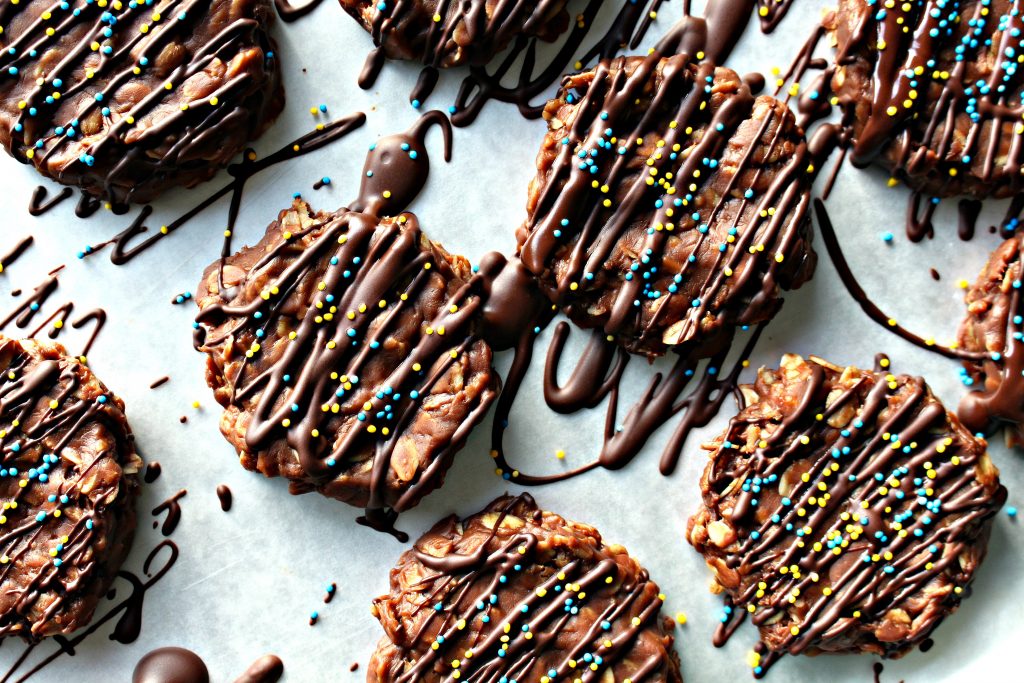 Another ingredient that's worth mentioning, is the bananas. Please don't consider using fresh bananas in this recipe, especially if the cookies will be shipped.
Fresh bananas in a no-bake cookie will provide too much moisture and the cookie may not hold together. Also, fresh bananas will spoil.
I made crunchy bits of banana goodness by gently crumbling freeze dried banana slices. All of the moisture is freeze dried out, the bananas crumble easily, and spoilage is avoided.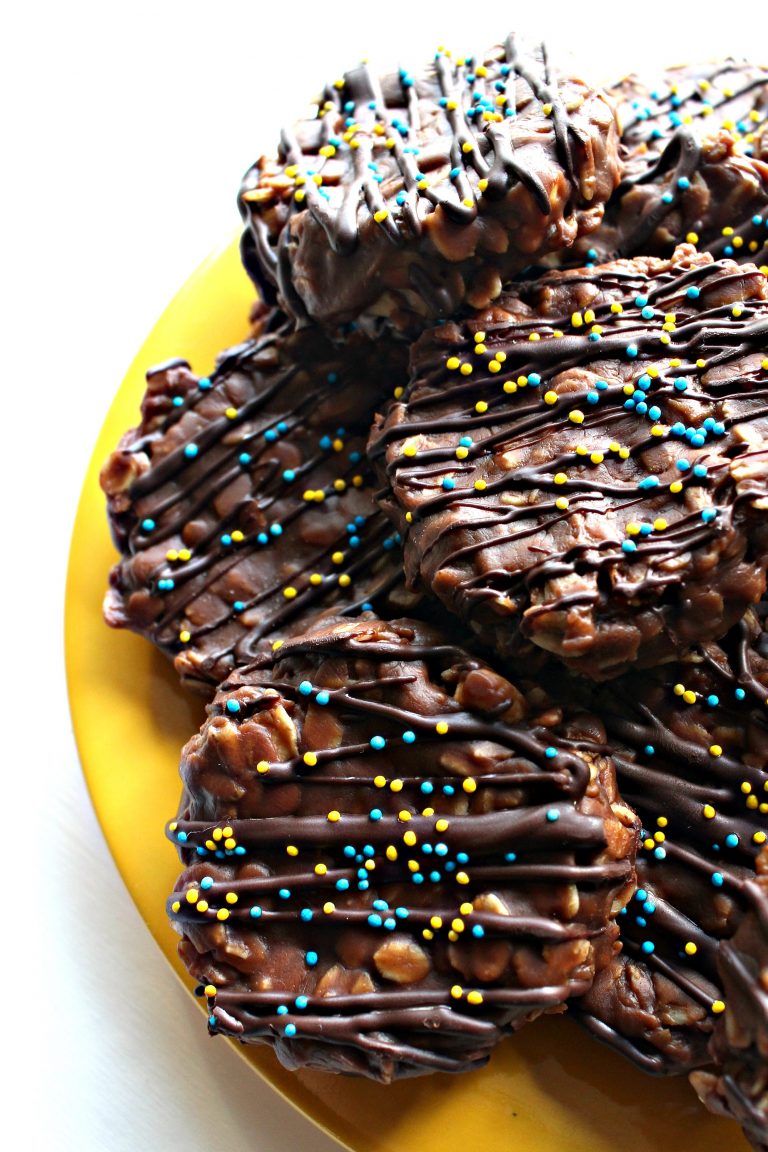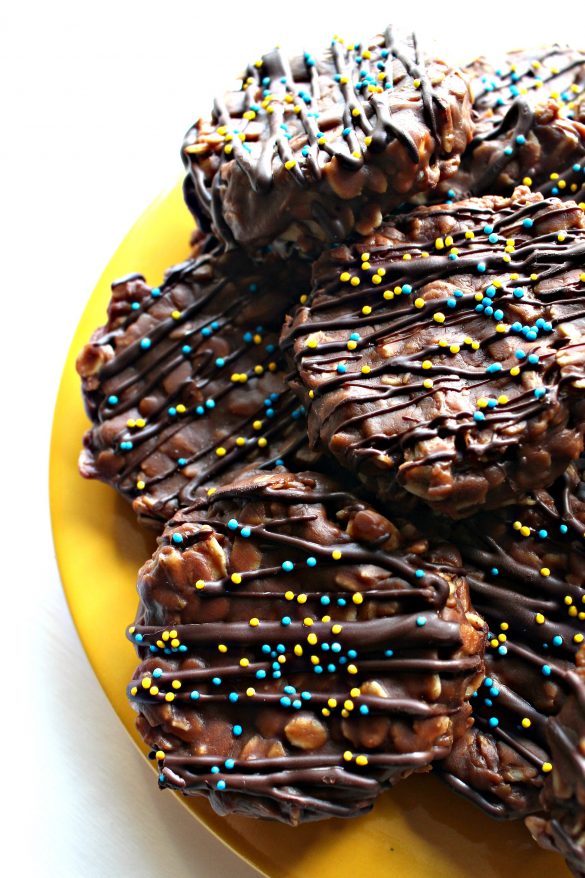 These chewy treats don't need any embellishment for deliciousness. I added a peanut butter chocolate drizzle because how else was I going to get the sprinkles to stick.
I added the sprinkles because I love sprinkles. Also, I used blue and yellow sprinkles to tie these cookies into the Minion theme I used for my most recent military care package.
Minions are also the reason I added bananas to these cookies. Did you know that Minions love bananas?
More no bake treats
No Bake Chocolate Peanut Butter Cookies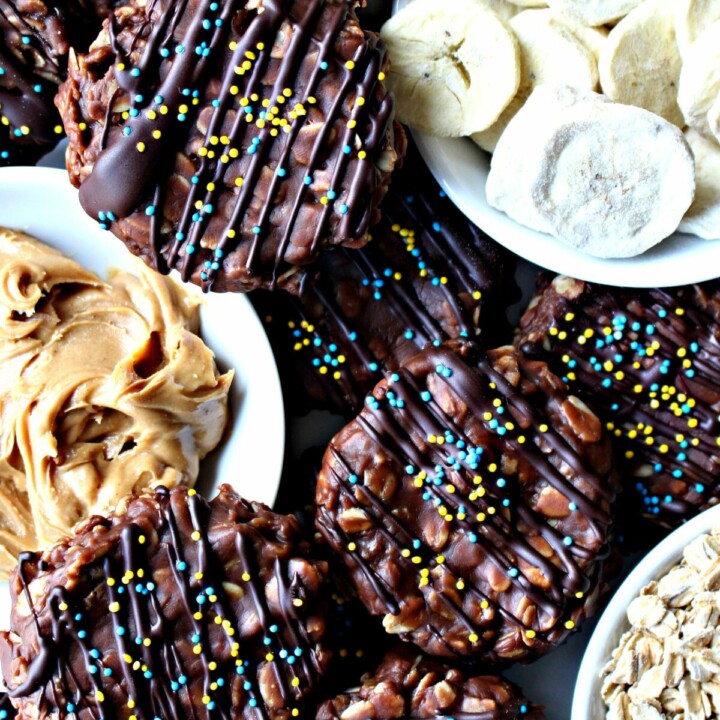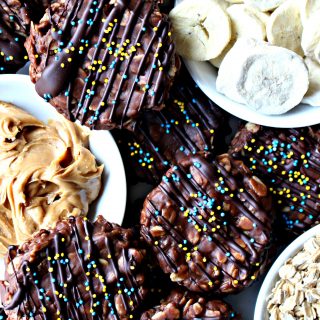 No-Bake Chocolate Peanut Butter Banana Cookies
Chewy, no-bake cookies with a bit of crunch and lots of flavor.
Print
Rate
Adapted From:
Karosyrup.com
Ingredients
Cookies
1

cup

corn syrup

1

cup

granulated sugar

1

cup

peanut butter

1

tablespoon

vanilla extract

1

cup

semi-sweet chocolate chips

I use Whole Foods 360 Brand Fair Trade chips

1

cup

crumbled freeze dried banana

3

cups

oats

regular or quick cooking
Decorating
1

cup

melting chocolate

2

tablespoons

creamy peanut butter

Nonpareil sprinkles
Instructions
In a large sauce pan over medium heat, stir corn syrup and sugar to combine. Heat just to boiling, then remove from heat.

Add peanut butter, vanilla, and chocolate chips and stir until melted.

Add crumbled banana and oats. Stir to combine.

Scoop 2 tablespoon portions (medium scoop) of dough onto wax paper lines counter or baking tray.

Use finger tips to gently press dough into ½" thick discs.

To add drizzle: Place melting chocolate discs and peanut butter in a bowl. Microwave on 50% power for about 1-2 minutes until chocolate is melted. Mix to combine.

Drizzle the melted chocolate-peanut butter over the cookies and add sprinkles immediately.

Allow to firm for 1 hour.

Store cookies in layers separated by wax paper, at room temperature in an airtight container for up to 2 weeks.
Notes
Packing tips
No-bake cookies should be separated from one another with wax paper, either in small plastic wrap bundles inside a freezer weight ziplock bag or layered in an airtight container with extra wax paper on top to keep the cookies from shifting during shipment.
Nutrition
Calories:
202
kcal
|
Carbohydrates:
28
g
|
Protein:
4
g
|
Fat:
9
g
|
Saturated Fat:
4
g
|
Polyunsaturated Fat:
2
g
|
Monounsaturated Fat:
3
g
|
Trans Fat:
1
g
|
Cholesterol:
1
mg
|
Sodium:
51
mg
|
Potassium:
133
mg
|
Fiber:
2
g
|
Sugar:
20
g
|
Vitamin A:
5
IU
|
Vitamin C:
1
mg
|
Calcium:
13
mg
|
Iron:
1
mg
Save