This Monday, February 8, is Chinese New Year. The celebration of the beginning of a new year, according to the lunisolar Chinese calendar, is a significant holiday in countries with large Chinese populations. Happily, there are numerous traditional baked treats for Chinese New Year. Some are specific to only one country, and others can be found in many countries. Pineapple Cookies (凤梨酥) are a multi-national New Year favorite. The recipes I found varied slightly in ingredients and cookie shape, but all created melt-in-your-mouth, buttery shortbread with a fruity pineapple center.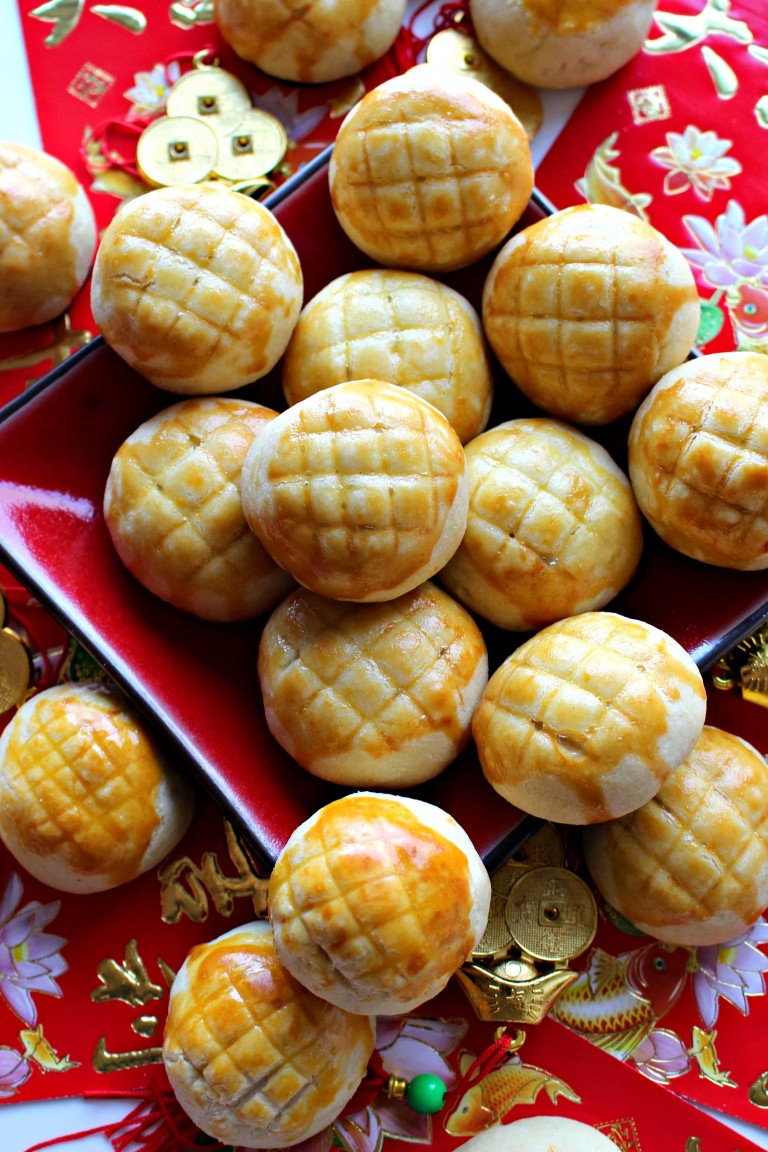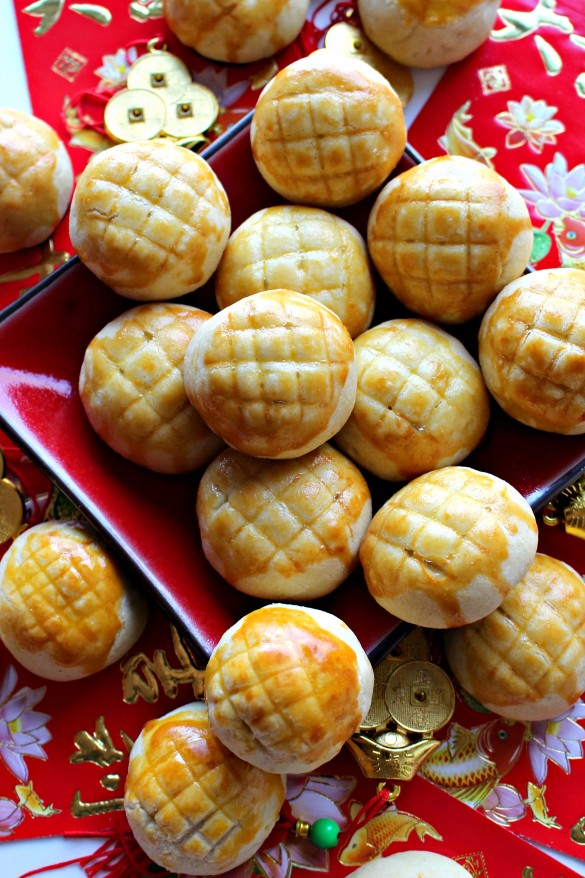 Many cultures have cookies and sweets that travel well in a care package. The internet puts international recipes at our fingertips. Chinese New Year is an opportunity to discover and try traditional recipes associated with this celebration. Last year, I enjoyed nibbling on Peanut Cookies(花生饼). This year, I am delighted I learned to make Pineapple Cookies (凤梨酥).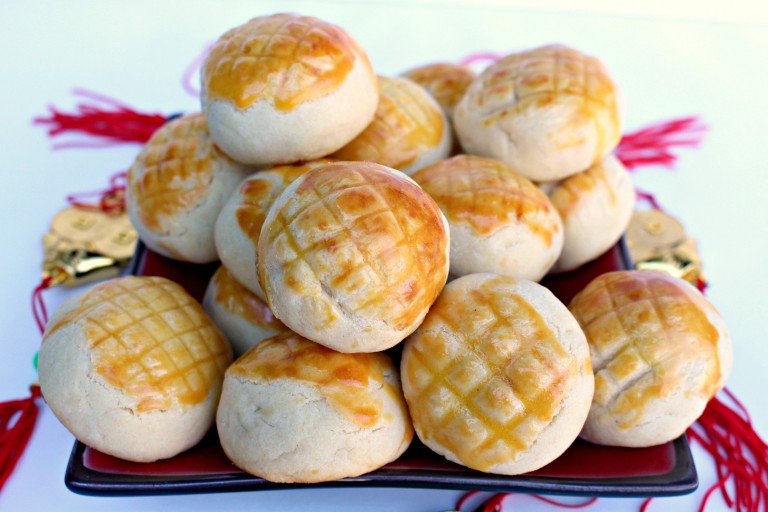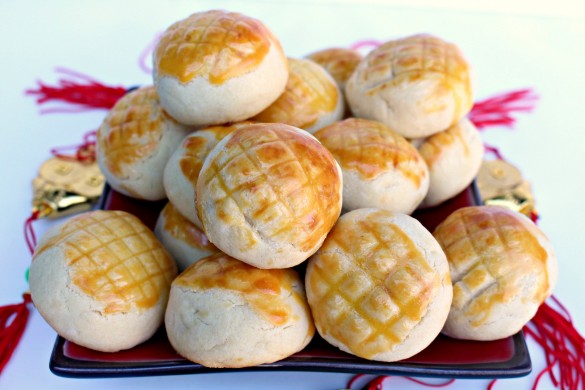 After researching, I decided on 3 pineapple cookie recipes to try. I chose them for their authenticity and my familiarity with their authors, but I was frustrated that all of the recipes required making the pineapple jam filling. I worried (unnecessarily, it turns out) that making jam would be too time consuming or complicated. There are two large Asian grocery stores close to my house that I was sure would carry jarred or canned pineapple jam filling.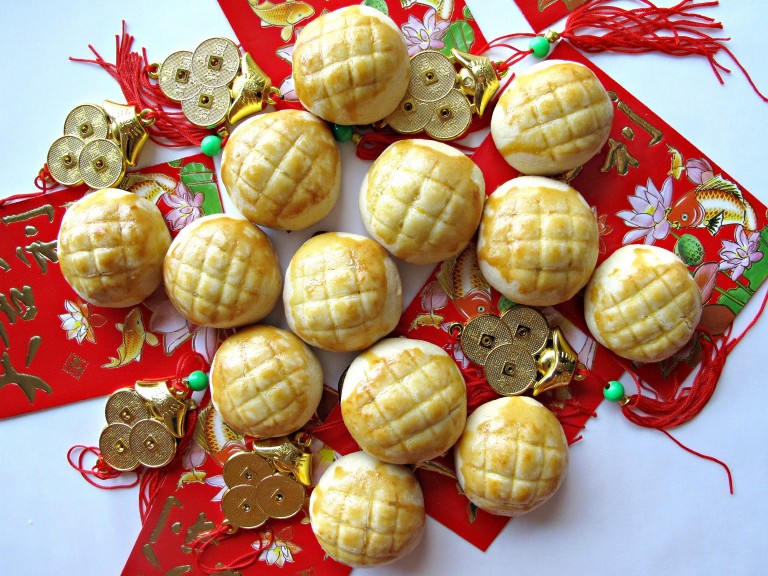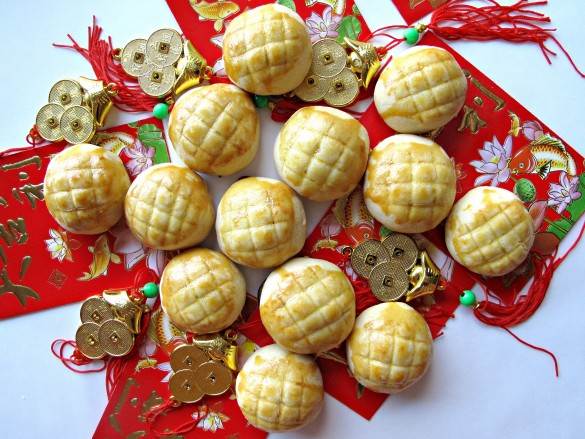 Both of the Asian markets have tiny, energetic women managers, who always amaze me in their abilities to know where every one of their gazillion products are located. On my numerous visits to these markets, the managers have been able to figure out what I am asking for, even if my pronunciation is atrocious or my request is absurd. Apparently, asking for ready-made pineapple jam is absurd. Both women gave me the same withering look and identical emphatic advice, "You don't BUY pineapple jam, you MAKE it!"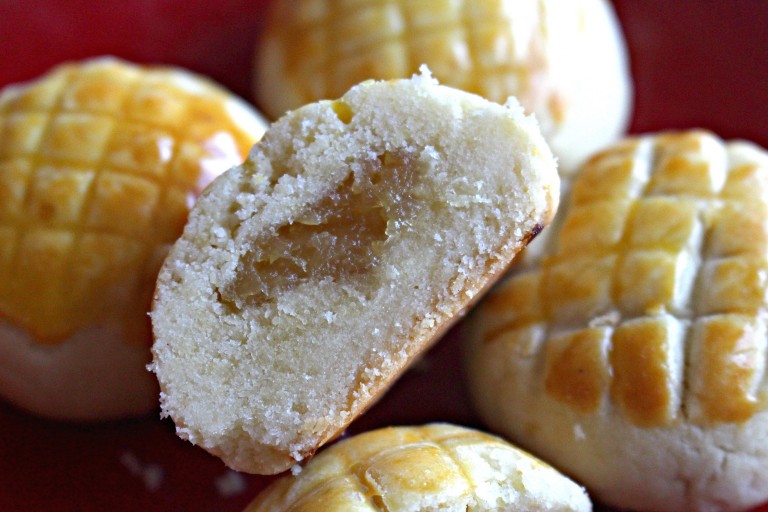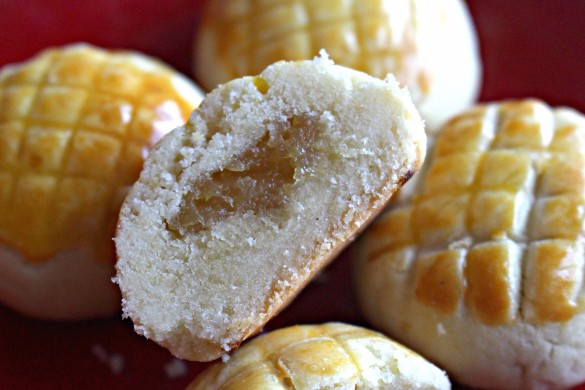 They were right, of course. Making pineapple jam filling for New Year's Pineapple Cookies is not only easy, but takes only about 30 minutes! For ease and time saving, I used canned pineapple. I read that fresh pineapple tastes even better. It probably does, and at some point I may compare fresh with canned. The canned pineapple, however, is quick and easy and makes a delicious jam. The pineapple chunks are drained, then hand squeezed to remove as much moisture as possible. The less moisture that remains, the less time it takes to cook down into jam. The drained pineapple is pureed in a blender or food processor. The puree and some sugar is then stirred over medium heat until it thickens into jam. Easy. No wonder the grocery managers rolled their eyes at me!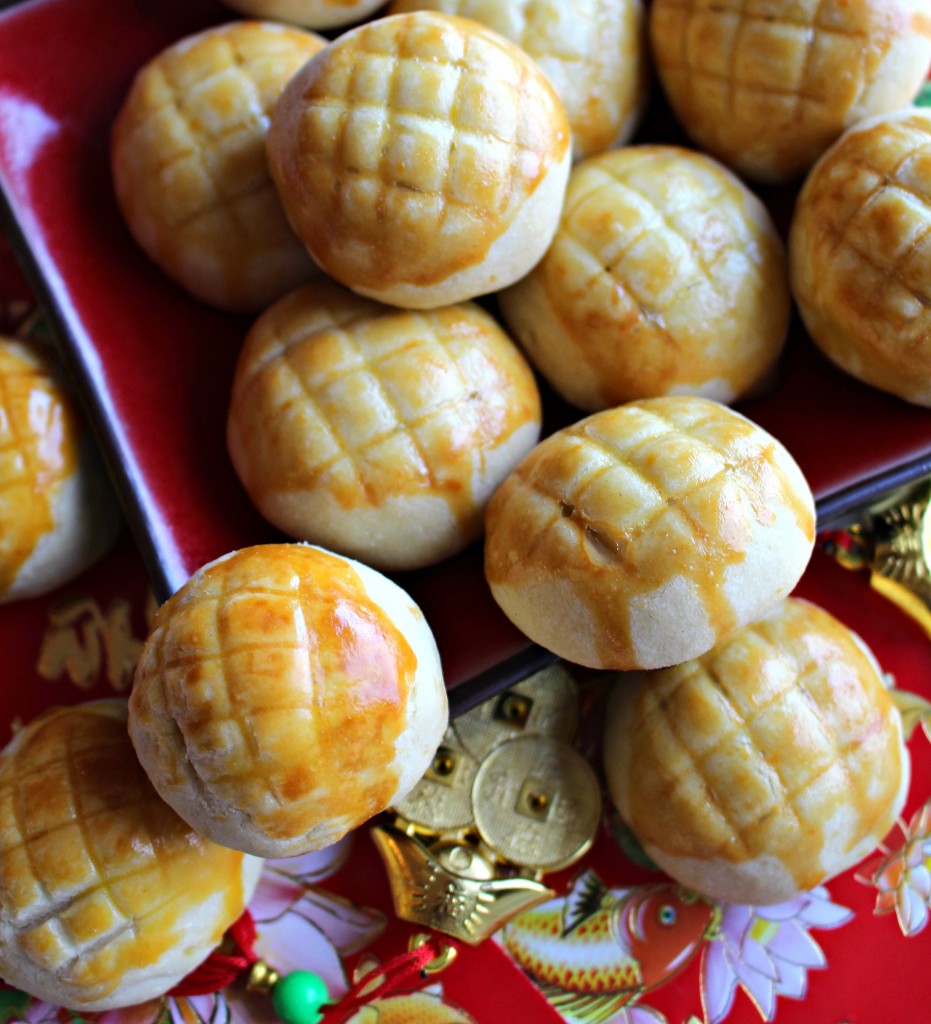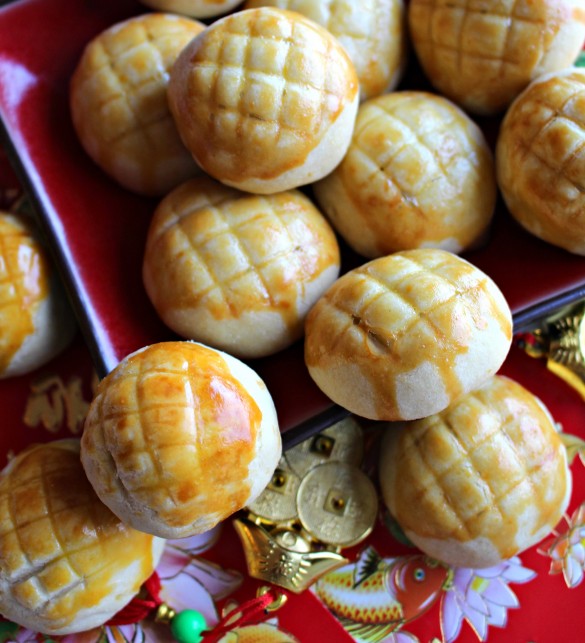 The shortbread-like dough comes together quickly kneaded by hand, or even quicker with an electric mixer. The dough is smooth like playdough and easy to work with. Traditionally, no flavoring is added to the buttery cookie, but an optional bit of pineapple flavoring boosts the fruity flavor.

These Pineapple Cookies (凤梨酥) are delicious any time of year. They are only mildly sweet, like most Asian cookies. If a sweeter version is desired, add a sprinkling of decorating sugar or a drizzle of confectioners sugar glaze on top. For celebrating Chinese New Year, or just for enjoying with a cup of tea, Pineapple Cookies are an international treat to be savoured.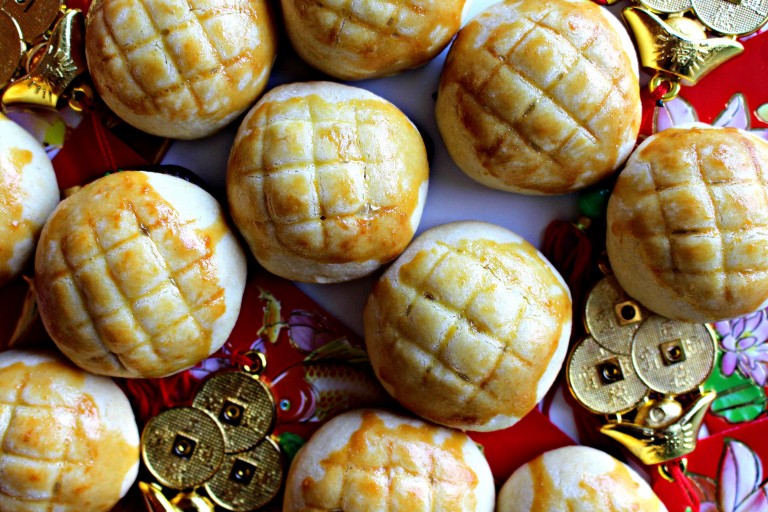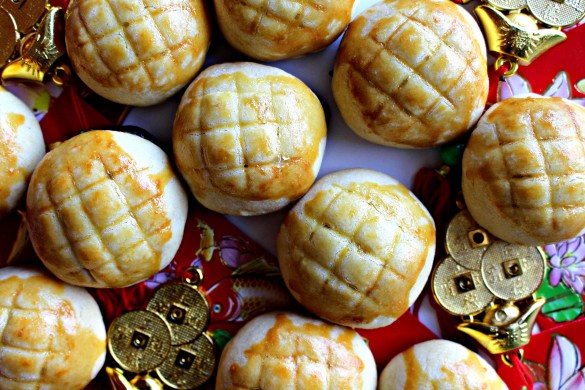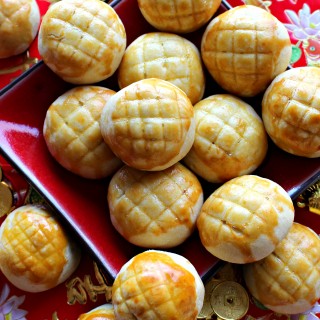 Print
Pineapple Cookies (凤梨酥) for Chinese New Year
As an Amazon Associate I earn from qualifying purchases.
Ingredients
PINEAPPLE JAM

1

large

20 oz. can and 1 small (8 oz.) can sliced or chunked pineapple, packed in juice

¼

cup

granulated sugar

COOKIE DOUGH

1 ¼

cups

all-purpose flour

1

tablespoon

cornstarch

⅛

teaspoon

salt

4

tablespoons

confectioners sugar

½

cup

unsalted butter

room temperature

1

egg yolk

Optional: ½ teaspoon pineapple flavoring

EGG WASH COATING

1

egg yolk

½

tablespoon

condensed milk

regular milk can be substituted but will produce a less shiny coating
Directions
PINEAPPLE JAM

Drain the canned pineapple, and then, using your hands squeeze out any additional juice.

In a blender or food processor, puree the pineapple for 10 seconds.

In a medium saucepan over medium-low heat, combine the pineapple puree and ¼ cup sugar. Mix continually with a wooden spoon until thickened (approximately 30 minutes). Set aside to cool.

COOKIE DOUGH

Preheat the oven to 325°. Line a baking sheet with parchment paper.

In a large mixing bowl, whisk together flour, cornstarch, salt, and confectioners sugar.

In the bowl of an electric mixer (or in a food processor or by hand) combine the flour mixture, butter, 1 egg yolk, and (optional) pineapple flavoring until a smooth dough forms.

To make cookies, first prepare balls of pineapple filling. Scoop ¼ heaping teaspoon of filling and roll into a ball. Roll 16 filling balls.

Use a small scoop or 1 tablespoon, to scoop a ball of dough. Flatten the scoop of dough into a disc shape and place a filling ball in the center of the dough disc. Wrap the dough around the filling, and roll the dough into a ball.

Place the filled dough balls on the prepared baking sheet at least 2" apart.

Press the back of a butter knife into the dough ball to create a criss-cross pattern.

Combine the egg yolk and condensed milk to make an egg wash.

Brush the top of each cookie with the egg wash.

Bake for 18-20 minutes or until the tops are golden brown and the bottom edge begins to brown.

Allow to cool on the baking pan for 5-10 minutes before transferring to a wire rack to cool completely.

Store cooled cookies in an airtight container at room temperature for up to 1 week.
Notes
Double wrap pairs of cookies, bottoms together, in plastic wrap. Place wrapped bundles in a freezer weight zip lock bag or plastic container.