According to Irish mythology, somewhere down Ireland's cobbled lanes or over the rolling green hills, leprechaun's gold is hidden in a pot at the end of the rainbow.
If the little men in green were also stockpiling candy along with their treasure, it might look like this Rainbow's End Rocky Road Candy, a scrumptious cobblestone confection of marshmallows, chocolate, peanuts, and what might be tiny bits of that magical rainbow.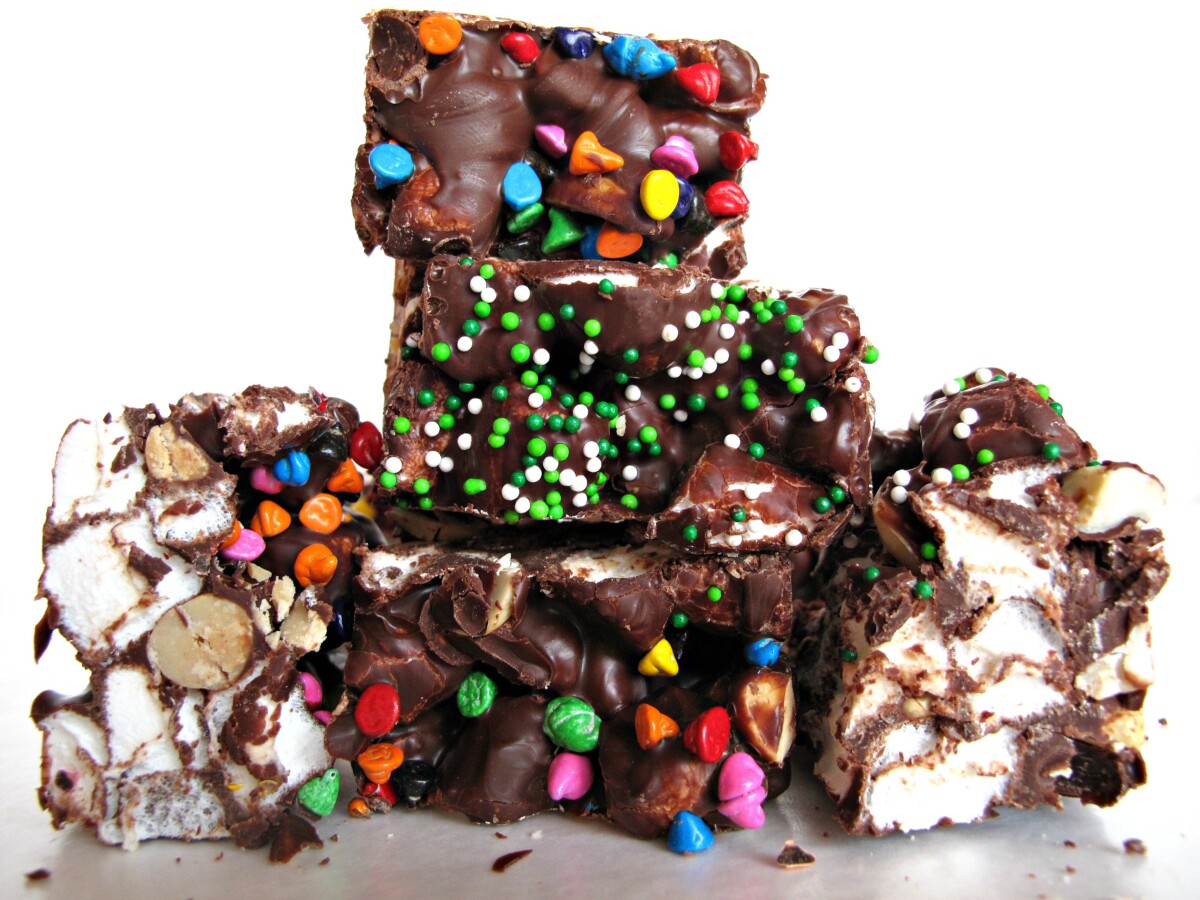 This batch of Rocky Road candy is a bit of a triumph for me. I was FINALLY successful at tempering chocolate!
I have documented my misery over countless failed attempts at chocolate tempering, a heating-cooling-heating process that keeps chocolate shiny at room temperature.
Without tempering, cookies that appeared beautifully enrobed in chocolate one day, will be blooming with white snowflakes and cloudiness the next. It's not harmful, just ugly.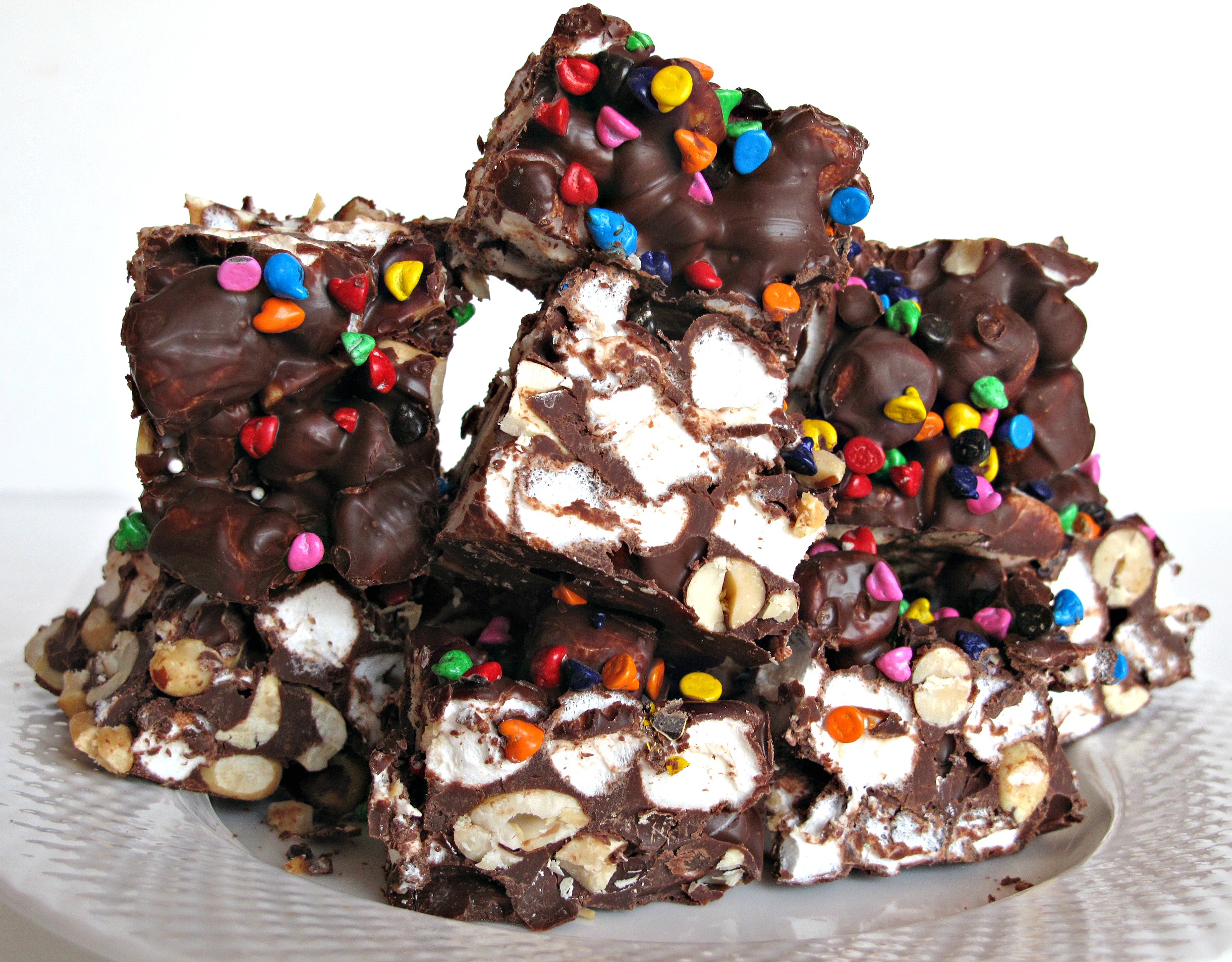 I adapted this Rocky Road recipe from "The Great Book of Chocolate" by David Lebovitz, the American- Parisian chocolate guru.
The simple recipe can be prepared quickly with time saving ingredients (packaged marshmallows and chocolate melts) or with a more time consuming preparation involving making the marshmallows from scratch and tempering the chocolate.
I love homemade marshmallows, but was short on time, so I chose a compromise. I used store bought mini-marshmallows, but tempered the chocolate. After so many tempering failures in the past, I was still not ready to give up completely.
This time, following David's detailed directions, with patience and accuracy, I was able to temper melted chocolate so that it remained shiny brown. I did my own version of an end zone happy dance!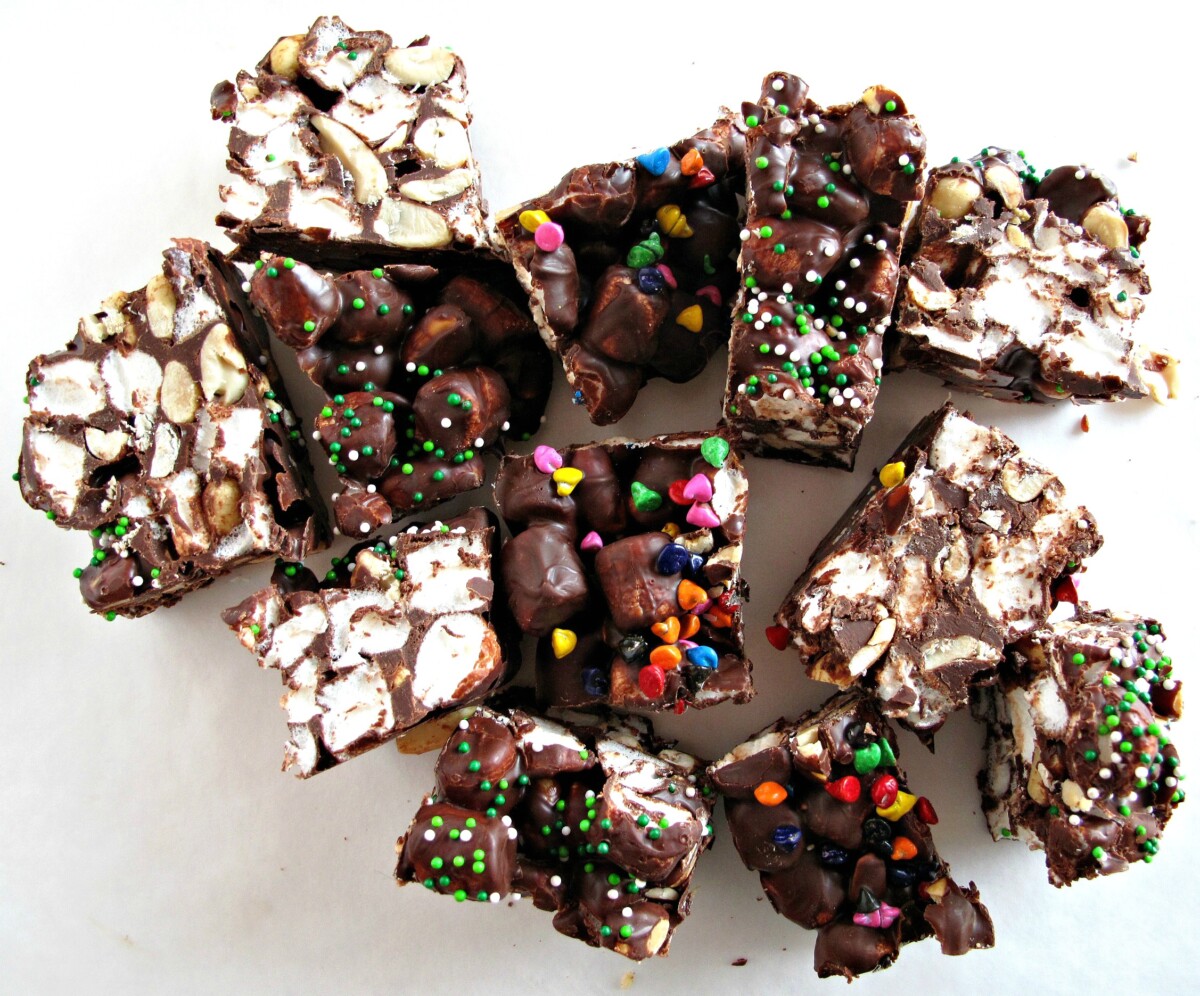 Now that I am no longer temper challenged, the question is, would I do it again? Maybe for a very special dessert for a very special occasion, it would be worth the effort and worry. Plus, it takes time.
I am rather proud of my long awaited tempering success. (Thank you, Mr. Lebovitz.) But for everything else, I am sticking with the compound melting chocolate that I have used for many recipes, like Kiss Cookies and Chocolate Covered Oreos.
With compound chocolate, no tempering is required, and you still get a rich, creamy chocolate flavor and a lustrous shine.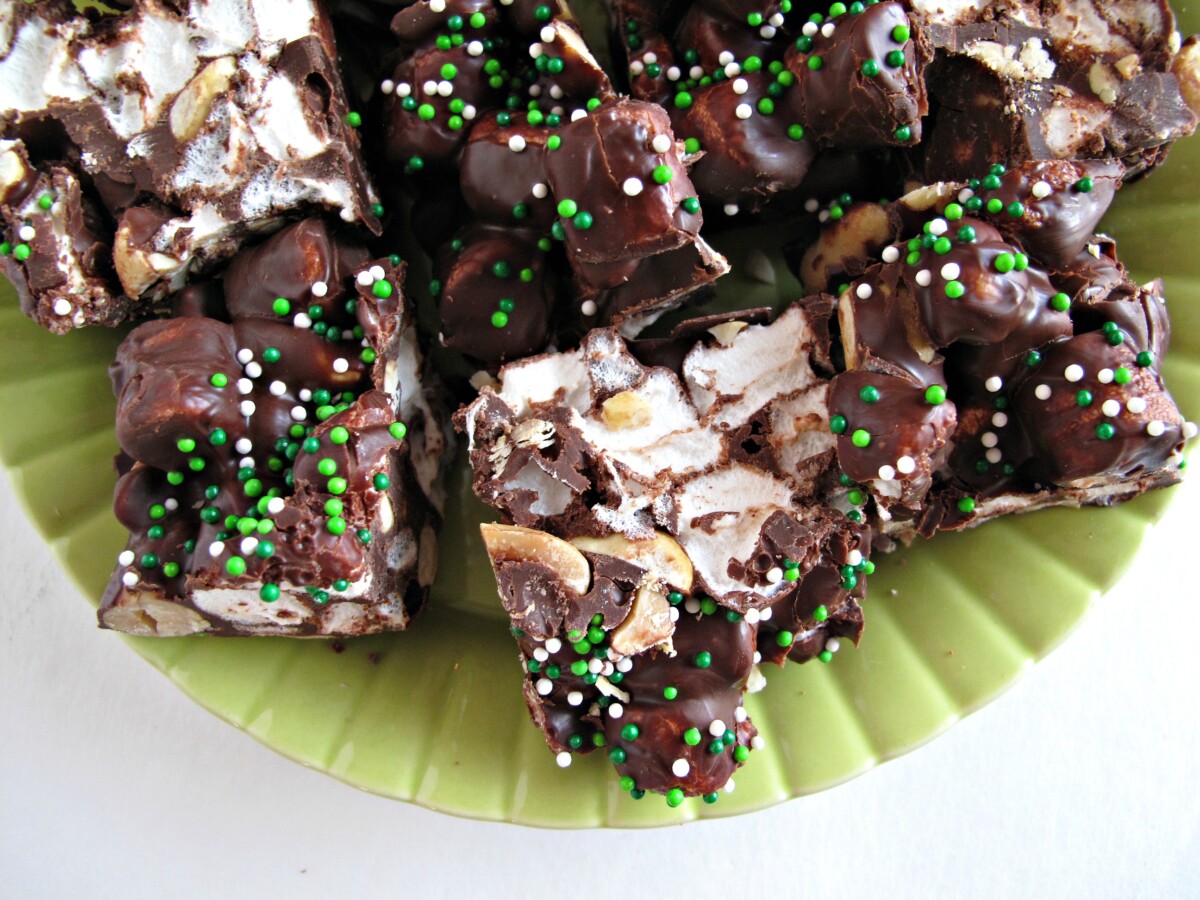 Your choice of colored sprinkles make Rainbow's End Rocky Road a festive treat any time of year. With rainbow bits or green nonpareils it is perfect for a St. Patrick's Day care package, as long as the weather is cold.
Melting was definitely not a concern with the box I sent to Chicago. However, Rocky Road candy in the military care package to Afghanistan, is a little more questionable at this time of year. If worse comes to worse, we will call it marshmallow soup, and Soldier B. can eat it with a spoon.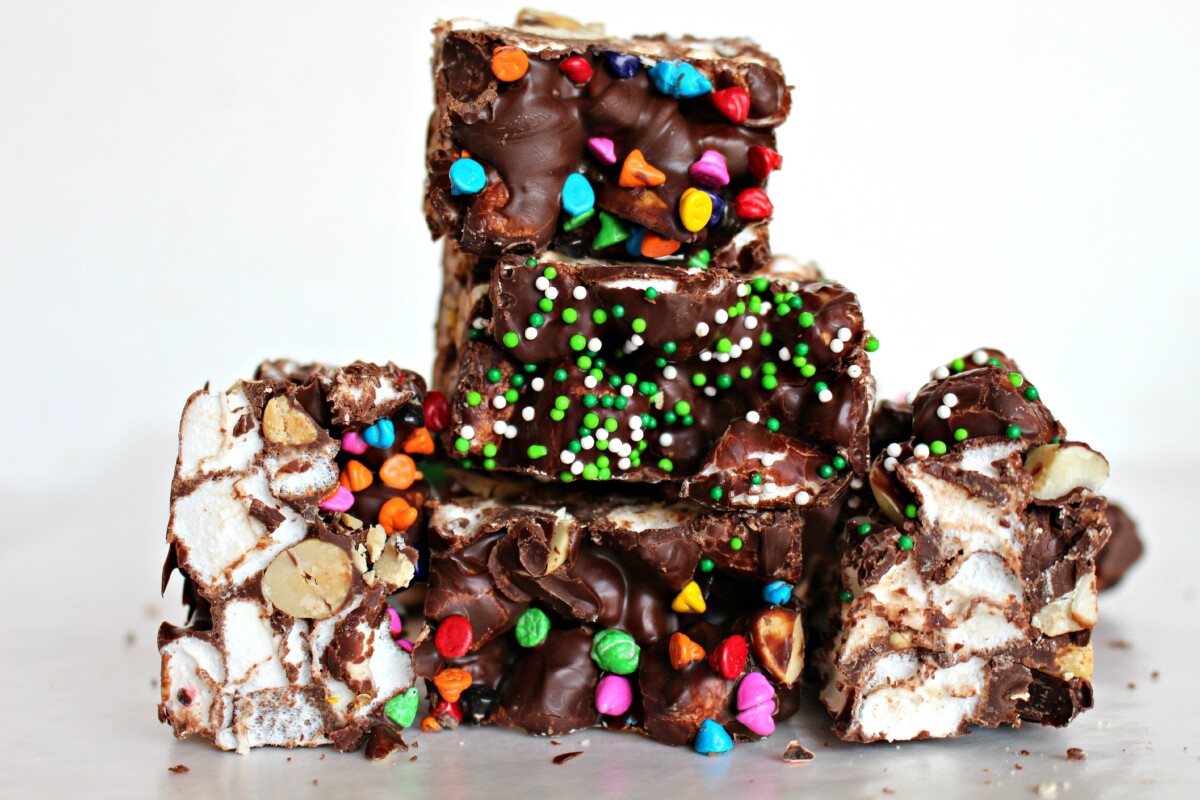 Rainbow's End Rocky Road candy is easy to make and stays fresh in an airtight container at room temperature for up to 2 weeks. Share some with your favorite leprechauns!
More St. Patrick's Day treats
St. Patrick's Day Chocolate Covered Oreos
Chocolate Covered Oreo Leap-rechauns and Pots of Gold
Ready to bake? Join the free membership group to get new recipes and a newsletter delivered to your inbox! You can also stay in touch on Facebook, Pinterest, and Instagram. I'd love to stay in touch!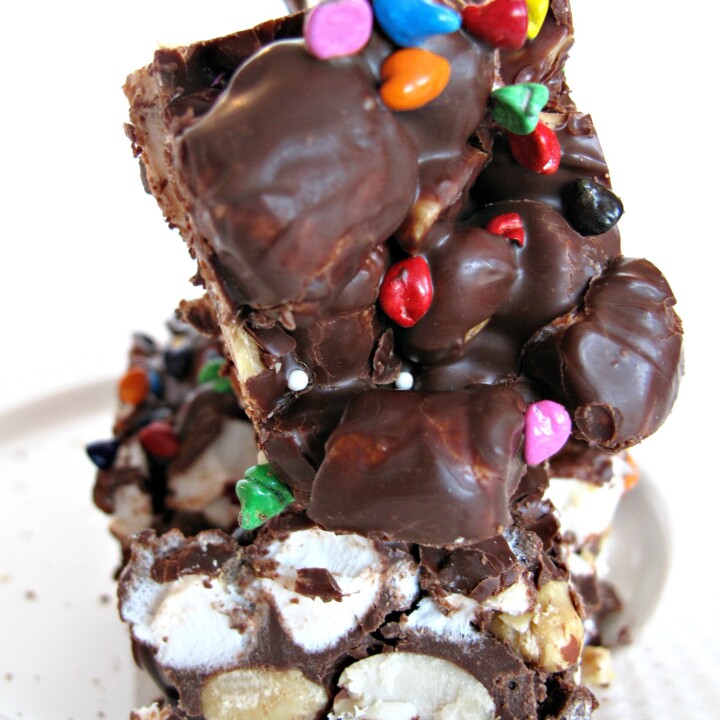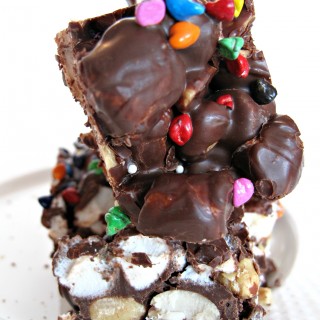 Rainbow's End Rocky Road Candy
This soft and chewy candy is magically delicious!
Print
Rate
Adapted From:
"The Great Book of Chocolate" by David Lebovitz
Ingredients
10

ounces

mini marshmallows

1 ¼

pounds

semisweet chocolate

chopped

2

cups

roasted unsalted peanuts

3

tablespoons

sprinkles

rainbow chips or nonpareils
Instructions
Line a baking sheet with parchment paper.

To temper chocolate: Put 16 ounces of the chopped chocolate in a large heatproof bowl over a saucepan of simmering water. Stirring continually, until all of the chocolate is melted, then remove the bowl from the water.

Stir in the remaining chopped chocolate. Allow the chocolate to stand, stirring occasionally, until the temperature drops to the low 80 degree range.

Place the bowl back over the simmering water for 3-5 seconds, then stir. Repeat the 3-5 second bursts of heating and stirring until the temperature just reaches between 88 and 91 degrees F. If the temperature is allowed to go higher, the tempering process will have to be repeated.

Immediately add the marshmallows and peanuts. Toss to coat.

Spread the mixture on to baking sheet in a rough rectangle shape, about 1 ½" – 2" thick.

Optional: Sprinkle with rainbow chips or nonpareils.

Chill until firm (about 15 minutes), then cut into chunks.

Store at room temperature in an airtight container for up to 2 weeks.
Notes
Packing tips
Rocky Road should only be sent in cold weather care packages. Both the chocolate and marshmallows will melt in summer heat.
Place the Rocky Road candy chunks in a large zip lock bag and seal, removing as much air as possible. Pack the filled ziplock bag inside a plastic storage container.
Nutrition
Calories:
375
kcal
|
Carbohydrates:
38
g
|
Protein:
8
g
|
Fat:
23
g
|
Saturated Fat:
9
g
|
Trans Fat:
1
g
|
Cholesterol:
2
mg
|
Sodium:
97
mg
|
Potassium:
343
mg
|
Fiber:
4
g
|
Sugar:
25
g
|
Vitamin A:
18
IU
|
Calcium:
41
mg
|
Iron:
3
mg