Share the love with homemade Chocolate Marshmallow Hearts. The chocolate shell hides a vanilla mini marshmallow nestled inside. Easy and fun to make, these fancy looking confections are gluten free and vegetarian friendly.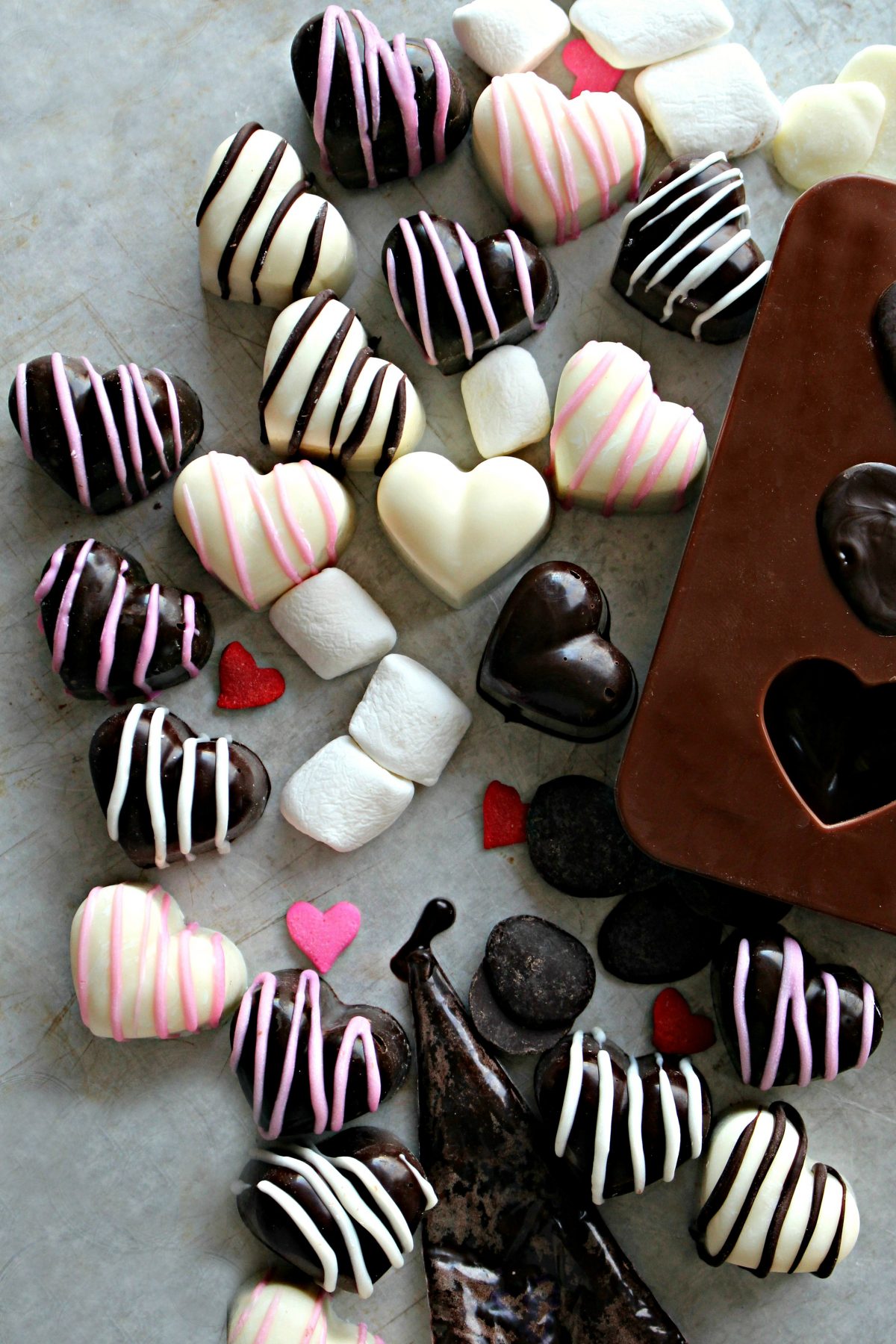 There are also ethical, religious, and medical reasons that make having control of ingredients a necessity. Chocolate Marshmallow Hearts are the second recipe in my 3-part series of goodies made using a heart mold. Don't miss the Iced Sugar Cookie Hearts and Honey Sesame Brittle!
These pretty chocolates require only two ingredients and both ingredients can meet many ethical, religious and allergen-free requirements.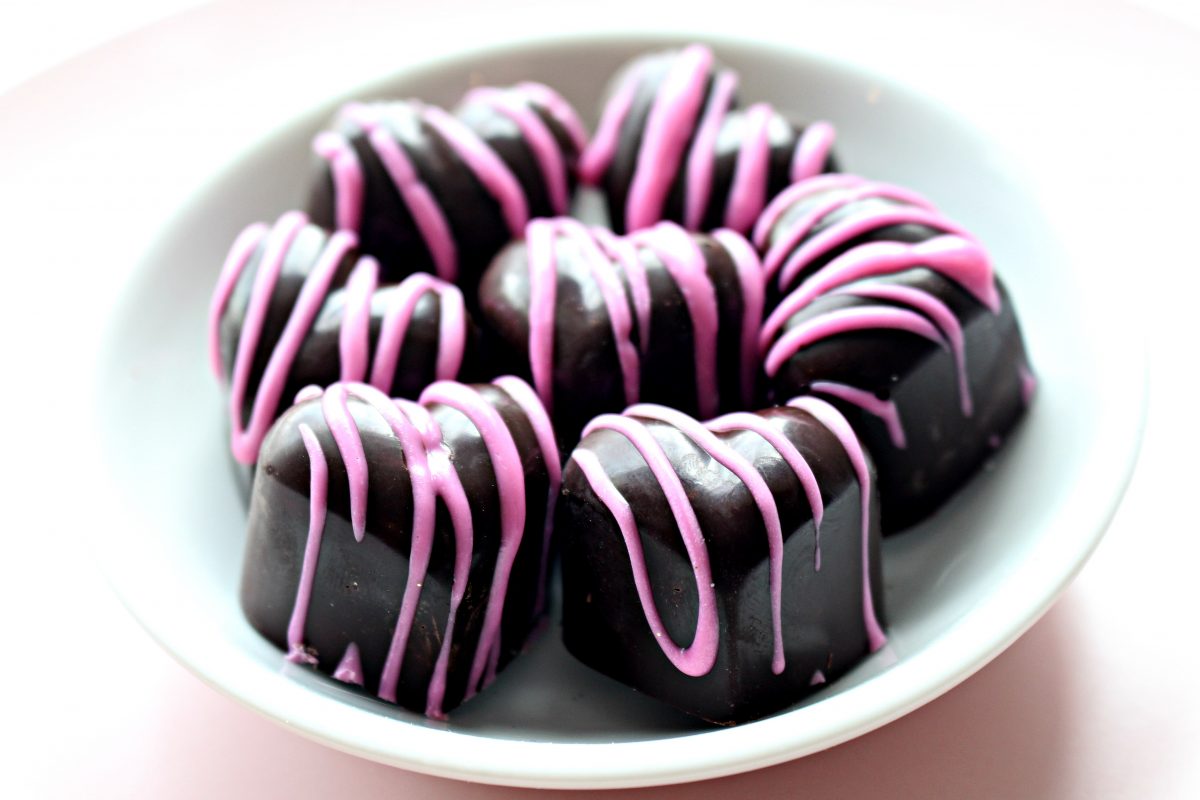 I used melting chocolate to create these treats. The advantage of melting chocolate over chocolate chips or bars is that melting chocolate doesn't require tempering. It also firms shiny and stays that way.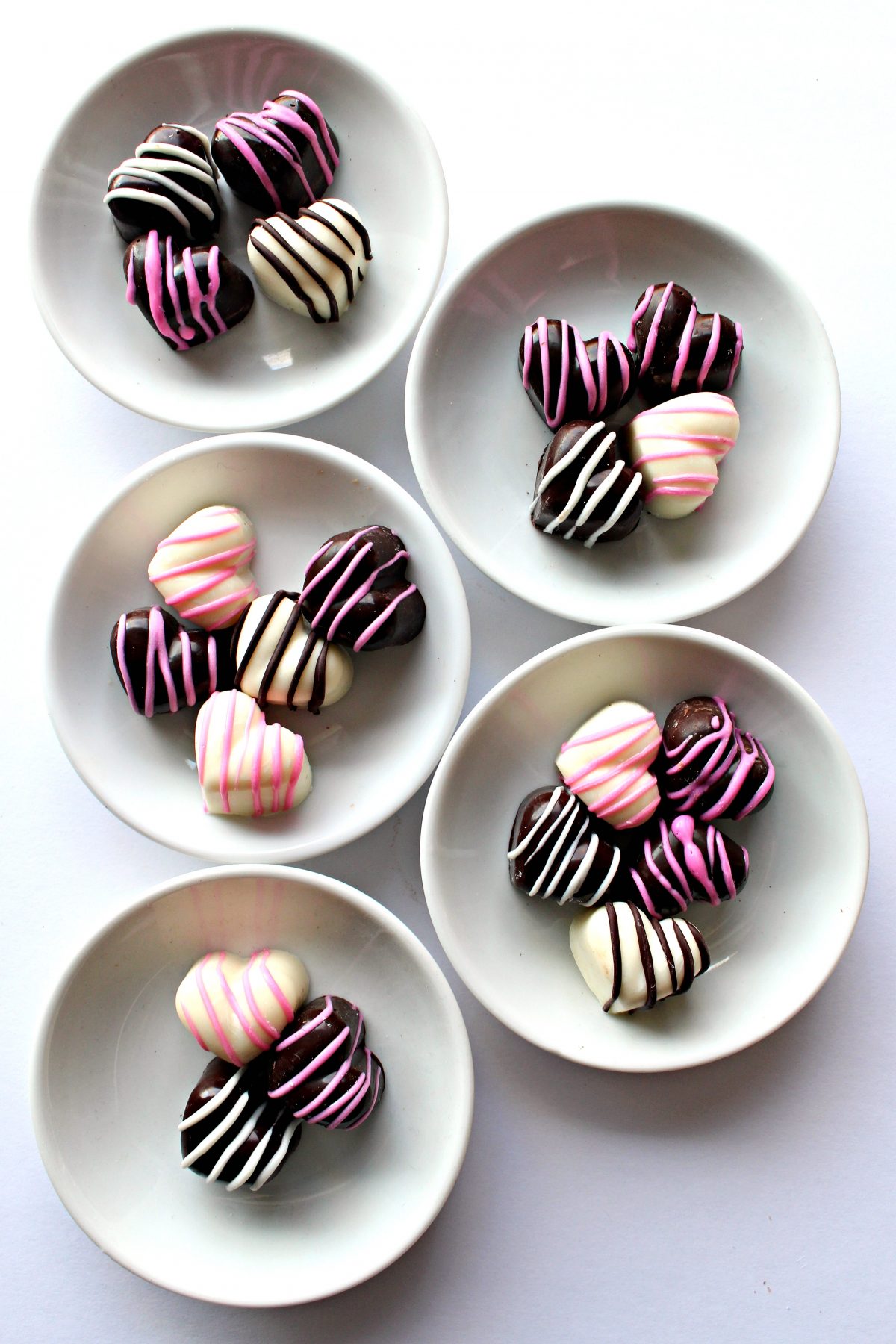 The only other ingredient needed are the cute little pillows of vanilla marshmallow that get tucked inside. So simple. So easy. So quick.
I used Dandies mini marshmallows that are manufactured in a facility that is gluten free and peanut and tree nut free. You will definitely not miss the gelatin in these fluffy Kosher and vegan treats! I buy my Dandies marshmallows at Whole Foods.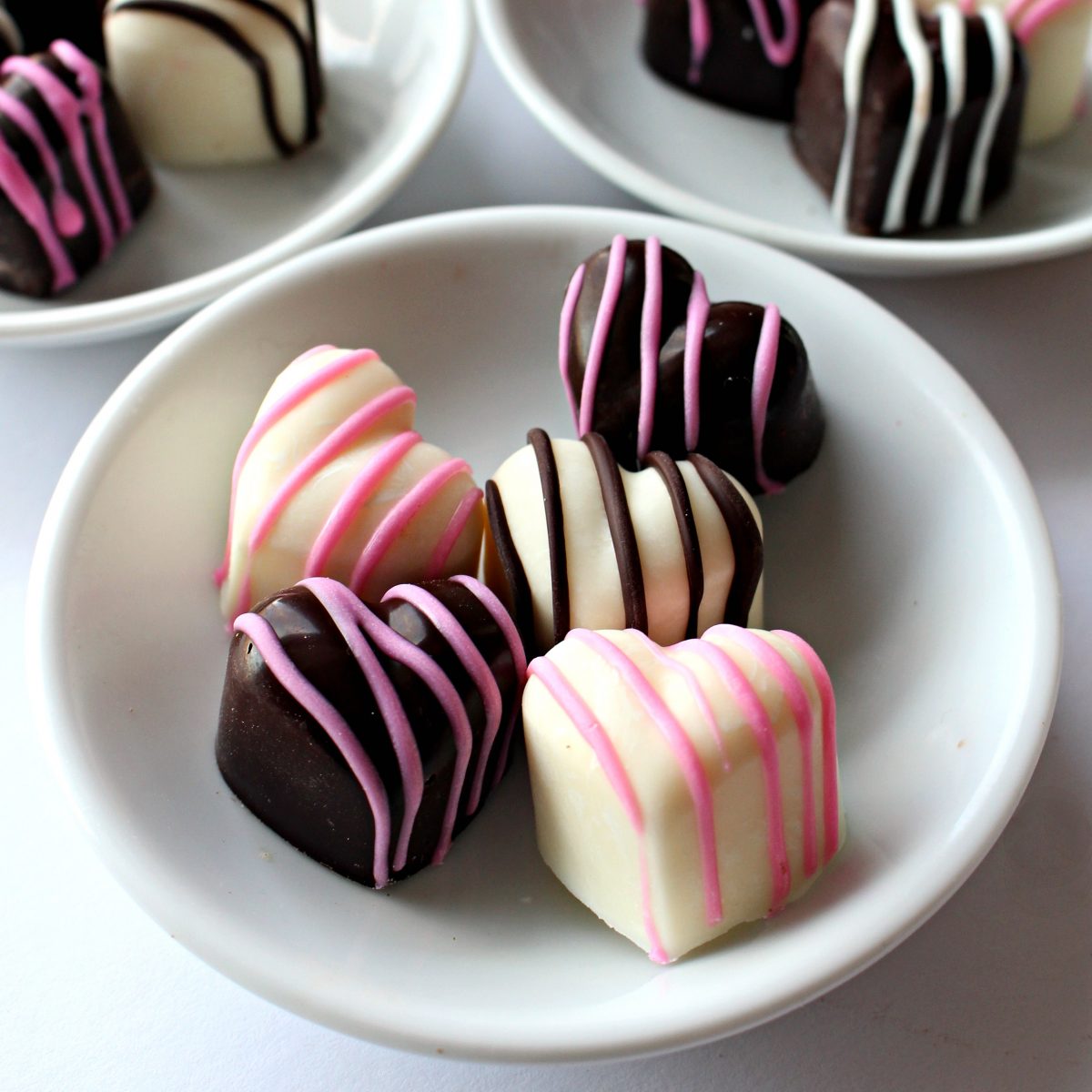 This was the first time I have ever attempted making molded chocolates. For some reason, I thought it was going to be complicated. With the two ingredients I used, the project was super simple and a lot of fun.
The only tools needed, are a few plastic sandwich bags (or plastic piping bags), a candy mold (plastic or silicone) and a food safe brush. Links for the bags, mold and brush I used are in the recipe card.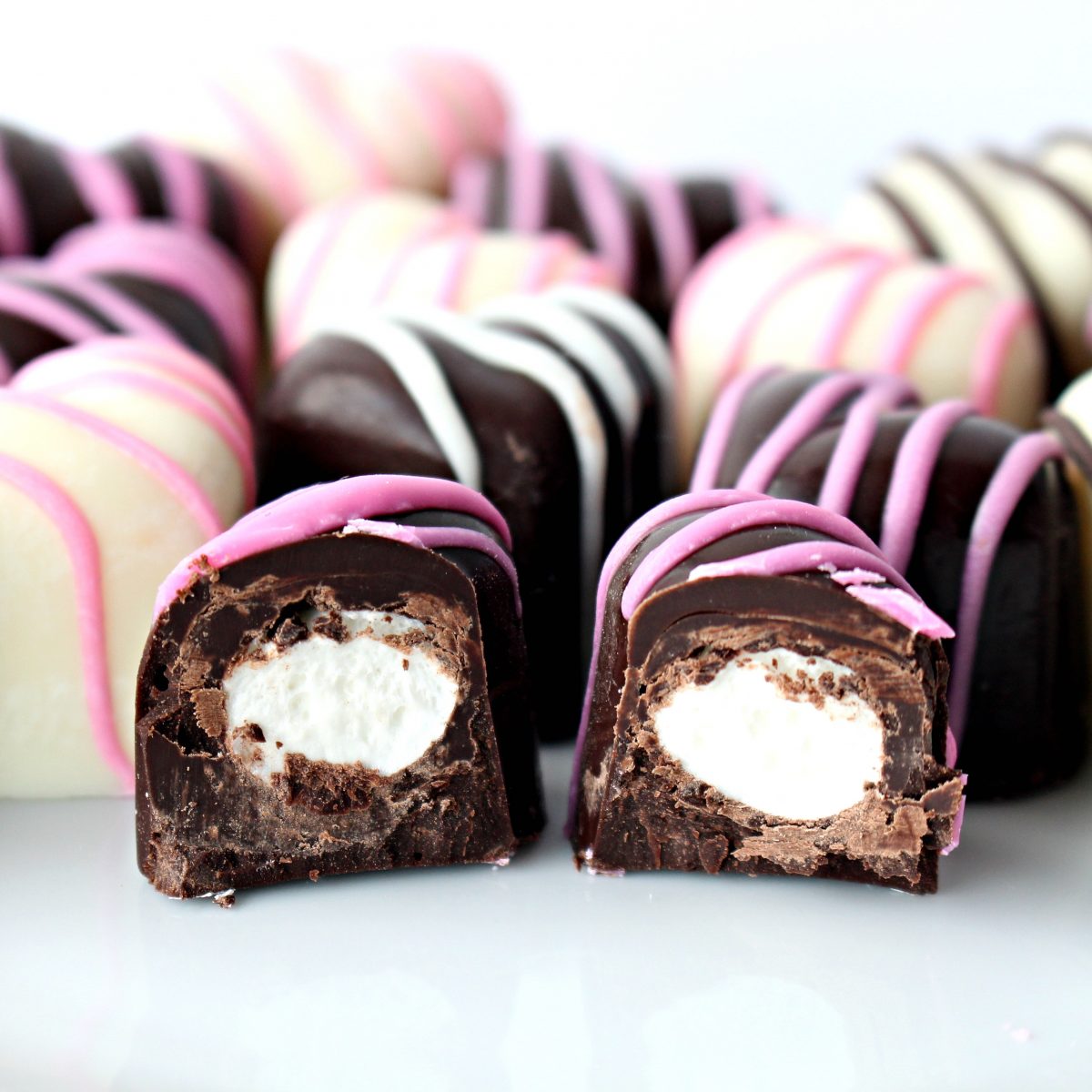 These are directions for a "culinary craft project" rather than a recipe. You will be amazed at the professional looking confections that pop out of the mold in just a few simple steps.
It helps to keep in mind: If using a microwave to melt the chocolate, always melt at 50% power in small time segments. Chocolate (especially white chocolate) burns and clumps quickly if overcooked. Work in small batches of no more than 6 candies at a time, so that the chocolate firms in the fridge and not on the counter.
After the mold is filled and before putting it in the fridge to set, be sure to gently bang the tray, containing the mold, on a counter top to release any air bubbles. If you don't, there could be holes in the heart when it's unmolded.
For Valentine's Day or any other day, Chocolate Marshmallow Hearts are a bite of happiness. When made with ethically sourced ingredients, they can make your conscience happy too.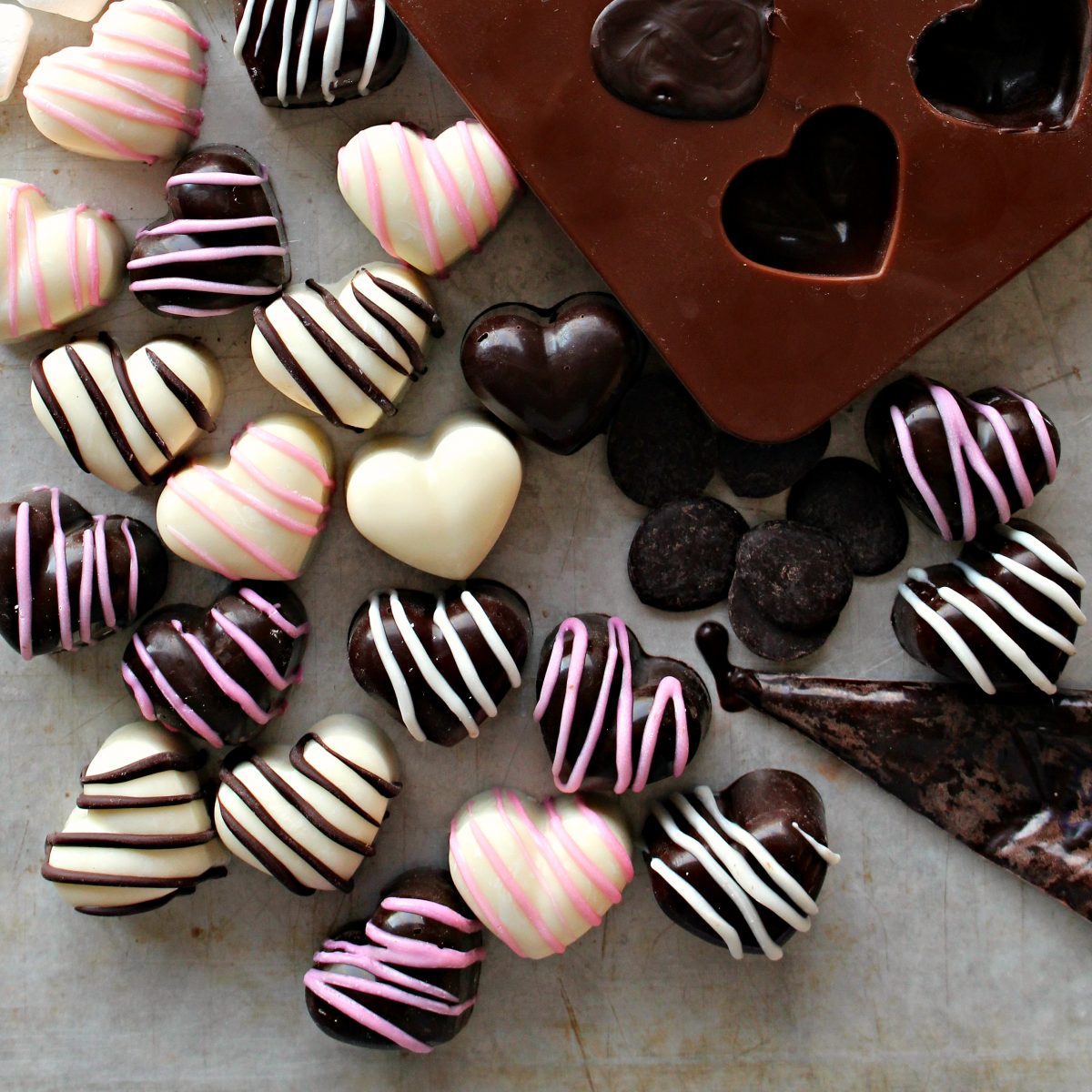 More homemade chocolate candy
 Peanut Butter Cups made at home are even better than the store bought version. Colorful white chocolate can make these treats match any holiday.
Quick and Easy Peppermint Fudge is a fabulous gift that's poured right into the gifting tin.
Peanut Chews Candy Pops are chocolate dipped chewy candy made in a mold. These pops are great gifts for any occasion.
Rocky Road Candy is an irresistible chocolate and marshmallow treat.
Nonpareil Candy is an easy to make gourmet treat. The candy crunch is addicting.
Spring Blossoms White Chocolate Bark is a beautiful sweet that would be a show stopper for any Spring holiday.
Ready to bake? Join the free membership group to get new recipes and a newsletter delivered to your inbox! You can also stay in touch on Facebook, Pinterest, and Instagram. I'd love to stay in touch!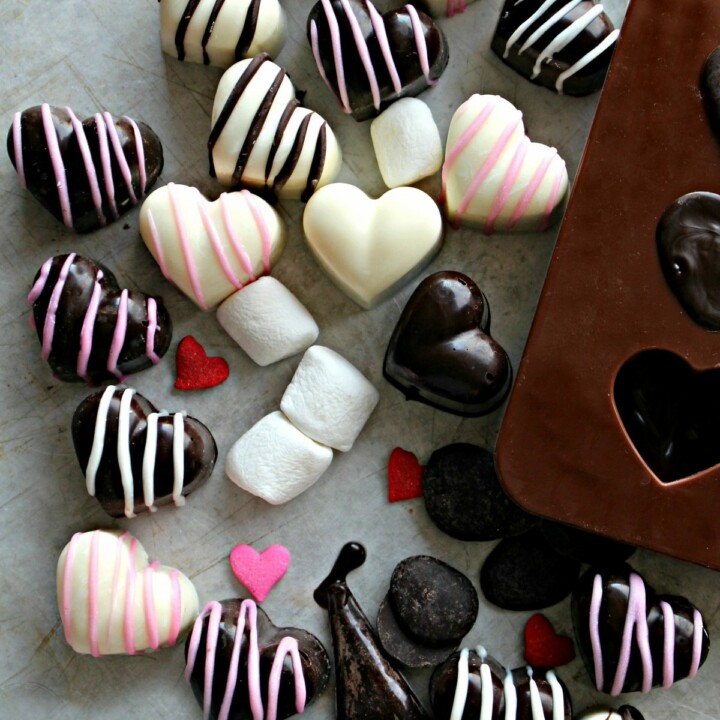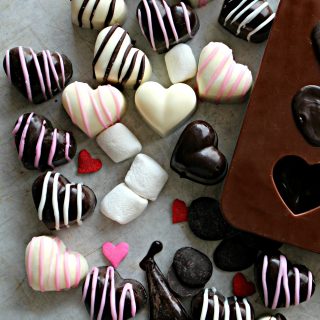 Chocolate Marshmallow Hearts
How to make chocolate hearts with a vanilla mini marshmallow nestled inside. This simple recipe makes the perfect Valentine's Day treat!
Pin Recipe
Print
Rate
Equipment
food safe paint brush

piping bags
Ingredients
2

cups

melting chocolate

or candy melts

30

mini marshmallows

Optional:

Pink candy coloring

⅓

cup

melting chocolate

for drizzle decorating
Instructions
Place each silicone mold on a separate baking tray that will fit in the refrigerator.

Place the melting chocolate in a piping bag (or plastic bag).

Melt the chocolate in the microwave at 50% power for one minute. If the chocolate is not completely melted, continue heating for 10 second intervals at 50% power.

Cut off the lower corner of the baggie, and pipe about 1 teaspoon of chocolate into one cavity in the mold. Use the brush to coat the entire cavity, adding more chocolate as needed to ensure no gaps or holes.

After coating about 6 cavities, place the tray in the fridge for about 3 minutes to firm the chocolate. (If using more than one mold, The 6 cavities in the second mold can be coated while the first mold is refrigerated.)

When the chocolate shells are firm, remove the tray from the fridge. Add one mini marshmallow to each cavity.

Fill heart cavities, covering the marshmallows, with the melted chocolate.

Tap the tray on the counter a few times to release air bubbles from the chocolate.

Refrigerate about 10 minutes until the chocolate is firm. Remove from the fridge and unmold the candy.

If decorating: Place the chocolate hearts on a wax paper lined tray. Drizzle with melted chocolate. Place in the fridge to solidify the decorating chocolate. For pink drizzle, melt white chocolate and colored with candy coloring, then pipe over the hearts.

Store the Chocolate Marshmallow Hearts in an airtight container at room temperature for up to 2 weeks.
Notes
If the melted chocolate is not the right consistency for piping, add  1-2 teaspoons of vegetable oil (or coconut oil).
Candy melts or almond bark can be used instead of melting chocolate discs for these homemade chocolate candy hearts.
Packing tips
Place Chocolate Hearts in mini cupcake liners, then pack snugly in an airtight storage container. Place crinkled tissue paper or wax paper between the candy and the lid to ensure no movement. Only mail chocolate to and from cool weather locations.
Nutrition
Calories:
2
kcal
|
Carbohydrates:
1
g
|
Protein:
1
g
|
Fat:
1
g
|
Saturated Fat:
1
g
|
Sodium:
1
mg
|
Potassium:
1
mg
|
Fiber:
1
g
|
Sugar:
1
g
|
Calcium:
1
mg
|
Iron:
1
mg