On Rosh Hashanah, the Jewish New Year, there is a tradition of eating apples dipped in honey symbolizing the hope for a sweet New Year. This year I made sparkling Honey Lollipops as Rosh Hashanah gifts for family and friends. The amber apples are enjoyed as candy. The small circle pops double as tea stirrers, adding smooth honey sweetness as they melt into the tea!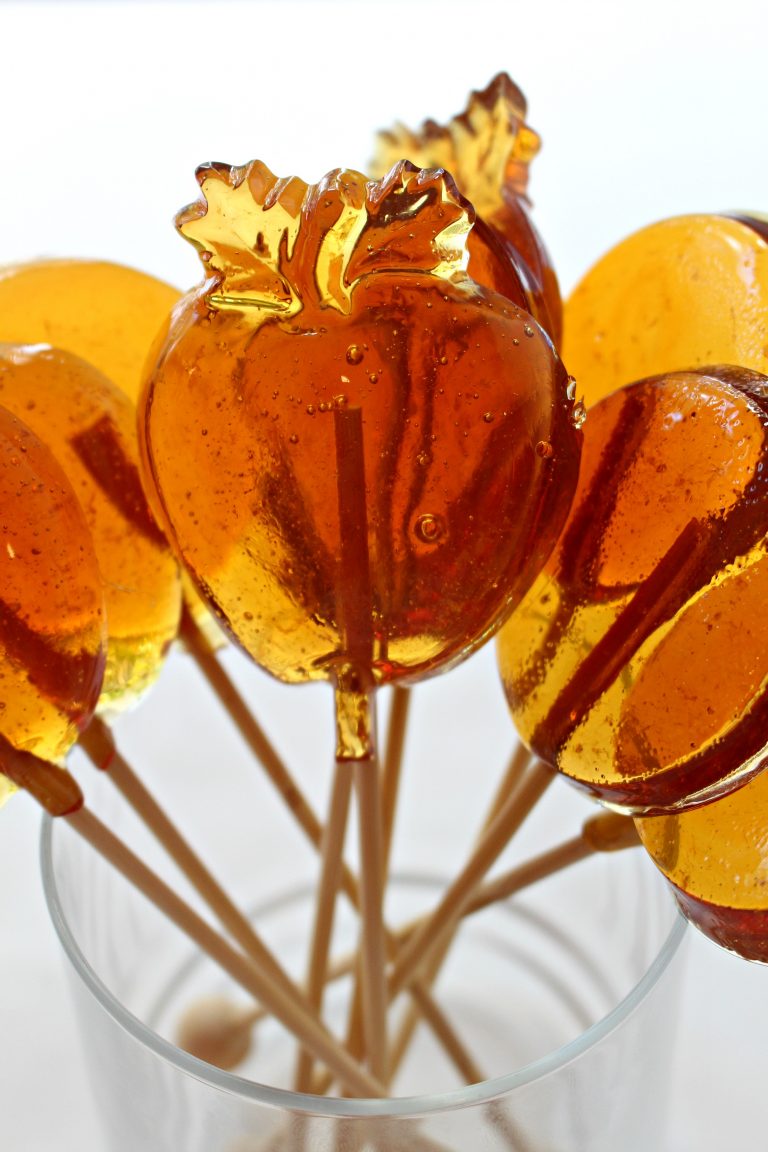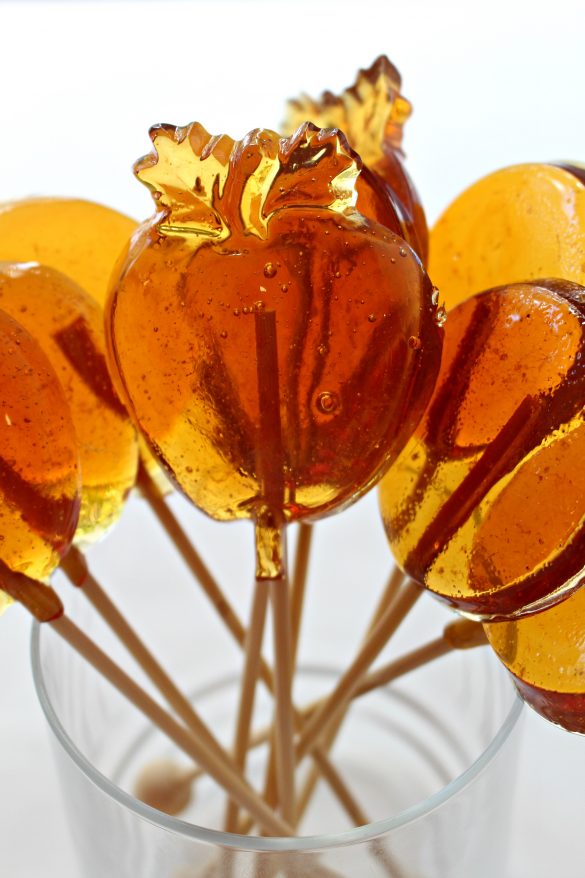 (The Monday Box participates in affiliate marketing programs. As an Amazon Associate I earn from qualifying purchases. Additional affiliate programs may be linked when applicable. If you choose to purchase a product after following a link on this page, I will receive a small commission, at no cost to you, which helps make The Monday Box possible.)
I am not a candy maker. I own a candy thermometer that gets used only for occasional adventurous confectionery endeavors, like tempering chocolate or making maple sugar candy. Before trying these Honey Lollipops, I had never made hard candy . They turned out to be incredibly easy once I had the right recipe.
The internet is full of honey candy recipes with honey as the only ingredient. Perhaps it's due to some trick I can't figure out, but though I tried three times, honey by itself burns before it gets hot enough to make hard candy.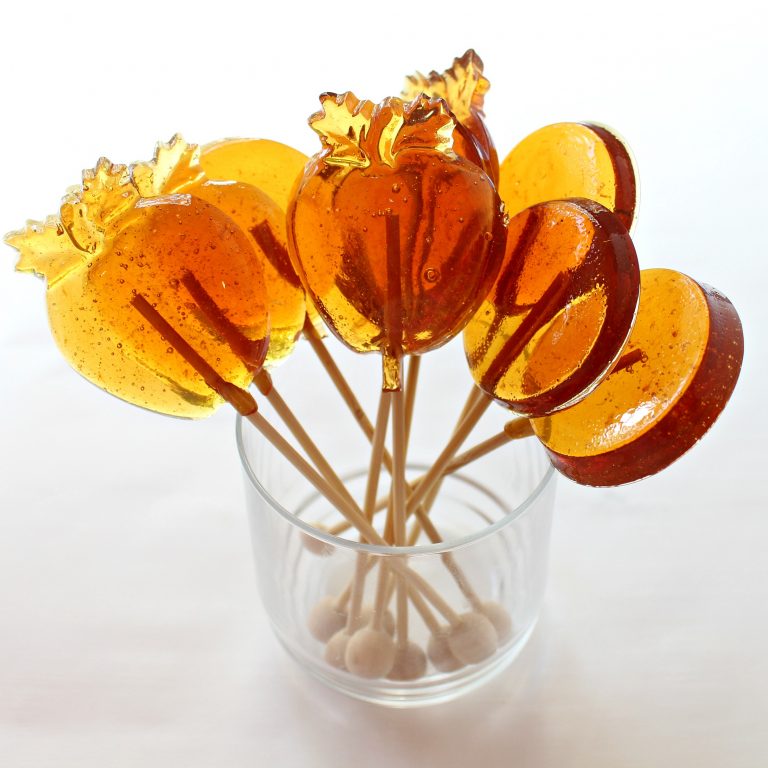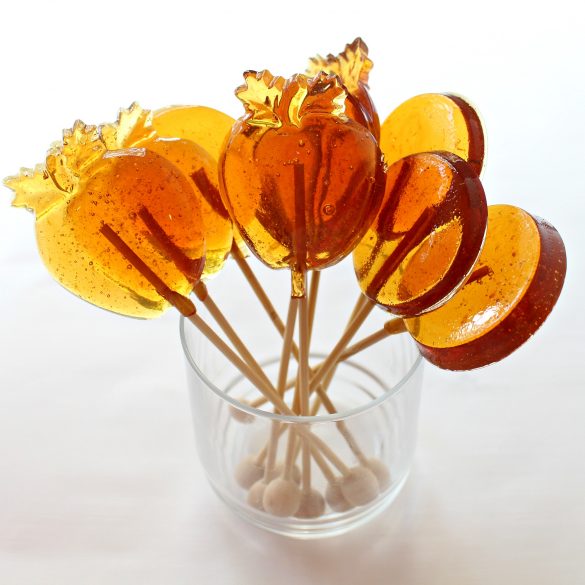 Researching a bit of candy making chemistry, I realized the Honey Lollipops would need added glucose to harden. Honey is 40% fructose, 30% glucose, 1% sucrose, 9% bee spit (tmi, I know!). Corn syrup is mostly glucose and flavorless. Honey plus corn syrup has the chemistry, when heated, to avoid crystallizing and produce a golden syrup that hardens into honey flavored candy. With the right recipe, making Honey Lollipops is super easy, and can even be done without a candy thermometer if you don't have one.
A candy thermometer indicates when the syrup reaches the "hard ball" stage (310˚F) after about 10 minutes of cooking. Dripping a tiny drop of the syrup into cold water will either harden immediately (ready!) or remain soft (keep cooking a bit). When the syrup is at the hard ball stage, it is ready to be poured into molds or free-form shapes on parchment paper.
Sticks are then added. In 10-15 minutes, the Honey Lollipops are hard and not sticky. Pop them out of the molds or peel off the parchment to wrap in plastic and store in an airtight container.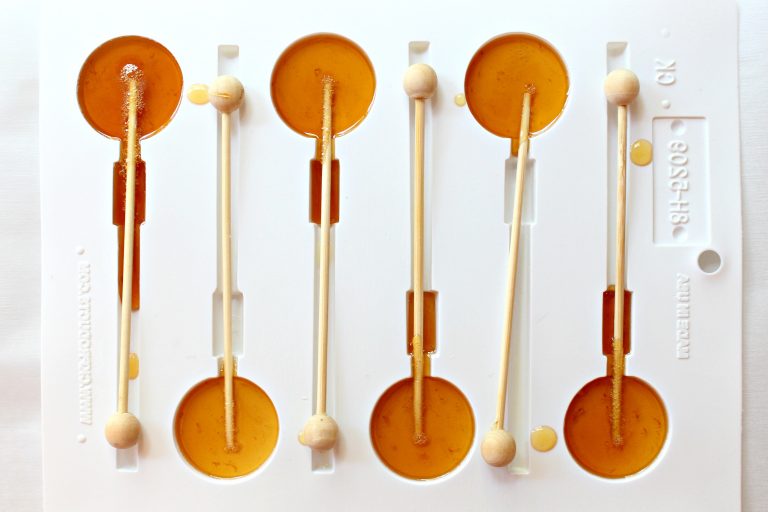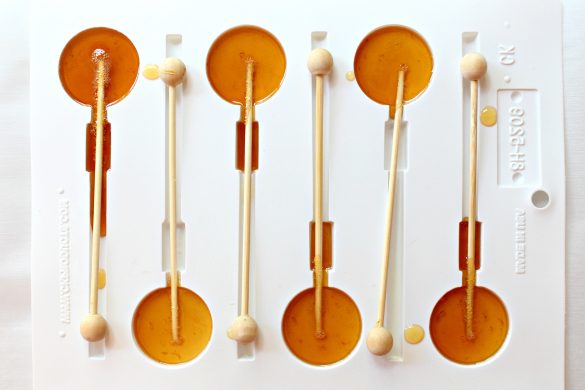 At first, I was only thinking of Rosh Hashanah gifts as I made the Honey Lollipops, but once they were wrapped and glowing like little pieces of amber, I realized that Honey Lollipops are full of gift giving potential.
I can solve all of your holiday gift giving troubles right now! Teachers, friends, and family are sure to appreciate a special mug filled with a variety of tea bags and Honey Lollipop Stirrers!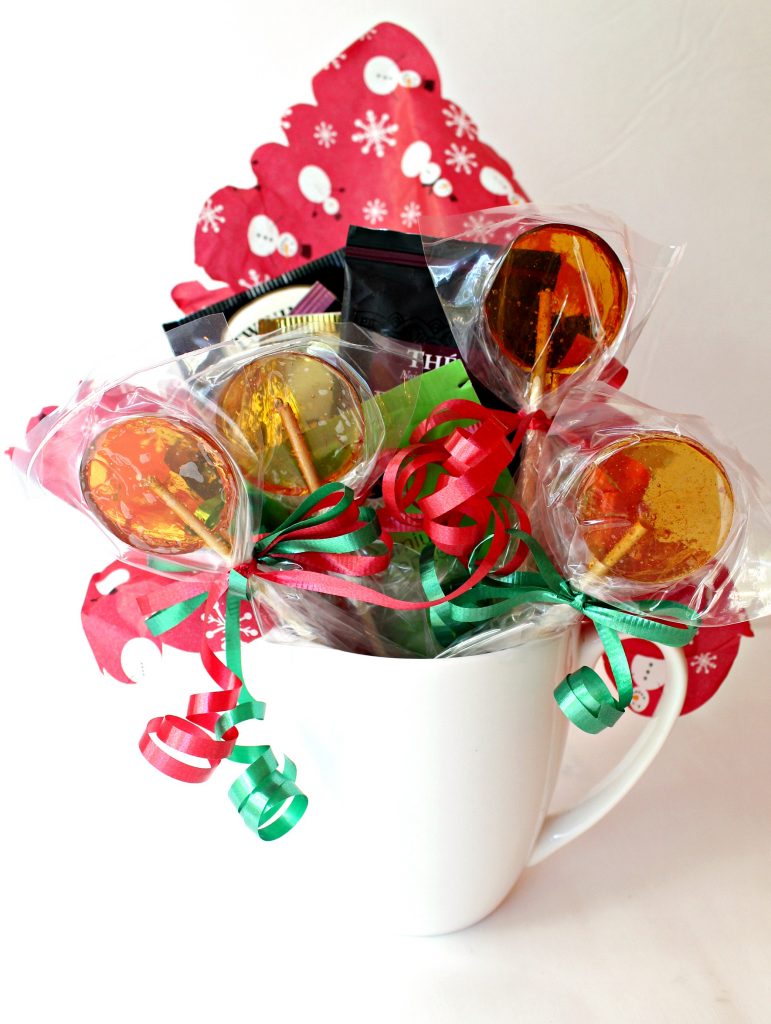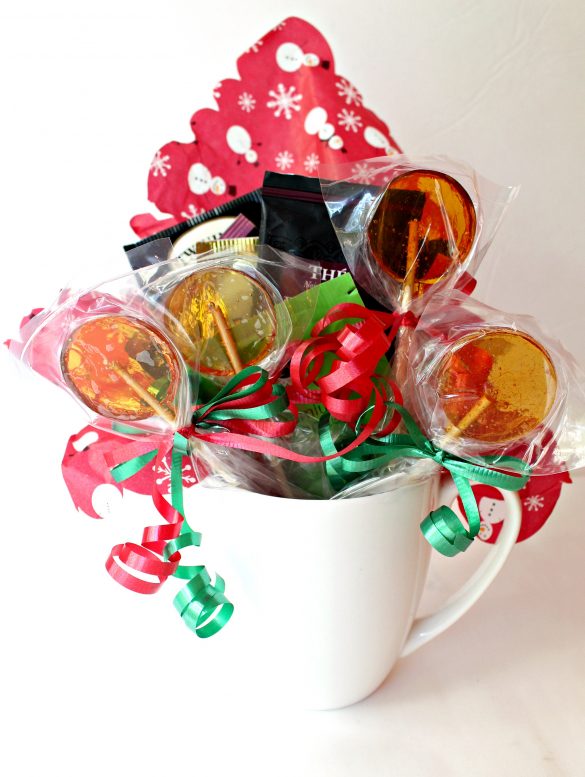 Chilly weather and winter colds are around the corner.
College student living in dorms or military personnel in barracks have many opportunities to share germs.
A care package of cold remedies would be extra special with throat soothing Honey Lollipops!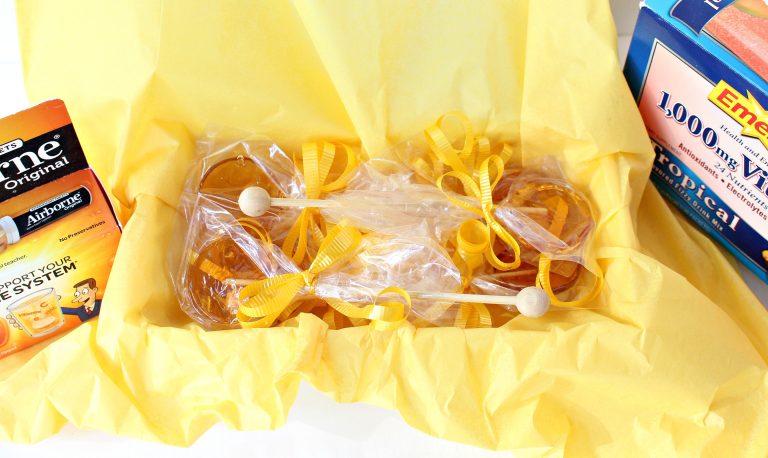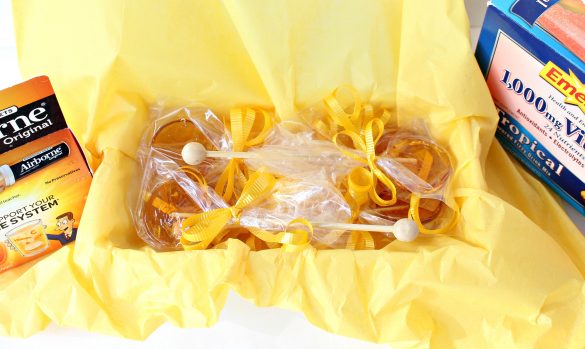 For gourmet candy gifts, Honey Lollipops can be molded into a wide variety of shapes. I get my molds for around $2 at a cake supply store. You can also get apple molds from Amazon, if waiting for delivery isn't an issue.
Even  plain circle lollipops morph into specialty treats with a quick dip in melted chocolate and a dash of holiday sprinkles.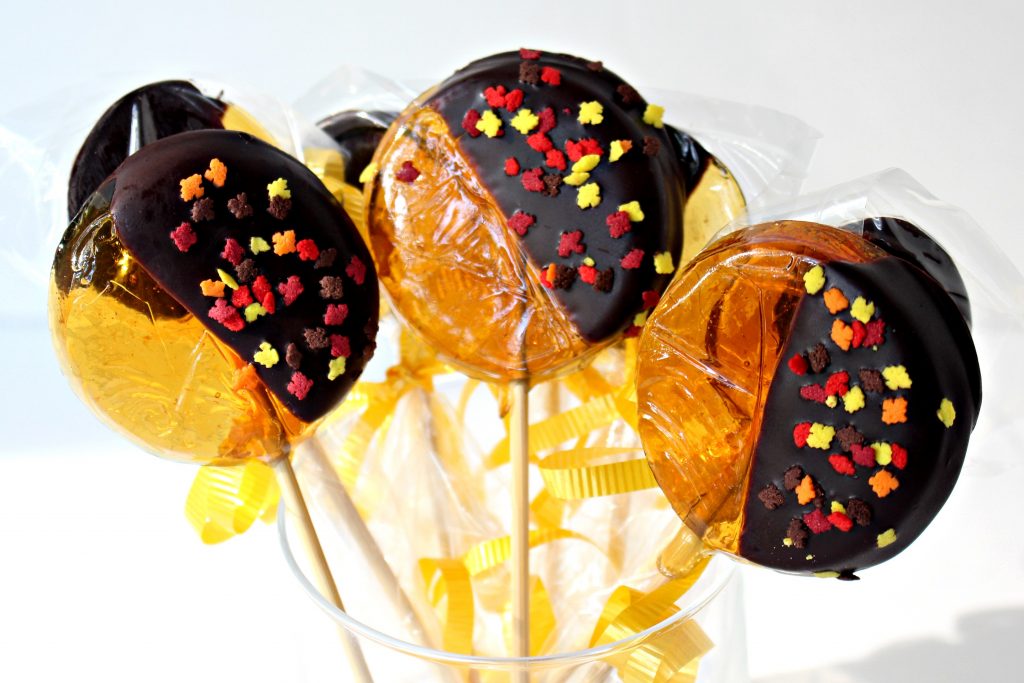 Honey Lollipops offer so many possibilities. Be sure to make enough to lick, stir, AND gift!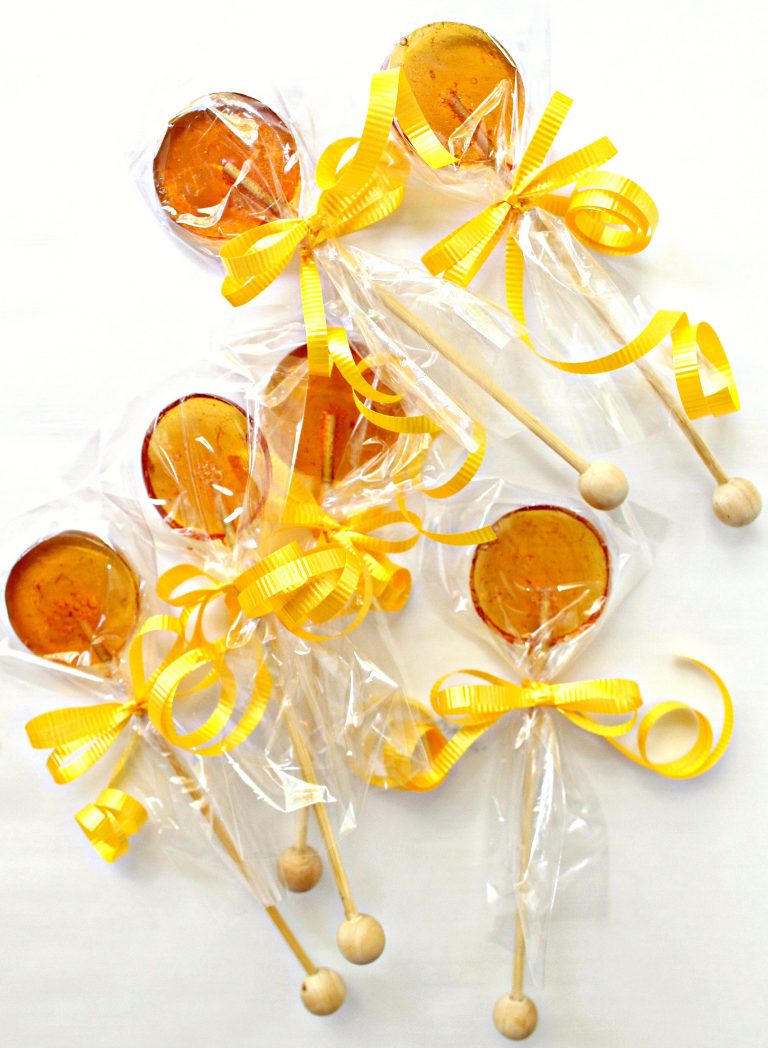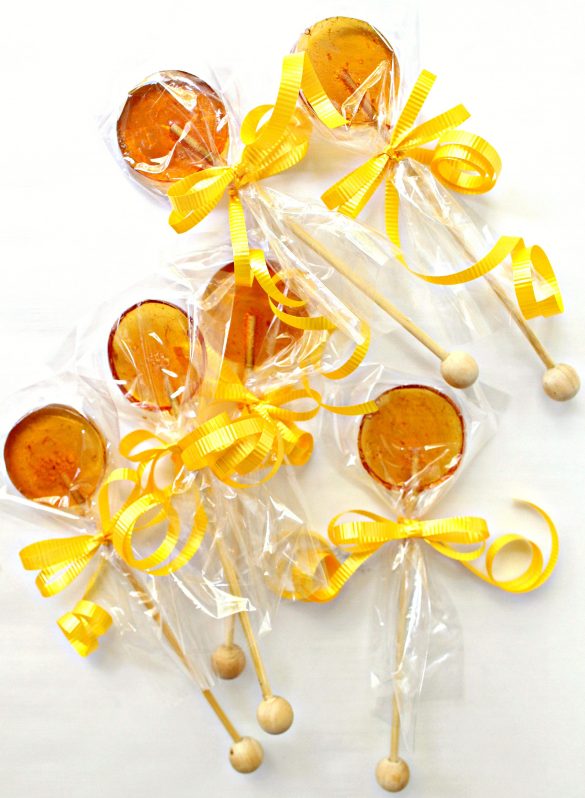 Note about quantity 
This recipe makes the correct amount of syrup for the 4 molds I used. Leftover syrup will harden and cannot be reheated. If you have more molds, you can double the recipe. If you have less molds, make free-form candy on parchment paper with any leftover syrup.
Candy making tools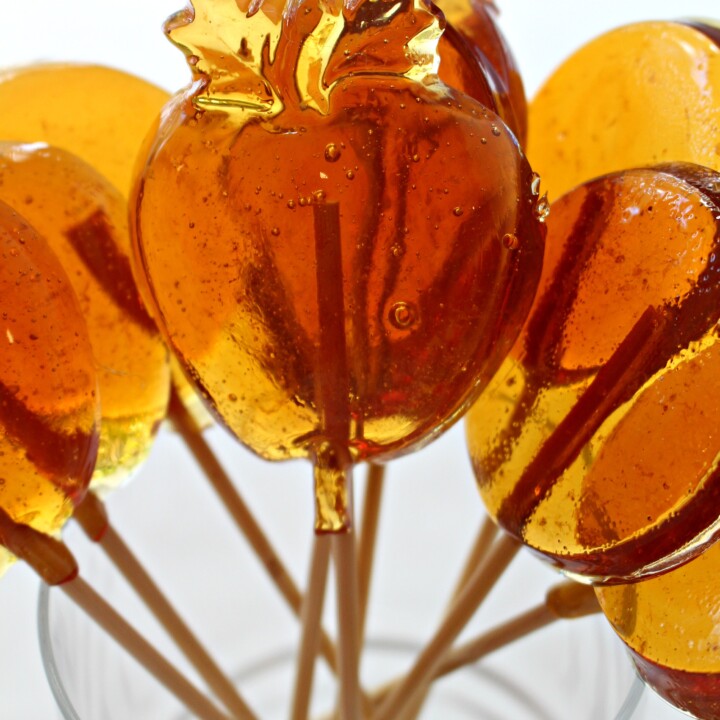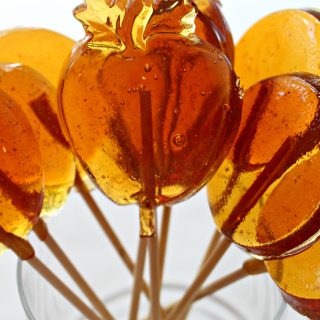 Honey Lollipops for Licking, Stirring, and Gifting
Honey sweetened, molded lollipops.
Print
Rate
Adapted From:
designmegillah.com
Ingredients
½

cup

granulated sugar

½

cup

honey

⅓

cup

light corn syrup

2

tablespoons

water
Instructions
Prepare candy molds by spraying lightly with cooking spray.

In a medium bowl, combine ice and water to create an ice water bath and set aside.

Add sugar to a small saucepan. Carefully pour corn syrup, honey, and 2 tablespoons water on top of the sugar, avoiding splashing or dripping on the sides of the pan.

Over a medium low heat, bring to a boil, stirring gently without splashing, only until sugar dissolves.

Boil for about 10 minutes, until a candy thermometer reads 310 degrees. (If not using a candy thermometer, drip a bit of the mixture into the ice water. If it forms a hard candy ball it is ready. If the ball is still soft, cook a few moments longer and repeat.)

Remove the pan from the heat and immerse the bottom of the pan in the ice water bath for about 20 seconds to stop the cooking. Carefully wipe dry all water from the pan before proceeding.

Pour syrup into candy molds. Add lollipop sticks and twist the stick so that the tip is coated in syrup.

Allow to cool and harden at room temperature. The lollipops should be hard, shiny, and ready to pop out of the molds and wrap in plastic in about 15 minutes.

Store lollipops wrapped individually in plastic (bags or wrap) at room temperature in an airtight container or freezer weight ziplock bag for up to 7 days.
Notes
This recipe makes  
Packing tips
Pack individually wrapped lollipops securely in a well padded container.
If the container itself is not airtight, wrap the container in plastic wrap or enclose in a freezer weight ziplock bag.
The objective is to keep air and humidity from making the candy sticky.
Nutrition
Calories:
61
kcal
|
Carbohydrates:
16
g
|
Protein:
1
g
|
Fat:
1
g
|
Sodium:
4
mg
|
Potassium:
5
mg
|
Fiber:
1
g
|
Sugar:
16
g
|
Vitamin C:
1
mg
|
Calcium:
1
mg
|
Iron:
1
mg
Save
Save