Soft Italian Chocolate Cookies. A simple name for special, soft, cake-like cookie, with mini chocolate chips or chocolate raisins inside, topped with crisp vanilla icing. Golden sugar adds sparkle and flair.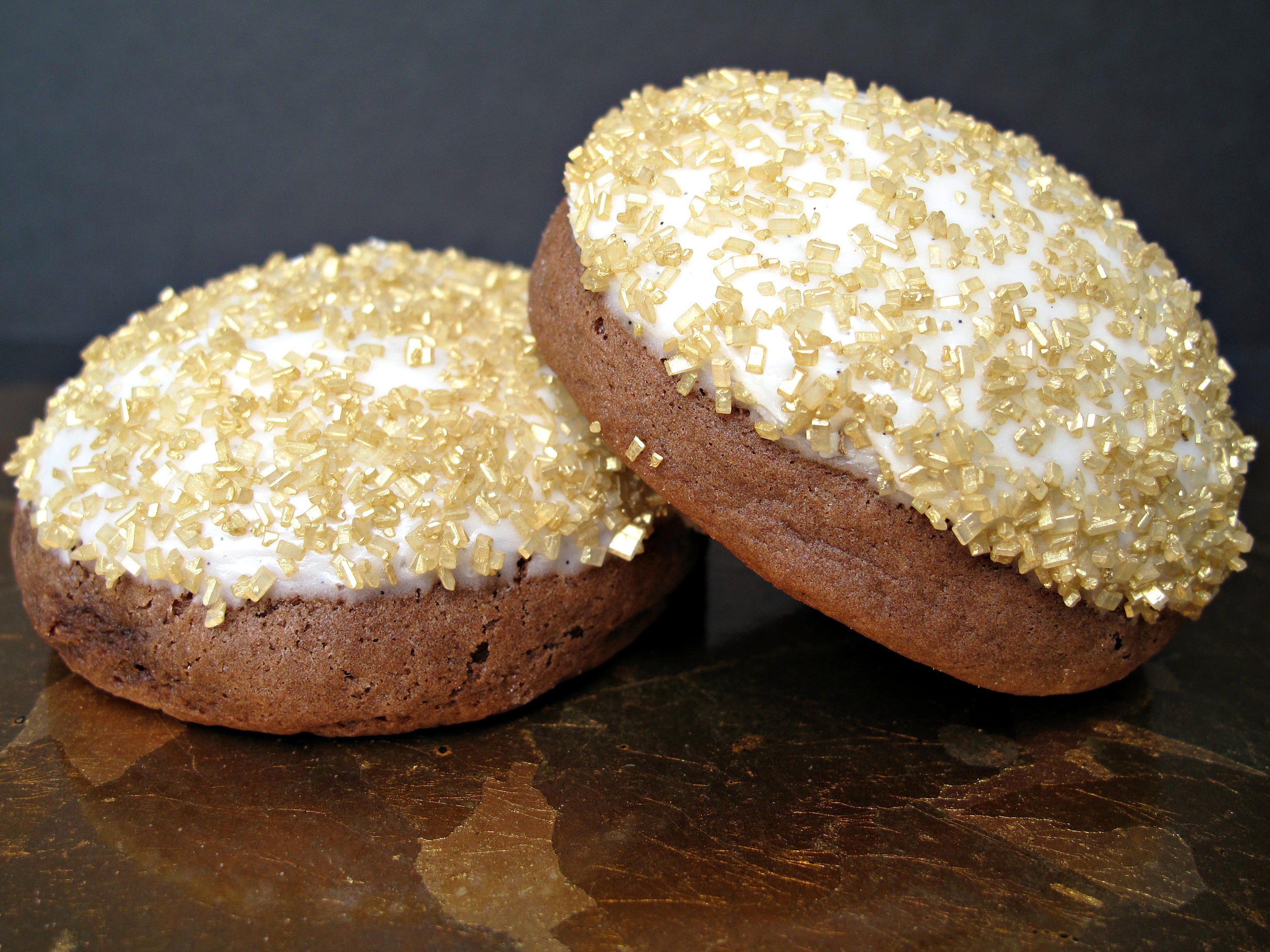 About this recipe
Choosing the right name is important.
 Twenty-five years ago, when I was pregnant with my first child, my husband and I deliberated over baby names.  We had no official notification of whether we were having a boy or a girl.
I know this is going to sound ridiculous, but I knew I was having a girl because I had met her in my dreams. I had dreams where I was holding a black haired, blue eyed baby girl.
My husband, the scientist, didn't pay any attention to my "evidence". He insisted that we pick a boy name and a girl name.
Actually, he was rather convinced (I have no idea why) that we were having a boy, so convinced that he let me pick a girl name without any arguing.  I let him pick the boy name without too much debate, because I knew we wouldn't be using it.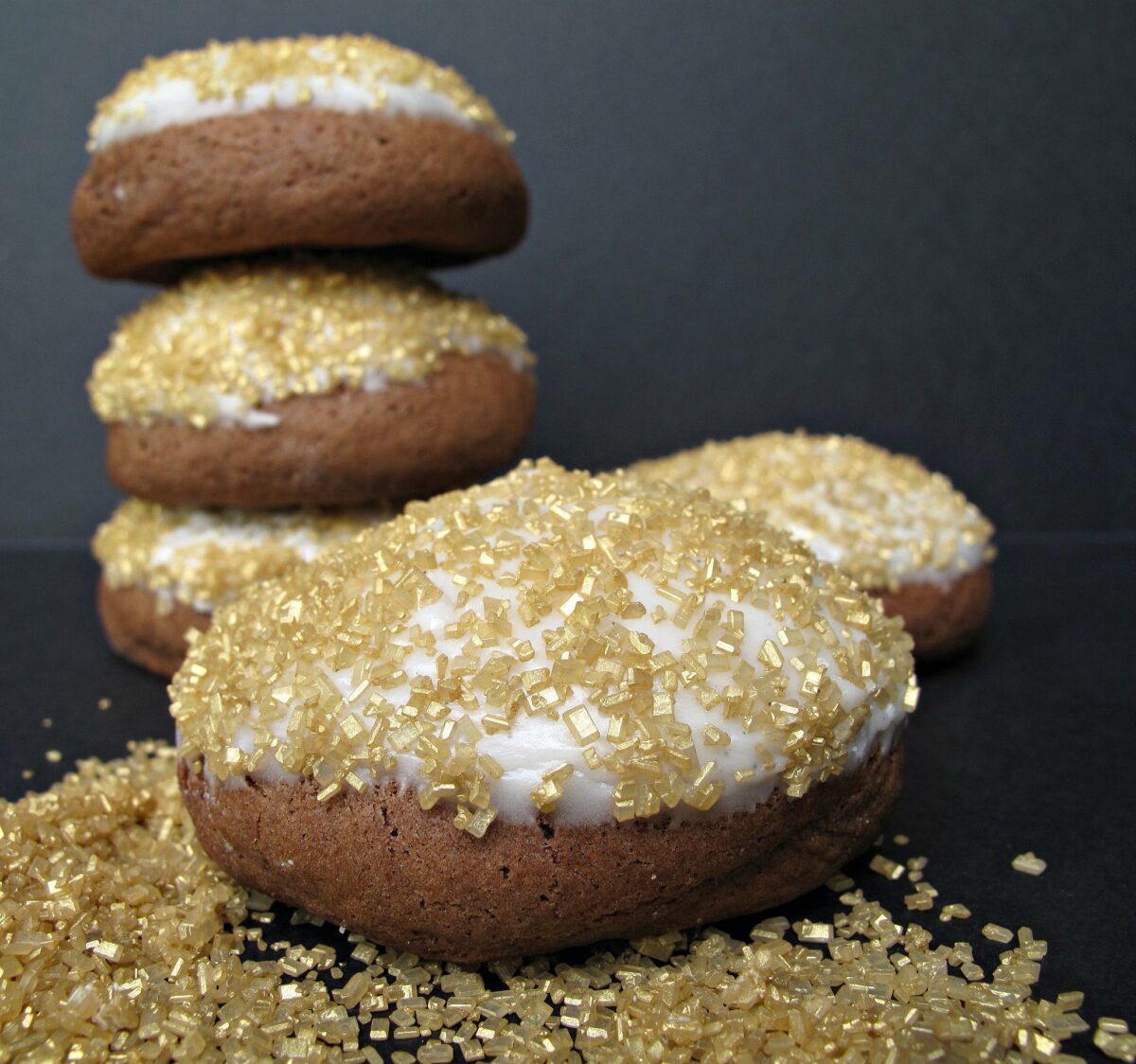 My husband leans toward short, traditional American names. I, on the other hand, love international names that have meanings.
My daughter's name is Meira, pronounced meer-ah. I chose the name because I like the sound and the meaning. Meira means "peace" in Russian.
I later found out that Meira is also a Hindi goddess princess. In addition, variations of the name mean "enlightened" in Hebrew and "to look" in Spanish. All excellent, in my opinion.
 Unlike the significance of naming a child, naming a cookie is a minor detail. It is useful if the cookie name gives the eater an idea of what they are about to consume, such as Thin Mints, Graham Crackers, or Vanilla Wafers.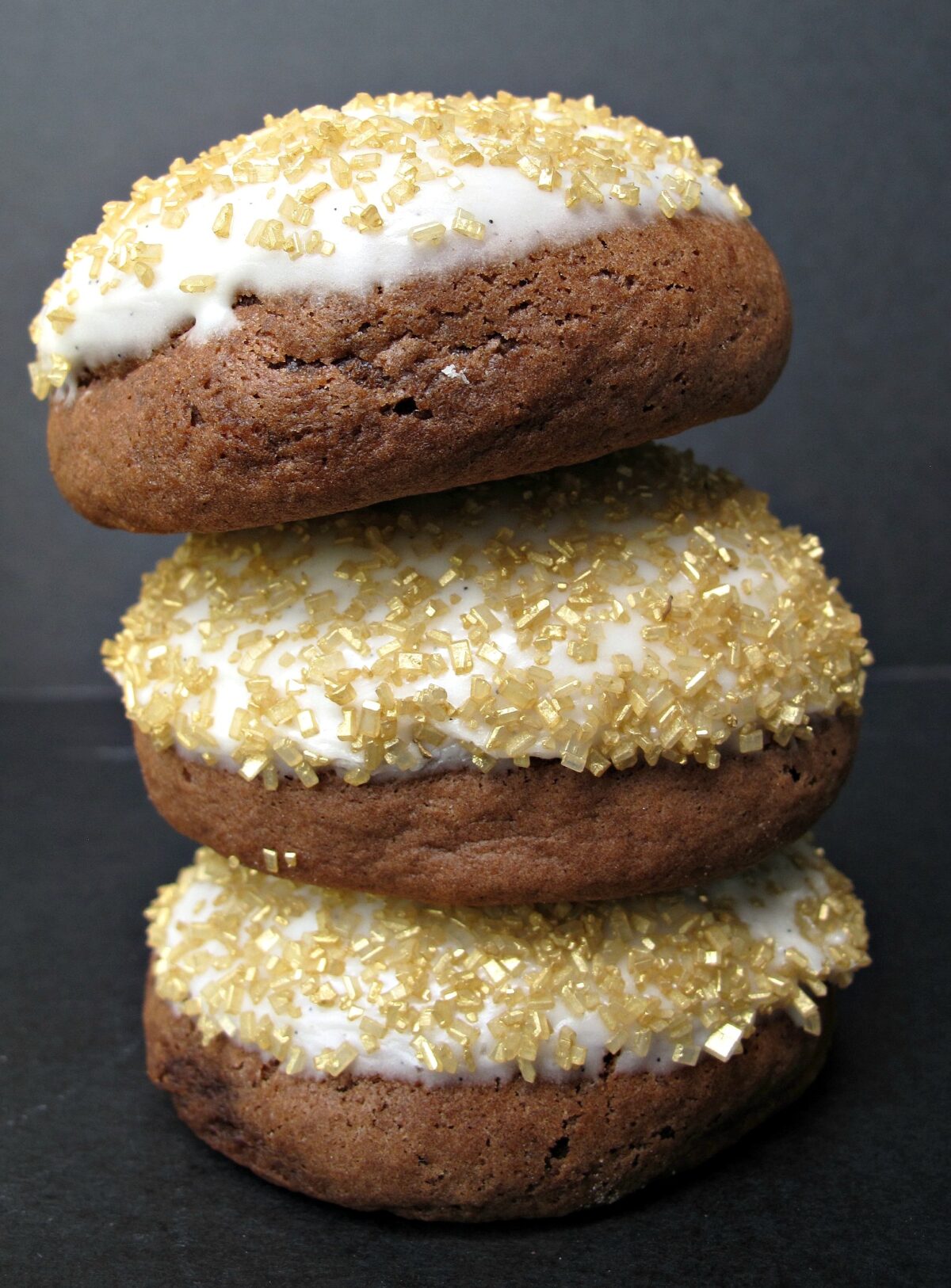 A blogger naming a cookie might consider SEO (search engine optimization). What good is a delicious cookie with a name that no one can remember or search for? That is why this recipe is simply called Soft Italian Chocolate Cookies.
Though a long name, it's relatively accurate in describing this soft chocolate treat. Research seems to indicate that it is a traditional cookie baked by people of Italian decent, who inherited the recipe from Italian ancestors. So far, so good.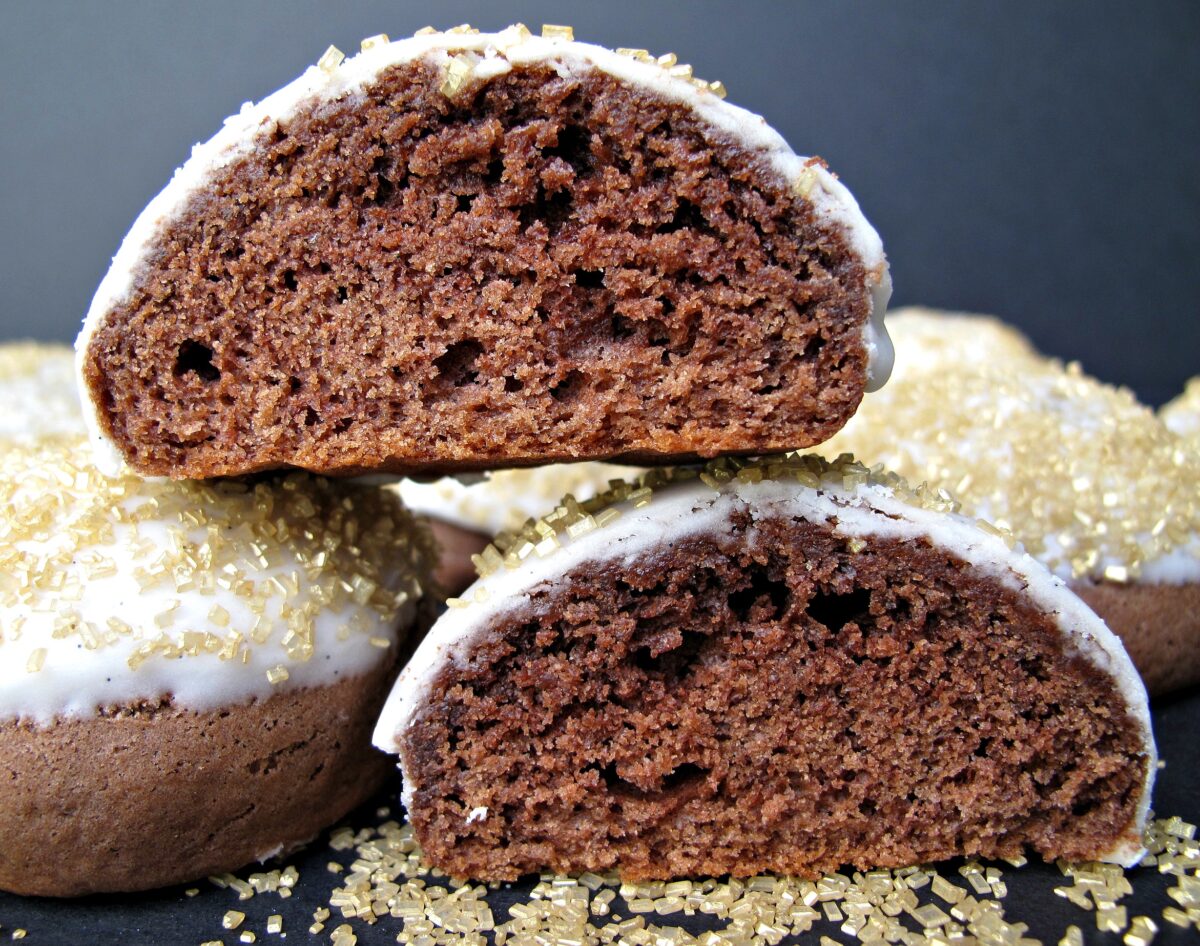 The inaccuracy is in the word "cookie". This is more like a little domed cake.
The texture is soft and spongy with a soft, slightly chewy surface. Then the glaze goes on top, providing a little crunch when you take a bite.
If you choose to add decorating sugar, there is a little extra crunch (and they look fancier all dressed up).
 I will confess to fiddling with the original Italian version of this recipe. I don't like nutmeg and allspice, so I left them out. If you like them, and would like to make a more traditional spice cookie, add a ¼ teaspoon each of nutmeg and allspice.
Because I eliminated the extra spices, I added chocolate covered raisins which go well with the cinnamon chocolate flavor and provide a bit of extra chewiness. If you don't like raisins, mini chocolate chips can provide an extra chocolate boost instead.
 These cookie-cakes are excellent care package goodies. Stored in an airtight container at room temperature, they stay soft and delicious for at least 2 weeks.
The recipe can be made with desert-safe ingredients and the icing, once dry, ships beautifully even in hot weather.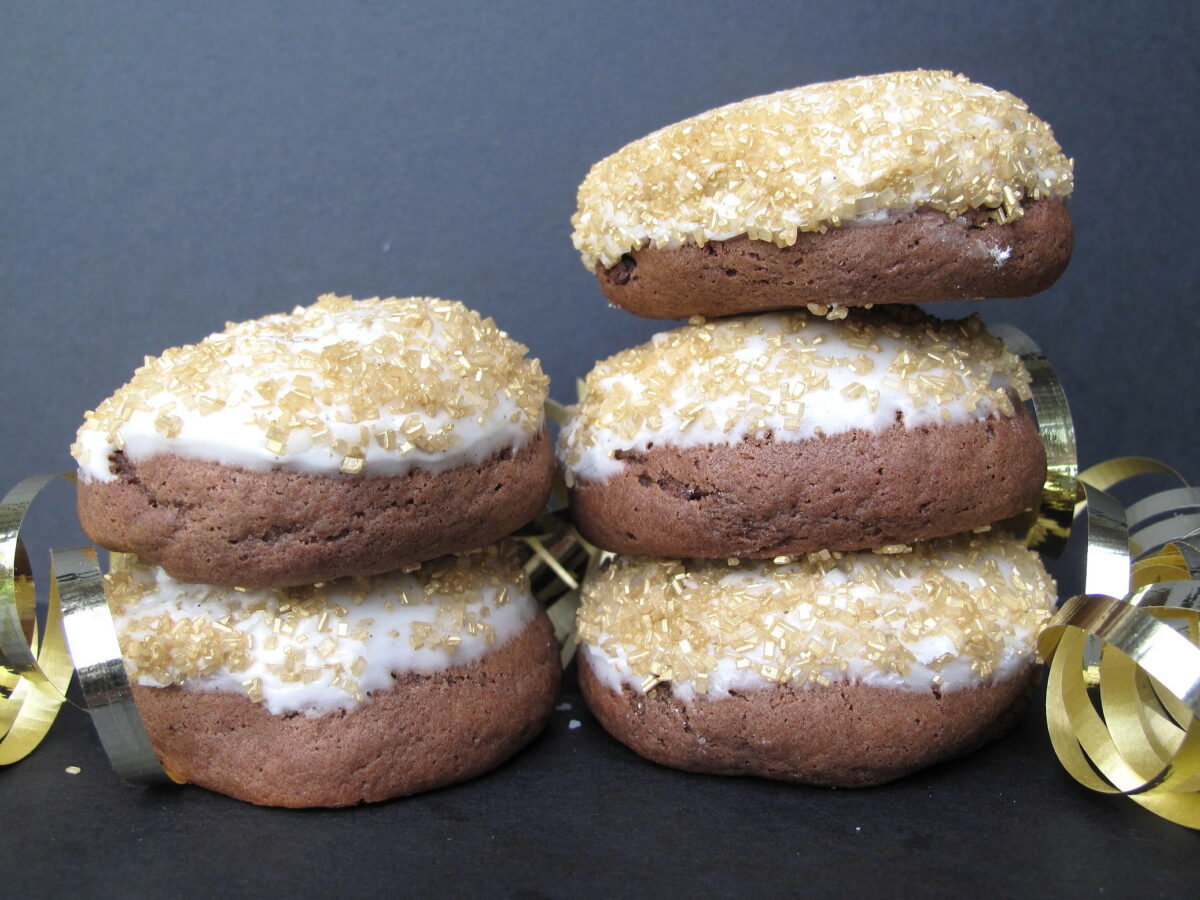 More Italian cookie recipes
You can read more about heat resistant ingredients in the index of all of the desert safe recipes on The Monday Box.
Ready to bake? Join the free membership group to get new recipes and a newsletter delivered to your inbox! You can also stay in touch on Facebook, Pinterest, and Instagram. I'd love to stay in touch!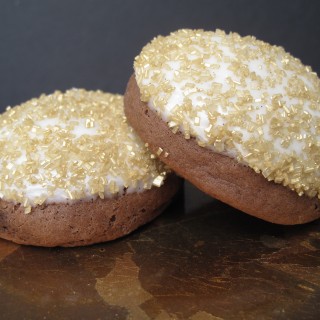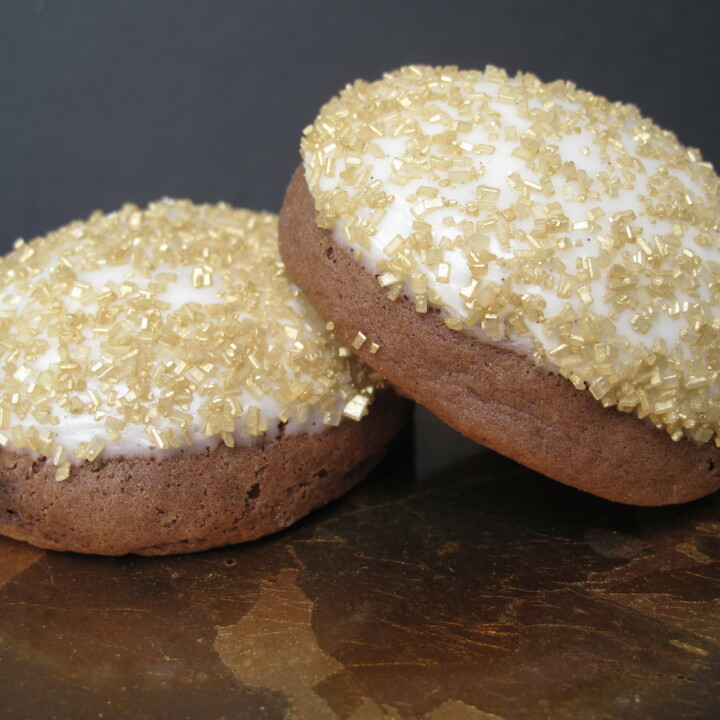 Soft Italian Chocolate Cookies
These  soft, cake-like cookies,  with mini chocolate chips, are topped with crisp vanilla icing.
Print
Rate
Ingredients
Cookies
1

cup

butter

or vegetable shortening for desert-safe recipe, melted

4 ½

cups

all-purpose flour

½

cup

Dutch-process cocoa

4 ½

teaspoons

baking powder

1

teaspoon

baking soda

1 ½

teaspoons

cinnamon

½

teaspoon

salt

1 ½

cups

granulated sugar

3

large eggs

⅓

cup

plain yogurt

7

tablespoons

milk

1

teaspoon

vanilla extract

or vanilla paste for desert-safe recipe

1

cup

chocolate covered raisins

if raisin is large cut in half and/or mini chocolate chips
Icing
3

cups

confectioner's sugar

4

tablespoons

milk

2

teaspoons

vanilla extract

or vanilla paste for desert-safe recipe

¼

teaspoon

cinnamon

optional

¼

cup

sprinkles or decorating sugar

optional
Instructions
In a small bowl, microwave butter or vegetable shortening until melted. Set aside to cool slightly.

In a large bowl whisk together flour, cocoa, baking powder, baking soda, cinnamon, and salt.

In the bowl of an electric mixer, beat butter (or vegetable shortening) and sugar until combined, about 2-3 minutes.

Mix in the eggs, yogurt, milk, and vanilla.

Reduce speed of mixer and slowly add dry ingredients until just combined.

Stir in raisins and/or mini chips.

Chill in the refrigerator for 1 hour-overnight.

When dough is chilled and ready to bake: Preheat oven to 350 degrees F. Line a cookie sheet with parchment paper.

With a 2 tablespoon scoop, form golf-ball sized dough balls.

Roll into a ball with a smooth surface (no raisins or chips on the outer surface or finished cookie will have "craters").

Place on prepared cookie sheet about 2" apart, and bake for 10-12 minutes. (Finished cookie balls will have surface cracks which should look dry when done.)

Cool completely on wire racks before icing.

ICING: In a medium bowl, mix together confectioner's sugar, milk, vanilla ( and cinnamon if using) to form a thick icing. If the icing is too thin it will drip down the sides of the cookie. (Not a problem but not as neat looking)

Hold bottom edges of cookie and dip into icing, top down. Shake gently to remove excess icing. If using sprinkles or decorating sugar, sprinkle on immediately after icing each individual cookie. The icing begins to set quickly.

Place the cookies on wire rack to dry.

Leave the cookies out several hours to overnight to allow the icing to set completely before wrapping.

These cookies are soft and cake-like. They will remain soft for at least 2 weeks if stored at room temperature in an airtight container.
Notes
Packing tips
Wrap pairs of cookies, with bottoms together, in plastic wrap. Place in airtight containers or ziplock bags.
Nutrition
Calories:
190
kcal
|
Carbohydrates:
32
g
|
Protein:
3
g
|
Fat:
6
g
|
Saturated Fat:
4
g
|
Trans Fat:
1
g
|
Cholesterol:
25
mg
|
Sodium:
115
mg
|
Potassium:
70
mg
|
Fiber:
1
g
|
Sugar:
20
g
|
Vitamin A:
173
IU
|
Vitamin C:
1
mg
|
Calcium:
45
mg
|
Iron:
1
mg