It's hard to believe that the adorable elf pictured on these Elf Sugar Cookies can get into so much mischief while sending behavior reports to Santa. The real Elf may be a trouble maker, but these sugar cookie elves are just sweet.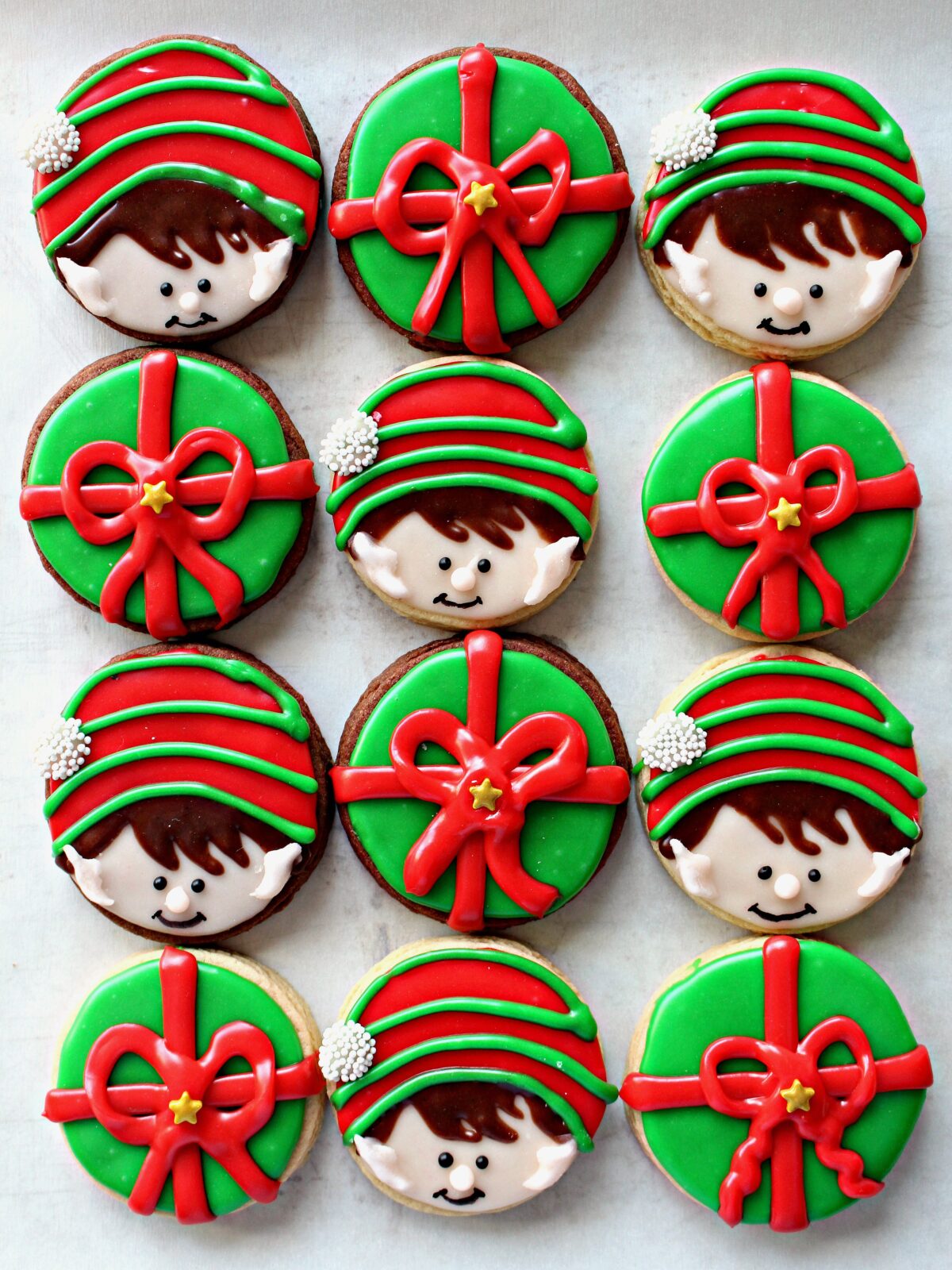 Why you'll love this recipe
While hanging around observing, the Elf gets into all kinds of silliness. Each morning he/she is found involved in his varied antics.
The internet is full of suggestions for costumes, printables, and humorous Elf scenarios.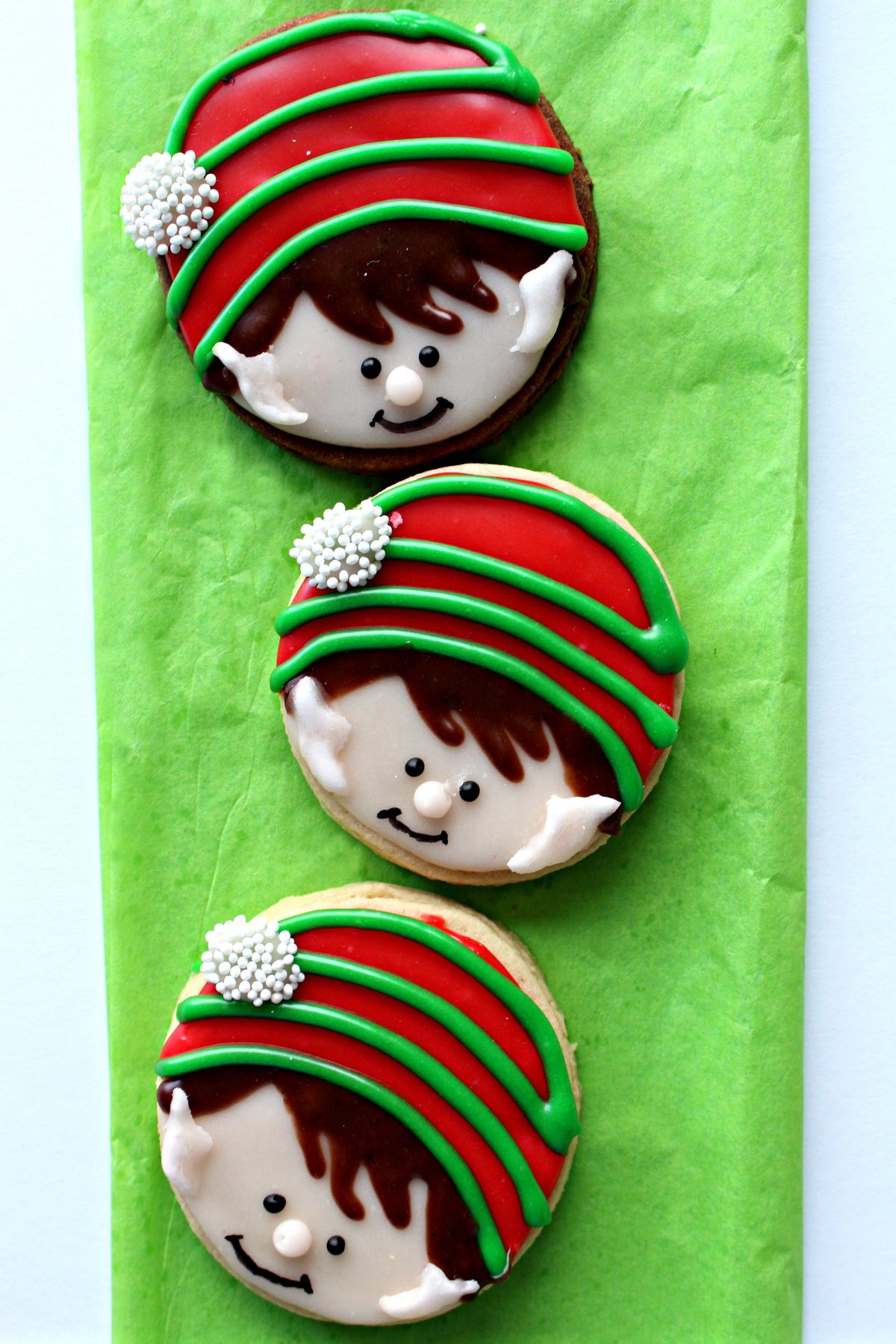 I chose Elf as the theme for my December military care packages. Perhaps the Elf will kindle some childhood memories and inspire some holiday fun for my sailor and her shipmates.
The care package was supposed to be one box, but my enthusiasm overflowed into two (again). I imagine that Santa is now receiving Elf reports from the USS Nimitz.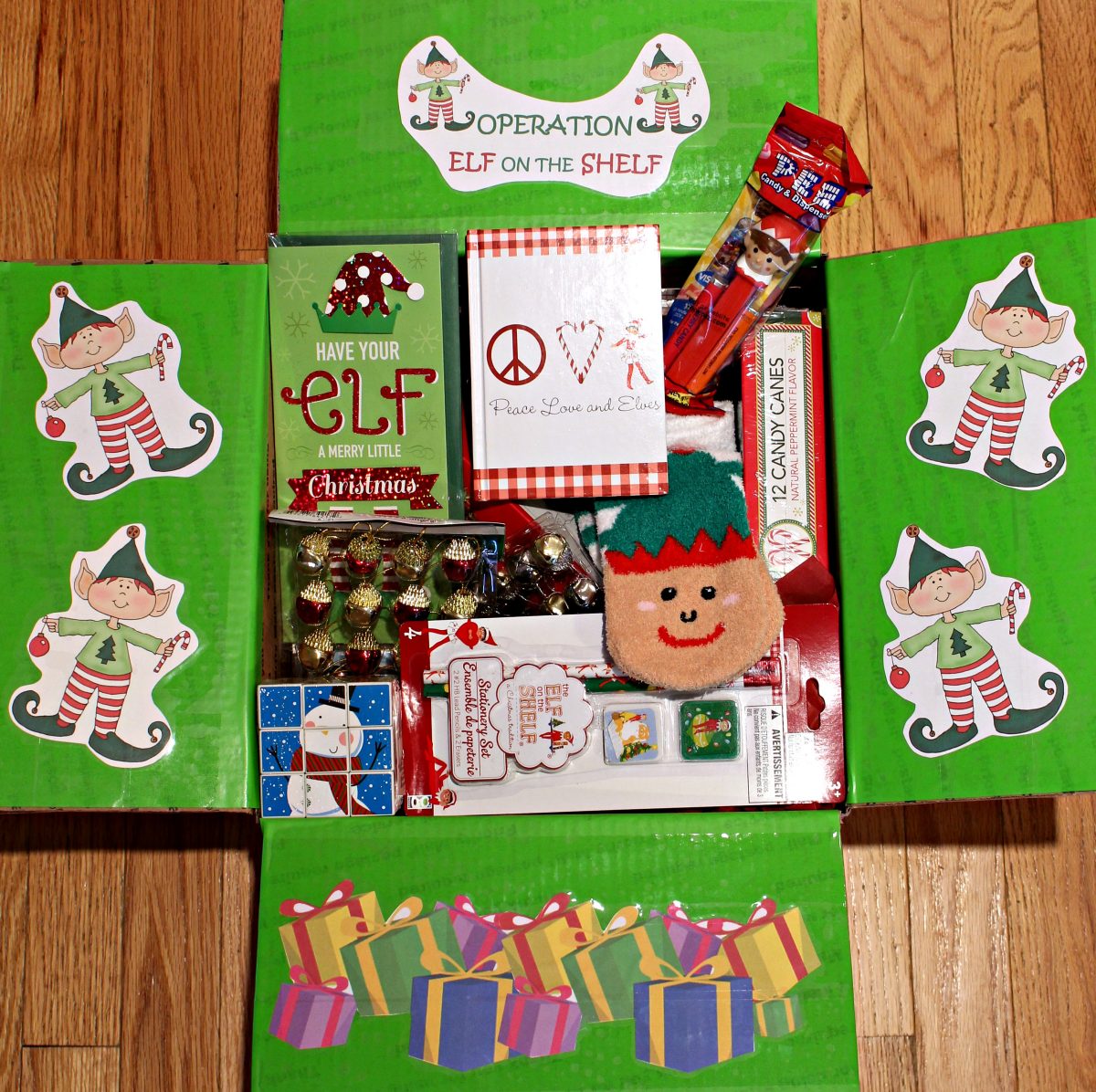 Elf care package contents
After Christmas sales inspired the theme for these Elf packages. When Michael's marked down the Elf and book boxed sets to ten dollars, I bought one male and one female Elf set.
I sent the female boxed set to Sailor A., which fit perfectly in a game box shaped flat rate box with room for a few more goodies. Game box shaped boxes can't be decorated inside (they are long and thin), but I decorated the outside with elf and Christmas clip-art.
I was able to fit in some Christmas decorations and an "Operation Elf " tool kit. The tool kit held crafting items, like tape, scissors, pompoms, stickers, magnets, and construction paper to create Elf scenarios, plus a large envelope filled with Elf on the Shelf patterns and printouts I found on the internet.
The second box contained the overflow of Elf themed items; Elf socks, Elf Pez, Elf pads, notebooks, and pencils, along with Elf Sugar Cookies and Winter Wonderland Chocolate Covered Oreos.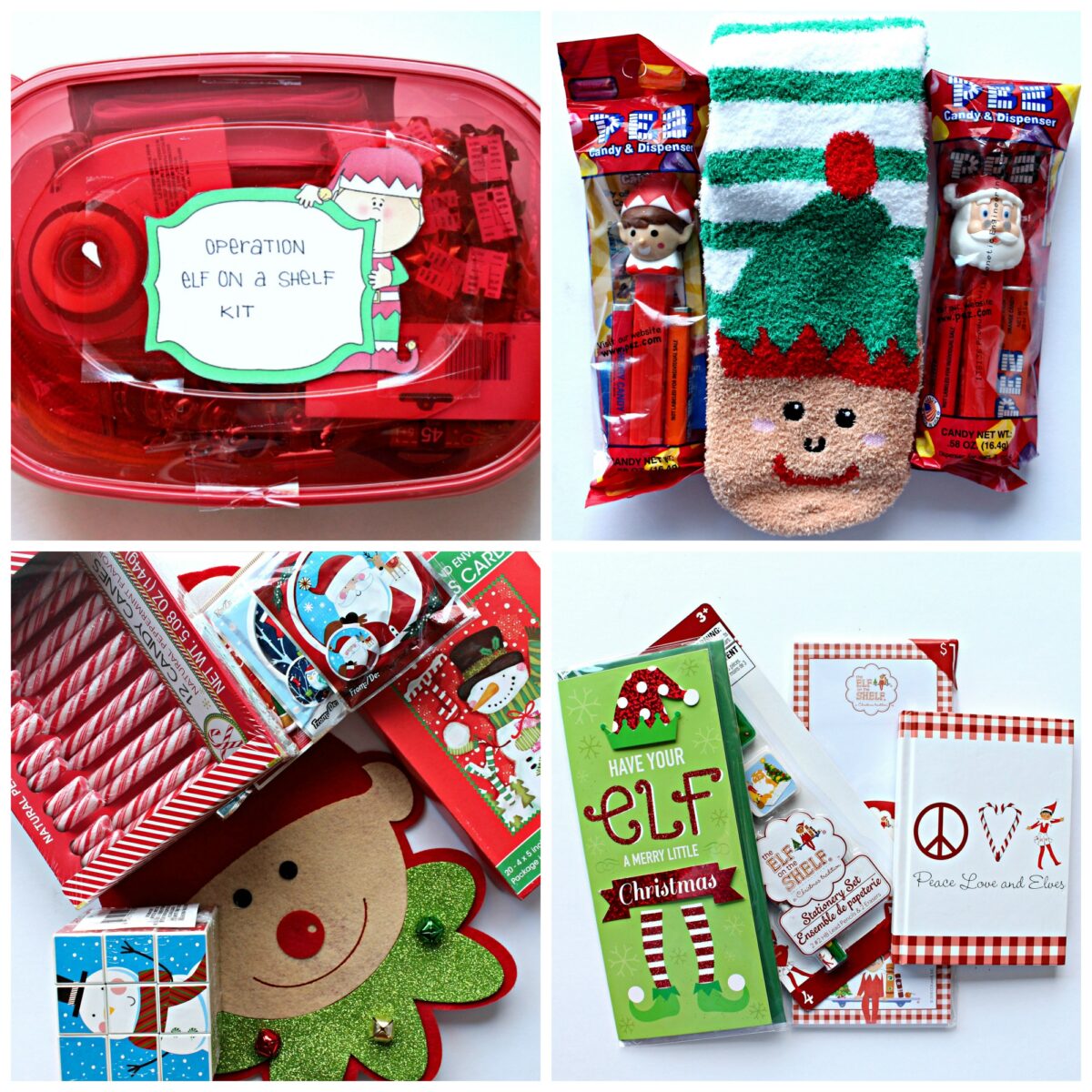 Decorated elf sugar cookies
The designs I use for decorated sugar cookies are always beginner level. These adorable Elf Sugar Cookies are the most detailed cookies I have attempted, but they really are still beginner level.
No fancy or finicky icing. No specialty piping tips. I even cheated and used a food marker instead of piping on the mouth. Really, anyone can do this.
Because there is some drying time required in the process, these cookies take a while to complete, but the end result is smile inducing.
For variety and to make a quantity of cookies in less time, I also made cookies that look like a gift tied up with a bow. I used one batch of chocolate dough and one batch of vanilla dough to make 18 elves and 18 gifts, and froze about one dozen cookies for future use.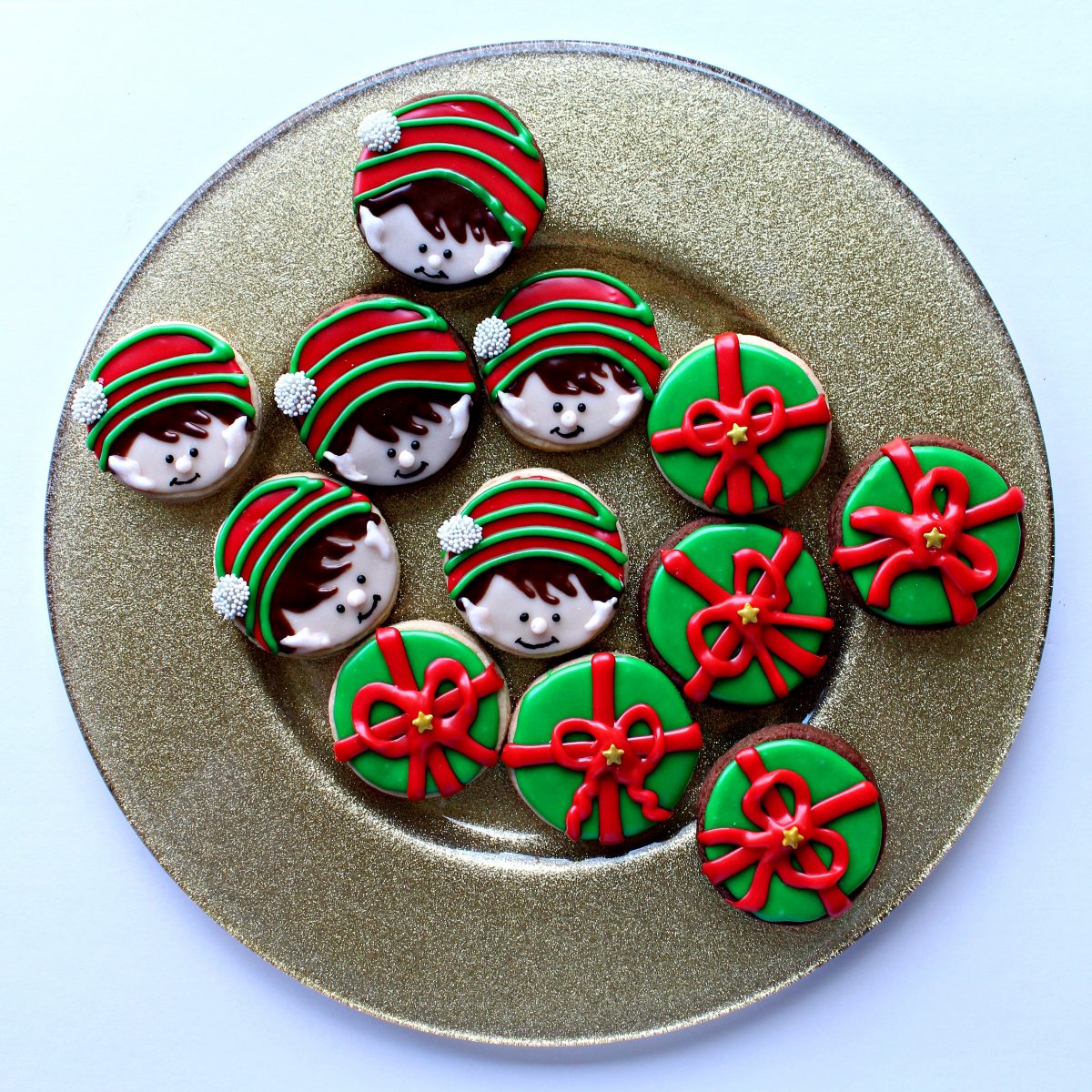 Two batches of simple corn syrup icing (faux royal icing) is used to create Elf Sugar Cookies. The first batch of icing is divided and colored, one half red and the other half green.
From the second batch of icing, remove 2 rounded tablespoons of icing, for the black icing. Mixing in 1 teaspoon of cocoa powder before adding the food coloring will make it easier to get a dark black icing with less food coloring.
Remove 4 tablespoons of icing and color it brown. The remaining second batch of icing is colored skin tone (beige with a tiny bit of pink). Place each icing color in a piping bag with a small circle tip (I used #4 or #5)
Elf ears are an important element of these cookies. Without elf ears, the cookies look like a little boy in a stocking cap.
I was definitely not confident that I could pipe elf ears onto the cookies without messing up the whole design. So, I created a template, covered the template with wax paper, and piped on skin tone icing ears.
The ears must dry completely for several hours (or overnight) before they can be removed from the wax paper and icing-glued onto the cookies. I used a cookie cutter edge and a food marker to draw a guide line onto the cookie, before piping on the red hat, then piping on the skin tone face.
After the icing has set for at least one hour, pipe green stripes onto the hat. I let the green stripes set for an hour (or more) before continuing with the finishing details.
Next, pipe on the brown hair. Black icing is dotted on for eyes and a dot of skin tone icing forms the nose. When those details have dried, the elf is ready for the finishing touches.
A circle of skin tone icing is sprinkled with white nonpareils for the pompom on the hat, a dab of icing glues on the ears, and the mouth is drawn on with a food marker.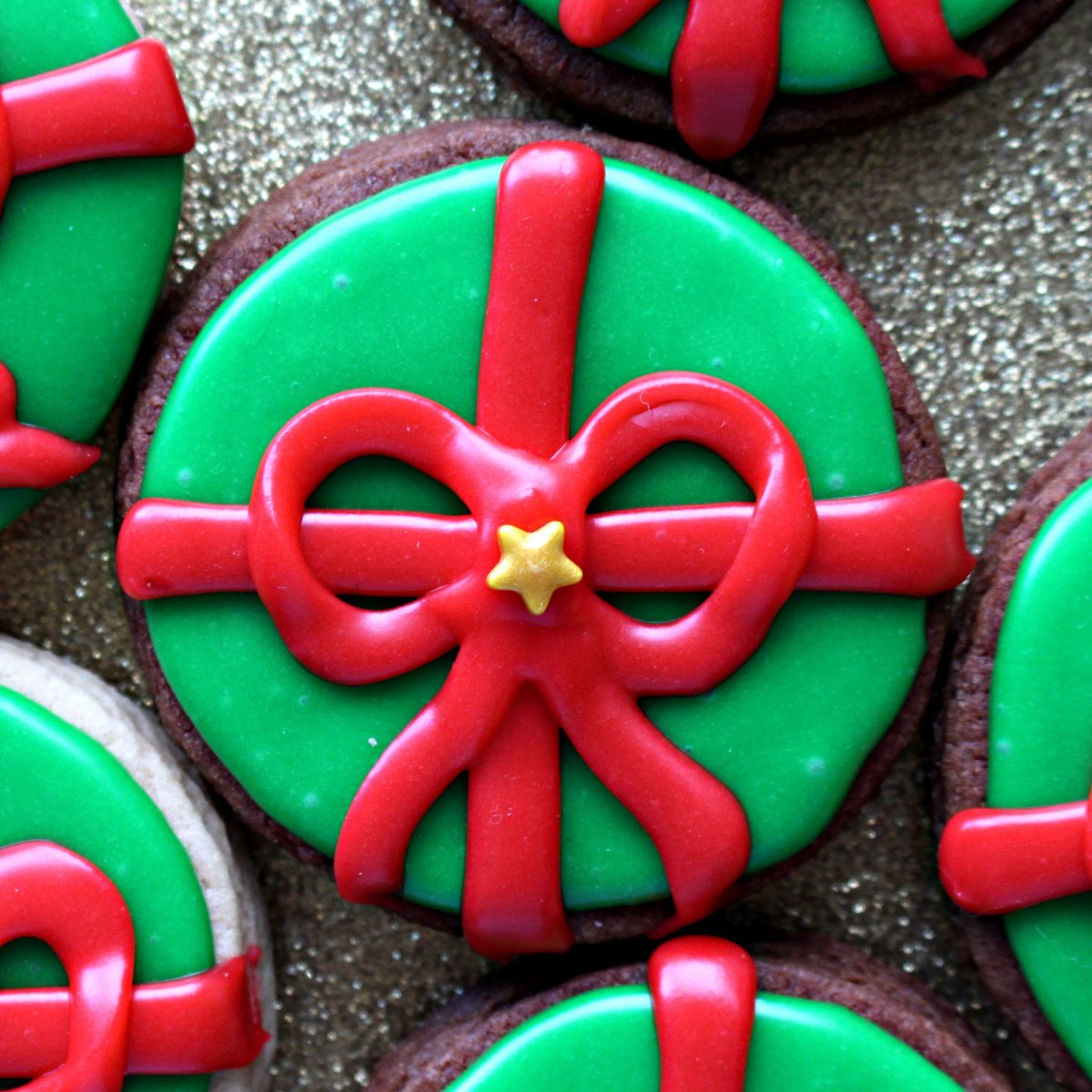 I didn't photograph a tutorial for the gift design cookie because it is so basic. The cookie is covered in green icing and allowed to dry for at least one hour before piping on the red ribbon and bow (I used a #44 tip).
The gold star sprinkles at the center of the bows add sparkle and I think they help my red squiggled icing look more like bows.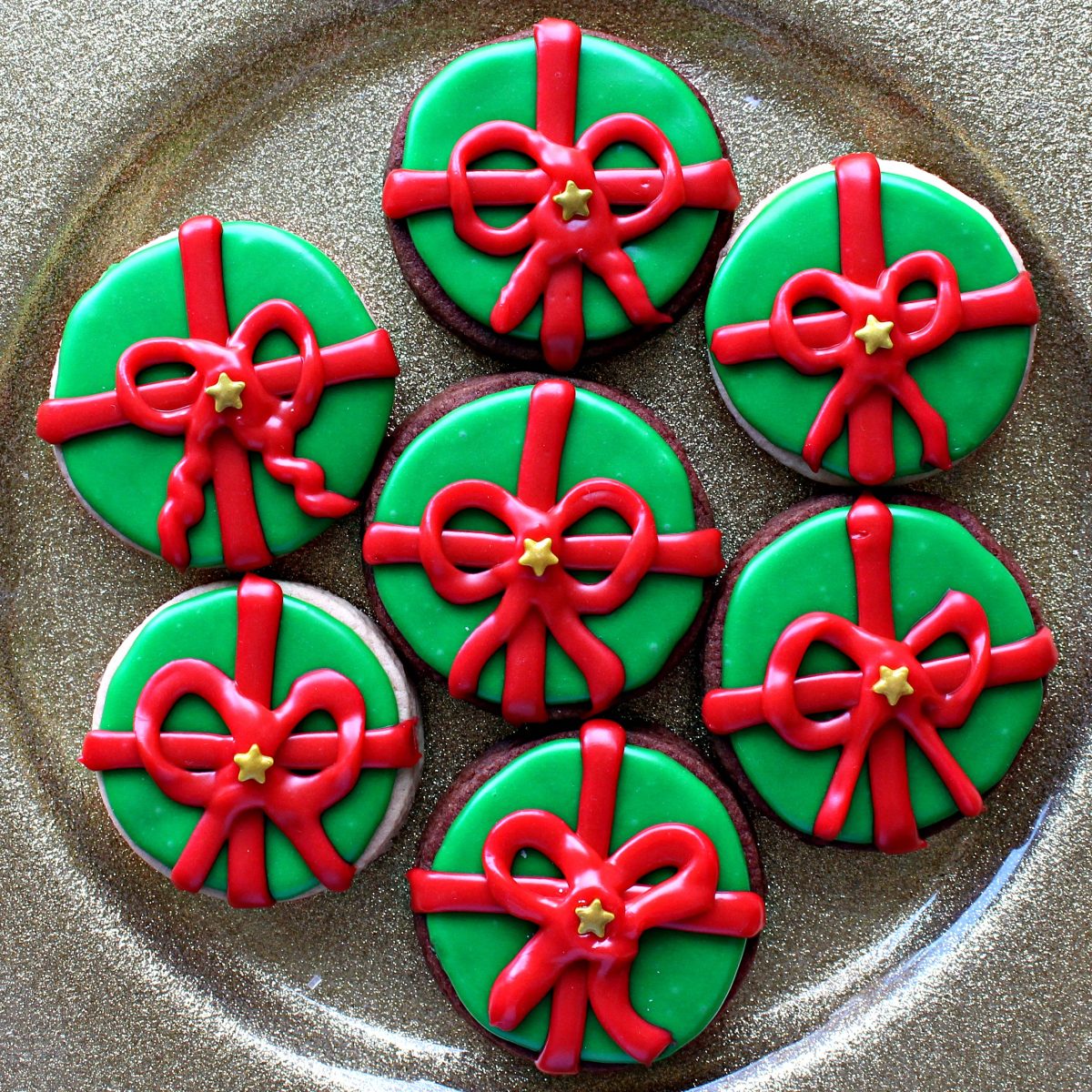 Always air dry iced sugar cookies overnight to allow the icing to harden completely before packaging.
I like to use self-sealing cellophane cookie bags both for freshness and presentation, but the cookies can also be double wrapped in plastic wrap.
To mail, place the wrapped cookies snugly in an airtight storage container or freezer weight ziplock bag.
New care package recipe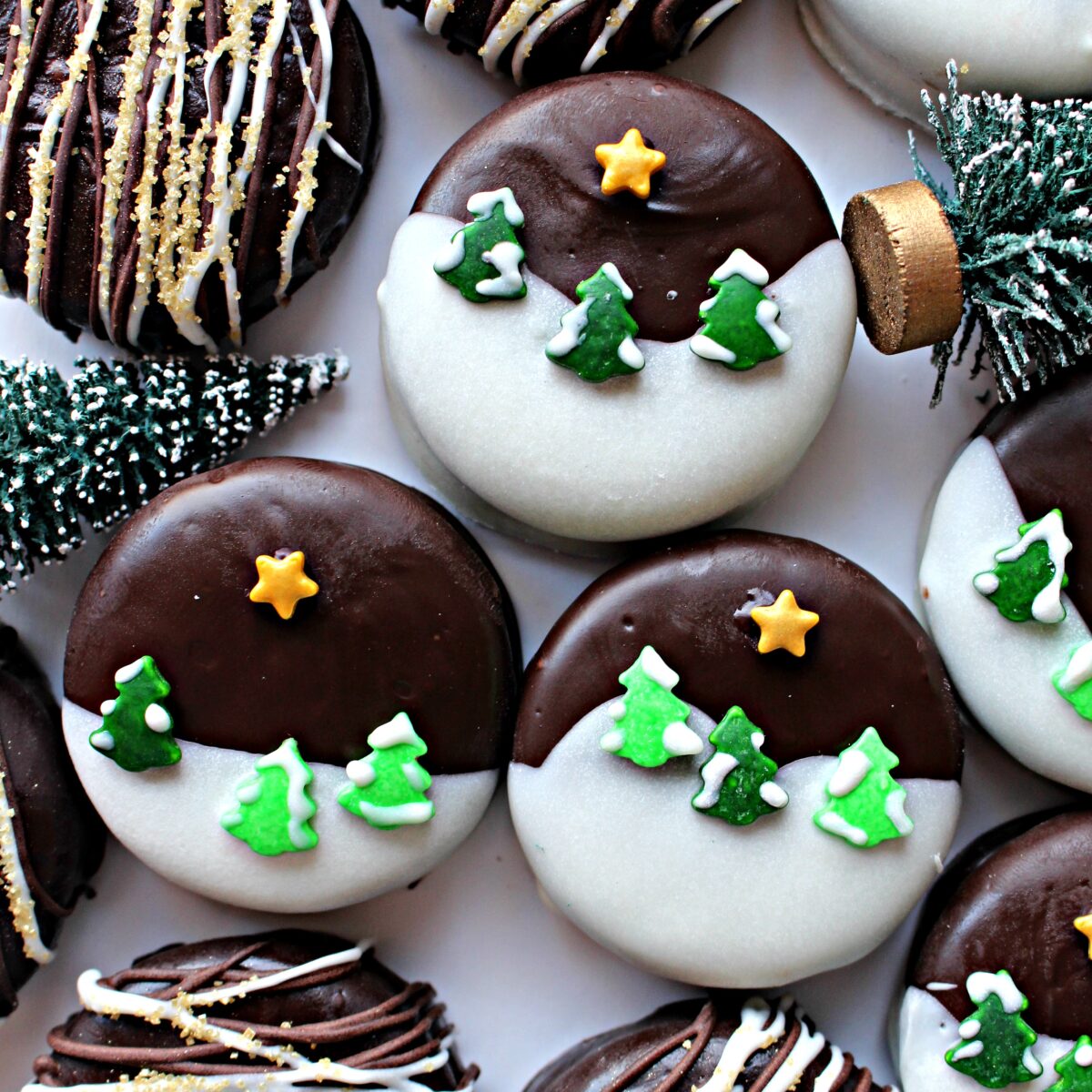 Winter Wonderland Chocolate Covered Oreos are the new "recipe" included in this Elf care package. Really, they are more of a mini craft project than a recipe, as no cooking is involved. Tree and star shaped sprinkles make these pretty winter scenes quick and easy to create.
Resources for Elf on the Shelf ideas
Over 200 Elf Ideas at Crystal and Co.
Military-Themed Elf Ideas at Veterans United Network
12 Free Printable Elf Masks at Nerdy Mamma
Top 50 Elf ideas at I Heart Naptime
Elf Story – Printable Poem at Lil' Luna
More Christmas care package themes
Send a Christmas Care Package with a Santa Claus theme for smiles, joy and a merry Christmas to anyone far from home this holiday season.
A Penguins and Polar Bears themed care package is sure to be fun and is the perfect way to cause lots of smiles.
Thoughts of snow and winter inspire this cozy Snowman Care Package. This theme makes great college care packages all winter.
Fans of wooden soldiers or the beloved Christmas ballet will love this care package idea with a Nutcracker Care Package theme.
Discover everything green and Grinchy in this Ultimate Grinch Care Package Guide filled with great ideas for a fun Christmas gift for a college student or service member.
Wishing everyone at home or away, a safe and peace-filled holiday season.