A bouquet of Sugar Cookie Roses makes any day special! These eye catching cookies are easy and fun to make and share!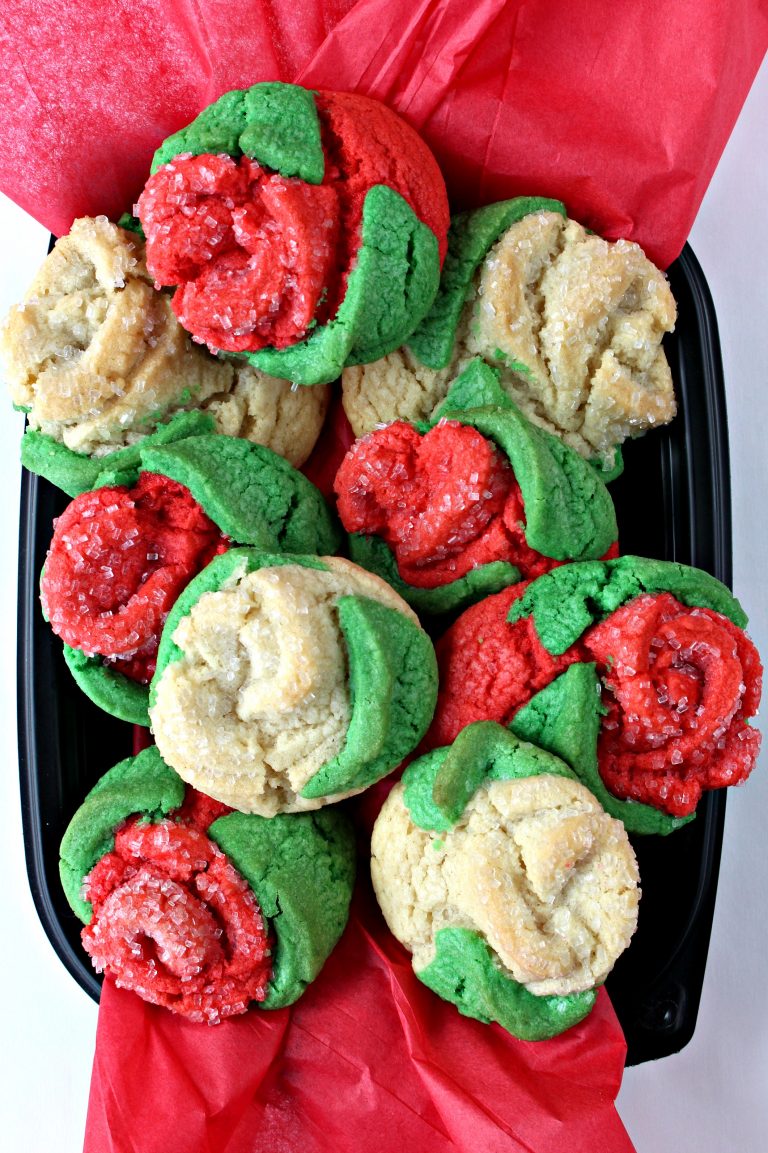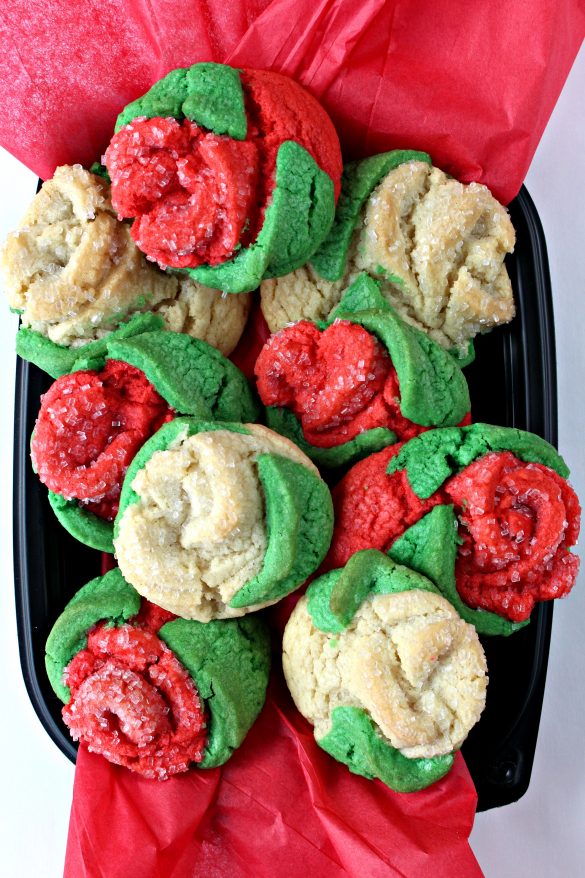 Sugar Cookie Roses are the final addition to a week of Time Saver Recipes. Like the other 6 recipes, this one uses a shortcut ingredient to speed up preparation time.
Sugar Cookie Roses are made with a roll of refrigerated sugar cookie dough and a little flour to thicken the dough for rolling out. A bit of extract adds flavor and a few drops of food coloring turns plain dough into flowers.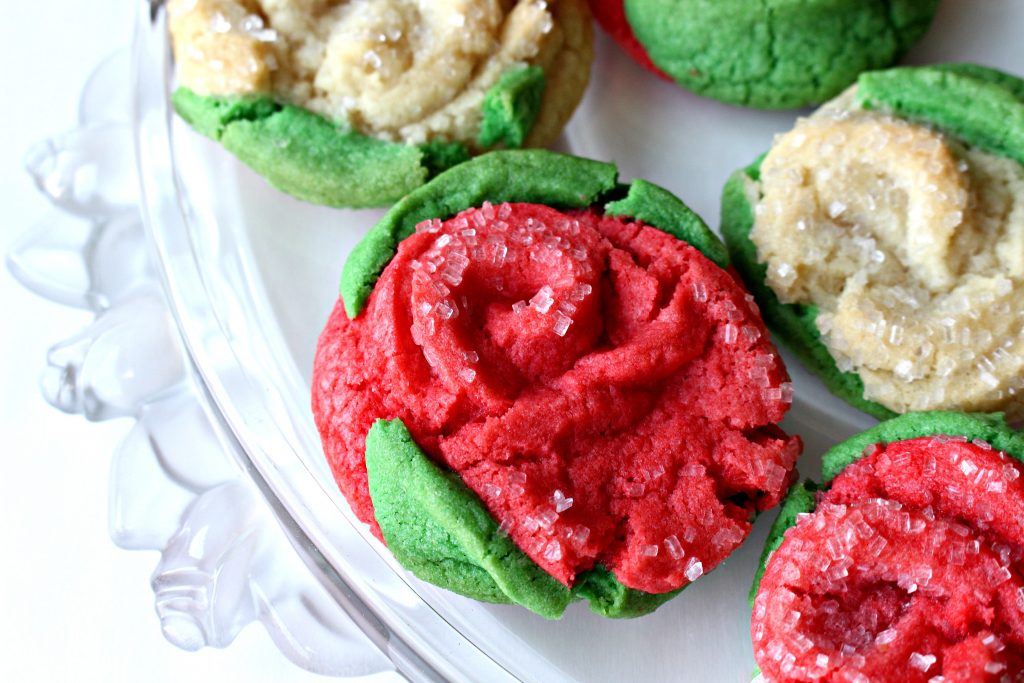 This is an edible craft project. Making the Time Saver dough takes just a few minutes.
Creating and baking the flowers takes approximately 1- 1 ½ hours. The dough is easy to work with and doesn't require any chilling time** (see below).
After experimenting with a few different approaches, the process photos and recipe describe what I found to be the easiest and fastest method.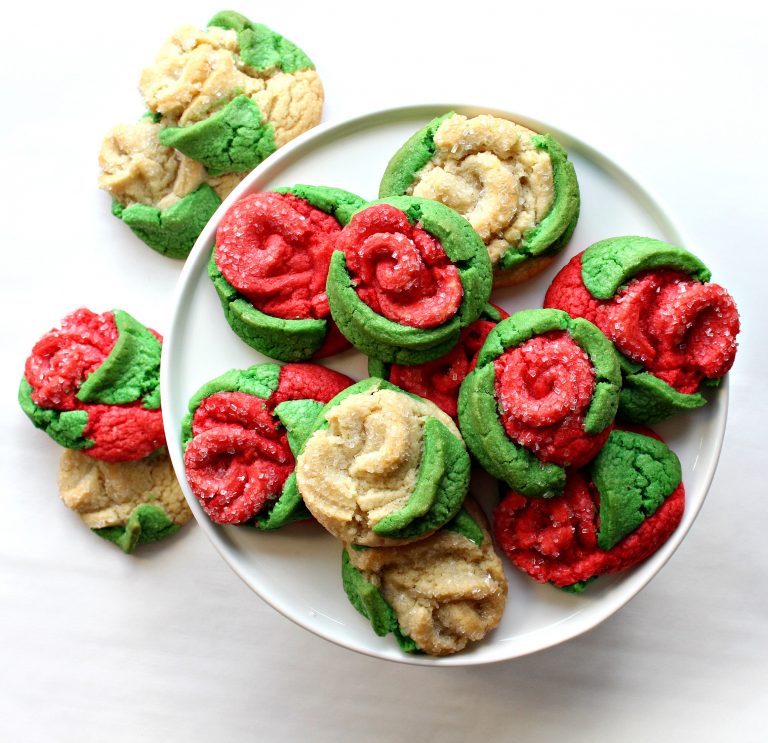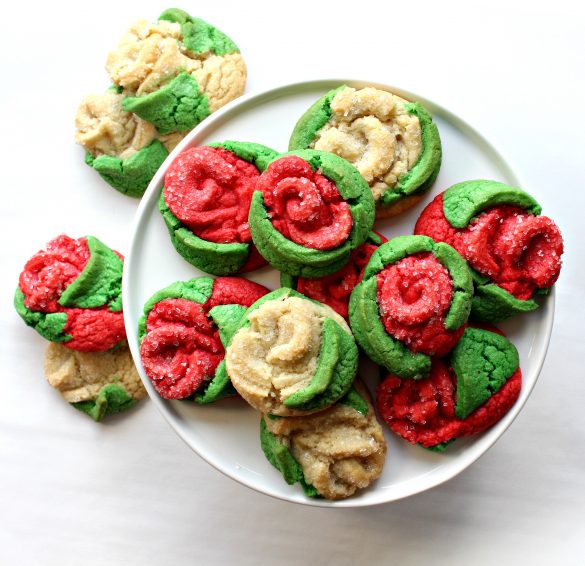 Pinterest is full of beautiful rose shaped baked food. I've seen apples, potatoes, breads, and pie crust turned into roses, but I couldn't find Sugar Cookie Roses.
Armed with 4 rolls of cookie dough (for failure insurance) I played with a few variables on my way to this recipe. The first thing I tackled was texture.
Refrigerated cookie dough used to be less mushy. It was meant to be sliced, now it is meant to be spooned. I added flour to create a roll-out consistency.
Though I added as little flour as possible, the flavor of the cookies was effected. Adding a bit more flavoring took care of that. I used citrus flavoring in this cookie (fiori di sicilia or orange), but vanilla, almond, or anise would be good choices too.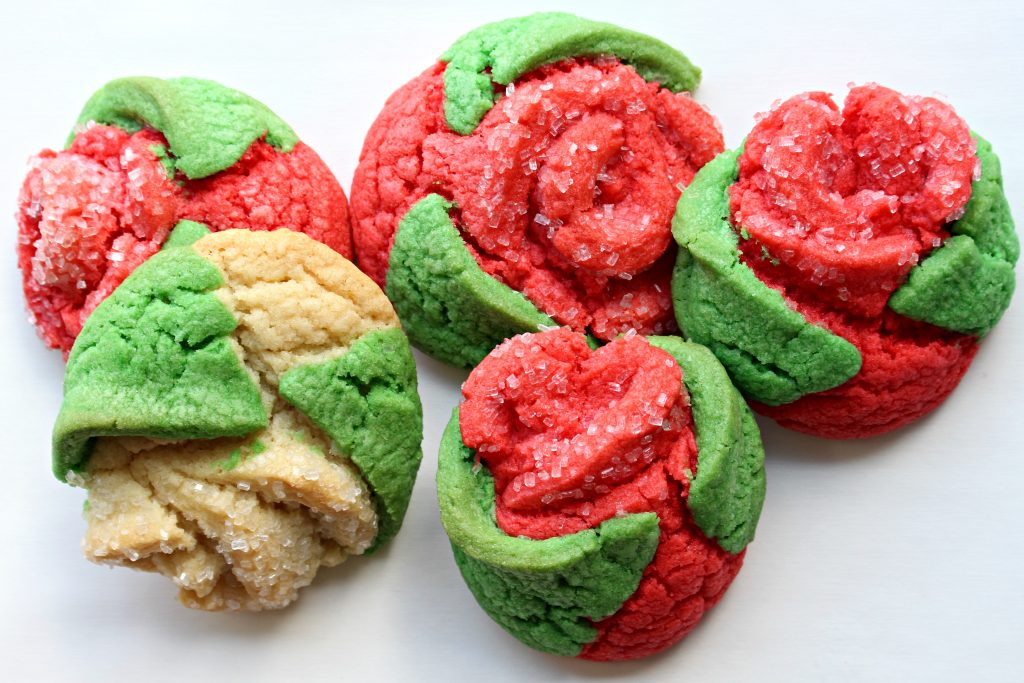 Once the recipe was figured out, I experimented with baking methods. I tried baking the rolled up roses on a baking sheet and in a mini-cupcake pan. My final choice was to stick with the baking pan, but the mini-cupcake pan could also potentially work.
The rose shaped cookie cups from the cupcake pan are cute and pretty, but the thickness makes them difficult to eat as they become crunchier during longer storage. If the cookie cups will be eaten within 2-3 days, baking in a mini-cupcake pan is an option.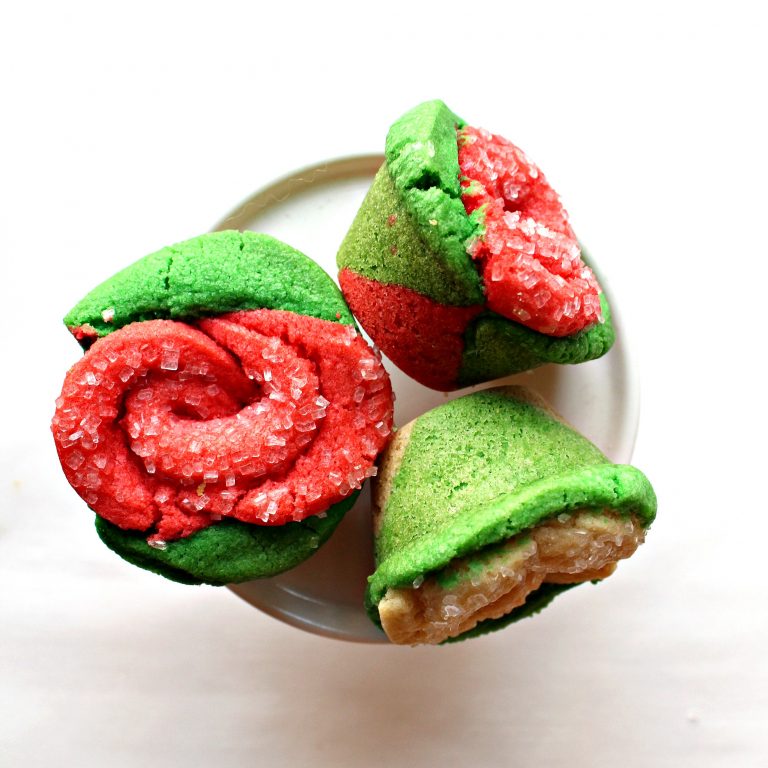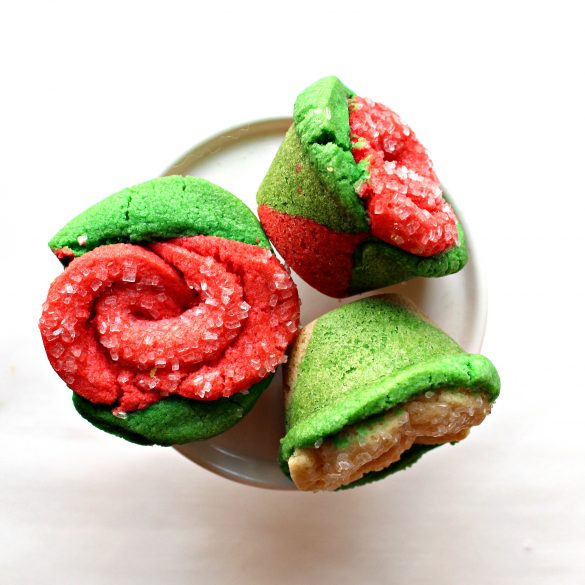 I also experimented with chilling the dough flowers before baking, in an attempt to get more defined petals. Chilling seems to produce a slightly different shape, but not more defined petals.
The roses made from chilled dough flop over during baking and end up looking like a bud or a rose on its side. The roses made from unchilled dough most often settled downward during baking, producing what looks like an open rose seen from above. Though both shapes are pretty, I prefer to go with less time and skip the chilling.
Everyone needs some roses in their life, especially if they are cookies. These Sugar Cookie Roses won't wilt on a cookie platter, in a gift bag, or in a care package. But once you taste them, they will disappear quickly!
I hope you have found a few Time Saver Recipes to make baking and gifting just a little less stressful and a whole lot delicious! In addition to Sugar Cookie Roses, the other Time Saver Recipes in this series include Chocolate Covered Cherry Bars, Cinnamon Chip Biscotti, Gingerbread Spice Cookies, Butterscotch Blondie Bars, Peppermint Crunch Cookies, and Mocha White Chocolate Biscotti.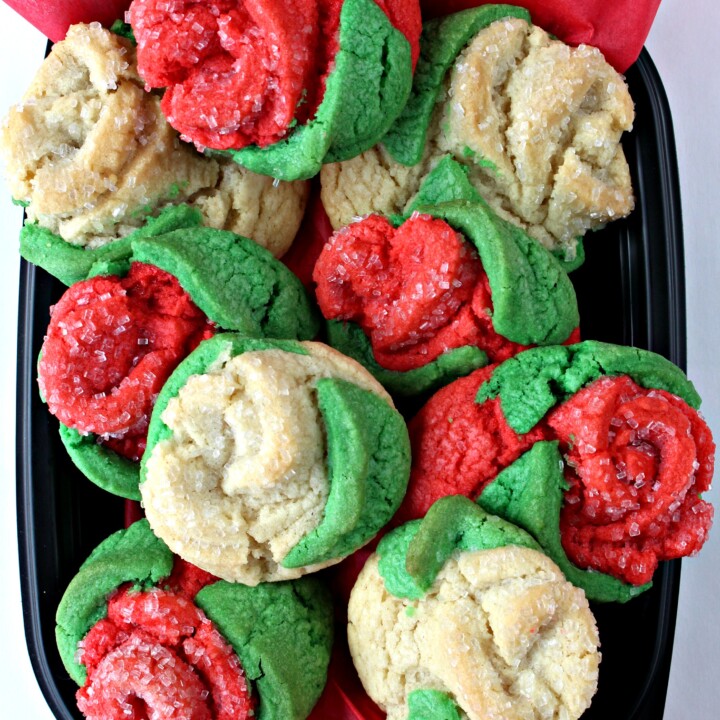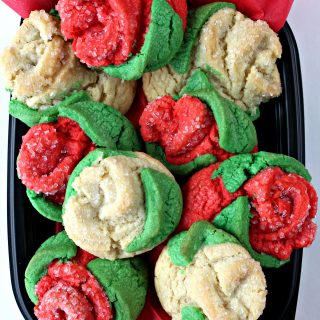 Sugar Cookie Roses (Time Saver Recipe)
These roses are a beautiful, edible craft project! Packaged cookie dough cuts down on time and ingredients.
Print
Rate
Ingredients
1

roll

refrigerated sugar cookie dough

16.5 ounces

⅓

cup

all-purpose flour

Food coloring gel

red, green

¼- ½

teaspoon

extract

such as fiori di sicilia, orange, anise, almond

Sparkling decorating sugar
Instructions
Preheat oven to 350° F. Line two baking sheets with parchment paper.

In the bowl of an electric mixer, beat cookie dough and flour until a dough ball forms (1-2 minutes).

Mix in the extract.

Divide the dough into thirds. Leave one of the portions white. Add 2-3 drops of red food coloring to one of the dough portions and knead until color is uniform. Add 2-3 drops of green food coloring to the remaining dough portion and knead until color is uniform. Keep dough balls wrapped in plastic wrap until ready to use.

Roll out the white dough to ⅛" thickness, between two sheets of parchment paper. Cut out circles with a 2"-2 ½" cookie cutter. Repeat rolling and cutting out circles to use up the white dough.

With a sheet of wax paper or parchment paper on the work surface, arrange three dough circles in a vertical row, with edges overlapping slightly. Starting at the top, roll the circles down into a cylinder, pinching the center gently as you roll to close any dough cracks.

Use a knife to cut the cylinder in half. Gently dip the un-cut (rose petal) ends in sparkling sugar, then place the dough rolls, cut edge down, on the prepared baking sheet 3" apart. Repeat with remaining white dough circles.

Roll and cut out the red dough, and repeat the rolling/cutting process.

Roll out the green dough and cut out circles. Cut each circle into fourths.

Press two pieces of the cut green circle leaves onto each rose cylinder.

Bake 1 baking sheet at a time for 15-16 minutes.

Remove from oven and allow to cool on baking sheet for 5-10 minutes. Transfer cookies to wire racks to cool completely.

Store in an airtight container at room temperature for up to 7 days.
Notes
Packing tips
Wraps pairs of cookies, bottoms together, in plastic wrap. Stack bundled cookies in an airtight container or freezer weight ziplock bag.
Nutrition
Calories:
146
kcal
|
Carbohydrates:
21
g
|
Protein:
2
g
|
Fat:
6
g
|
Saturated Fat:
2
g
|
Cholesterol:
3
mg
|
Sodium:
91
mg
|
Potassium:
49
mg
|
Fiber:
1
g
|
Sugar:
11
g
|
Vitamin A:
12
IU
|
Calcium:
3
mg
|
Iron:
1
mg
Save