Shimmering Maple Crisp Cookies are so light and airy they practically float! These crunchy squares of pastry dough are crusted with sparkling sugar for sparkle and touch of sweetness. Snack on these treats or add them to a bowl of ice cream for decorative flair.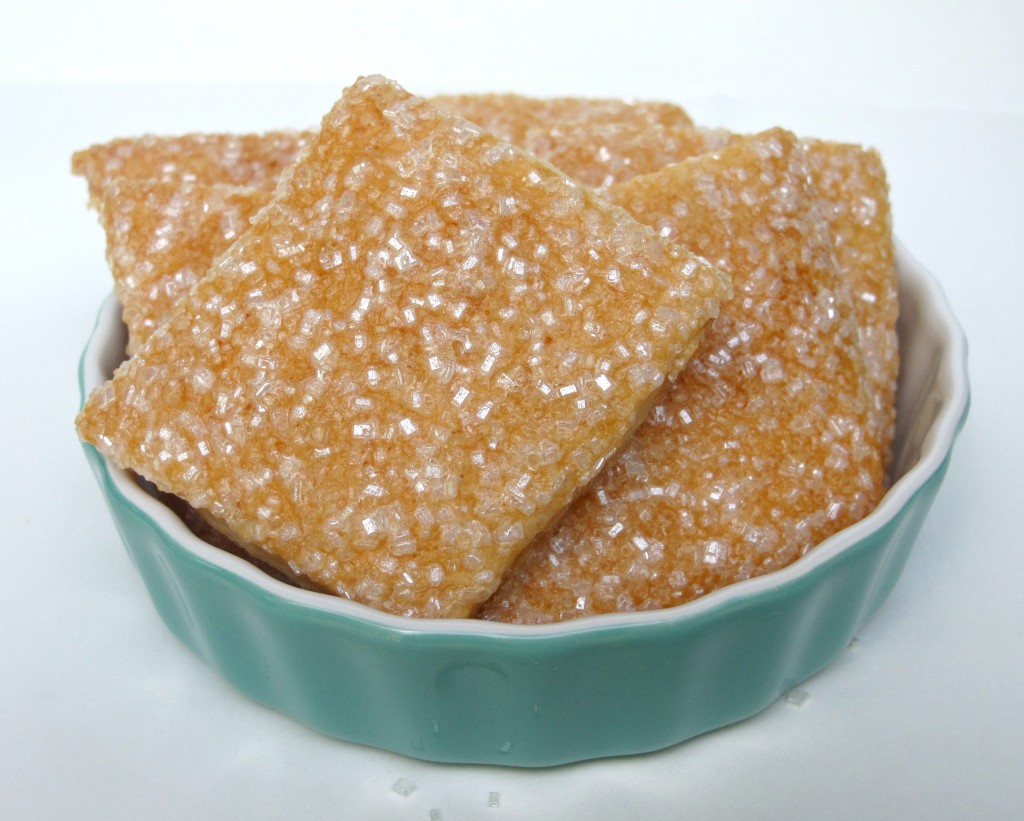 When I was 12, my family moved to Europe for two years. Though we spent the majority of our time in Spain, we visited many countries.
Our travels across Europe took place in a VW minibus (the predecessors of today's minivan) towing a British travel trailer camper. Bringing our house with us meant no packing and unpacking at each destination and enabled us to sleep in the same bed each night.
Our meals were made from local foods purchased at open air markets and shops. An astounding abundance of bakeries, introduced us to the wonders of European breads and pastries.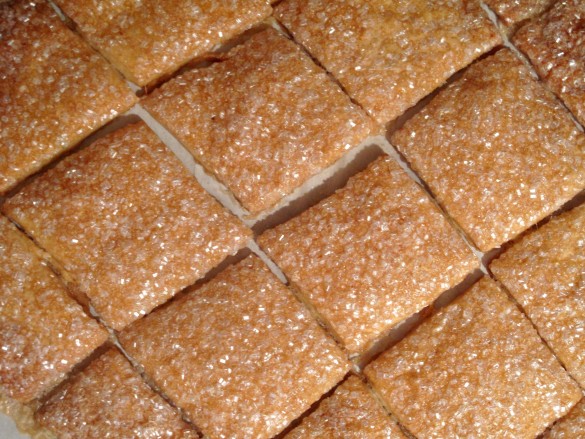 My food memories of that period are almost exclusively about bakery purchases. That's sort of odd because we certainly ate a lot of other foods, but my carb addiction seems to have taken over my memory bank.
During our winters in Spain, I was in charge of running out to the bakery in the mornings to purchase bread and breakfast buns. My favorite buns were soft and bread-like with a cut out in the center which was filled with a custardy pastry cream. I absolutely adore pastry cream.
Frequently, we made a second bakery run in the afternoons for fresh bread and an after school snack. My snack of choice was always the same. I am boring that way.
Even when I stood amongst the French children lined up at pastry counters waiting to buy their pain chocolat still warm from the oven, I waited impatiently for my palmier, known to me as an elephant ear cookie.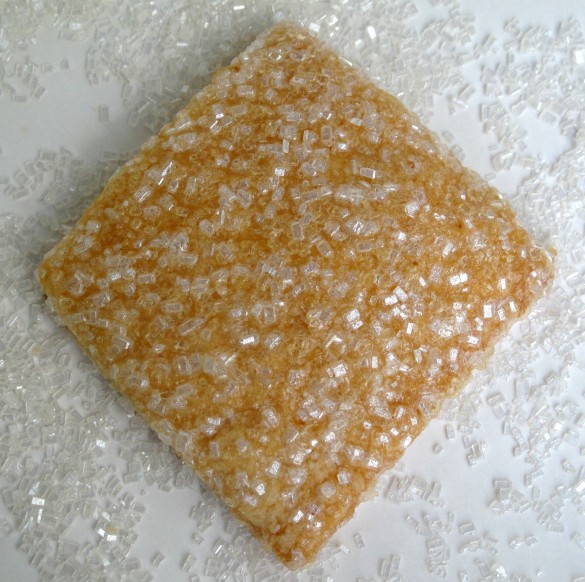 I still love the crunch and the flakiness of the puff pastry dough used to make an elephant ear cookie. The warm caramelized sugar flavor infused with buttery richness is pure cookie comfort.
This recipe for Maple Crisp Cookies gives you all that and more. The more being easy to make with a shelf life of at least 2-3 weeks when stored in an airtight container at room temperature.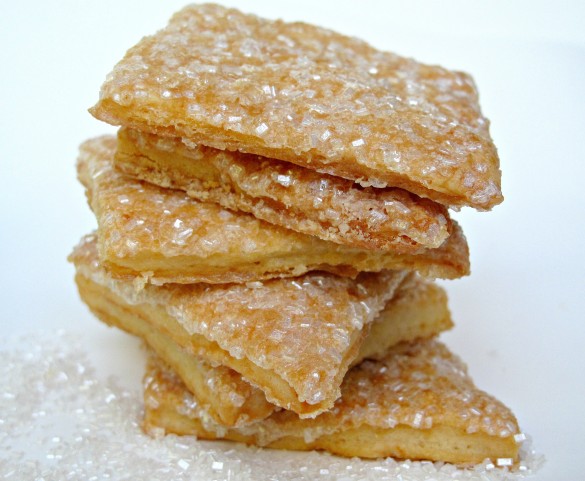 I adapted the Maple Crisp Cookies from a King Arthur Flour recipe. A number of things about this recipe surprised me.
First, I was surprised by the addition of instant yeast. I had never baked a cookie that included yeast. Generally, yeast scares me. Don't be scared by yeast in this recipe. It just gets added in like any other ingredient. Then forget about it.
The next ingredient surprise was that there is no sugar in the dough itself. This is a cookie. Cookies include sugar. Again, don't worry. Though it is unusual, the sugar is added to the outside of the dough while rolling out and provides plenty of sweetness.
The order of mixing the ingredients is also unexpected. If you have made your own pastry dough (which I hadn't) the order will make sense to you. You add the butter last. I am glad I didn't second guess the directions because it works exactly the way the directions say it will.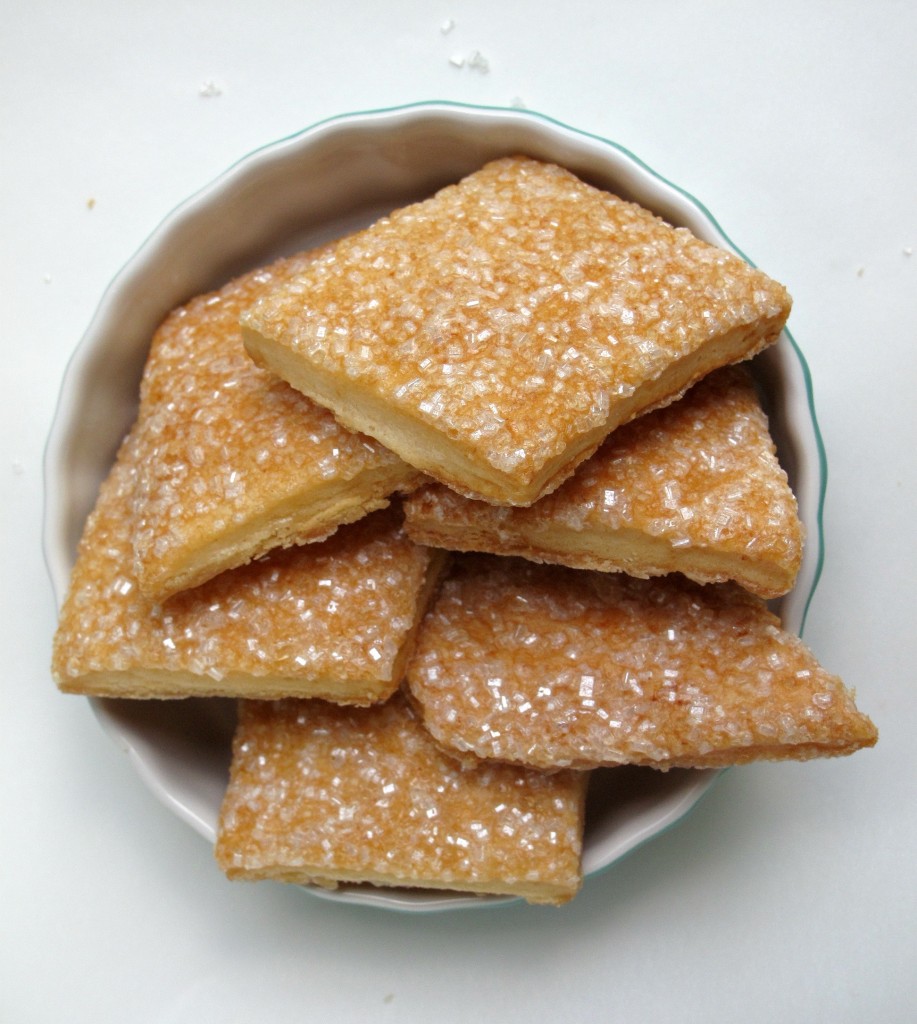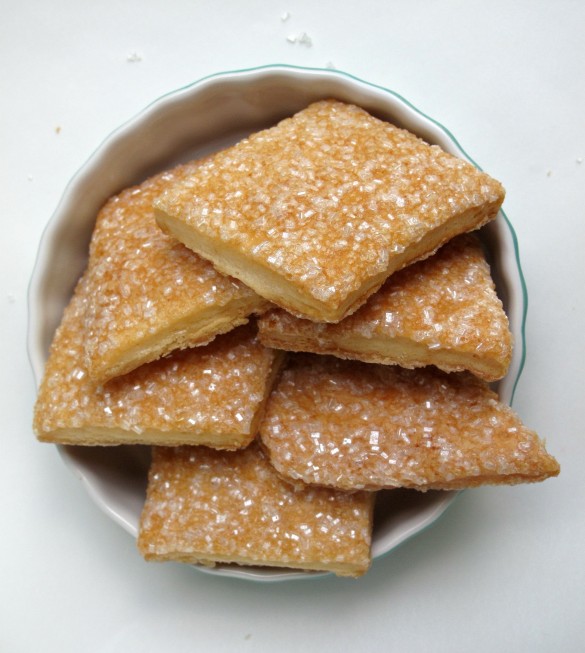 Finally, my biggest surprise was the taste. Everything about these Maple Crisp Cookies looks plain and they are certainly not plain. They are wondrous.
Maple Crisp Cookies bake for a long time (about 70 minutes) at a low temperature and while the dough is turning into flaky crunch perfection, the sugar is slowly caramelizing covering the cookies with delectable flavor.
The original recipe called for a tiny drop (literally) of lemon oil. I tried it that way and it is very good but I like this version with maple flavor more. The maple intensifies and melds with the caramelized sugar flavor.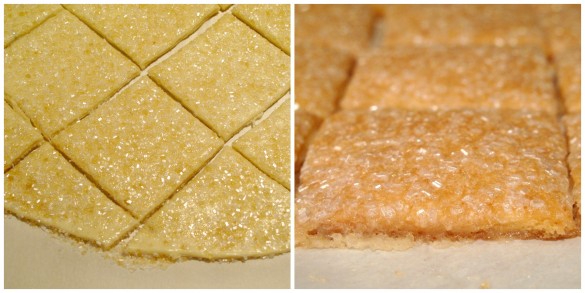 The other change I made to the original recipe was in procedure for rolling out. I made it a lot easier. The King Arthur recipes are from their test kitchen or from readers who are major bakers so I find that the recipes are usually quite reliable.
This time the method suggested just didn't make sense to me. The original recipe requires rolling out the soft dough to 1/16", cutting, then transferring the cut cookies to a baking sheet. Moving a very soft, very thin cookie is not practical.
Instead, I suggest rolling out the dough on the parchment paper it will be baked on, slicing the cookies, and sliding the entire piece of parchment paper onto a cookie sheet for baking. Maple Crisp Cookies shrink while baking so separating them isn't necessary.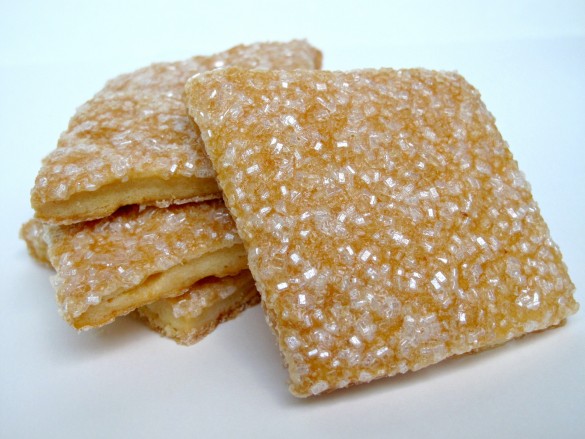 These are the kind of cookies you will want to have on hand. Not only do Maple Crisp Cookies make great care package cookies, but they are a delicious decoration in a bowl of ice cream and delightful with a cup of tea.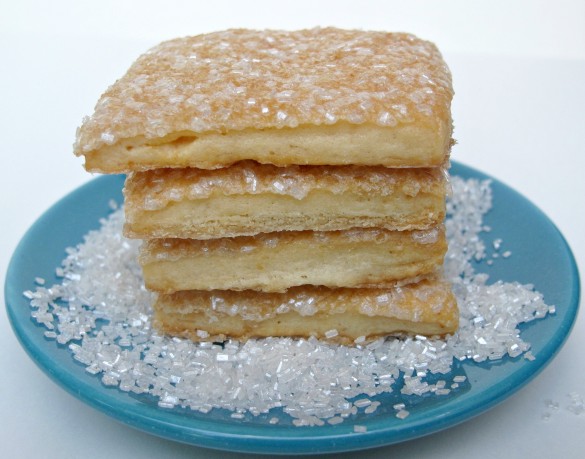 MORE MAPLE TREATS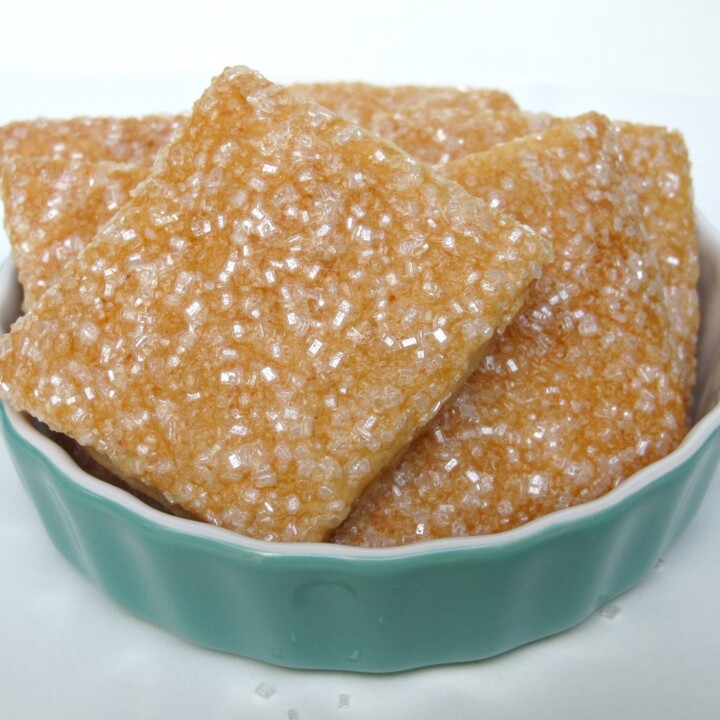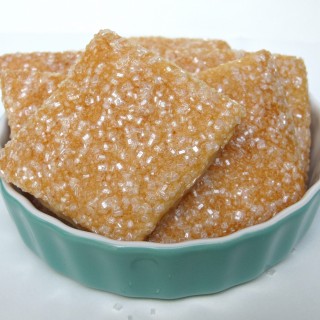 Shimmering Maple Crisp Cookies
These light and airy squares of crunchy pastry dough are crusted with sparkling sugar for sparkle and touch of sweetness.
Print
Rate
Adapted From:
KingArthurFlour.com
Ingredients
1 ½

cups

all-purpose flour

½

cup

+ 1 tablespoon whole milk

1

teaspoon

maple flavoring

1

teaspoon

instant yeast

¼

teaspoon

salt

½

cup

1 stick unsalted butter

1 ½

cups

coarse white sugar
Instructions
Prepare dough
In the bowl of an electric mixer, combine flour, milk, maple flavoring, yeast, and salt.

Cut butter into 8 pieces. Add one piece at a time to the dough, mixing each piece in for 1 full minute before adding the next. The dough will start out crumbly, then start to look wet and sticky before finally becoming smooth and stretchy.

Wrap the dough in plastic wrap and refrigerate overnight.
When ready to bake
Preheat oven to 275 degrees F. Cut two sheets of parchment paper the size of your baking sheets.

Place one sheet of parchment paper on the counter and sprinkle with about ½ cup of sugar.

Divide the dough in half. Refrigerate one half until ready to use. Place the other half on the sugar sprinkled parchment paper. Sprinkle additional sugar on top of the dough.

Roll out into a rough rectangle about 1/16" thick. As you roll add additional sugar to the top of the dough so that the entire rolled out surface is coated and the rolling pin gently embeds the crystals. Also gently lift the edges of the dough, periodically as you roll, to add additional sugar under the dough to cover the bottom surface.

Using a sharp knife or pizza wheel (recommended) cut the dough into 1 ½"- 2 ½" diamonds or squares. Smaller sized cookies end up more evenly crunchy.

Slide a cookie sheet under the parchment paper and bake for 60-75 minutes or until deep golden brown. They must be deep brown (but not burnt) to remain crispy and obtain the best caramelized sugar flavor.

Remove immediately from cookie sheet onto wire rack to cool.

Store in an airtight container for at least 2 weeks. These cookies will get softer and loose their crispness if exposed to humidity but remain delicious.
Notes
Packing tips
Double wrap pairs of cookies (with bottoms together) or stacks of cookies in plastic wrap, then place in an airtight container or zip lock bag.
Nutrition
Calories:
135
kcal
|
Carbohydrates:
22
g
|
Protein:
1
g
|
Fat:
5
g
|
Saturated Fat:
3
g
|
Trans Fat:
1
g
|
Cholesterol:
12
mg
|
Sodium:
30
mg
|
Potassium:
17
mg
|
Fiber:
1
g
|
Sugar:
15
g
|
Vitamin A:
142
IU
|
Vitamin C:
1
mg
|
Calcium:
3
mg
|
Iron:
1
mg