St. Patrick's Day Chocolate Covered Oreos, sparkling with green decorating sugar, are super easy to make. The Celtic swirl adds Irish charm to these chocolaty treats.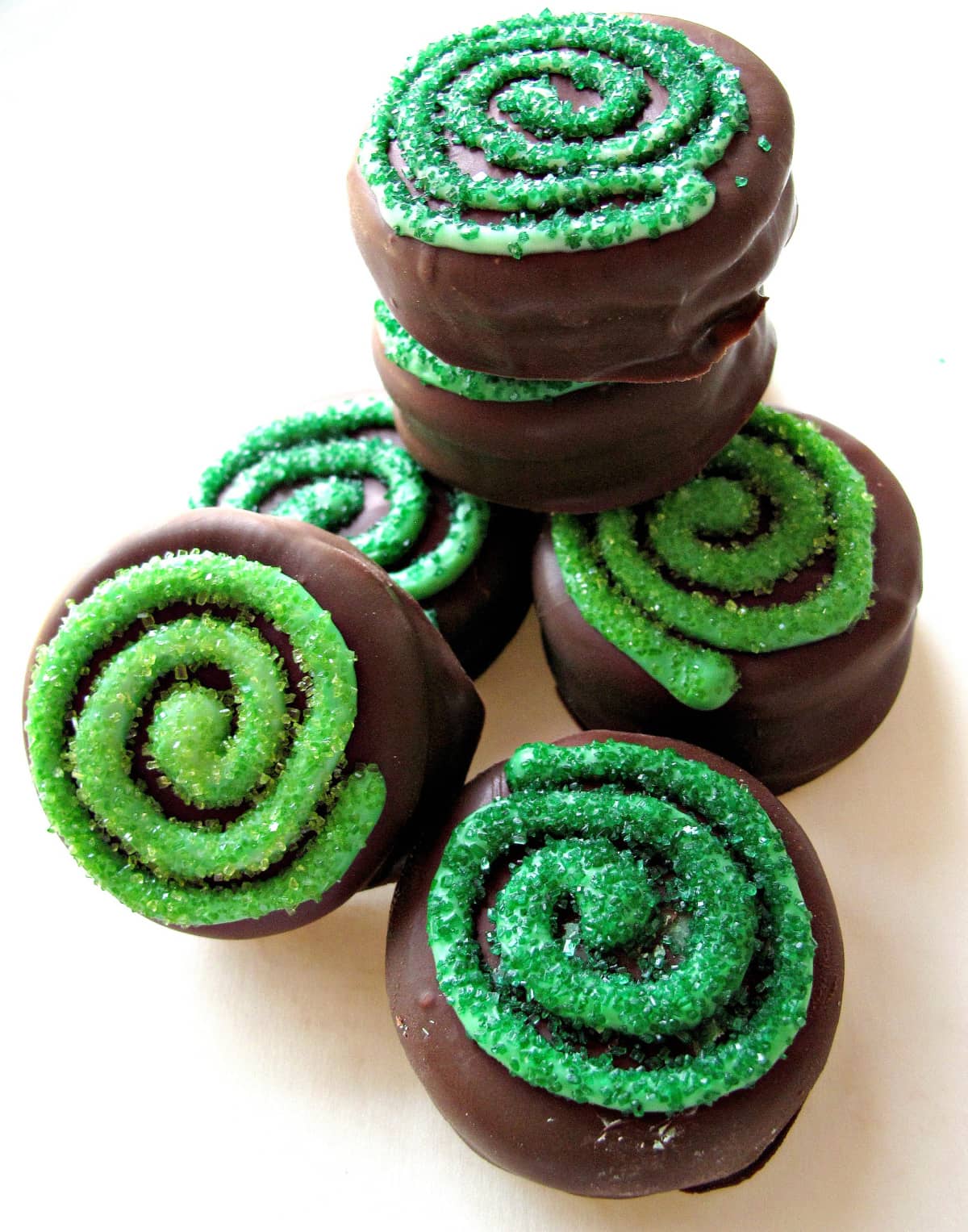 Why you'll love this care package
Soldier B. is very busy doing his job, so I really don't expect to hear from him much, but I worry. So, I was delighted to get a Facebook message from him letting me know that the care packages are appreciated.
Most importantly, the message let me know he was safe.
The message read, "Being overseas and receiving care packages from you has been amazing. I make sure to share the gifts and baked goods with my fellow soldiers and we all say it's a good moral booster when we receive a box.
Thank you for your support to us while we are gone. Everything you have sent has done its job in putting a smile on a face or helping someone's sweet tooth. Thanks again."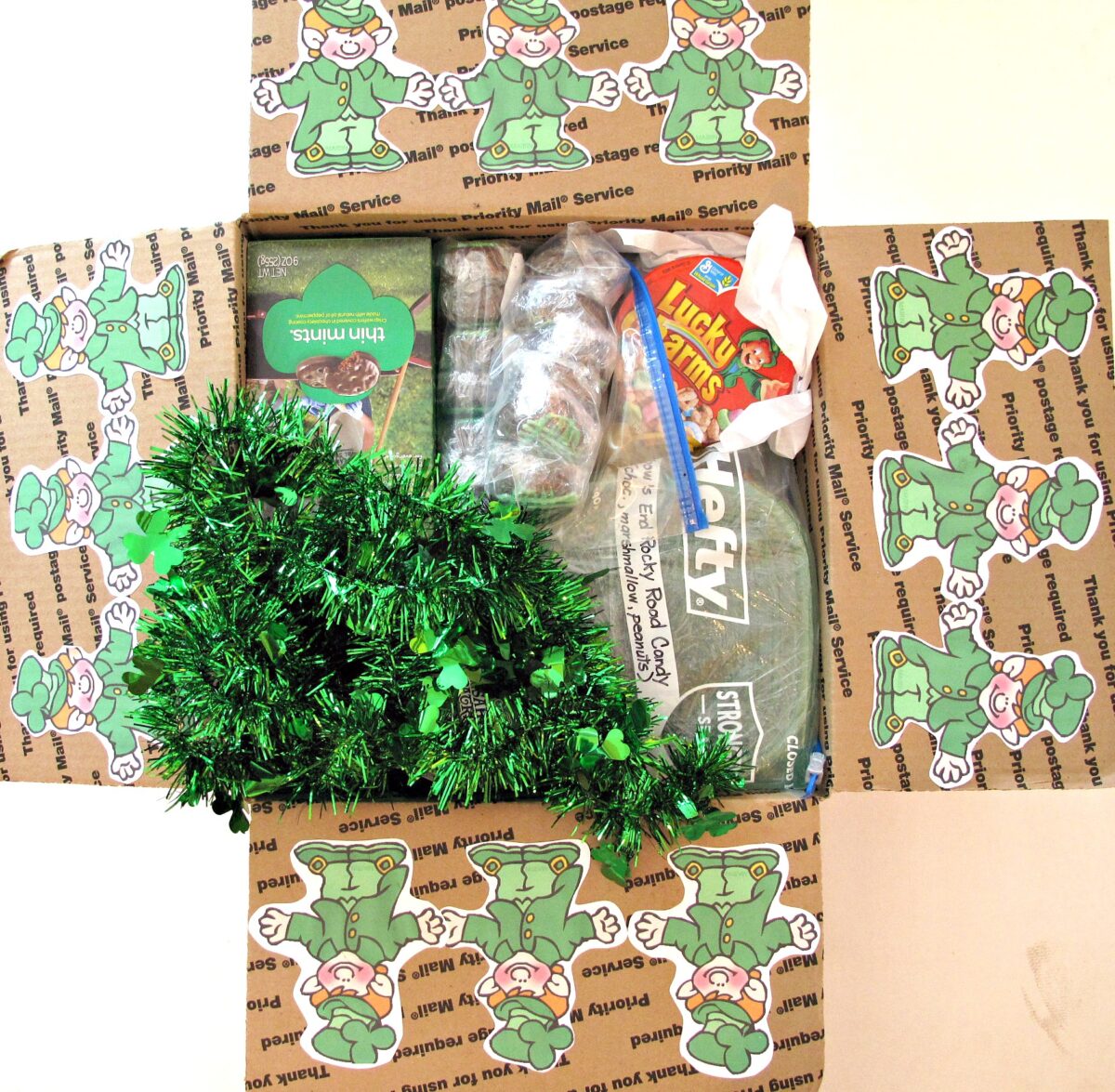 Care package contents
With smile-inducing packaging in mind, my first task, when preparing a care package is to dress up the inside of the shipping box. For some themes like Christmas or birthdays, the easiest method is to line the box, or cover the box flaps, with theme appropriate wrapping paper.
For Easter and St. Patrick's Day last year, I cut holiday shapes from colored or patterned paper and glued those onto the box flaps. I used newspaper photos for the baseball theme.
Free online clip art is another source of decorating material. I found clip art turkeys for Thanksgiving and used wee clip art leprechauns for this St. Patrick's Day package.

The box is packed full of leprechaun goodies: shamrock garland, leprechaun cut-outs, Lucky Charms cereal, gold foil chocolate coins, puzzle books with green covers, and a green box of Girl Scout Thin Mints.

Decorated cookies
Usually this section provides details on a simple iced sugar cookie design. Easy-to-create iced shamrock cookies were included in last year's St. Patrick's Day military care package.
This time I decided to chocolate coat, then decorate, some St. Patrick's Day Chocolate Covered Oreos using colored white chocolate. Soldier B. is particularly fond of chocolate-mint and I had what I thought were great ideas for decorating.
I appear to be gaining all kinds of decorating experience through the school of hard knocks. It turns out that decorating with melted white chocolate doesn't work the same way as decorating with icing. It solidifies too quickly.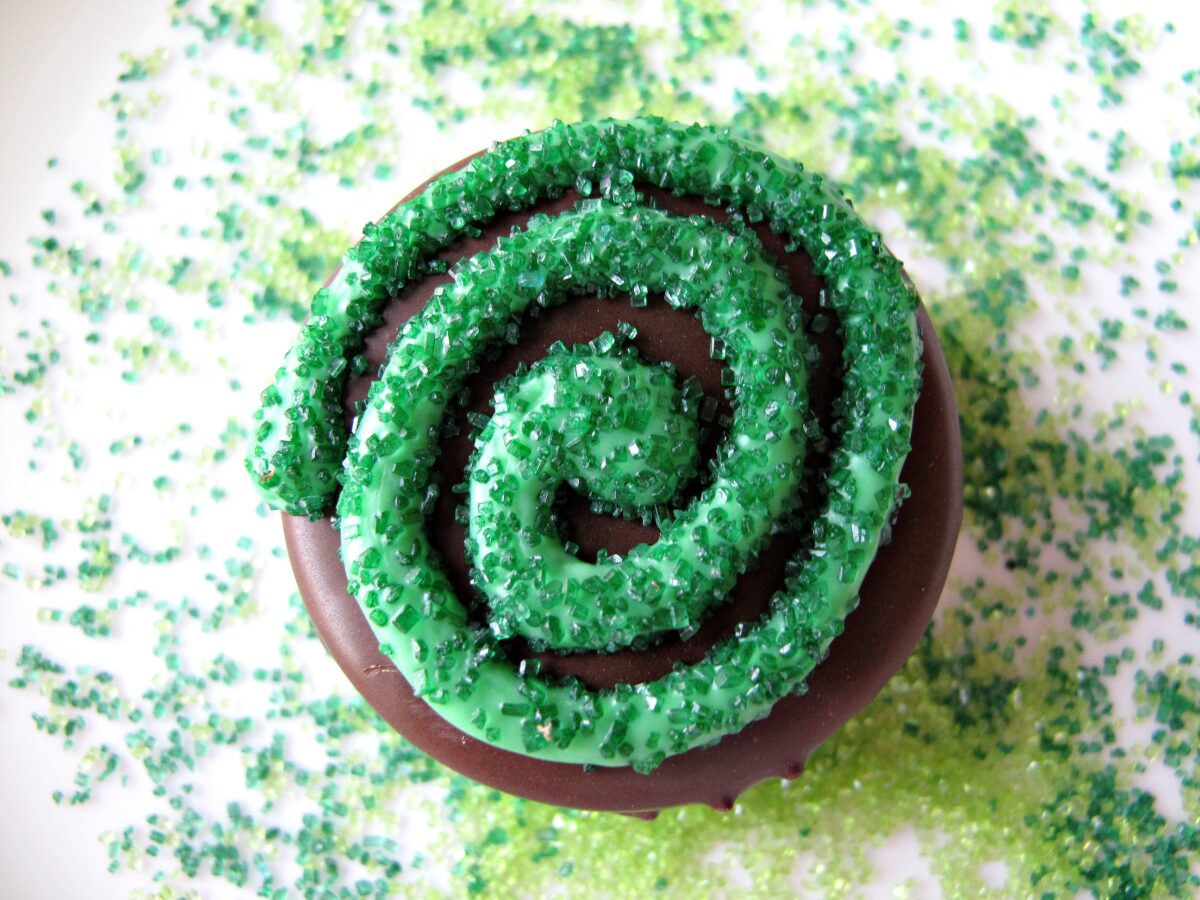 I tried making shamrocks and ended up with a blob of green tinted white chocolate covered in toothpick lines. Not what I had in mind.
I tried using a Wilton candy melts tip to create a green plaid and ended up with a messy zigzag of lines. At least my family was happy about these failures, because they get to eat all ugly cookies. And these were ugly.

Finally, out of desperation, I went for super simple. The Celtic Spiral is an ancient symbol of the Celts who inhabited Ireland starting around 500BCE.
It is said to be a symbol of energy, growth, perseverance and knowledge (http://www.the-symbols.net/celtic/) Seems like a good symbol to use on cookies for soldiers, or anyone else!
Though this sparkly swirl is not what I planned, it is appropriately green, Irish, and twinkles with leprechaun magic. Change the color of the tinted white chocolate and decorator sugar, and these chocolate coated Oreos would work for any celebration.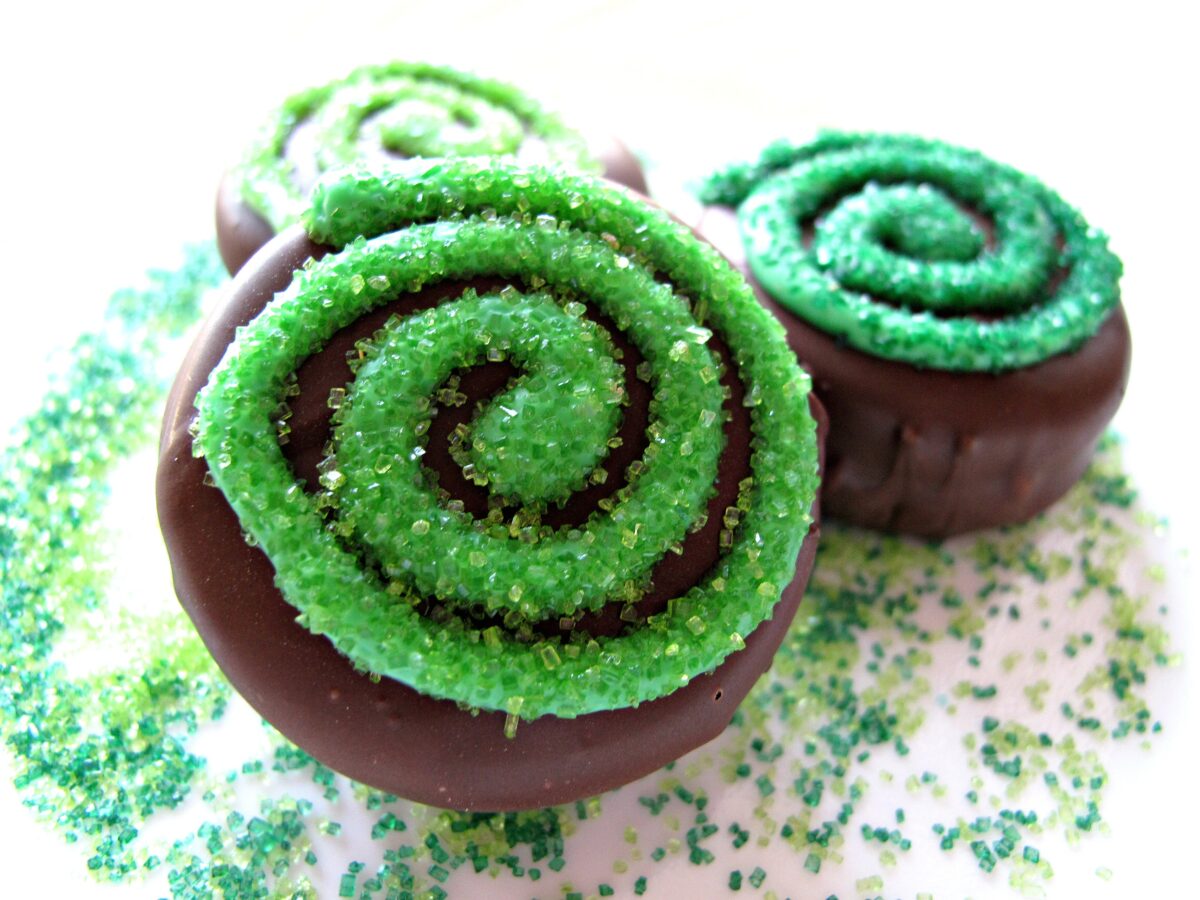 No recipe is needed for making St. Patrick's Day Chocolate Covered Oreos. I offer some directions that are intended as helpful hints.
I used dark melting chocolate for coating the Oreos, because it's easy to use (no tempering) and stays looking pretty for weeks. Once the coating is set, I piped on the spiral using tinted white chocolate, followed immediately with a sprinkle of green decorating sugar.
For another festive way to decorate sandwich cookies, you might want to try these adorable St. Patricks Day Cookies!

New recipe
Rainbow's End Rocky Road Candy was the new recipe included in this care package. I turned this chocolate, marshmallow, and peanut confection into a St. Patrick's Day treat with a sprinkle of rainbow chips and some green nonpareils.
The Rocky Road was packed in plastic food storage boxes. I am pretty sure the weather is cool enough right now in Afghanistan for this candy to arrive intact, but just in case it melts, the plastic boxes will serve as soup bowls and Soldier B. can eat it with a spoon!
More St. Patrick's Day treats
Steel Cut Oats Cookies are made with Irish oatmeal for an extra chewy texture and nutty flavor.
Biscotti are an Italian cookie, but Chocolate Mint Biscotti are swirled with chocolate and green mint just for St. Patrick's Day!
Tea Brack is a traditional Irish tea cake full of warming spices and raisins.
Ready to bake? Join the free membership group to get new recipes and a newsletter delivered to your inbox! You can also stay in touch on Facebook, Pinterest, and Instagram. I'd love to stay in touch!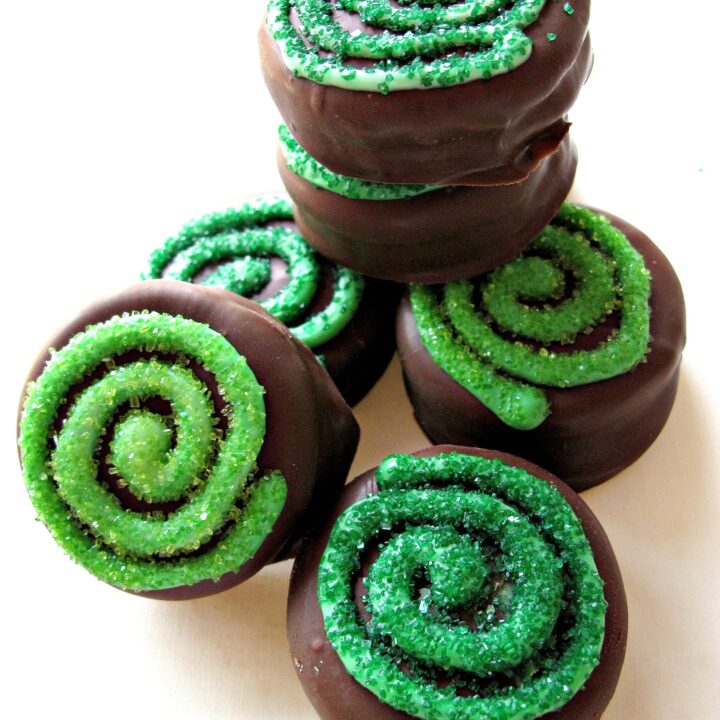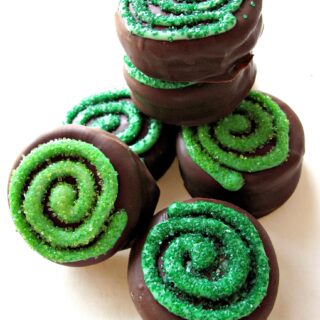 St. Patrick's Day Chocolate Covered Oreos
These chocolate sandwich cookies are coated in chocolate then decorated with a Celtic swirl for St. Patrick's Day flair!
Print
Rate
Ingredients
12

sandwich cookies

I use Newman's Own brand, chocolate mint

2

cups

melting chocolate

chocolate discs meant for dipping and coating

½

cup

white melting chocolate

chocolate discs meant for dipping and coating

green candy coloring

oil based coloring only

green decorating sugar or nonpareil sprinkles
Instructions
Use wax paper to line a cookie sheets or other flat baking pan that will fit into your refrigerator.

Place the melting chocolate in a bowl large enough that the chocolate fills it up to 1 inch below the rim. Melt the chocolate wafers in the microwave at 50% power for one minute. Stir. If not completely melted, return to the microwave and heat for 15 second intervals, stirring between intervals, until melted.

Place a cookie into the melted chocolate. Using two forks, press the cookie into the chocolate, then turn it over to coat the underside.

Using a fork, lift the coated cookie over the bowl. Gently tap the wrist of the hand holding the fork to make excess coating drip back into the bowl. Place the cookie onto the prepared cookie sheet.

After coating 12 cookies, place the cookie sheet into the refrigerator for 10-15 minutes to set the chocolate. Setting in the refrigerator, not at room temperature, will produce slight surface shine.

Place ½ cup of white melting chocolate a small bowl. Melt at 50% power in the microwave for 30 seconds. Stir. If not completely melted, return to the microwave at 50% power for 10 second intervals, stirring between intervals until melted. Add 10 drops of oil based green candy coloring. Stir until the white chocolate is evenly colored. Spoon the melted chocolate into a plastic sandwich/snack bag. Cut a very tiny piece off a bottom corner of each bag and pipe the colored chocolate in a spiral pattern to Important: Add decorating sugar immediately after creating each swirl. The chocolate hardens quickly.

When all of the coating and decoration has hardened, wrap the cookies individually in plastic wrap. Store in an airtight container at room temperature for up to 2 weeks.
Notes
Packing tips
Pack the individually wrapped cookies closely in a ziplock bag or plastic storage container.
If using a storage container, add crumpled tissue paper between the cookies and the lid, if necessary, to prevent ANY movement while shipping.
Nutrition
Calories:
97
kcal
|
Carbohydrates:
13
g
|
Protein:
1
g
|
Fat:
5
g
|
Saturated Fat:
2
g
|
Cholesterol:
2
mg
|
Sodium:
62
mg
|
Potassium:
47
mg
|
Fiber:
1
g
|
Sugar:
9
g
|
Calcium:
18
mg
|
Iron:
1
mg
Save