One of the best parts of summer is peach season. And one of the most delicious parts of peach season is Peach Cobbler. It's hard to beat soft, sweet peaches peeking out between islands of biscuit dough sprinkled with cinnamon sugar! When summer temperatures make turning on the oven unappealing, 3- 2-1 Peach Cobbler, cooked in just one minute in the microwave, offers all the peachy pleasures of summer without the heat!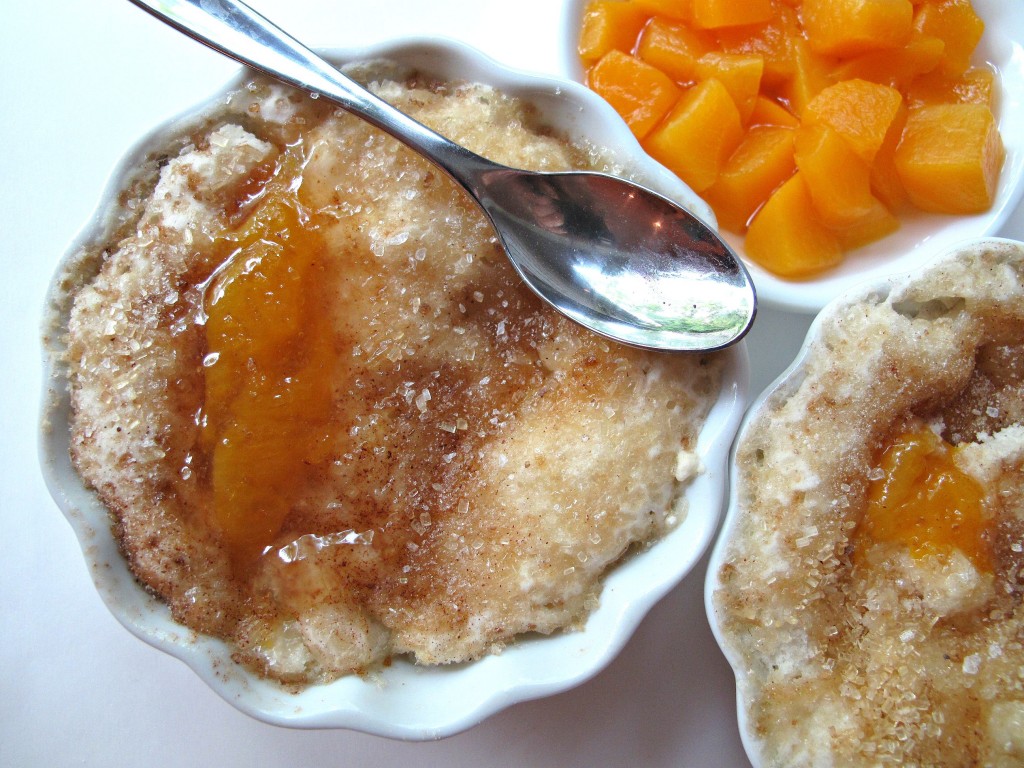 When I was in 9th grade, my family moved from New York (via 2 years in Europe) to South Carolina. I had always thought that "culture shock" was something experienced in exotic, distant, foreign lands.
However, in the 1970's, before the internet made the world a much more homogeneous, small place, a New Yorker could definitely experience culture shock by moving to the South. And I did.
I didn't even speak the language. Not only was the accent different, (my New York accent was mixed with British influence at the time), but there were vocabulary differences to learn. Lights were "cut off" instead of "turned off". Elevator buttons were "mashed". Supermarkets provided "buggies" not "shopping carts".
The food was different too. Bagels were only available in the freezer aisle, and the supermarket shelves were full of things I had never heard of.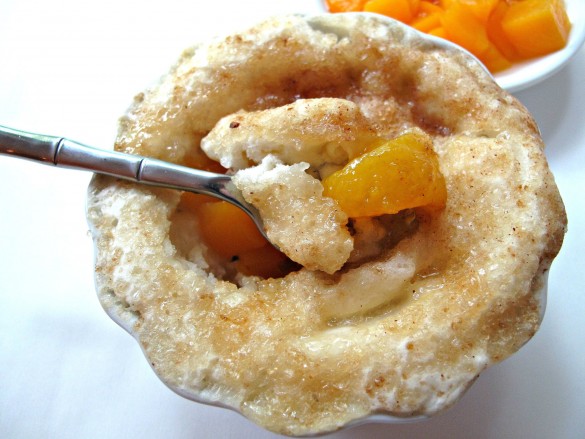 Currently, talented Southern chefs have put Southern cuisine on the foodie map. Foods that were once homey staples have been transformed into trendy menu items.
Before our move to South Carolina, I had never experienced grits, okra, sweet tea, chow-chow, pimento cheese spread, or peach cobbler. With the notable exception of peach cobbler, I can't say I ever developed a true appreciation for those Southern specialties.
No offense at all intended to those who do relish all of Southern cooking. Perhaps, the enormity of my love for peach cobbler makes up for my lack of enthusiasm for the other food items.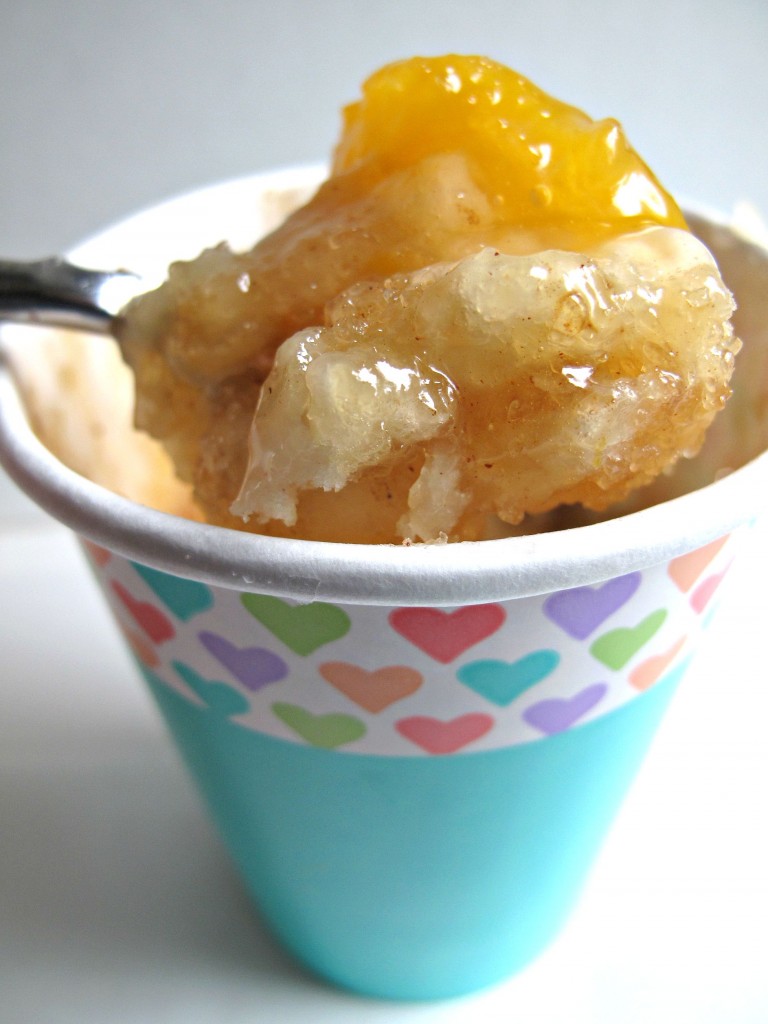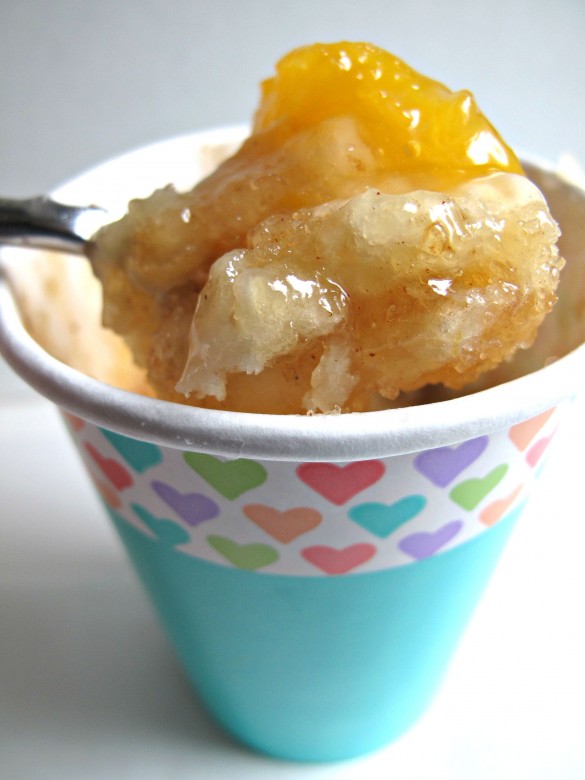 Though Georgia is called the peach state, South Carolina produces almost three times as many peaches as Georgia. The town my family moved to, Spartanburg, is located next to the numerous peach orchards of Gaffney, South Carolina.
Gaffney is so rightfully proud of their peaches, that they built their water tower in the shape of a peach. Though some joke that The Peach resembles a rear end (it does from certain angles), it is quite impressive and a famous landmark.
For years, my trips back to SC included heading to Gaffney to buy peaches. I think that the very best way to savor those SC peaches is straight from the tree, still warm from the sun and my favorite way to bake with those peaches is a Southern, biscuit dough peach cobbler.
My Northern upbringing included crumbles, crisps, and brown betty, all made with fruit and a streusel topping. In the South, I discovered the wondrous flavor of cobblers. Recipes vary.
Some cobbler recipes call for a more cake-like batter which rises around the fruit during baking. Other cobbler recipes use a biscuit dough dotted like clouds over the fruit.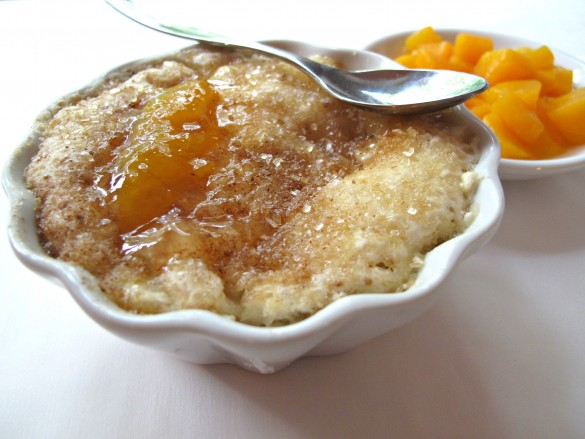 Traditionally, a cobbler is baked in the oven. 3-2-1 Peach Cobbler is cooked in the microwave, but is surprisingly similar in flavor and texture to the "real thing"; sweet peaches covered in cinnamon sugar biscuit dough.
The shelf stable ingredients can be kept on hand to create individual servings of cobbler any time of year in just one minute. Pop the ingredients and recipe in a care package for college students or military and ship the best of summer in a box.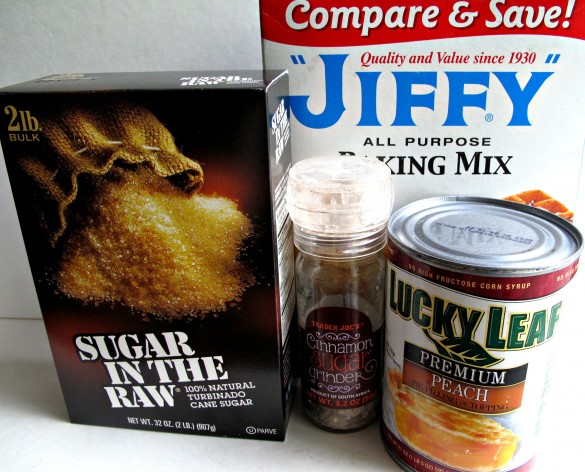 3-2-1 Peach Cobbler deviates from other 3-2-1 recipes that use the "Magic Mix" (one box flavored cake mix plus one box of angel food cake mix). In order for the cobbler to have biscuit dough, this recipe uses biscuit baking mix.
Bisquick or Jiffy Mix combined with canned peach pie filling and sprinkled with cinnamon sugar, creates an instant cobbler without turning on the oven. If shelf stable ingredients are not required, sliced fresh fruit can be used. Canned peaches or fresh, 3-2-1 Peach Cobbler tastes like summer without adding any extra heat!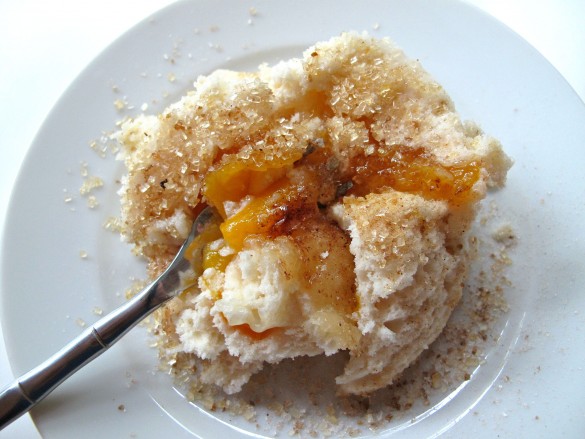 You can read more about desert safe ingredients and find an index of all of the desert safe recipes on The Monday Box by clicking here.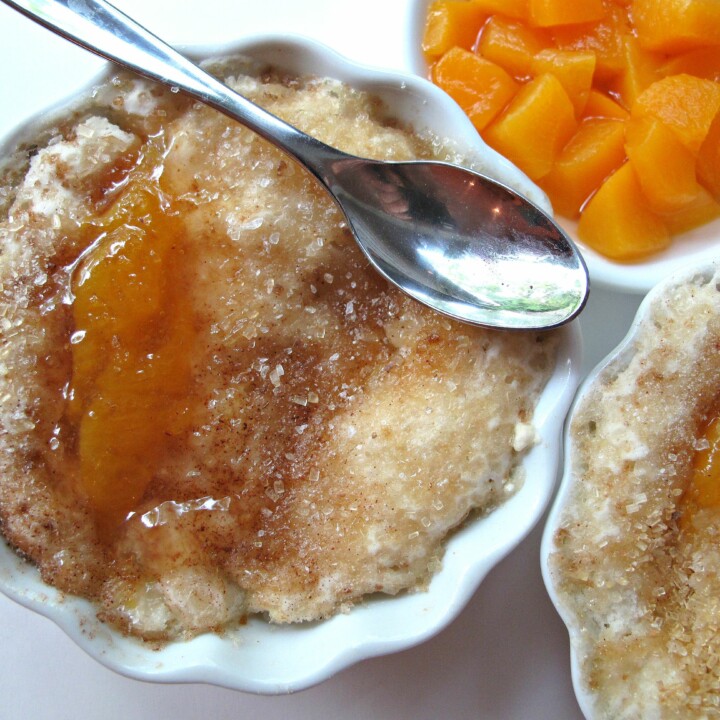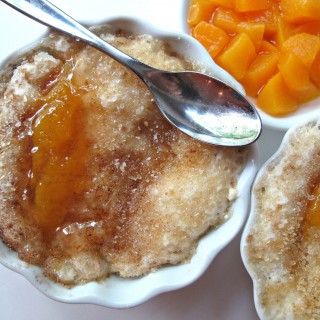 3-2-1 Peach Cobbler
Crunchy biscuit dough with warm, juicy peaches cooked in a mug in just 1 minute!
Print
Rate
Ingredients
1

box

Original Bisquick or Jiffy baking mix

water

1

can

peach pie filling

4-5 slices of peach per serving (I used Lucky Leaf brand)

1

box

sugar in the raw or turbanado sugar

1

jar

cinnamon sugar
Instructions
In a microwave safe paper cup, mug, or ramekin combine THREE tablespoons of baking mix with TWO tablespoons of water. Stir to combine completely.

Fold in 4-5 slices of peach pie filling.

Sprinkle with cinnamon sugar and ½- 1 tablespoon of turbanado sugar.

Microwave for ONE minute.

Allow to cool for about 5 minutes before eating. The fruit gets very hot.
Notes
Packing tips
For care package shipping include the recipe ingredients, a tablespoon, a can opener (if needed) and microwave safe paper cups along with the recipe.
Nutrition
Calories:
96
kcal
|
Carbohydrates:
20
g
|
Protein:
1
g
|
Fat:
2
g
|
Saturated Fat:
1
g
|
Cholesterol:
1
mg
|
Sodium:
159
mg
|
Potassium:
40
mg
|
Fiber:
1
g
|
Sugar:
8
g
|
Vitamin A:
12
IU
|
Vitamin C:
1
mg
|
Calcium:
21
mg
|
Iron:
1
mg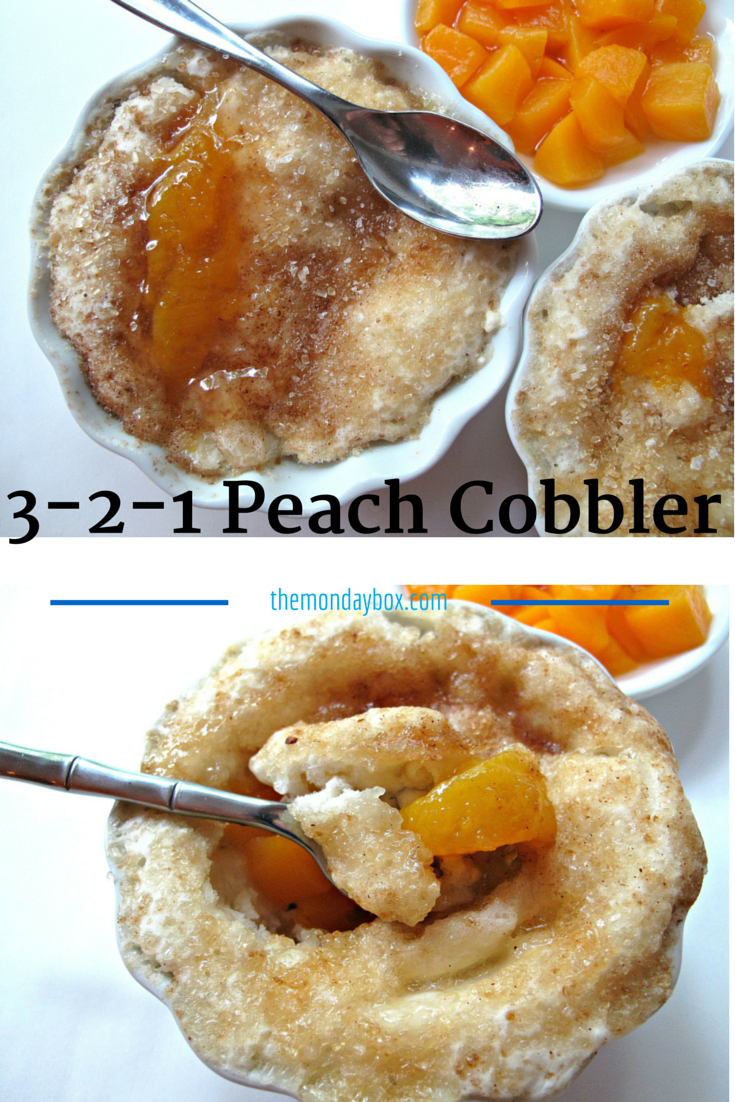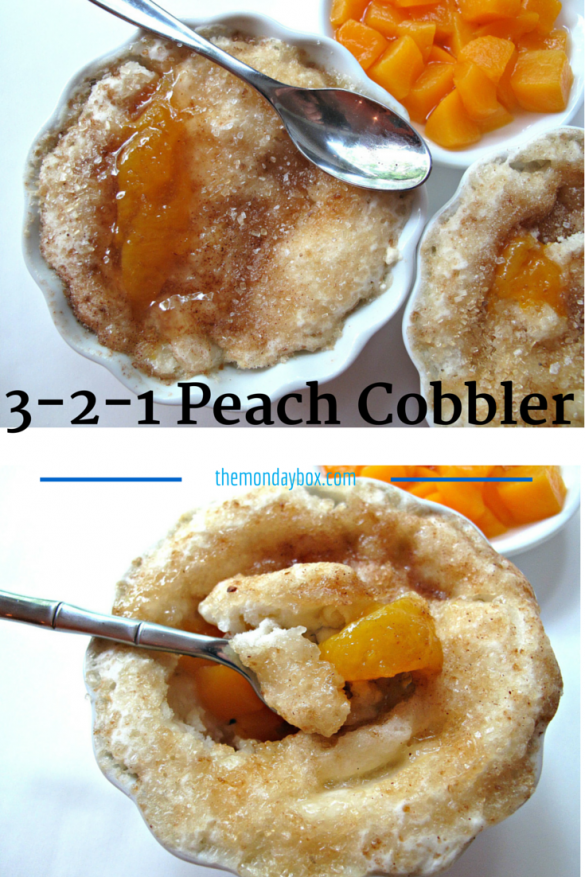 If you enjoy this 3-2-1 cake, you might also enjoy:
Save