Bright, cheerful Watermelon Sugar Cookies are summer-in-a-cookie. Each bite of these crunchy treats brings thoughts of picnics, vacations, and the beach. Sharing these eye-catching, slice-and-bake watermelon wedges, is fun and easy.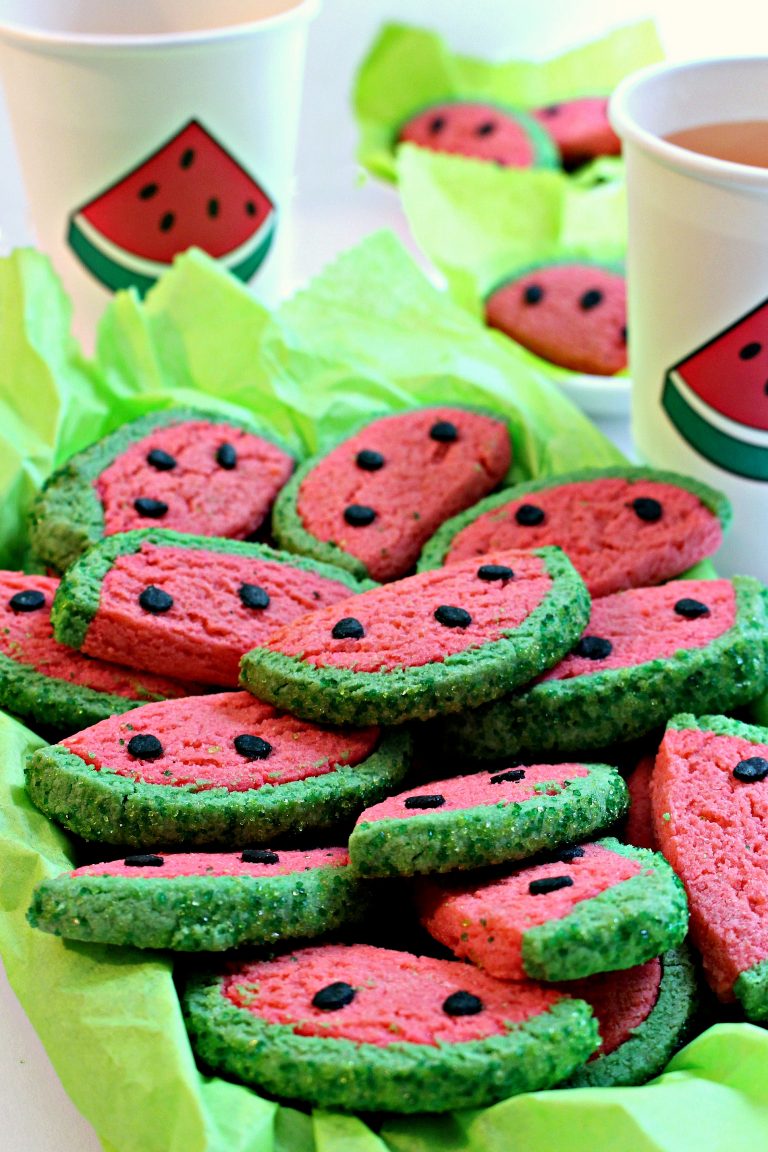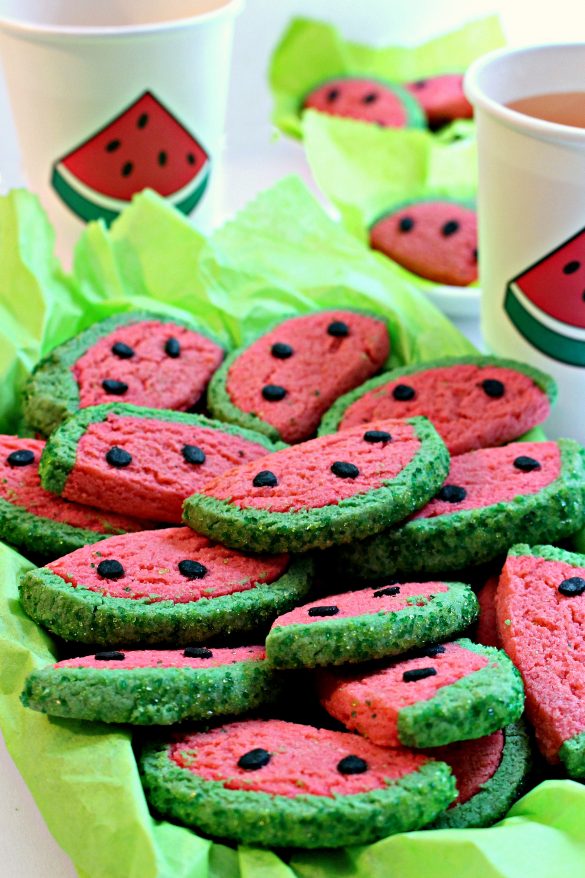 I grew up mostly on the east coast of the United States. We were never very far from the ocean. Until I was twelve, my family lived on Long Island, NY where we drove to the beach frequently year round.
When I was in high school, my family lived in South Carolina. Though we lived closer to the mountains, we made the the four hour drive to the South Carolina coast as well as several trips each year to Florida to visit my grandparents.
Then I went to college in the Midwest, and for the first time in my life, I met adults who had never seen the beach and children who had never held a seashell. I was amazed.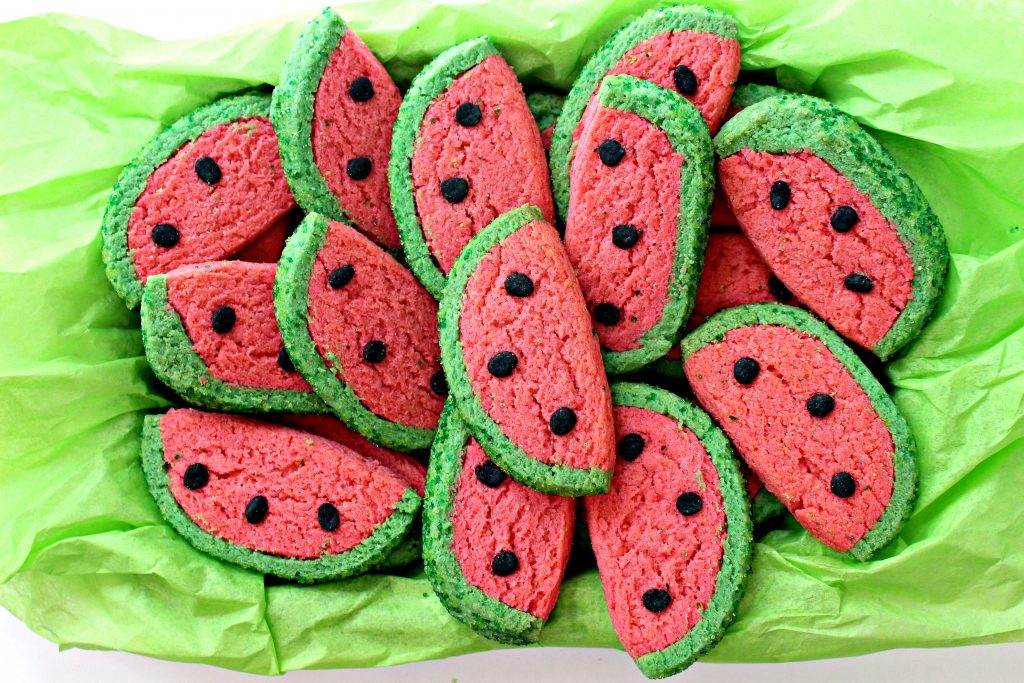 Despite the lack of ocean, I chose to stay in the Midwest. My children were born and grew up in St. Louis, but are very familiar with trips to the beach.
Over the years, we made many trips to many different beaches. The call of the ocean comes from farther away, but we still hear the call. For my family, Watermelon Sugar Cookies conjure up thoughts of beach picnics with the sound of the waves in the background.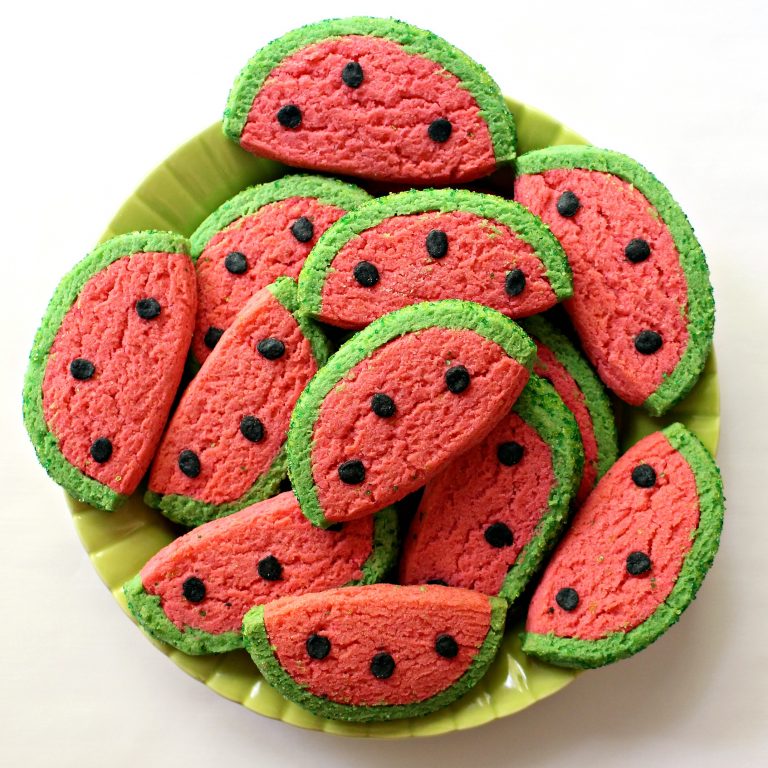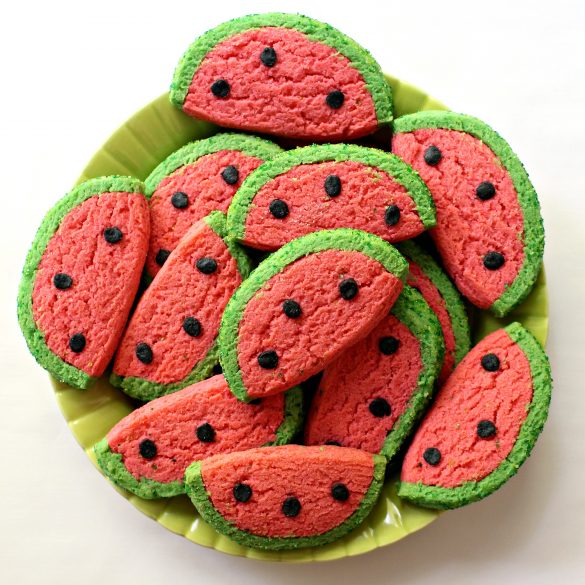 When I "adopted" Sailor A., through Soldiers Angels, her love of the ocean made me think that she probably loves the beach as well. My theme for her first care package was "Seas the Day! A Day at the Beach!"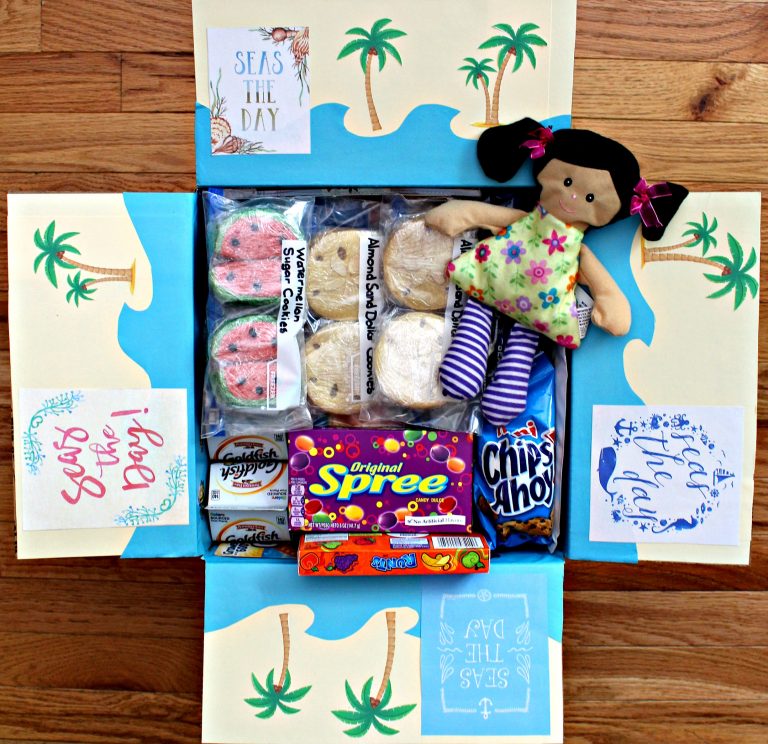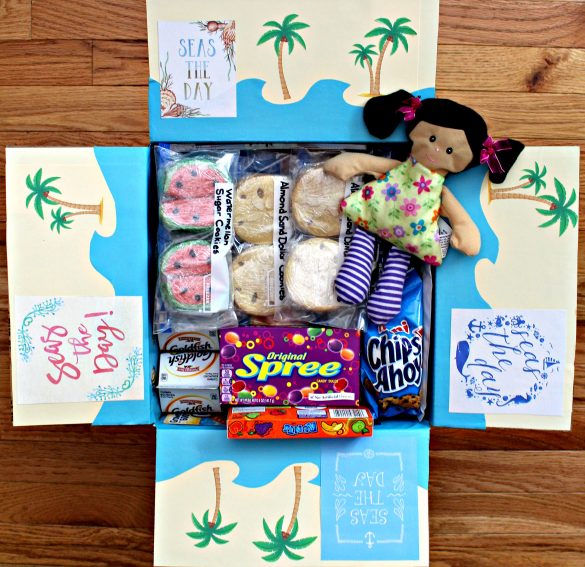 Care package decorating
I used beige printer paper and light blue wrapping paper to create a tropical beach scene on each box flap.
I added palm tree clip art, found online.
"Seas the Day" is a popular play on words quote. I added four graphics also found online.
Care package contents
Personal storage space on a ship is extremely limited. I tried to keep nicknacks to a minimum and focus on beach snacks and supplies.
The one nicknack exception I made, was to include the stuffed doll. She doesn't take up much room and looks like she is ready for a day at the beach to me. (To read about the many uses service members have for stuffed toys, read this post from Operation Gratitude. They have sent out more than one million care packages, each including a stuffed toy.)
Also in this care package are: candy, cookies, fish crackers, tuna, drink mix, flip flops, a razor, a cooling towel, sunscreen, wipes, a light beach read book, puzzle books, a coloring pad and pencils, and sponge fish that grow when added to water.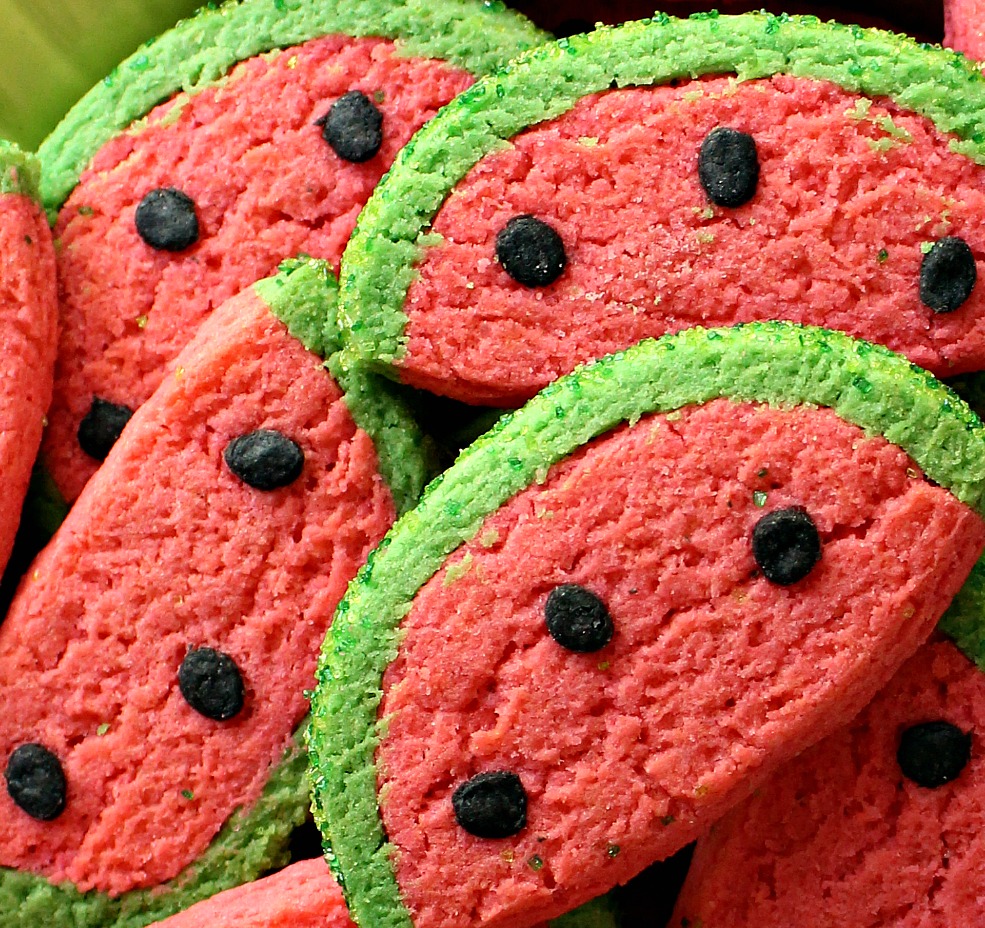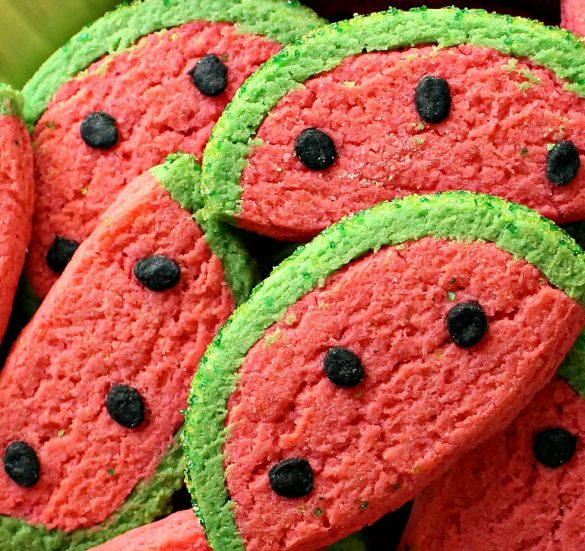 Direction for sugar cookies
It is always a challenge in hot weather to decorate cute cookies without any icing. I've used colored sugar, colored dough, and playdoh-like cut-outs to decorate summer care package cookies. Watermelon Sugar Cookies use all three of those methods.
One batch of watermelon flavored sugar cookie dough is divided and colored green, pink, and black.
The green dough is rolled out into a rectangle.
The pink dough is formed into a cylinder and then rolled up in the green dough.
This slice-and-bake dough log is rolled in green sugar before chilling to firm.
The thinly rolled black dough is cut into watermelon seeds using the tip of a plastic straw as the cookie cutter. The dough "seeds" are pressed onto the sliced Watermelon Sugar Cookies.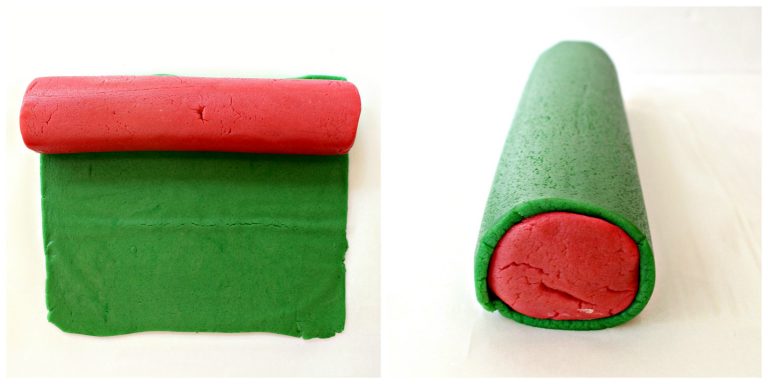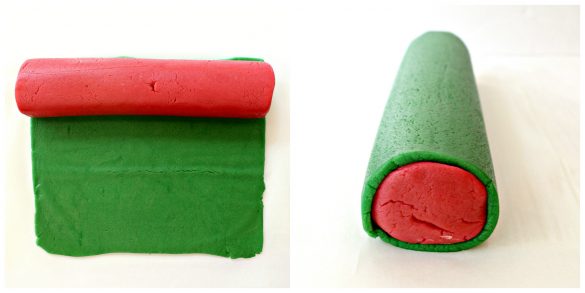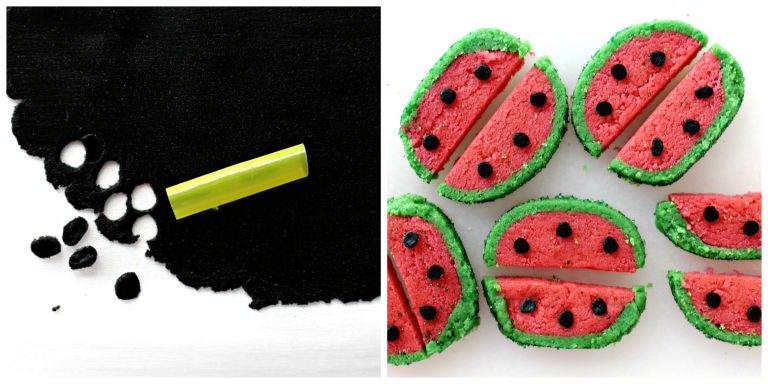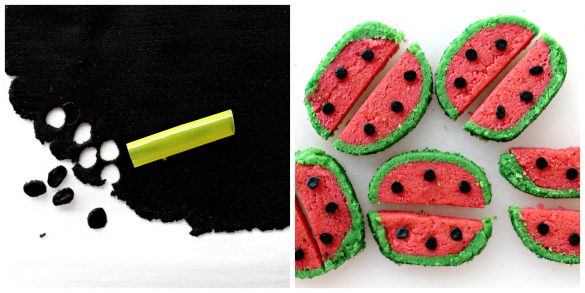 Flavoring tips
I had never used watermelon flavoring before (which smells just like a watermelon Jolly Rancher) and was surprised to find that the flavoring is colored pink which made the cookie dough a light pink. I was concerned that the pink would affect the green tinted dough, but it didn't.
Also, read the label of your watermelon flavoring carefully. My flavoring was made by LorAnn Oils and says "super-strength" on the label. The label also says that the flavoring is 4 times the strength of regular flavoring.
The watermelon candy smell seemed stronger than the flavor in the cookies. If your flavoring is not super-strength, double the amount used.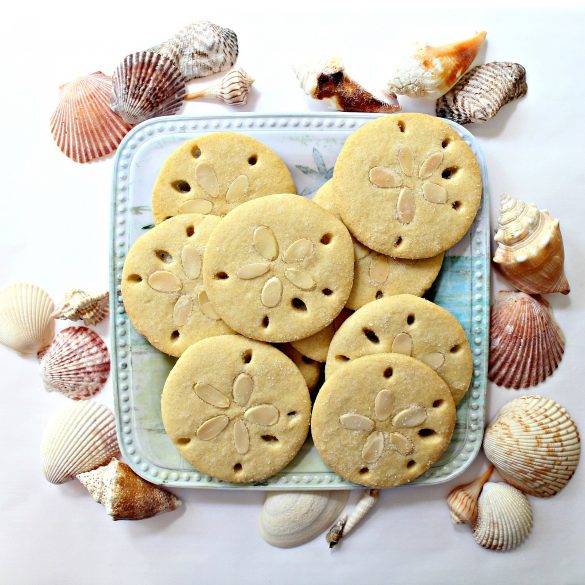 New recipe
Crunchy, buttery Almond Sand Dollar Cookies are the new recipe included in this care package. A few sliced almonds and cutout holes are such an easy way to decorate these almond flavored cutout cookies. Almond Sand Dollar Cookies are made with desert safe ingredients and stay fresh and delicious for at least 2 weeks.
More recipes for a beach theme
PALM TREE AND PINEAPPLE SUGAR COOKIES
COCONUT WHITE CHOCOLATE BISCOTTI
Whether you are at the beach or just dreaming about it, Watermelon Sugar Cookies are a bright and cheerful taste of summer. "Seas the day" and bake a batch today!
You can read more about desert safe ingredients and find an index of all of the desert safe recipes on The Monday Box by clicking here.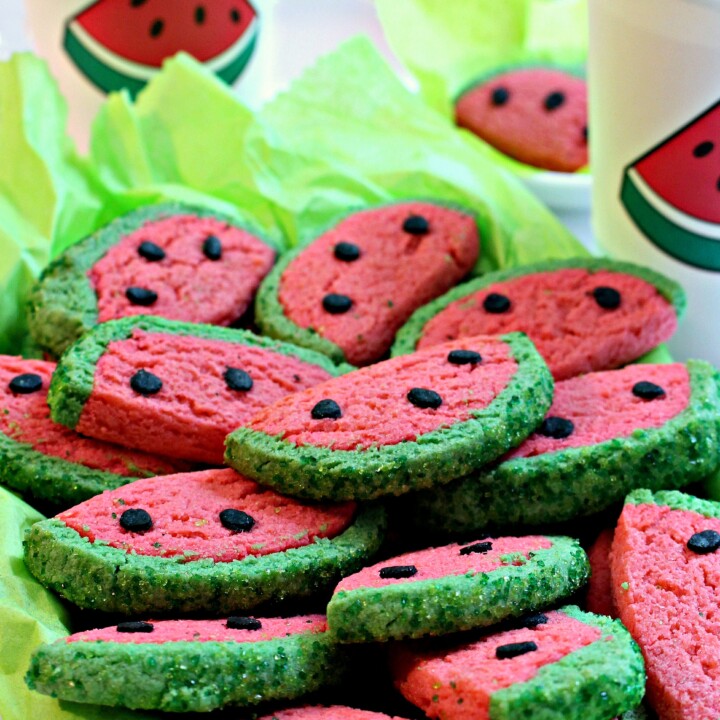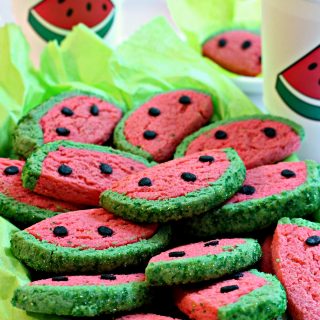 Watermelon Sugar Cookies
These slice and bake sugar cookies look just like sliced watermelon.
Print
Rate
Ingredients
3

cups

all-purpose flour

½

teaspoon

salt

2

teaspoons

baking powder

⅔

cup

butter flavored vegetable shortening

Crisco

1 ¼

cup

granulated sugar

2

large eggs

1

tablespoon

water

2

teaspoons

watermelon flavoring

OR 1 teaspoon extra strength watermelon flavoring

Food coloring: pink

green, super black

4

tablespoons

green decorating sugar

I used 2 tablespoons light green and 2 tablespoons dark green
Instructions
In a medium bowl, whisk together flour, salt, and baking powder. Set aside.

In the bowl of an electric mixer, cream together the shortening and sugar.

Add in eggs, water, and watermelon flavoring. Beat to combine, until smooth.

Gradually add in the flour mixture until fully incorporated.

Remove 1 cup plus 2 tablespoons of the dough and mix with a few drops of green food coloring in a small bowl, until completely colored.

Remove 1 tablespoon of dough and mix with one drop of the super black food coloring. Wrap the black dough in plastic wrap and refrigerate.

Mix a few drops of pink food coloring into the remaining dough in the mixer bowl.

On a sheet of wax paper or parchment, roll the pink dough into a cylinder about 9" long and 1 ¾" thick. Place the log into the center of the paper. Fold the paper over the dough and push a ruler edge or dough scraper against the bottom of the log to remove air pockets and compress the dough. To keep the dough rounded while refrigerating, roll up the dough log in the wax paper/parchment and slip it into a paper towel tube that has been cut down the center lengthwise. Refrigerate.

Between two sheets of wax paper, roll out and trim the green dough into a 9" x 10" rectangle rectangle (about ¼" thick).

Remove the pink dough log from the refrigerator, unwrap, and place along the 9" edge of the green rectangle. Roll the up log in the green dough.

Line a jelly roll pan (baking pan with low sides) with wax paper and sprinkle with green sugar. Place the dough log onto the green sugar and roll until coated.

Re-wrap the log in wax paper, place in the paper towel tube, and wrap in plastic wrap. Refrigerate at least 2 hours or overnight to firm.

Remove the tablespoon of black dough from the fridge. Roll out the dough to ⅛" (very thin) between two sheets of wax paper or parchment. Place in the freezer until firm.

WHEN READY TO BAKE: Preheat oven to 350° F. Line a baking sheet with parchment paper.

Remove the dough log from the refrigerator. Unwrap and place on a cutting board. Cut the dough into ¼" thick round slices. Cut each circle in half. Place the half circles on the prepared baking sheet at least 1" apart.

Remove the black dough from the freezer. Use the bottom of a plastic straw to cut out circle dots. Gently use a toothpick to remove the dough dot from the bottom of the straw, if needed. Press three black dot "seeds" onto each cookie .

Bake for 10-12 minutes. (The cookies will not be browned.) Allow to cool on the baking sheet for3 minutes before transferring onto a wire rack to cool completely.

Store in an airtight container at room temperature for at least 2 weeks.
Notes
Packing tips
Double wrap pairs of cookies, bottoms together, in plastic wrap. Place in columns in an airtight container or freezer weight ziplock bag.
Nutrition
Calories:
65
kcal
|
Carbohydrates:
10
g
|
Protein:
1
g
|
Fat:
2
g
|
Saturated Fat:
1
g
|
Polyunsaturated Fat:
1
g
|
Monounsaturated Fat:
1
g
|
Trans Fat:
1
g
|
Cholesterol:
5
mg
|
Sodium:
36
mg
|
Potassium:
9
mg
|
Fiber:
1
g
|
Sugar:
5
g
|
Vitamin A:
8
IU
|
Calcium:
10
mg
|
Iron:
1
mg