Chinese New Year Peanut Cookies (花生饼) are a traditional Chinese New Year treat. Each melting, crunchy, toasty bite is cause for celebration!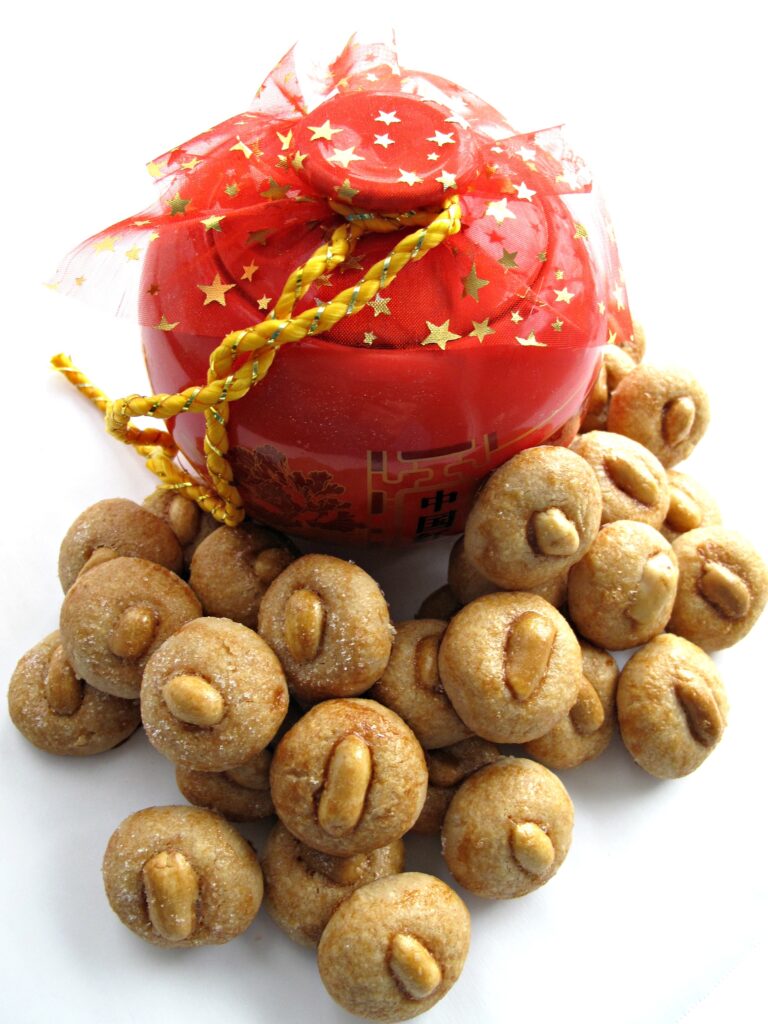 One of my favorite things about the internet is learning about other cultures' customs and foods. My spice collection has expanded exponentially as I dabble in world cuisine.
I get especially excited whenever I discover an international cookie recipe that fits the care package requirements of The Monday Box. The flavors or preparation methods can be different than what I am used to, but the results are often worth sharing.
The Monday Box archives contains recipes from Australia, Russia, Scotland, Germany, Greece, and Italy. Today I am adding China with Chinese New Year Peanut Cookies!
I have mentioned before, that the best part of blogging is the people I meet. It's amazing to me having friends all over the world, whom I never would have had the pleasure of knowing, without the wonders of the internet.
When we get really lucky, we get to meet in "real life". The rest of the time we share life stories, recipes, and comments through cyber space.
Last year my blogging friend Monica at Playing with Flour posted a Chinese New Year recipe for Chinese dessert soup with glutinous rice balls. Dessert soup was a new idea to me and sounded wonderful (it was)!
I decided immediately that my family needed a taste of Chinese New Year. With product photos in hand, I took a field trip to a large Asian supermarket and went on an ingredient treasure hunt.
That night, my family enjoyed a brown sugar broth with a variety of glutinous rice balls, some plain, that I made, and some stuffed, that I bought frozen.
With that success, I began our "try a Chinese New Year recipe" tradition. Thank you, Monica!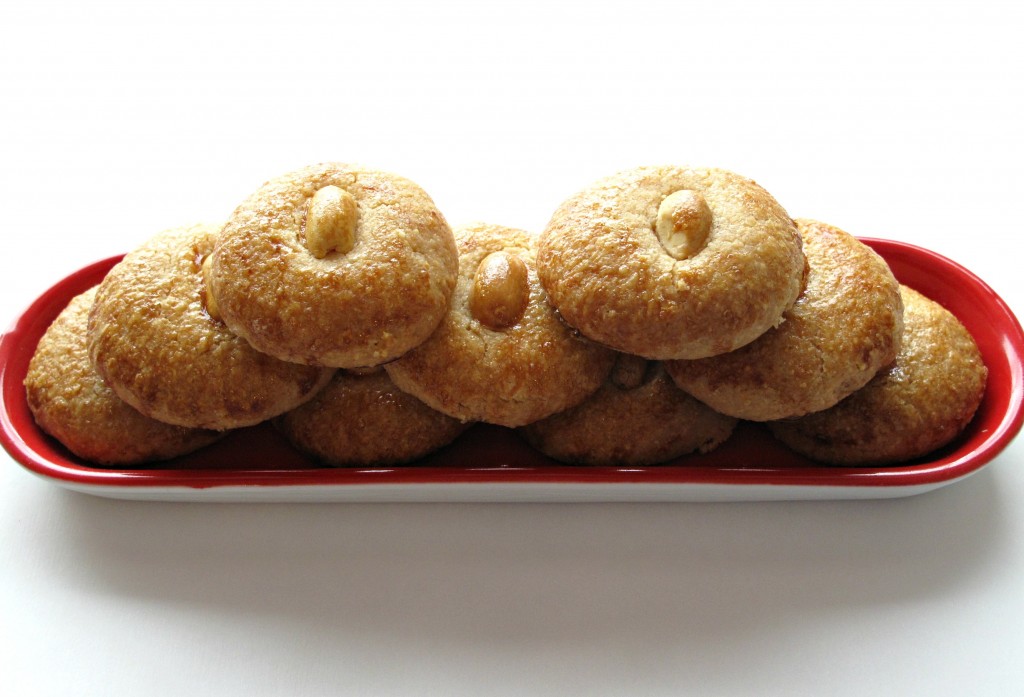 Discovering traditional Chinese peanut cookies was a lucky accident. I was searching for a recipe to try for this year's intercultural adventure when pictures popped up of a round little cookie that looked very similar to a Chinese almond cookie.
I knew about almond cookies. Monica has a recipe for those too, but I am allergic to almonds so I never tried them. Reading more about Peanut Cookies, I learned that stored in an airtight container, they stay fresh for up to 2 weeks. Monday Box gold star!
All of the authentic Chinese peanut cookies recipes I found used metric measurement.
Personally, I love metric measurement. Everything is so accurate, making good results much easier.
I highly recommend buying a little digital kitchen scale with both metric and non-metric  measurement. I think mine cost less than $20 from Amazon.
However, for those of you without a scale, I adapted the traditional recipe to give approximate cup equivalents.
I have taste tested an enormous number of Chinese New Year Peanut Cookies recently. Some tastes were truly needed for recipe development. Others were due to the addictive nature of these crunchy yet melt-in-your-mouth treats.
The crunchy part comes from the granulated sugar. Many peanut cookie recipes call for powdered sugar. The texture of those cookies is less crunchy and more….powdery.
The granulated sugar version still gives a melt-in-your-mouth consistency, but with a bit more texture and definite crunch.
Another recipe difference was in the amount of salt used. I am not a sweet-salty fan. I went with a recipe  version that uses just enough salt in the background to bring out the toasty peanut flavor and a bit of sweetness.
Toasty peanut flavor is the focus of these cookies. Being allergic to nuts (not peanuts) I wasn't familiar with what a little roasting can do for flavor. Wow.
All of the original recipes used raw shelled peanuts, readily available at Asian markets, and stove top or oven roasted them.
I bought unsalted roasted peanuts at Trader Joe's and, following directions I found on Smitten Kitchen, I oven toasted them for a shorter time, just to bring out the flavor.
Being the queen of sprinkles and decorating sugar, I had to hold myself back while making these and I am glad I did.
Traditional peanut cookies are only mildly sweet and are amazingly peanutty. An optional sprinkle of granulated sugar on top before baking can make the sweetness more like most American cookies.
These sweet morsels of peanutty goodness are a celebration of peanut flavor that peanut lovers would enjoy any time of year!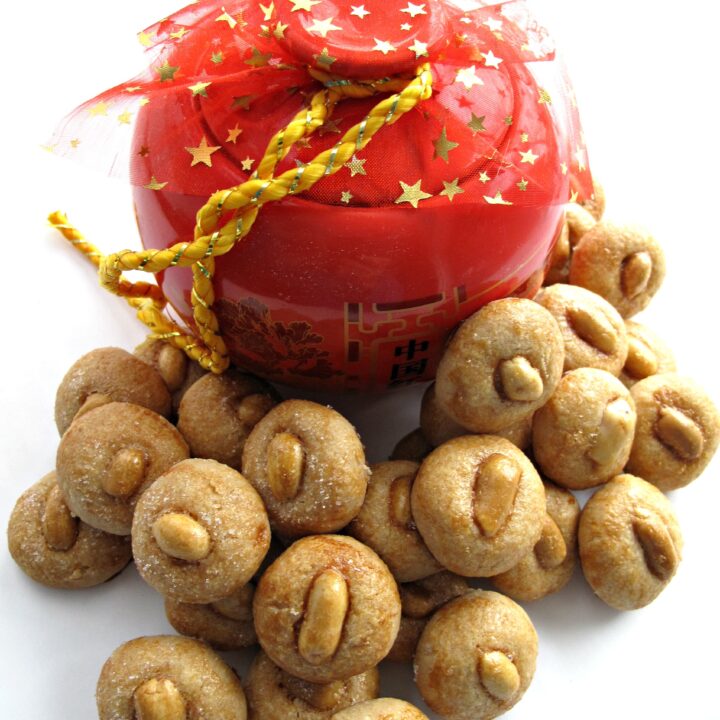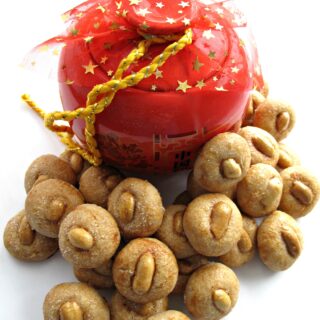 Chinese New Year Peanut Cookies (花生饼)
These traditional Lunar New Year treats are full of toasty peanut flavor in a crunchy cookie that will melt in your mouth.
Print
Rate
Ingredients
300

g

unsalted peanuts

about 2 ½ cups plus a handful for decorating

200

g

granulated sugar

about 1 cup

250

g

all-purpose flour

about 2 cups

pinch

salt

¾

cup

vegetable oil

canola, peanut, olive, etc.

1

large egg

¼

cup

granulated sugar for topping

optional
Instructions
To oven roast the peanuts: Preheat the oven to 400˚F. Line a baking pan with foil and spread peanuts out in a single layer on top of the foil. If using raw peanuts, bake for 15-20 minutes stirring every 5 minutes until golden brown and fragrant. If using roasted peanuts, bake for 5 minutes only, stirring after 2 ½ minutes. Remove from the oven and cool on the baking sheet for 10 minutes.

Lower the oven temperature to 325˚F. Line a baking sheet with parchment paper.

Grind the slightly cooled roasted peanuts in a food processor until the texture of small grits or cream of wheat.

In a large bowl, whisk together sugar, flour, and salt. Add the ground peanuts. Use a wooden spoon or spatula to mix until well combined.

Drizzle half of the cooking oil into the bowl. Mix with the wooden spoon/spatula. Then knead the mixture by hand, adding additional oil by tablespoons, until a smooth dough forms (about 5 minutes) and a teaspoon of dough can be rolled into small cookie balls without crumbling. Depending on how finely the peanut are ground the amount of oil needed will vary. Some of the oil may not be used.

Scoop teaspoon portions of dough (about 10 grams) and roll into balls. Place on the prepared baking sheet at least 1 inch apart. Press a peanut half into the top of each dough ball.

Lightly beat the egg with a teaspoon of water to make an egg wash. Use a pastry brush to brush the wash over the top of each cookie ball. Optional: Sprinkle granulated sugar over the egg wash coated dough balls.

Bake in the preheated oven for 20 minutes. The cookies should be golden brown. Turn off the oven and leave the cookies inside to bake another 5 minutes before removing them.

Allow the cookies to cool on the baking sheet for 5-10 minutes before transferring them to a wire rack to cool completely.

Store cooled cookies in an airtight container at room temperature for up to 2 weeks.
Notes
Packing
tips
These cookies can be a bit fragile but are sturdier when wrapped in pairs with bottoms together. Double wrap pairs of cookies in plastic wrap. Then place snugly in an airtight container or in a columns in a zip lock bag for mailing. Be sure there is no movement in the box.
Nutrition
Calories:
128
kcal
|
Carbohydrates:
13
g
|
Protein:
3
g
|
Fat:
8
g
|
Saturated Fat:
4
g
|
Cholesterol:
4
mg
|
Sodium:
2
mg
|
Potassium:
58
mg
|
Fiber:
1
g
|
Sugar:
7
g
|
Vitamin A:
6
IU
|
Calcium:
6
mg
|
Iron:
1
mg
Love peanut cookies? Check out this collection of 20 Irresistible Peanut Cookies to bake right now!
Save