After six years as a Soldiers' Angel, I have a lot of Military Care Package Ideas that are fun and easy to create! Military care packages on The Monday Box are unique because every care package theme comes with recipes for baked goods that match the theme!
Each deployed military care package post includes ideas for box decorating and contents, a tutorial for creating decorated sugar cookies that even a beginner will be proud of, and a recipe for a delicious cookie, candy or quick bread that goes with the care package themes. All Monday Box recipes are created to travel well and stay fresh for a long time. Packing tips are offered for best results.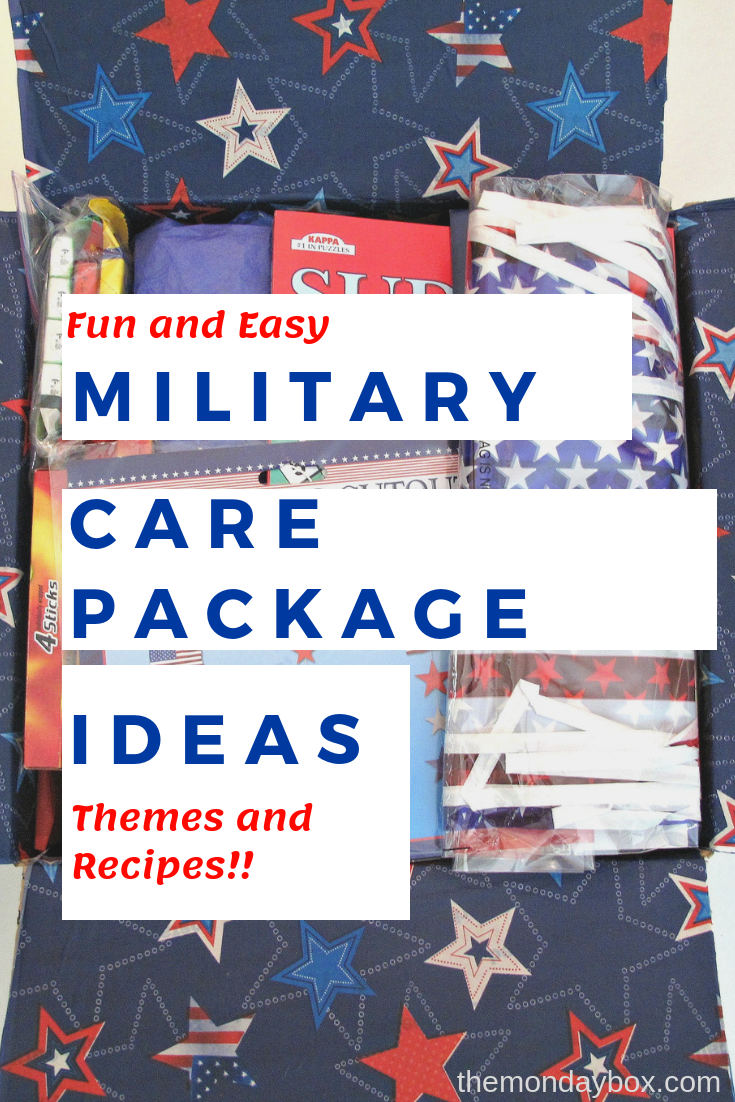 (The Monday Box participates in affiliate marketing programs. As an Amazon Associate I earn from qualifying purchases. Additional affiliate programs may be linked when applicable. If you choose to purchase a product after following a link on this page, I will receive a small commission, at no cost to you, which helps make The Monday Box possible.)
Please click here for detailed information about sending Deployed Military Care Packages. Important information about Shipping Baked Goods in Hot Weather can be found here.
Military care package ideas for decorating
Decorating the shipping box adds a few extra smiles for the care package recipient. Boxes can be decorated both inside and outside to illustrate the care package theme, with no artistic talent required!
Box flap covers
Cover the inside flaps of the box for color and texture. Glue on any of the following. Note that some people like to cut out a background the size of the flap and decorate it before attaching it to the box.
Wrapping paper
Scrapbook paper
Construction paper
Patterned plastic table cloth
Color newspaper comics
Box flap decorations
On top of the covered box flaps glue on themed decorations. When I am finished decorating, I like to cover each flap with clear packing tape to ensure that none of the decorations fall off.
Stickers
ribbons
Magazine/newspaper/internet photos or illustrations
Inspirational quotes printed from the internet
Seasonal decorations from the Dollar Store, like leaves, cardboard cutouts, banners, etc.
Write directly on the flap or glue on letters cutouts
Stamp art. Use rubber stamps and color in the shapes.
Characters in four parts. On one flap glue a head and on the opposite flap glue feet. On the side flaps glue arms/wings.
Decorating outside of the box
Add a few details outside the shipping box to make it stand out in the crowd! Glue on the decorations and always cover the sides with packing tape to keep the decorations in place in transit.
Rubber stamp art
Stickers
Photos/illustrations from the internet/magazines/newspapers
Holiday and seasonal cardboard decorations
Inspirational quotes
Themes and recipes
Take a look at some of these fun and easy Military Care Package Ideas for inspiration! Artistic talent is not important. Love is always the most important ingredient.
Holidays
Being far from home and family is always hardest during holidays. These care packages bring holiday fun where ever deployed military personnel may be!
Valentines Day
Thank You Note (Valentine Envelope Sugar Cookies and Kiss Cookies)
Cozy Mug (Cozy Mug Sugar Cookies and Sugar Cookie Valentine Brownies)
Thank you Beary Much (Beary Chocolate Brownie Bears and Honey Graham Bears)
St Patrick's Day
4-Leaf Clover (Snickers Biscotti and 4-Leaf Clover Sugar Cookies)
Lots of Green (Rainbow's End Rocky Road Candy and Chocolate Covered Oreo Swirls)
Leap-rechauns (Chocolate Covered Oreo Lep-rachauns and Pots of Gold)
Easter
Bunnies and Chicks (Bunny and Chicks Sugar Cookies and Oreo Stuffed Chocolate Chip Cookies)
Lambs and Polk Dots (Easter Sugar Cookies and Italian Easter Cookies,Taralli Dolce Di Pasqua)
Easter Eggs (Milano Cookie Easter Eggs and Easter Krispie Bars)
July 4th
4th of July (4th of July Sugar Cookies , Spiral Sparkler and Flag Cookies, Spritz Cookies Recipe with Shortening)
Halloween
Pumpkins (Homemade Graham Crackers Sandwich Cookies and Pumpkin Brownies)
Dia de los Muertos (Dia de los Muertos Sugar Cookies , Pabassinas and Calavera Skull Stamped Cookies)
Thanksgiving
Thanksgiving (Turkey Sugar Cookies , Ocean Spray Cranberry Orange Bread,
Christmas
Santa (Chocolate Covered Oreos and Christmas Sugar Cookies)
Nutcracker (Nutcracker Sugar Cookies and Cinnamon Chip Biscotti)
Elf on the Shelf (Elf on the Shelf Sugar Cookies and Winter Wonderland Chocolate Covered Oreos)
The Grinch (Grinch Brownies and Decorated Grinch Cookies)
Birthday
Balloons and Sprinkles (Funfetti Sugar Cookies and Vanilla Bean Balloon Cookies)
Birthday Party  in a Box (3-2-1 Microwave Mug Cake Mix and Balloon Sugar Cookies)
Other themes
Using a theme makes packing a care package easier. Inexpensive Dollar Store items paired with homemade or store bought treats make these military care packages sure to lift spirits!
Baseball (Baseball Sugar Cookies and Melted Ice Cream Cookies)
Dr. Seuss Characters (Green Eggs and Ham Cookies and Truffula Tree Cookies)
Gone Fishing (Gone Fishing Sugar Cookies and Decorated Fudge Brownies)
Harry Potter (English Toffee and Chocolate Chunk Anti Dementor Cookies)
Luau (Pineapple and Palm Tree Sugar Cookies and Coconut White Chocolate Biscotti)
May the Fourth Be With You (Star Wars Sugar Cookies and Galaxy Brownies)
One in a Minion (No-bake Chocolate Banana Cookies and Minion Sugar Cookies)
Orange You Glad (Orange Cookies and Orange Creamsicle Bars)
Penguins and Polar Bears (Penguin and Polar Bear Chocolate Covered Oreos)
Seas the Day (Watermelon Sugar Cookies and Almond Sand Dollar Cookies)
Snowmen (Snowmen Sugar Cookies and Cinnamon Snowball Cookies)
Spring Flowers(May Flower Sugar Cookies and Cookie Press Butter Cookies)
Spring Sunshine (Flower and Sunshine Sugar Cookies and Strawberry Lemonade Bars)
Squeeze the Day (Lemon Slice Sugar Cookies and Lemon Biscotti)
Stay Cool (Stay Cool Imprinted Cookies and Lemon Peppermint Cooler Cookies)
20 Questions (Rainbow Cake Mix Cookies and Yin Yang Cookies)
More resources
Deployed Military Care Package guide
Shipping Baked Goods in Hot Weather: Desert Safe Recipes